This page will not be kept up anymore. Everything you need for the winter Yosemite trip, usually on a February weekend, can be found starting at: Snow Camp
————————-
——————–
—————————–
—————————————-
The club requires that we see your rain gear before you can sign up,
because on previous trips the faculty advisor has had to dress people in plastic leaf bags.
Really.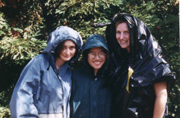 "But I haven't a thing to wear."
There are ideas for people on a budget at the complete description of what to bring at: Snow or rain camp must-haves You can rent a winter ski parka/pants, winter boots, a great sleeping bag at local ski suppliers.
You must have (and show us when you sign up) a waterproof jacket and pants, either a simple rain jacket/pants set like the construction workers ones they sell at hardware stores, or as fancy as a set of Gortex gear. Your snowboarding gear could be snow-proof, but not actually waterproof out in the rain. We will not accept rain ponchos or thin, easily torn temporary rain gear like they sell at airports for emergencies.
– – – – – – – – – – – – – – – – – – – – – – – – – – – – – – – – – – –
"I don't have a good tent."
You can rent a wood floored, canvas roofed and canvas sided tent cabin or a hotel room with it's own bathroom in Yosemite,
or take a look at Snow or rain camp must-haves for tent rental info.
– – – – – – – – – – – – – – – – – – – – – – – – – – – – – – – – – – –
How many people can you fit in an eight person tent?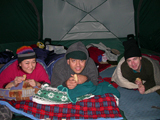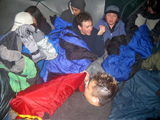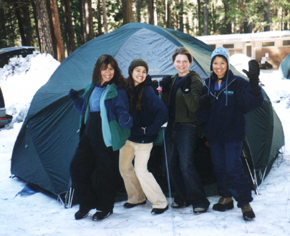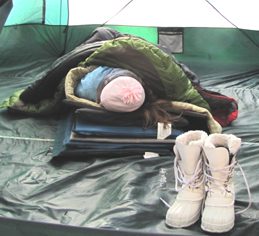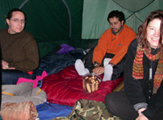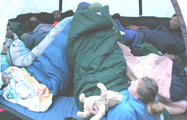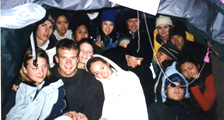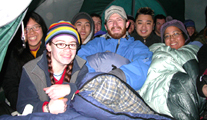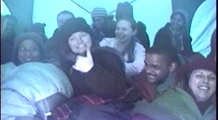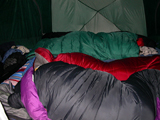 – – – – – – – – – – – – – – – – – – – – – – – – – – – – – – – – – – –
"But I've never been camping" or "I've never even been in the snow!"
On almost every trip so far there has been at least one person who has never been camping and has never been in the snow. Educate yourself about camping in the winter. Start with Snow or rain camp must-haves
and then go to: First-timer's instructions
– – – – – – – – – – – – – – – – – – – – – – – – – – – – – – – – – – –
"But my car won't make it to Yosemite."
The club can't be responsible for your transportation. People going on the trip usually form carpools among themselves. Carpools can be formed in advance when people exchange phone numbers or are often formed at the pre-trip meeting.
Read: Snow camp carpools and driving directions which also has the answer to the question: Which campsite do I park at?
The driving directions might be useful. One year a guy used directions he got elsewhere on the internet and ended up taking 13 hours for a 4 to 5 hour drive.
If your vehicle can make it to Yosemite, you will probably have people who want a ride and can share the gas/entrance fee cost. You might also want to read How to not collide with a deer, Safe driving in rain and fog, Prepare for winter driving, wildlife jams, and/or
Snow chain rentals .
Road trip advice and etiquette has ideas for limiting boredom, getting along on a road trip and some packing and safety tips.
– – – – – – – – – – – – – – – – – – – – – – – – – – – – – – – – – – –
When will carpools leave?
The trip is from Friday until Sunday. When carpools leave is frequently not decided until near the date of the trip.
On a typical weekend trip, like a Yosemite trip in 1998, for example, cars left the Bay area on Friday at 5:30 a.m., 8 a.m., 9 a.m., noon, 1:30, 2:30 and 5 p.m. People got rides depending on when they had classes or work. Some carpools left at the same time from the same place so they could caravan together and watch out for each other. Plus, it can be fun to trade around passengers as you go and get to know new people.
Most people return on the Sunday afternoon of a weekend trip, but some may stay until very late in the day. Sometimes people need to get to work and leave quite early on the Sunday. Some leave their return time open until that day. There is often no way to predict until near the trip date or on the trip. If you are getting a ride and have a must-return-time, be certain to tell your driver well in advance.

photos below by Quang-Tuan Luong/terragalleria.com, all rights reserved.


Will it snow?
Maybe, maybe not. We could have early spring weather and people will be rollerblading in shorts or we could have a blizzard.
Possibly both in one weekend so you need to be prepared for every possible adventure.
Snow camp weather, hike safety and first aid considerations
__________________________________________
What if it's r e a l l y a blizzard??
What if it storms so much they close the road to the ski resort? We won't be able to ski, go on the ranger snowshoe walk or take one of the long hikes.
Will there be anything to do except hide in the car, play cards at the laundromat or go online at wherever they have it (usually for a fee and not always operable)?
The answers are at: Things to do during a Yosemite snow storm besides hiding in your tent
_________________________________________________________________

After a first snowfall one year the park Superintendent Don Neubacher wrote "For me personally, the views of the new snow and ice on the valley cliff walls and the increased flows in the waterfalls create a visual experience found in only a few spots on earth. I feel incredibly lucky to be here."
________________________________________________________________
How can I convince my parents to let me go?
below:
A National Park Service photo of Yosemite Falls in mid-January.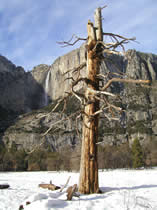 Can I ski, snowboard, snowshoe or ice skate?
Yes. Links to info/prices for Badger pass downhill and cross-country skiing, snowboarding and tubing, the daily Ranger-led snowshoe walk, Ansel Adams gallery free photo walks, ice skating are at Snow Camp.
The two terrain parks have boxes, rails, rollers and big-air jumps.
There's a free bus to the ski resort from very near the campground.
The cost of a Yosemite lift ticket and rentals or a learn to ski or snowboard lesson is cheaper than some Tahoe lift tickets alone.
If you will need to rent gear to downhill or snowboard you might want to rent it at the Yosemite resort. If you rent gear at home before the trip it could be a waste of money if a storm closes the resort or you decide that the big group hike that day would be more fun.
What if I don't want to ski?
On previous trips, more people did a club hike (major length or short, your choice), went on a ranger nature or history or snowshoe walk, or Ansel Adams gallery free photo walk than went to the ski resort. Details and links are at: are at Snow Camp .
There's a free shuttle bus to trailheads, Visitor Center, ice rink, ranger programs, stores, restaurants and the laundromat where you can dry some damp clothes.
Can I rollerblade?
There are more than 12 miles of surfaced bike paths on the valley floor and the weather is sometimes good enough to ride or rollerblade. Hey, bring your helmet.
But I don't like going a whole weekend without a shower!
There is a nice shower house walking distance (or one bus stop away on the free bus system) from the campground. In the winter they usually don't have anyone at the door asking for money.
Those rumors about the dining conditions on club winter trips are unfounded.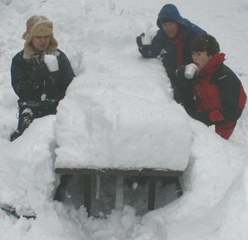 Is it true that half the campers go out to a very fancy restaurant at the end of the trip on Sunday?
Yup, but note that the price has gone quite high. (If you want to go you to the all-you-can-eat gourmet brunch at the Ahwahnee hotel in Yosemite valley you will want to pack some nice clothes and save up $65 plus. If you are in a group of more than six people, they add a required 18% gratuity. (Photos below by Alice Chen.)



What is the definition of 'nice clothes' for the brunch?
At least Friday casual work clothes. They will not let you into the Ahwahnee dining room in dirty camping clothes. Take a look at what people wore previous years at:
Outdoor Club winter campers at brunch
– – – – – – – – – – – – – – – – – – – – – – – – – – – – – – – – – – –
How much do I pay the Outdoor Club for this trip?
The trip price is posted at Snow Camp at least within two months of each trip.
– – – – – – – – – – – – – – – – – – – – – – – – – – – – – – – – – – –
I heard you have to take a test to go on this trip.
Because of the number of people on previous trips who did not know what they should have about keeping food safe from animals, or simple park rules like how to put out a campfire properly, you will have to pass a written test before you can sign up. The raccoons know how to unzip tent doors and people on previous trips have left food in tents, the raccoons got in and made a mess all over everybody's gear.
Crushed cheetos in your sleeping bag? ? ?
The bears don't fully hibernate in Yosemite and have broken into cars (not any of ours) even in the winter. Read all the info starting at: Snow Camp and check out the Snow camp pre-test sample questions
– – – – – – – – – – – – – – – – – – – – – – – – – – – – – – – – – – –
Where do I find the club to be able to show you my rain gear, take the test and sign up?
How to find us to sign up for events, with a number of dates each quarter, is at:
Outdoor Club Coming Attractions
LAST CHANCE TO SIGN UP FOR EACH YOSEMITE WINTER TRIP… is usually at the pre-trip meeting and world's ugliest long-johns contest, (announced at the Snow Camp page) but we recommend signing up sooner.
You'll need to fill out and sign a release for each Outdoor Club off campus event you sign up for; you can print one in advance at release form.
– – – – – – – – – – – – – – – – – – – – – – – – – – – – – – – – – – –
Who's going?
Most people sign up nearer the date of the trip, but as an example, as of Jan 27, 2007 these people were going:
Rose, Michael, Somayeh, Shannon, Keith, Thuy-Duong, Dinh, Bhavishya, Hoda, John, Suzy, Sandi, Tiffany, Mona, Maryam, Sandeep, Joe, Pradeep, Jessica, Manoj, Yvonne, Chance, Philip, Catherine, Iain, Aaron, Howard, Alice, Eileen, Edgar, Mike, Tamara, Alan and Mary.
Our ages were 12, 18, 18, 19, 19, 21, 22, 22, 25, 25, 26 26, 27, 27, 27, 28, 28, 28, 28, 29, 30, 31, 31, 34, 36, 36, 40, 42, 56, 58, 58 and 62.
Eight had been on the trip before. Four had never been camping and two of them had never seen snow. Three of us were Red Cross first aid/cpr instructors.
Hordes of others said they were going but did not sign up.
Some people will do a major hike, some will to go to the ski resort for snowboarding, downhill or cross country, some will ice skate, some will do a night hike, some will be there for the photography, many will go to Sunday brunch at the fancy hotel after we pack up camp. For just about anything you might want to do, there will be someone to do it with.
The new friends in these group photos at the end of winter Yosemite trips were mostly strangers when the trip started.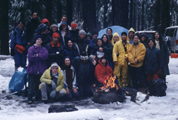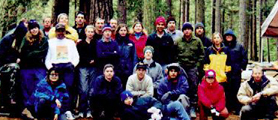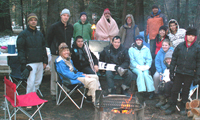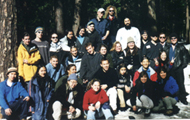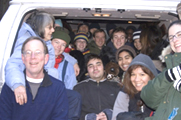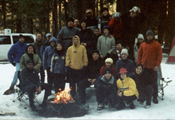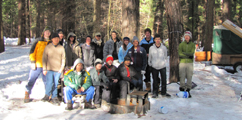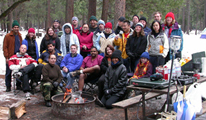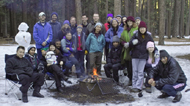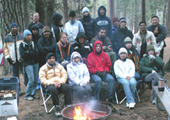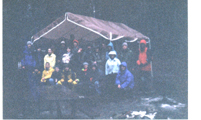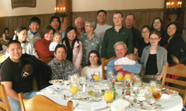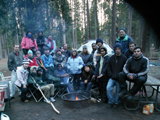 ##########################################################################
The Outdoor Club is a completely volunteer organization, neither the officers nor the advisor are paid. As a result you will not get the same 'service' from us as from a professional group. We can't always find a way to sign up people who can't make it to our regular meetings, to a class when we are there, or to a table we have on campus. If none of the times we have available for signups are convenient for you, we don't have enough people to be able to meet personally with you and sign you up.
People who wait until the last minute to sign up are sometimes left out.
How to find us is at: Outdoor Club Coming Attractions
__________________________________________
Yikes! Does this trip info have too many webpages? Can't remember where the info you need is? Go to: Yosemite trips index
__________________________________________