Signups for the February 2023 Yosemite trip have
things you must do before you come to sign up.
You always need to bring a photo ID
(which could be a drivers license or a clear photo on your cell phone of your passport)
and proof you are a De Anza student to be able to sign up for an event.
(For proof of enrollment you can show us, on your smart-enough phone, your enrollment at the Portal.)
You can't just show up for an off-campus event and expect to participate without having signed up in advance in person and having paid in advance.
You can't sign up on-line, by email or at this website, each student must appear in person to sign trip agreements/releases.
Your friend or even your spouse can't sign the required paperwork.
If you are under 18 your parent / guardian must sign you up, in person, with you, and be at your overnight accommodation during the trip.
There are no waitlists for club events.
Step One (many students have already done this step)
All De Anza Outdoor Club events require an in-person, on campus signup.
Everyone coming on campus,
whether for an in-person class,
to go to the library,
to access other college services,
or to sign up in person for Outdoor Club adventures and/or a membership
must submit proof of full Covid vaccination & booster before they come on campus or register for an on-campus class.
If you are not enrolled in an in-person on campus class and have not submitted your vaccination proof, please read:
https://www.deanza.edu/return-to-campus/students.html
and follow through by doing the things you must do before you come to talk to us / do trip paperwork on campus.
(The club advisor is fully vaccinated with two Moderna shots and three boosters!)
Step Two
If you read the trip webpage
and the 2023 Yosemite trip agreement
before you come to sign up, it will go much faster and you will better be able to pass the trip pre-test.
(The first people who took the test in 2022 got perfect or near-perfect scores.)
Step Three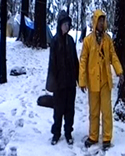 To sign up for the trip you must show us your waterproof hooded rain jacket and pants.
We will not accept a rain poncho.
We will not accept thin, easily torn temporary rain gear like they sell at airports for emergencies.
Your snowboarding gear could be snow-proof, but not actually waterproof out in the rain.
Read more details about the right gear at snow or rain camp must-haves

Step Four
If you choose to camp, we would also like to see your tent, to be sure it will be adequate. You can pitch it at the pool deck. Some people have told us past years they had a great tent but brought one that was not and ended up sleeping in their car.
There are crucial things wrong with each of these tents.
If you do not recognize why they are bad tents (or why the tents were set up poorly)
please read Don't buy a cheap tent.
If you choose to camp, it could be a good idea to have at least looked at potential overnight accommodations. The In Advance of the Yosemite trip webpage has details.
And check out the page with advice about staying in a Curry Village wood floored, canvas sided/roofed tent cabin, in case weather comes in and you decide to move out of the campground or you are considering choosing those for the trip instead of camping.

Step Five
You must bring your money order payment when you come to sign up.
(You can come to one of the signups meetings and get questions answered and/or take the pretest and show us your waterproof rain gear, but you can't sign up unless you have your trip payment with you.)
see: how to get a money order to pay for an Outdoor Club trip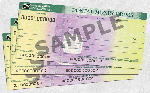 Step Six
Signups for the February 2023 Yosemite trip will not start until winter quarter, since only currently enrolled students can go.
For all signups we meet at the college swimming pool area.
The sign ups for the 2023 Yosemite National park weekend trip will be:
Saturdays, Jan. 14 and 21 at the pool, 10:30 a.m. to 1 p.m. A swim class will be in session so you might have to wait a bit to get help.
Thursday, Jan. 26 at Club Day in the main quad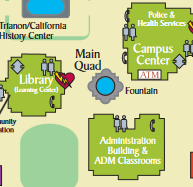 (unless it is cancelled due to potential rain, but even if it is we might set up a tarp anyway). Club Day runs 11 a.m. – 1 p.m. and we expect to be there as early at 9:30 a.m. You should not expect to show up at 12:30 p.m. and be able to get all the paperwork done.
You can find the main quad in about the center of the campus map at:
https://www.deanza.edu/maps-and-tours/documents/campus-map-01.22.2020.pdf
AND last chance to sign up for the Yosemite National Park trip, will be at the pre-trip meeting, Saturday Jan. 28 (signups starting at 10 a.m., pre-trip meeting 11:50 until 1 p.m. or maybe as late as 2 p.m.) This is usually a time people can finally arrange or rearrange carpools or caravans, or make arrangements to share overnight accommodations / campsites.
People who wait until the last minute to sign up are sometimes left out.
People on this trip can hike to the top of Yosemite Falls (the Outdoor Club president, who is going on the trip, did this hike with the club before and intends to do the hike again in 2023),
and/or take a short walk to this view of Yosemite falls
(in February from the far left hand portion of the lower Yosemite Falls walkways/trails.)