WHY DO THIS?
To comply with health rules about wearing at least a bandanna when in public, (but not using up the professional face masks, needed by health care professionals), you can make a face mask from an old t-shirt without needing to use a sewing machine or even a needle and thread (also known as a Quick Cut face mask). It will not be at all as effective as a surgical mask at blocking bacterial and viral aerosols, and it will not fit as well. But it will cover your face better than a bandanna. (At the end of this webpage is a link to a tutorial on how to sew a face mask. )
The New York Times reported: "Guidance on whether to use a face mask has been evolving. But the Centers for Disease Control and Prevention has recommended that healthy and sick Americans wear basic cloth masks in public — a result of new concerns that the coronavirus is spread by infected people who have no symptoms.
It is still most important to limit trips outside and wash your hands frequently. Civilians should not use medical-grade masks, which are in short supply and must be reserved for health care workers on the front line.
But wearing a mask can help limit the spread of respiratory droplets, which in turn spread the new coronavirus."
This was quoted in a Yosemite National Park Daily Report April 6, 2020:
" . . . Mariposa County Public Health COVID-19 Mask Guidelines For The General Public
COVID-19 can spread even when someone is not showing symptoms. Studies have identified this as a possible risk and has led to a change in guidance. Masks may not keep the wearer safe, but they can reduce the transmission of COVID-19 by the wearer (with or without symptoms) to others. Staying home, social distancing (staying 6 feet away from people) and handwashing are most effective. Wearing a mask DOES NOT replace the importance of these strategies. If you must make a trip outside of your home, a mask may reduce transmission.
Mariposa County Public Health encourages you to wear cloth masks that are reusable after washing. You may use surgical masks while waiting for cloth masks to become available. If sewing is a skill of yours, this is an opportunity to help the community by making masks for others.
If you are wearing a cloth mask, you should ensure that you are washing them with hot water and soap. For this reason, having a few on hand would make sense.
Wash your hands before you put the mask on and after you take it off.
If you are showing any signs of illness, you MUST stay at home. . ."
When the City of Cupertino, California instituted an order requiring face masks when out in public, it included these notes:
"A Halloween or plastic mask does not comply with the order.
A ski mask with holes for the nose or mouth does not comply with the order. . .
Children 2 years old and under cannot safely use a face covering. There could be a risk of suffocation for children so young."
– – – You will need an at least recently washed tshirt (we have a small collection of old ones we did not throw out, worn when painting or working on a vehicle). And you need to find a pair of scissors that can actually cut fabric. (Children's scissors usually are not sharp enough.)
I suggest that you read through this entire sequence
before you start any of the steps.
– – – Take a look at the waistband of the tshirt. It has a finished edge that can become the band / strap across your face above your nose and tied behind your head. The waistband and the back side of the t-shirt will be enough fabric to make the face mask, cut in one piece that does not need any sewing.
Since cotton t-shirt fabric does not unravel, but only curls up a little at the edge, (and is free if you have old t-shirts) it is recommended in other tutorials for making a mask, but many of them have you cut the shirt up without using the waistband as part of the mask. By using the waistband you have a nice, solid, strap that will stay flat across the front of your face. (People who have used this tutorial say that the slight curling of the other fabric edges on the finished product is not a problem.)
I suggest using the back side of the shirt, as any logo on the front side would be upside down or only partially visible when you are finished and a pocket on the front side would be awkward to work around. Be sure you choose one that is not full of even tiny holes. Use a cotton t-shirt, not one of your polypropylene (synthetic) base layers you wear to stay warm while camping.
Lay out the tshirt on a flat surface (table, desk, floor), with the front of the shirt down. Your first scissors cut will start at the outside center edge of the waistband at the front of the t-shirt.
Notice how the back of the shirt is folded up slightly so you don't cut through both the front and back at the same time.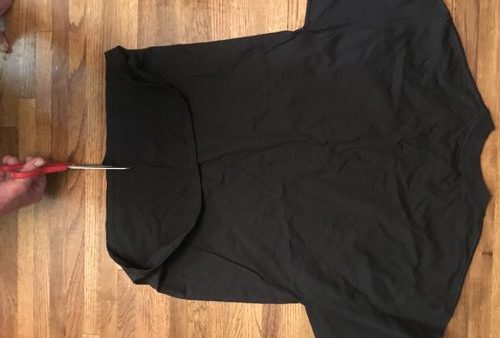 – – – You will cut just through the waistband on the front of the t-shirt,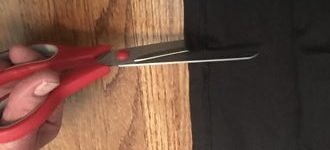 – – – Next you will make 2 cuts along the edge of the waistband. Be sure to not cut into the waistband or any of the existing stitching for the waistband. Notice below that all the existing stitching for the waistband stays intact as you cut: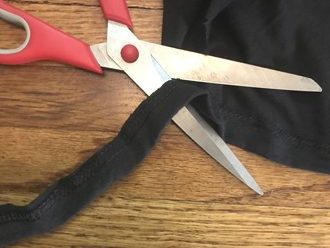 The yellow line below shows where you cut along the edge of the waistband from the first center cut you made, and out to the far edge: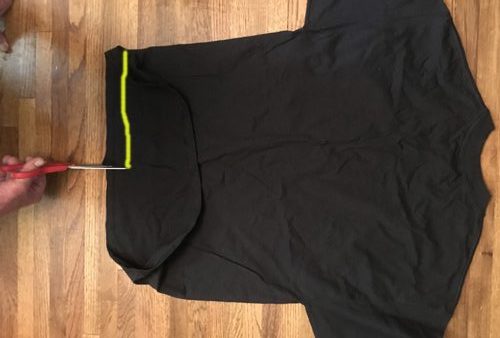 If the t-shirt you are working with has seams along each side (where the front and back were originally sewn to each other), it makes it easier, as you will cut along the edge of the waistband out to each seam. Or you can imagine a seam at each side of the shirt if that helps.
Cut along the edge of the waistband, along the imaginary yellow line shown above,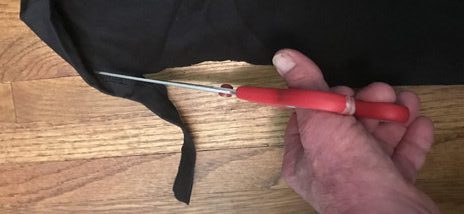 After your first cut along the edge of the waistband,
next you will cut along the edge of the waistband from the first center cut you made, to the other far edge (or seam):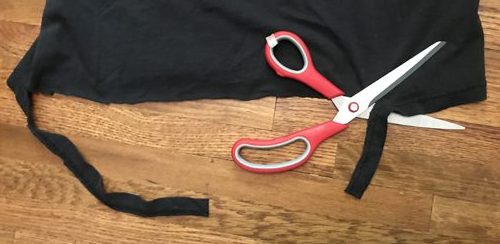 Your cuts do not need to be perfectly straight, you just need to cut loose a little over half of the waistband for the two straps, leaving about half of it still attached to the t-shirt.
– – – Next you will cut the rest of the back of the t-shirt into a very large rectangle, using most of the back of the shirt, (cutting off the sleeves and the neckline, but being sure to keep the 2 straps you made from the waistband).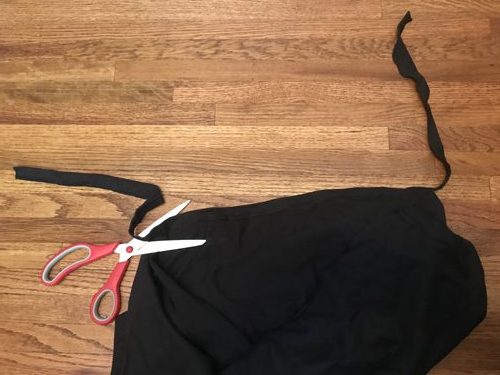 To help you picture where to cut the rectangle out, the leftover section of the t-shirt you cut off will look a lot like this when you have cut the entire back side of it off.
Notice where you cut near the sleeves and neckline.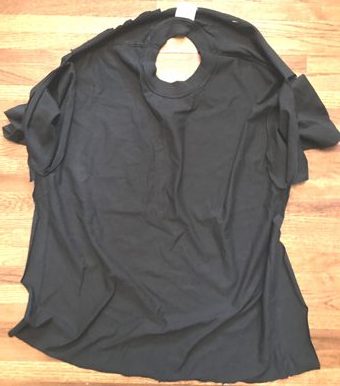 – – – At this point your project should look like this: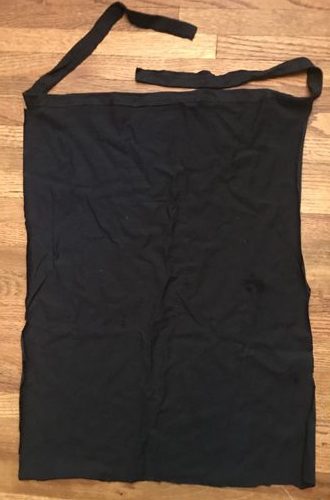 or it might look like this: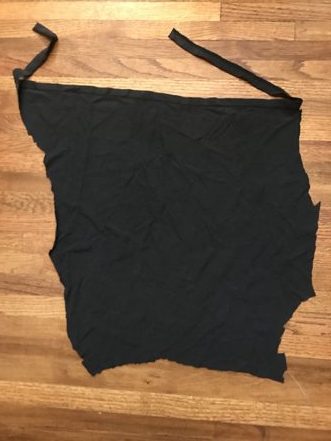 – – – You now need to adjust the width and then the length of the fabric, because this is likely too wide and too long for most people's faces.
You need to hold it up to the face of the person who will be wearing it and decide how much more fabric to cut off along the edge of the waistband (the waistband that you are turning into a strap that will go above the person's nose, behind their ears, and tie at the back of their head).
Tie it around their head and maybe put safety pins to mark where the width should be, (or you can use chalk).
The fabric rectangle that is becoming the face part of the mask needs to be the right width for the strap to go comfortably behind the ear:
this might not be comfortable: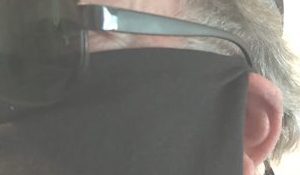 but this might be comfortable: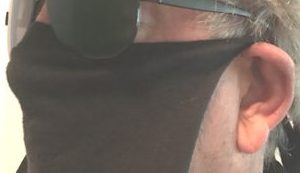 (Even if you have EMT type first aid shears with blunt ends,
you should not be risking cutting the fabric when the mask is on the person's face.)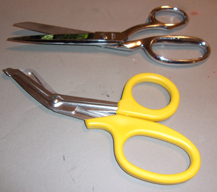 When you cut the fabric to adjust the width, again on a flat surface, I suggest that you cut only small strips at a time, and keep re-fitting at the ears as you go along, rather than guessing that one large piece of fabric cut off at once will be the correct size: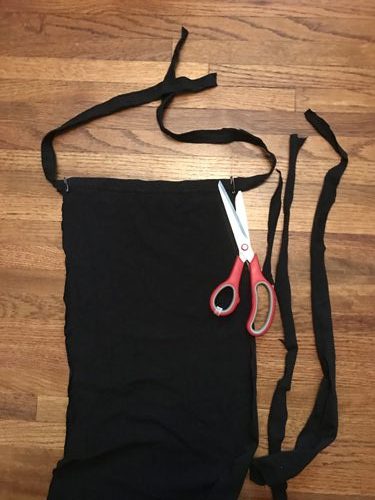 – – – When you have the correct width,
you will make one last set of cuts creating 2 strips of fabric that will become the lower ties to hold the mask around the neck. Cut about half way up (depending on the size of the head of the person, please try to measure it, but it does not need to be exact) with each new fabric strip about as wide as the waistband strip that became the upper ties.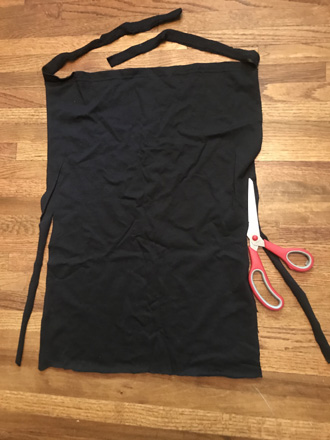 – – – When you have made the mask a width you like, and completed the two lower straps,
put the too long mask on the face of the person you are fitting it to, tying the upper straps behind the head,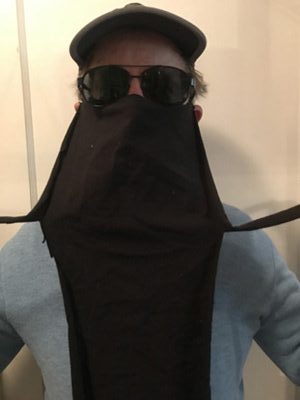 then tie it behind the neck and look for a length to cut it to. (A couple of the first people who tried this project were glad they made it a bit longer than they initially thought they should, because it feels like a better fit.)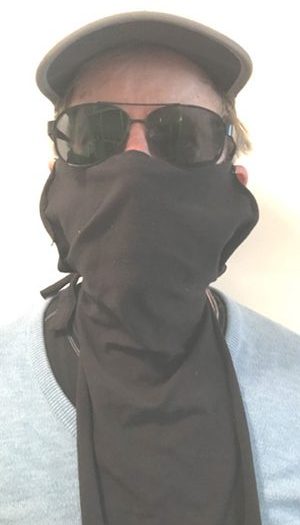 Once you have determined the length, cut it across, (cut below the second pair of straps).
Again, your cuts do not need to be perfectly straight.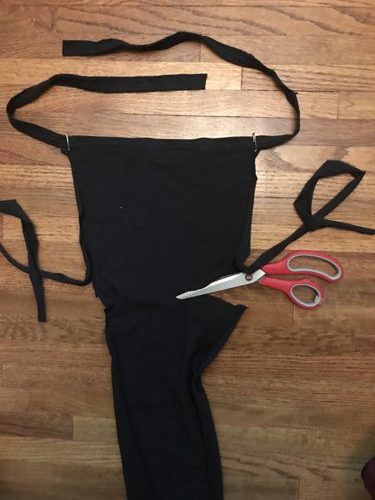 The finished project looks like this from the front (or see below for more pictures of simple cloth masks made using these instructions) :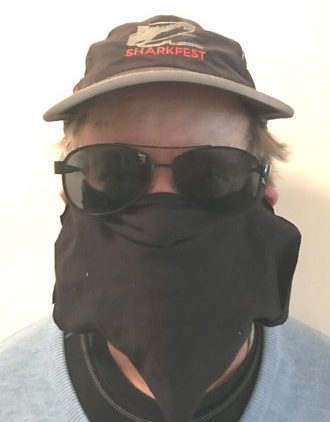 Notice that every mask should be worn covering not just your mouth, but your whole nose and not just the tip of your nose.
and it looks like this from the rear. You can tie the 2 sets of ties in a bow or a square knot.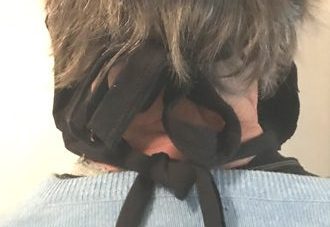 The CDC (Centers for Disease Control) posted these FAQs:
"Should cloth face coverings be washed or otherwise cleaned regularly? How regularly?
Yes. They should be routinely washed depending on the frequency of use.
How does one safely sterilize/clean a cloth face covering?
A washing machine should suffice in properly washing a face covering.
How does one safely remove a used cloth face covering?
Individuals should be careful not to touch their eyes, nose, and mouth when removing their face covering and wash hands immediately after removing."

The New York Times wrote:
"Is the Virus on My Clothes? My Shoes? My Hair? My Newspaper?
We asked the experts to answer questions about all the places coronavirus lurks (or doesn't). You'll feel better after reading this."
It includes: "the virus can survive, under ideal conditions, up to three days on hard metal surfaces and plastic and up to 24 hours on cardboard . . .
. . . just let mail and packages sit for 24 hours before handling them.
. . . Your chances of catching the virus when you go outdoors is extremely low, provided you're keeping a safe distance from others.
"Outdoors is safe, and there is certainly no cloud of virus-laden droplets hanging around," said Lidia Morawska, professor and director of the International Laboratory for Air Quality and Health at Queensland University of Technology in Brisbane, Australia.
"Firstly, any infectious droplets exhaled outside would be quickly diluted in outdoor air, so their concentrations would quickly become insignificant," Dr. Morawska said. "In addition, the stability of the virus outside is significantly shorter than inside. So outside is not really a problem, unless if we are in a very crowded place — which is not allowed now anyway. It is safe to go for a walk and jog and not to worry about the virus in the air, and there is no need for an immediate washing of the clothes."
https://www.nytimes.com/2020/04/17/well/live/coronavirus-contagion-spead-clothes-shoes-hair-newspaper-packages-mail-infectious.html?

Here are the beta-testers for this webpage. Most had never "sewn" anything before and just tried to follow the instructions, then gave me great feedback.
Marc Anthony Urbano was first to try: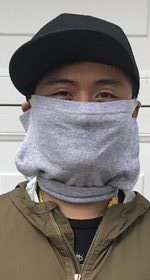 Stacey Thai, the second beta tester, created her mask without coaching, and gave it a little bit more of a stylish cut that fits closer to her face: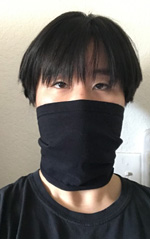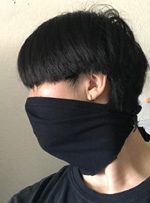 Jose Almonte was the third beta-tester: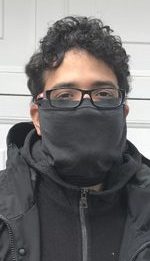 Here is the link to more things to do during the coronavirus stay-at-home time (brainstormed by my students and me).

The New York Times step by step tutorial on sewing a face mask is at:
https://www.nytimes.com/article/how-to-make-face-mask-coronavirus.html?campaign_id=9&emc=edit_NN_p_20200403&instance_id=17311&nl=morning-briefing&regi_id=77117662&section=topNews&segment_id=23741&te=1&user_id=06d6d324540b9d275e642e069124fab6
You might be wondering where you can find a needle and thread. You could dig around in the suitcase and/or briefcase you take on trips and see if you saved one of the sewing kits hotels offer, many have pre-threaded needles.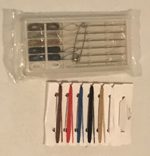 – – – – – – – – – – – – – – – – – – – – – – – – – – – – – – – – – – –
The New York Times had a page about exercising while wearing a face mask.
Exercising Outdoors With a Face Mask
which included:
"Do I have to wear a mask during outdoor exercise?
This answer is more about policy and politeness than viral spread. In general, outdoor exercise, with or without a mask, seems to be safe, according to most experts.
"I think relatively little Covid-19 transmission would occur outdoors, except perhaps in large crowds," says Benjamin Cowling, a professor of epidemiology and biostatistics at the University of Hong Kong and the senior author of a study published in Nature this month that looked at breathing, viral shedding and masks. "Running is good for health," he says, "and transmission risk should be minimal, both for others, if a runner were infected, or for the runner, if they passed by infected people."
Even so, most of us probably should cover our faces while we exercise outside. The Centers for Disease Control and Prevention recommends that everyone now wear a mask of some kind when they leave home, and some municipalities require a facial covering if you are outside. Masks also could reassure people with whom you share paths or sidewalks while running and who, in my experience, have started to shy away when we runners pant by."
and
Does wearing a mask make it harder to run or cycle?
and
Will my glasses fog up?
and
"For the greatest comfort during strenuous exercise, Dr. Lipman says, you might consider a buff, a type of tubular facial covering that doubles as a headband or neck gaiter and can be stretched over the nose and mouth. Buffs often are made from thin, synthetic fabrics designed to reduce heat buildup and, since they are open at the bottom, promote more airflow than standard surgical masks." . . .
"So, in the end, you may need to consult your judgment and conscience and perhaps try a few different types of masks and fabrics. Whatever choice you land on, though, maintain your distance. "The most important precaution is social distancing," Dr. Boulet says. Stay at least six feet away from anyone you pass. And disinfect your hands and your mask when you get home."
– – – – – – – – – – – – – – – – – – – – – – – – – – – – – – – – – – –
In the process of designing the old t-shirt fabric mask described at this page, I made one with a double layer of fabric that was difficult to breathe through. A NPS Ranger colleague said he is using a neck gaiter (buff) as described above. We have all likely seen people out and about wearing knit scarves around their faces, fine for cold weather, but perhaps too warm for summer.
– – – – – – – – – – – – – – – – – – – – – – – – – – – – – – – – – – –
Currently enrolled De Anza College students have free access to the New York Times.
Go to the college library database page: https://www.deanza.edu/library/articledata.html and click on The New York Times. At the next screen, log in with your Portal IDs. On the next screen, create an account.