The De Anza college Outdoor Club can no longer rent out equipment, but we do provide equipment for some trips.
Bear spray for trip to places with grizzly bears is always included for those trips.
Life jackets and paddles are included in the trip price for our kayaking trips. Dry bags are included in the trip price for our kayak overnight trips. None of these are 'rented' in advance.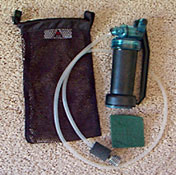 We provide first aid kits, water purifying pumps and a snowshovel as needed during some trips. On some trips we also provide maps and family band two-way radios.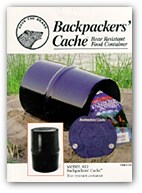 Bear resistant Garcia food storage containers are usually included in the trip price for our backpack trips. The club owns enough canisters for a small group, or for each in a large group to prepack their food/toiletries in advance to get an idea of whether they need to rent more at the park.
We have never had any good sleeping bags or winter boots to rent, but any local outfitters we know of that do are listed at: Snow or rain camp must-haves .
For pictures of tents to NOT take on our trips scroll down to the bottom of Camping Blunders
We also use ten tandem (two- or one-person) kayaks, paddles, lifejackets and there is a trailer to tow them to our Wyoming or Lake Tahoe trips, for example.
These are not the kind of kayaks you need to know how to do an Eskimo roll if they tip over, but they are also not the sit-on-top kind okay for ocean use. They are for relatively flat water lake or reservoir use, not rivers or oceans.
The college owns the ten tandem kayaks. Any club can use them by setting it up with the Outdoor Club advisor, but please note that the driving record of the club advisor/De Anza staff member towing the kayak trailer must be approved by Risk Management AND the faculty/staff member must have experience kayaking and leading kayaking trips. For info on their use go to:
Kayaks (and trailer) use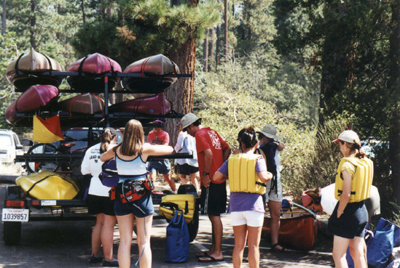 The Outdoor Club is a completely volunteer organization, neither the officers nor the advisor are paid. As a result you will not get the same "service" from us as from a professional group. We do not have the time to return phone calls or emails from people asking questions that they could have found the answers to by simply looking through this website. We can't always find a way to sign up people who can't make it to our regular meetings, to a class when we are there, or to a table we have on campus. People who wait until the last minute to sign up are sometimes left out.
For details about club events and how to find us to pay for a membership, sign up for events or volunteer, go to:
Outdoor Club Coming Attractions