Letters from former novice swimmers
written for people considering taking
novice swimming from Mary Donahue.
Only have time to read one? Scroll down to December 12, 2005.
___________________________________________
DEAR DUCKLINGS,
I might have been crazy taking this swimming class since I hate swimming, the embarrassment of revealing to my friends that I don't know how to swim and especially not knowing anyone as they looked at me when I jumped into the swimming pool. Surprisingly it wasn't that way. Our two GREAT instructors, Mary and Vick made us very comfortable in encountering this new form of recreation-swimming. As class went on, found it very disturbing that I couldn't swim like the professionals, but I persisted and found out that it takes time and patience to see any improvement, but what was so great about the class are the friends that I made. Don't get discouraged. This class is totally awesome. Just wait till you jump of the diving board. I did and it was massive!
THE GUPPY!
(Note- "the Guppy" wrote the above at the end of his first quarter in novice swimming.
A year later he passed lifeguard training.
A few years after that he was a swimming coach, and Red Cross certified Lifeguard Instructor).
___________________________________________
June 19, 1989
Instructor: Mary Donahue
Student: Trisha Wade
Novice Swimming
Since I was asked to give a small account of what I felt like when I first entered your class, I will give an accurate account as possible.
When I first entered the novice class I thought, if I could just learn a few strokes and get over my fear of my feet not touching the bottom of the pool I would be doing extremely well. In the back of my mind, this is what I was really saying "If I could just learn a few correct strokes, I would be happy," Because I honestly didn't feel that I would be able to overcome my fear of deep water in just one semester.
I brought to the class my enthusiasm and eagerness to learn. But what I got out of the class will remain with me forever. It was far more than I had bargained for. Not only did I overcome my fear of the deep water, (Which I cried the first day I was to enter the deep water. Because I was so scarred). But I even excelled to the point where I could jump off the diving board. Something I never thought possible was for me to swim around in l4ft of water. I thought it would be quite a while before I graduated to the deep part.
Well, I realized that the ability was already there. I just had to recognize it and then take advantage of it. I will always remember Mary and Don for their professional instruction. They have given me
something that I will always carry with me. I had to trust them impeccably in order to learn.
I would advise any new student who take the novice class, to carry to the class the same thing that I did. Enthusiasm and eagerness. Then watch what blossoms.
___________________________________________
Dear Mary,
As you know, I am sixty-five years old, retired, and a grandmother. I have had all these years to build up a fear of the water. I made sure my children learned to swim, but I never learned. I decided that there's no time like the present, so I signed up for your novice swimming class.
My first day in the pool, I was so afraid that I just wanted to get out, go home, and never come back. Now, at the end of one quarter, I can jump into the deep diving pool, surface and swim to the side of the pool, not perfectly, but I can get there. I am going to repeat novice swimming in the fall quarter to get good form in my arm stroke, breathing and kicking, but I am comfortable in the water and am enjoying it now.
All this was due to the patience and support you and Don and Chris have given me. You have added a whole new dimension to my life.
Thank you!
Dorothy Shirk
___________________________________________
Dec, 7, 1996
There is a hidden, quiet, fear-influenced population that numbers in the thousands. The people who enviously watch the enjoyment of swimming and boating enthusiasts from the shore or pool side and are themselves afraid to go in or on water. They cannot swim. And learning to swim requires a confrontation with their fears that is itself so anxiety-provoking that they are convinced they cannot learn to swim either.
Let's take my case and see what happened and how I learned. During my childhood I never got a chance to go to the pools neither to the beaches nor to the swimming classes. I was always busy in my studies and other activities but whenever I thought of swimming activity that fear aroused in me. So I dropped the idea. The days, months & years passed by. I came to USA and found out that there are so many water activities out here which I didn't want to miss. My wife knows swimming. So I never wanted to be left alone. And I finally decided to learn swimming even though I had that fear somewhere in my mind. Below I will show you some few and easy tricks to float and some lifesaving techniques. Let me add here that the things I learned at De Anza College under Prof. Mary matched exactly with the swimming techniques shown in all the textbooks. The advantage of learning under Mary was not only that she was highly professional but she was helpful, polite and she knew what the non-learners should know to overcome fear of water.
As far as I remember the first technique she showed was the Beach-ball float. It's nothing but stand in 5 feet water if you are more than 5 feet, take a deep breath give a little jump and bend your feet in such a way that the knees can touch your chest and wrap your arms around your feet. This way the body becomes the shape of a ball. And you float. If you don't float that means somewhere there is still that nervousness or fear.
I couldn't do it the first few times and then Mary caught me. She just told me that I had to remove the nervousness and take a deep, deep breath. And that's it, I was floating. She tried to push in the water by pressing on my back and I came right up to the surface floating. It was the greatest achievement of my life. After that she displayed some different versions of beach-ball floats. That's it, once you know how to float you can start using legs, arms which came at a later stage.
Then came the front float without any feet or arms movement. This was now easy for me with a little difficulty. The only thing I had to do was to hold a side wall of the pool to do a front float. But later on I released that too. Then was the back float. This was somewhat difficult. But if you properly create the arch on your back and tilt your head backwards as much as you can this was an easy task. I took sometime to learn these things. But it was a great fun. I had really started enjoying the swimming even though the real swimming hadn't started. Slowly, slowly came the feet movement which is called the flutter kick, I believe. All of these was exactly shown in the books with pictures. My feeling says that if one has a tutor like Mary then one doesn't need anything.
After that came the real swimming where I had to move my arms and the feets too. I think for the arms movements, one has to see someone doing in person or refer some books with pictures as it's too hard to explain without pictures. It requires lot of practice, lot of stamina to swim this style. But it's fun. After this came jumping. The first jumping was very simple. It was just from the pool surface into the water. This was just to remove the fearness of jumping. After that there were some more jumpings. Some deeper jumpings. And some sculling (treading) techniques in 16 feet deep pool just to remove the scariness of that deeper pools. I couldn't believe that I could jump from 3 feet board, then 7 feet board. and then from the first level which I believe was 17 feet at least. Of course after jumping from 17 feet board into 16 feet pool the instructors, tutor, coaches were all concentrate on you so that you don't get drowned. They will immediately come and bring you up to the surface after you jump. It was great fun.
There were so many other things, tricks and techniques that I learned but it's hard to describe over here. For that one must take Mary's class at De Anza College or wherever she teaches.
I couldn't believe that this was just a Novice Swimming class and I learned so many things which I couldn't have learned just from the books even though what Mary taught was exactly matching in the books. Without Mary and her specially trained coaches this swimming would not have been possible. Thanks to all of you.
___________________________________________
Summer of 2003

Leila Beverleigh
Just like everyone else who didn't know how to swim until this last summer, I made the commitment to attend to Mrs. Donahue's swimming class. I was terrified of water and thought I would never make it. Well, I can only tell you that on the first class, just by listening how the quarter would be like, I secretly thought, "Yeah, right….". This teacher, I will tell you…she tells you like it is. She does not accept "no" for answer. Consequently, I understood that I had to face my fears and make things happen.
From the very first day we get into action. We learn about the survival skills, and how to behave inside of water. Since I had –we had– to work with a partner, I decided to make new friends and learn how to trust them. By doing so, the class became a joy, and very exciting. I couldn't wait until the next class. In addition, I got really motivated, especially after achieving the skill of floating. I kept in mind the thought "I can do this", and also tried to perform better a skill that I felt I didn't do so well.
Throughout the quarter, we had many challenges. My very first challenge was to jump feet first at the end of pool, which was about 4 1/2 feet deep. It was intimidating, but I did it. We all did it. The greatest thing to me was to have the support not only from the teacher, but also from my classmates. We were going through the same experiences. We encouraged each other, and these new tasks became much easier. Mrs Donahue inspired us to keep pushing ourselves to distinct experiences, by explaining how to perform each skill, and the consequences of doing it the wrong way. Also, she gave us examples and demonstrated the skills herself.
We all knew that toward the end of the quarter, we would experience jumping in the deep end pool, –14 – 16 feet deep– and even dive in. We were informed that we would have the support and supervision of other teachers, and assistants. I feared that I would never be able to accomplish that, but I was wrong. I did it. Donahue guided me through the whole process. This experience gave me an unbelievable sense of accomplishment. I was thrilled for being able to perform. I finally knew how to swim!
Donahue is an excellent and unique teacher. Her gentle but firm guidance has helped me to gain the most from her swimming classes. All she does is necessary to achieve one of the most challenging skills we can learn in adulthood. I did the best I could and I am happy with the way it all ended this quarter. I would encourage anyone who is frightened of water, to have Mrs. Donahue as instructor, and not be afraid. Well, just think how many people did it, and still doing it. You can do it, too.
___________________________________________
December 12, 2005
Dear Future Novice Students:
Have you ever been so fearful in a swimming pool that you cannot leave the corner of the pool where you can safely touch the bottom? Are you so terrified to put your face underwater for fear that you won't be able to breathe, maybe even drown? Even more terrifying is the thought of letting your body float; feet off the bottom of the pool, hands not holding on to the side of the pool for security? These are only some of the reasons why you tell yourself you can't swim or unwilling to learn to swim. Take two deep breaths and muster up the courage to sign up for a novice swimming class at De Anza College, but just not any novice swim class. Be sure your instructor is Mary Donahue.
Mary has many years of experience teaching swimming, lifeguard training and is a lifeguard herself. Her teaching method is not to intimidate or force you to do something you are not ready or prepared to do. The patience she implements in her teaching style will allow you to go at your own pace. Mary uses teaching assistants who are just as gentle, helpful, encouraging and patient as Mary. For myself, I was all of the above: terrified, fearful and apprehensive in entering the pool let alone jumping into the pool. Through the quarter length class, my fears began to melt away slowly. I was not the only one in class with the same anxiety. There were other students who I was able to identify with regarding this "fear of water." I can honestly say that my classmates and I had improved our attitude and conquered "this fear." Mary demonstrated techniques to prove that we could float which in turn developed into swimming strokes. Towards the end of the quarter, if you can believe it, we were actually confident in learning diving techniques. This was pretty amazing and astonishing for me, who was terrified of jumping into to 4 ½ feet of water. I still have more to learn and my friend "fear" still likes to follow me around. But I have gained the knowledge and the confidence to keep trying. This will be you too!
I would recommend that you take the class and put your trust in Mary. You will surprise yourself. What you thought would be a frightening experience turns out to be a positive and rewarding one that will make you confident that you can learn to swim, and proud that you faced your fear of water.
Sincerely,
Olivia M. Patlan
___________________________________________________
Fall quarter 2006, Sheba Najmi wrote the following article for the De Anza student magazine INSIDER.
Novice Swimmer-Turned-Teaching Assistant: Ten Years and Going Strong
In the Fall of 1995, Thomas Ma knew that De Anza College's Novice Swimming class was his last hope. If the class wasn't able to help him overcome his fear of the water, he would throw in the towel. There would be no more failed attempts at Beginning level swimming classes, and he would reluctantly bid adieu to his dream of whitewater rafting. Luckily for him, Mary Donohue was teaching the class.
By that point, Ma had survived Classes I – IV of whitewater rafting. But he was no longer in luck. The six class grading system reflects the difficulty and danger of the whitewater rapid. Class VI refers to rapids that are highly hazardous and regularly result in serious injury or death to expert rafters. Class V, therefore, took the sport to a different level. Entry to this level required that the student not only be able to survive the whitewater fall for the duration of the river's drop-off height, but also stay afloat, pass the raft swimming downstream, swim off to the side, and climb back into the raft.
Though Ma had hoped he could attain whitewater rafting expertise without knowing how to swim, he first had to clear the Class V entry swim test. But in the course of his 34-year existence, Ma had tried everything he could to learn to swim, including other classes and one-on-one lessons from friends. Finally, a friend suggested Donohue's Novice class and convinced him to give it a last-ditch effort. Though Ma was late signing up for the class, Donohue admitted him even after the first week. Looking back on it, he says he may not have persevered in trying again the following quarter if Donohue hadn't let him join the class late.
Eight years ago, Donohue walked by the Intermediate Swimming class as Ma was trying to help a fellow student. Ma had not only completed Donohue's Novice class, which was his goal for being able to continue whitewater rafting, but also took her next level Beginning class twice and followed it up with an Intermediate class with another instructor. Always on the lookout for capable helpers, Donohue proposed he help out with her Novice class, the benefit for him being that he would get to practice during the class.
At the time, Ma worked as a 36-year-old Developer Relations Engineer at Adobe Systems, which entailed presenting to and training different types of people. The catch was that he was petrified of teaching and giving talks. But somewhere down the line of assisting students in Donohue's weekend class and working with individuals who each had unique needs – many couldn't understand English well, others could understand only gestures – he noticed improvements in his performance at his weekday job too. From then on, the motivation for Ma became dual: satisfaction of the moment it all clicks for a student; and enhancement of his abilities to coach people at work. Consequently, for the last eight years, Ma has been a Teaching Assistant (TA) in Donohue's Novice and Beginning level classes. Despite having a demanding full-time job at Ubiquity Software, the 44-year-old keeps coming back quarter after quarter.
Adults with deep-rooted fears of the water and immigrants who never needed to learn to swim attend Donohue's weekend Novice class. "It's like teaching children," Ma says, "but harder, because kids haven't had years to develop bad habits."
The role of the TAs is critical. Last quarter, a petrified student was unable to bring herself to jump into the 4-foot end of the pool. Since Donohue had to keep the class proceeding at a level that applied to the majority, she instructed Ma to remain with the student. Ma encouraged the student patiently for a half hour until she took the plunge. And then he had her do it again. And again. The following week, she had hopped into the water even before Ma had a chance to encourage her.
Ma emphasizes that swimming expertise is not needed to be a TA. "All that's needed is enthusiasm for passing on information to another student to get them to the point of achieving the goal," he says. This explains why most of Donohue's TAs are ex-novice swimmers themselves. On the other hand, some lifeguards have not made good TAs due to their inability to convey information patiently according to the individual's needs.
"It'll be a sad day when Mary retires," Ma says. Donohue has been teaching Novice Swimming at De Anza for eighteen years. "The difference between her class and other instructors' classes is that she teaches from inside the water, by doing rather than showing," Ma explains.
"I believe anyone can do it," Ma says with absolute conviction based on his own experience. He recounts a 68-year-old Latina student who couldn't speak English. Despite the challenges, she learnt to swim. In the last ten years, Ma has not seen any student unable to dive into the 16-foot pool on the last day of the Novice class. "Mary's class has a record of 100% deep-water friendliness," he says, beaming with pride.
And in case anyone was wondering, Ma made it through Class V whitewater just fine.

KNES01A (formerly P.E. 26A) is the Novice swimming class at De Anza College.
If you are still not sure whether this is the right class for you, read a description of typical students and goals of the class at Novice swimming
It includes this:
According to the state of California:
" Swimming continues to be the second leading recreational pastime (behind walking) in all national surveys.
· 50% of the United States population is non-swimmers."
According to a 2007 Gallup survey,
39% of adults in the U.S. said they are afraid to put their heads under the water.
62% said they fear deep, open water (which does not have to be the ocean, a big swimming pool can seem to be deep, open water).
___________________________________________
Novice Swim FAQs has the cost, etc.
___________________________________________
If you can swim well, including freestyle and backstroke, you do not belong in novice swimming. Taking it is a not a strict prerequisite for taking a more advanced class. Take a look at beginning swimming.
I usually teach a beginning swim class most quarters in all depths of water, shallow and deep.
Ability to tread water is not required.
___________________________________________
No, it is not too cold to take a swim class in an outdoor pool. The pool is heated enough for seniors exercise programs. A swim cap makes you warmer and faster. You can also stay warmer (and have more modesty) with 'rash guard' type tight-fitting shirt, cyclists shorts, but many people just go ahead and swim. (I often wear one or two men's 'jammer' long-legged swimsuits over my regular suit when I swim at 6:30 a.m. in the winter.)
below, lifeguard Samir and swimmers model warm swimwear including various coverages of rash guards and jammers: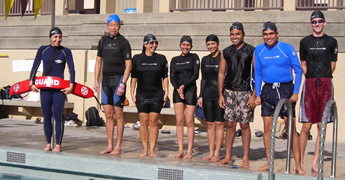 Many people wear a long sleeved rashguard top and jammers (men's longer legged swim suit) for extra sun protection, modesty or warmth.
Ladies wear them for more coverage over their regular swim suit.
Some buy a spring (short sleeve, short leg) wetsuit for warmth.
If you want full coverage of your body, including arms, legs, neck and head, I suggest searching for Muslim swimsuits or full body modesty or Islamic modesty swimsuit. You can find designs for triathletes that will not interfere with swimming movements. Unfortunately, some modest swim "costumes" do interfere. I suggest that you look for a training, competition or triathlon swim suit in one piece, without a skirt or loose top, loose legs, and without a hat brim at the top of the forehead on the head covering. The head covering / hood should not interfere with your vision to the side as you move. Some people wear a rash guard type athlete's suit with long legs, long arms and no hood, but wear a swim cap rather than a full hood. Some swim fabrics are made of materials that can provide sun protection.