Answers to FAQs, frequently asked questions about swim classes at De Anza College.




Do I need to bring my swim suit the first day?
The first day of classes at De Anza has a large amount of paperwork to be done. For MOST weekday classes this means the instructor will go over the course syllabus, take roll, do adds and not really have enough time for any swimming instruction. For MOST weekend or evening classes, if they are held only once a week for longer sessions each time, the class will have time to get in the pool. SUMMER quarter is an exception since it runs for less weeks and longer classes each time, so many classes do hit the water the first day. In any case it's wise to bring swimsuit, towels, etc. because each instructor does things differently.


Does it matter what kind of sunscreen I use?
Read the instructions on he product, including how soon before you swim to apply it. Most sunscreen will wash off and create an oil slick in the pool if you apply it and then get right in. Some are not waterproof at all.
If you choose to use a spray, stand away from others so they don't have to breath it.
Answers to questions about sunglasses, hats, and sunscreen are at: http://www.cdc.gov/
Go there and search for sunscreen.

No, it is not too cold to take a swim class in an outdoor pool. The De Anza College pool is heated enough for seniors exercise programs. A swim cap makes you warmer and faster. You can also stay warmer (and have more modesty) with 'rash guard' type tight-fitting shirt, cyclists shorts, but many people just go ahead and swim. (I often wear one or two men's 'jammer' long-legged swimsuits over my regular suit when I swim at 6:30 a.m. in the winter.)
below, lifeguard Samir and swimmers model warm swimwear including various coverages of rash guards and jammers: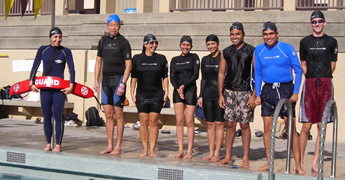 Where it lists a prerequisite, does that mean I have to have taken the De Anza prerequisite class before?
In the case of some De Anza courses, the prerequisites are literally required. For swim classes and most De Anza Kinesiology (formerly Physical Education) classes, you only need have the skills of someone who has taken the preceding course. Some instructors will give a swim test, perhaps as simple as swimming across the pool, to judge if your abilities are sufficient. In beginning swim classes a long swim test in deep water is listed as a prerequisite, but when I teach it on Saturdays we have shallow water as well, so there is no deep water swim test unless you want to swim in deep water.

I can't float, can I learn to swim?
I've never been in a swimming pool, can I learn to swim?
Knes 001A (formerly P.E. 26A) is the Novice swimming class at De Anza College in Cupertino, California. It's the class for adult non-swimmers and for some people who can swim, but not well. Has it been quite awhile since you last swam, or did you forget how to swim? Are you self-taught? Are you uncomfortable in deep water? Have you never been in a pool? Then novice swim might be the right swim class for you. (It is not offered winter quarter, but we often have a shallow water beginning swim class then.)
For info about the class click on these links:
Letters from novice students, which you should read if you think you can't learn to swim.


What is the difference between KNES 1B, KNES 1C, KNES 1D and KNES 2A (formerly PE 26B, PE26C, PE26D and PE6G)?
KNES 1 B (formerly P.E. 26B) is the beginning swim class at De Anza.
KNES 1 C (formerly P.E. 26C) is the intermediate swimming class at De Anza. KNES 1 D (formerly P.E. 26D) is the advanced swim class. KNES 2 A (formerly P.E. 6G) is the aerobic swim class. They are regularly taught together at the same time/days.
All three cover the historical development of swimming, nutrition appropriate to swimming, freestyle skills and turns. 1C and 1D cover more stroke skills, 2A has more cardiovascular conditioning. Some vocabulary and an introduction to designing swim workouts for 2A aerobic swim students is at: Swim workout vocabulary

Which swim class should I take?
If you are not a novice (adult non-swimmer or just not able to swim in water deeper than you are tall), take a look at either beginning swimming at De Anza College
or intermediate swimming at De Anza College
___________________________________________
Sometimes my swim classes start in a classroom with a how-to-swim-a-stroke video made by the Red Cross and USA Swimming, then move to the pool. The location of the classroom, with a mini-map, will be at the class webpage.
___________________________________________

Practice on a stand-up paddleboard (SUP) is optional, and will not apply to your grade. It is usually, but not always, a part of the last day of my swim classes: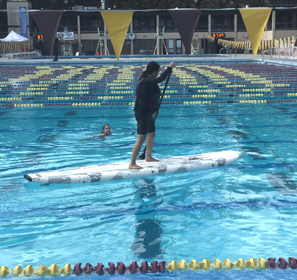 __________________________________________________
There is a great video of the De Anza College pool complex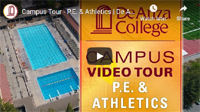 at https://www.youtube.com/watch?v=upsndI_J1Dg
____________________________________________________
What is EPOOL, WPOOL, MPOOL, or DWELL?
EPOOL refers to the east end of the De Anza College Olympic sized pool. This is the shallow end with water up to 5 feet deep. Novice swim classes, some beginning swim classes and water exercise classes are held there.
MPOOL is the middle section and WPOOL is the west end of the pool. Both are in water that is at least 6 to 7 feet deep.
DWELL is the diving well, the second pool at De Anza. It is 14 to 16 feet deep. It's where swim classes go to work on springboard diving.
Most classes meet the first day in the bleachers above the pool, some on the pool deck, often in the vicinity of the E,M,W or DWELL section they are assigned to. The first day for all of my swim classes we get in the water.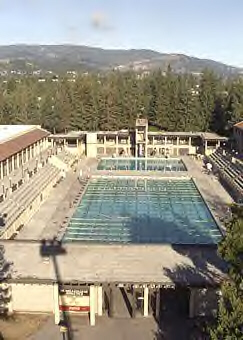 ___________________________________________
How to find the De Anza College swimming pools

How big are the pools?
De Anza has an olympic sized racing pool, 25 yards by 50 meters, and a 14 to 16 feet deep diving well with one meter and three meter diving boards.
The De Anza college swimming pool is big enough…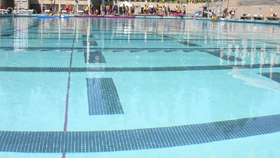 In the space for the faculty member's last name what does "STAFF" really mean?
The class was not formally assigned at the time the schedule of classes went to print. It does not mean that there will be various staff members teaching the class over the course of the quarter. Sometimes you can find out the name of the instructor at the online schedule of classes.
___________________________________________

How do I get a locker?
How to get a P.E. locker at De Anza College

When I tried to enroll I was put on the "WAIT LIST." How do I get moved to the enrolled list?
Attend class the first day and see what happens.
If a student who is enrolled does not attend the first class meeting, or if they are too late, the instructor has the option to drop them from class to accommodate students on waiting lists.
Some people will be enrolled in the wrong class because they belong in a more advanced class so they will move to an appropriate class and be dropped. Some people may be enrolled in the wrong class because they don't have enough skill and will be told to take a lower level class (especially in a upper level swim class that is held in water too deep for the student). Sometimes the instructor may decide to take more people than the standard maximum enrollment (if the instructor has volunteer teaching assistants, for example).
Some people tell me they have tried more than once to get into my novice swim class, but are always too low on the waitlist. At the very least attend class the first day to see if you can get in. (Often those who told me they could not get in to the class did not show up the first day!)
see also: wait lists, adds, drops


What does it mean to ask for a P/NP grade?
P / N P (Pass/No pass) is explained in detail at: https://www.deanza.edu/apply-and-register/register/passnopass.html
For some classes it is how the class is designated. No student can get a letter grade (A, B, C, D, F), everyone either passes or doesn't.
For most De Anza classes, if a student doesn't want to try for a letter grade they need to do it shortly into the quarter as there is a deadline (listed at the Detailed how-to link below).
There are limits on how many units of P/NP can be applied to an A.A. degree.
You don't need permission of the instructor. You must make the choice online at My Portal, the teacher does not do it.
It has been the experience of this instructor that some students who opt for P/N P think it will make their lives easier and they don't try as hard. As a result, some get a N/P (fail) because they miss classes or don't do the work needed. So my advice is to consider your own motivation before you apply for a P/NP, and be sure you do enough work to get that passing grade.
Detailed how-to is at:
https://www.deanza.edu/apply-and-register/register/passnopass.html

Homework … in a swim class??
De Anza requires that swim students are taught strokes, treading water and underwater swimming, (and in higher level classes, turns and diving), and the curriculum says that swim students will:

Examine the global and historical development of swimming from survival to competition.

Experiment with the laws of physics as they apply to basic swimming skills.

Apply basic exercise physiology and nutrition to swimming.

Analyze causes of drowning and apply safe water practices.
Each instructor handles this differently. How I cover the required material and still have time for people to swim is explained at KNES01A    KNES01B   , KNES01C   which is also info for KNES01D.
At KNES02A there is usually a link to the grading, at a different webpage depending on which other swim class it is being taught with.
You can read the curriculum (course outline or course content, usually designed by a division and reviewed and approved by the college) for any De Anza class at: http://ecms.deanza.edu/deptoutlinespublic.html
Be sure to search for KNES instead of PE.

How can I tell if I'm a good swimmer?
The Navy Seal swim test, Naval Academy midshipmens test, a prerequisite for an "Escape from Alcatraz" 1-1/2 mile ocean swim and others are at:
How can I tell if I'm a good swimmer?
The current (easier than most people think!) prerequisite swim test for Red Cross lifeguards can be found on this website at: Lifeguard Training FAQs
Where can I find rules and regulations for triathlons?
go to http://www.usatriathlon.org/
and click on competitive rules
One section is on swimming conduct, including the wetsuit policy, official and illegal equipment.
You might also want to read:
Quit being paranoid about sharks
Where can I find info about College and world meets, records, etc.?
Pacific Swimming, the second largest of USA Swimming's 59 regional associations, is made up of more than 100 swim clubs and more than 12,000 swimmers. Membership is centered in California's San Francisco Bay Area.
They have swimming time conversion calculators to convert yards to meters.
USA swimming has links to top times at:
https://www.usaswimming.org/Home/times/data-hub
USA diver has a bunch of great pages, including how the scoring system works.
http://usadiver.com/diving_about.htm

Isn't it too cold winter quarter to have a swim class?
The pools are heated enough to have senior's exercise classes, so you can swim! Try the triathlete's trick of wearing two swim caps, one right next to your head and a second one with a a slight insulating layer of air between them. Some swim students wear tight-fitting bike shorts, more than one pair of jammers (long-legged swim suit/shorts) or a wetsuit vest for extra warmth.
When are the holidays, last day to add, last day to…?
Go to: http://www.deanza.fhda.edu/calendar/
How do I enroll at De Anza?
If you haven't ever been a De Anza student, or were here before, but not the most recent quarter, you must first apply to the college. If you have not been accepted as a De Anza student, you can't just show up the first day of class and be added.
Registration steps are at: https://www.deanza.edu/apply-and-register/
Many of my students ask me if I can teach their children to swim.
De Anza only has swim classes for teens and adults. For swim classes for kids (infants, toddlers or children, ages 3 months to 7 years), I recommend Sharky's Swim School in San Jose. The owner is a graduate of De Anza lifeguard training, with 20 plus years of experience teaching babies and young children to swim. The pool is kept at 92 degrees so you and your baby won't be cold. (408)340-1937. http://sharkysswimschool.com/
___________________________________________
I don't have enough time to exercise, how can I make extra time?
Try the ideas at Sneaking exercise.
One of the pools I swim at allows little kids with swim diapers. Do swim diapers or swim pants prevent fecal matter from entering the water?
According to the the Centers for Disease Control website the answer is "not likely." For more go to
http://www.cdc.gov/healthywater/swimming/rwi/rwi-basics.html
After my workout, what is there to eat on campus?
Go to:
https://www.deanza.edu/dining/
and click on a topic on the left.
But stay away from the colas and soda! An article in the San Francisco Chronicle of April 4, 2003 said, in part:
"Soda consumption has been clearly linked to increased broken bones, obesity and osteoporosis. A Harvard School of Public Health study found that physically active teenage girls who were soda drinkers were three times more likely to break bones than their teammates who shunned carbonated drinks. For cola drinkers, the risk was five times greater, according to the study (Archives of Pediatric and Adolescent medicine; June 2000)."
Buy or bring your own water, 100% fruit juice or milk.
More students qualify for financial aid than use it or even know they qualify. There are enrollment fee waivers you can apply for online which take about a week to get an answer. For all the details go to:
http://www.deanza.fhda.edu/financialaid/index.html
De Anza College offers many scholarships, some of which have few applicants!
Check out the loot:
http://deanza.edu/financialaid/types/scholarships.html
You don't have to pay for all your classes/fees at once. De Anza has an installment payment plan that allows you to defer most of your payments. Go to: http://deanza.edu/cashier/installment_plan.html
___________________________________


De Anza College home games also has links to student recitals, dance performances, art exhibitions, kayaking lessons in the De Anza swimming pool, Family Astronomy Evenings and Laser Light Shows, guided campus tours and blood drives.