This is the list of equipment YOU MUST HAVE
(followed by the list of things YOU WILL WISH YOU HAD)
to go on the De Anza College Outdoor Club annual Yosemite Snow Camp trip,
or even on our summer trips,
especially those to Grand Teton National Park.
A lot of this applies to camping
when you just didn't expect really cold or wet weather
but you got it anyway.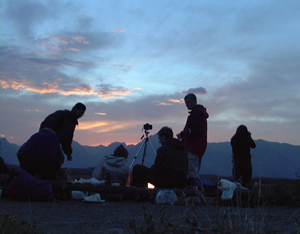 sunset dinners and stargazing after are more fun when you are warm.

Friday, Feb. 2 – depart Sunday Feb. 4, 2024, will be the THIRTY-FOURTH ANNUAL Yosemite Valley winter trip.
The required clothes and gear at this page applies to those who choose to camp
OR choose a heated or unheated wood floored, canvas sided and roofed tent cabin / wood walled cabin without a bath / cabin with a bath / various designs of hotel rooms
(See in Advance of the Yosemite trip.)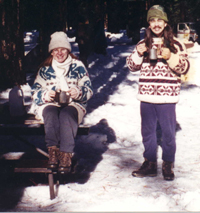 The happy campers above on the last day of the 1996 trip are smiling in part because they brought the right gear. They wore layers of warm clothes and kept them dry with a complete waterproof outer layer when needed. They had good boots and knew that wearing a hat helps keep toes warm because you can lose a lot of heat from an uncovered head. They brought lots of spare
(NOT COTTON)
socks.
Lots of fluids and regular small meals, to keep your energy output up (cut back on the caffeine), also help keep your toes warm. But remember that when you eat, part of your blood supply will head for your stomach, so you need to get warm before you eat. You also need to get warm before you go to bed so you can more easily warm up your sleeping bag. For most people this just means walking around some instead of sitting still.
Her toes are probably warmer than his because she's sitting on the picnic table, not standing in the snow. Whenever possible, have a seat and put your feet up on a rock or part of a firewood pile.
And they didn't smoke. Everybody on the trip will have cold toes sometime. Smokers usually have the coldest toes because their blood vessels constrict when they smoke and blood flow to their toes decreases. People who have smoked have complained of painful toes.
Leave no trace If going into the wilderness, if you can, choose hiking, backpacking, and camping gear and clothing that are natural earth tone colors like green, brown, tan. (Some websites also recommend black, but it, along with flowery prints and bright colored clothing, attract insects that sting.) Bright colors like white, purple, blue, red and yellow do not blend in with the environment, can be seen from miles away and contribute to a crowded feeling. But do carry at least one item of very visible clothing and/or gear to help rescuers find you if needed.
There is no such thing as bad weather,
there are only bad clothes.

Why bother with all this gear?
Yosemite Search and Rescue (SAR) ranger (lead Yosemite SAR Technician) John Dill
(who hangs out of helicopters to rescue people) has this advice:
"There is always more to learn, and even the most conscientious climber
can get into trouble if unaware of the danger ("I thought it never rained…").
Here are some ways to fight ignorance:
Look in the mirror. Are you the stubborn type? Do you resist suggestions?
Could you be a bit overconfident? (Ask your friends.) . . .
"I just didn't take it seriously," is a common lament.
It's often correct, but it's more a symptom than a cause
– there may be deeper reasons for underestimating your risk.
Ignorance is one, and here are some more:
Habit reinforcement. The more often you get away with risky business the more entrenched your lazy habits become. Have you unconsciously dropped items from your safety checklists since you were a chicken-hearted (or hare-brained) beginner?
. . . Memory Decay. "I'm not going up again without raingear – I thought I would die!"
A week later this climber had forgotten how scared he had been in that thunderstorm.
Raingear was now too heavy and besides, he was sure he'd be able to rap off the next time.
Many of us tend to forget the bad parts. We have to be hit again."
. . . "Survivors say they had no idea how helpless they'd be until it happened to them.
To find out for yourself, stand in the spray of a garden hose on a cold, windy night.
How long will you last?"
read more at climbing advice.

On the 2020 winter Yosemite trip, with nighttime temperatures in the 30s, the fully prepared Outdoor Club trip members who hiked the trail to the top of Upper Yosemite Falls met up with other students from the college that they recognized, who had been saying they would sign up for the trip, but did not sign up.
"On the way back down we discovered a group of three hikers who 'happened' to be students of De Anza. We quickly noticed that they were extremely under prepared. They were wearing very thin clothing. Skinny jeans. Vans shoes. They only had one headlamp and a flashlight that honestly couldn't shine a light in front of their faces. They did not have any food nor did they have enough water. My group offered many necessities to help ensure their safety. We offered jackets, waterproof pants, water, food and flashlights (they refused the flashlights)."
Yosemite National park describes the hike:
Distance: 7.2 miles (11.6 km) round trip
Elevation: 2,700 ft (823 m) elevation gain
Difficulty: Strenuous
Time: 6-8 hours round trip
The unprepared people said they wanted to be at the top for the sunset – yes, in the winter with no food – no waterproof outerwear and a 3-4 hour hike back down, likely longer since there was some snow on the trail.
(At one point, the woman among the three unprepared hikers, who had on a t-shirt and jeans with no warm jacket and who carried no water, (but did accept a jacket from one of the prepared women) was crying.)
The Club trip members continued down and realized that since it was getting dark soon (and a cold wind came up shortly after sunset that evening), they "decided to turn around and go to these three to make sure they got down safety. We decided that we could not make our way down . . . knowing they were up there in an unprepared manner." They saw them coming down and waited for them, then escorted them down, by flashlight.
None of the three had waterproof outer layers (which are required for trip members to show to the club before they can sign up for the trip). The waterproof outer layers are a necessity because wet weather can show up unexpectedly in the mountains and because even if the weather turns out to be dry, a waterproof outer layer can be extra protection just to keep people warmer, protected from wind.
They said 'we read the must-have equipment webpage but didn't want to spend all the money so we came to Yosemite without the club.'
The prepared club trip members, (who accompanied the unprepared people all the way down the trail by flashlight after dark) may have saved the others' lives.
The unprepared people made a choice not to spend money on necessities to be safe (or even just to survive) on the trail, but to instead spend money to stay in a more luxurious overnight accommodation than the people who saved them. The unprepared people had heated hotel rooms with Wi-Fi, bathrooms, big screen T.V., mini-fridge, patio or balcony.
The students who choose to spend money to be properly prepared had a barely heated canvas tent cabin / thin wood walled cabin without their own bathrooms (shared restrooms / shower house a short walk away from the low cost overnight accommodations).
The prepared people did not have to spend much money to be prepared.
See below for many ideas for people on a budget.
(Dress For Success)
– – Waterproof and windproof outer layers. One person on a previous trip didn't seem to understand that a very light snowfall is water, even though it doesn't seem like much. She didn't cover the big, warm down jacket she had borrowed and it slowly got wetter and wetter until it was useless.
Some people on our first trips had to buy rain jackets and rain pants in Yosemite because they really needed them. They would have been cheaper at a Bay Area surplus store or hardware store. Most people who only brought rain 'ponchos' ended up wishing they had rain jackets and pants because they work so much better. Ponchos drip water on your pant legs and into your footwear. A rain jacket and pants set gives you complete coverage. Ponchos blow around in the wind or even just as you move about doing things in camp and let in water.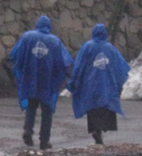 Hmmm, if you buy Yosemite logo rain ponchos in the park,
everyone can tell you did not come prepared.
One girl on the '98 trip really thought the jacket she brought was waterproof, but within seconds of stepping out of the car she found out otherwise. We made a cover for her out of plastic garbage bags to try to keep her dry until she got to the store.
People who have never been too cold for too long (hypothermic) tell us they do not think they really need waterproof outer layers. But even if the weather report says sunny, it can change quickly, and when the wind comes up after dark, your waterproof outer-layer can also keep you warmer by protecting you from the wind.
Hypothermia is one of the main causes of death in people recreating in the outdoors,
but hypothermia is PREVENTABLE.
Because of all the unprepared people on previous trips,
you must show us what you intend to wear for your outer layer
and get it approved before you will be allowed to sign up for overnight trips.
Water repellent, water resistant, 'blocks light rain' or 'wind pants' are not good enough in the heavy rain or snow we could have.
Look at the collar tag on your gear, does it say waterPROOF or just water resistant?
We will not accept thin, easily torn temporary rain gear like they sell at airports for emergencies.
We will not accept a rain poncho.
When heavy snow builds up in trees it falls without warning often in a big thuding plop or a cloud of snow dust that put out the flame on a camp stove on the 2008 trip twice one morning. A poncho will not protect you from this: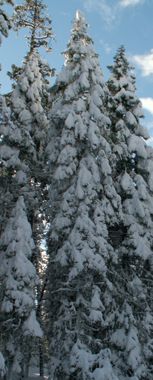 Waterproof material looks and feels plasticy or rubbery. If a jacket feels like cloth it is probably not waterproof, except possibly Gore-tex or DRYRIDE two-layer fabric. They are advertised as being both waterproof and breathable (capable of letting your sweat out). If you can afford it, at $300-790 for a parka, (and if all of the newer ones really work that well, the first ones didn't always function in heavy rain or when dirty) then go for it.
Your snowboarding jacket/pants/bib are probably snow-proof but not waterproof. BUT if they are and if we get early spring type weather with rain and warmish temperatures instead of winter temps, you could really wish you had a lighter rain jacket to switch into besides the heavier gear.
If you are not sure if your ski or snowboard pants / bib / jacket really are waterproof, wear them in the shower. After you dry them out, wear them to Home Depot / Ace Hardware to try on waterproof rain gear that fits over them.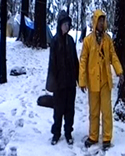 Buy your waterproof outer layer a size larger than normal to have room for warm things under it. On a budget? Get a set (pants and jacket with a hood) of ($27 to $49 in 2021) construction worker raingear at Home Depot / Ace Hardware.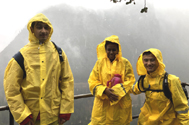 Yes, it could be bright yellow, but you won't be the only one.
Be sure you get a set with a hood, some rain jackets do not have one.
It really does need to have a hood: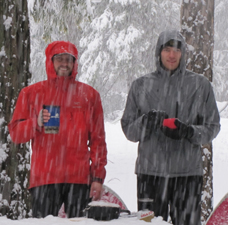 If you can sew, you can Improve your inexpensive rain gear and turn a less expensive set into one with more features.
The Yosemite ski resort gives this advice for what to wear/bring for a ski lesson:
"Winter hat
Waterproof ski parka
Waterproof ski pants
Synthetic or wool base layer (not cotton)
Fleece or wool mid-layer (not cotton)
Warm, tall ski socks
Waterproof, insulated gloves or mittens
Sunglasses or goggles
Sun screen and lip protection
Dry change of clothes"
– – Long underwear, also called long johns or base layers, (top and bottom) in polypropylene, capilene, polartec, drylitest, versatech, micro modal, wool, silk or polyester (or a blend, spun poly / lycra / rayon, for example).
Cotton or ramie won't work because it soaks up sweat and makes you cold. Wool and silk can get sweaty, or even soaked, and still be warm. The synthetics wick away moisture from your skin to the outer layers. (Would you believe professional football teams actually wore pantyhose before the more modern stuff was invented?)
On a budget? Think about things in your own wardrobe or things friends have before you spend a lot of money. Runner's compression tights, skin-tight stirrup pants, leggings and / or silk pajamas under fleece pants could work. A dressy silk turtleneck, tights or a leotard could work. Or a layer of pantyhose with any of the above. Bike rider's compression shorts, bike tights or bike jerseys could work under the polypro or silk layer. Men's jammers or that rash guard you wear swimming in the winter would be a great extra layer, but a wetsuit would be, well, a little too bulky.
below, lifeguard Samir and swimmers model warm swimwear including various coverages of rash guards and jammers they could also wear as an underlayer for a winter camping trip: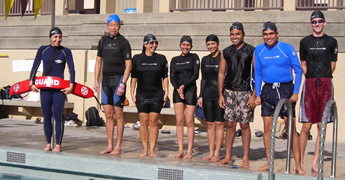 On a budget? Don't 'save money' by buying warm inner layers with any percentage of cotton! In pre-trip shopping survey one year Target had the lowest prices for synthetic base layers (long johns / long underwear). Look in the men's clothing department, there weren't any in the women's. (Target has usually been out of hats/long johns a couple of weeks before our trip, so to take advantage of their good prices you have to plan ahead.) Sports Basement has a little of everything, although not always in every size/color. A local huge recreation equipment supply had their house brand base layer for much more than the other stores, $34.50 and name brands for much more.
People sometimes ask: "Isn't it a waste to buy this polypropylene for just one camping trip?"
The answer is that you will use this gear for years for camping and outdoors adventures all year long. Once you know how to deal with winter weather, you'll probably never camp again without proper rain/cold gear, an insulating sleeping pad, or a decent tent. Then when Mom Nature sneaks up on you with an unexpected spring or fall storm, you'll be able to not only survive, but even enjoy it.
–Waterproof boots with synthetic or wool socks (cotton won't work).
Boots that have decorative patterns of non-waterproofable material in them won't work.
Re-waterproof boots shortly before the trip, six months ago won't work.
If you wear tennis shoes for the drive up, store your boots in the car, not in the trunk, so they won't be too cold to put on when you get there.
Your hiking boots do still have tread left on them, right?
Many people wear at least two if not three pairs of (not cotton) socks with hiking or snow boots. A thin polypropolene or silk pair right next to your skin, an optional medium-thick pair and a not optional thick pair. Bring all these pairs and any arch supports, etc. when you go to buy/rent boots. If your boots are too tight with adequate layers of socks your toes are more likely to be cold because circulation to your toes can be cut off. (This can increase your chances of getting frostbite.)
Anklet length socks worn with boots are an invitation to blisters – a lesson learned the hard way by a trip member on a long hike.
Do not go to sleep with cold, wet feet.
From a NOLS (National Outdoor Leadership School) Wilderness case study:
"cold, damp socks is not a sign of toughness, rather, it's a bad habit."
Serious cold injuries to toes/feet can surprise "people who thought their feet were just a bit cold."
Have a separate pair of dry socks for sleeping, instead of wearing the same sweaty socks you hiked in all day.
On a budget? In an previous pre-trip shopping survey Target had thin non-cotton pants socks that sure work like polypro sock liners and wear like the ones at a big recreation equipment store, at less than half the price of the recreation equipment store ($6.29 for two pairs of liners type at Target versus $6 for one house brand pair at the big recreation store or $11.95 for one pair of a major brand at the big recreation store).
Thick boot socks: Target had two for $10.99, the big recreation equipment store charged $15.50 / $16.95 / $23.95 for one pair.
You can't always tell by looking at or feeling the texture of socks and insulating underlayers
whether they have any cotton in them.
Read the label before you buy them.
Please don't try to hike in old tennis shoes.
from Yosemite Search and Rescue, lessons from the field:http://www.nps.gov/yose/blogs/psarblog.htm
"The subject" (who slipped/fell on very fine gravel on a trail and needed evacuation) "was wearing tennis shoes with slick bottom soles."
Another reason to not hike in tennis shoes, (sneakers) or slip-ons is that you need ankle support.
On a budget? Rent boots.
Different Sports Basement stores have different rental selections.
https://shop.sportsbasement.com/collections/snow-apparel-rentals
(Campbell in the Pruneyard Shopping Center, 1875 S. Bascom at Campbell Ave. suite 240, same parking lot as Trader Joe's),
(Sunnyvale 1177 Kern Avenue off Lawrence Expressway between 101 and Central Expressway),
often reservable online in advance, or take your chances for a same day walk-in rental. Please verify rates/terms.
Pick out a pair of rental boots in good condition. Below, a pair of rental boots that needed a duct tape repair:
Here, proper footwear got sucked off his foot into a snowbank, so he wore a thick glove to finish the hike: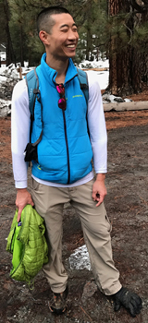 –At l e a s t two changes of clothes, including
six to ten (or more if you have them) changes of (non-cotton) socks.
If things get bad, there's usually a laundromat open where you can dry some damp clothes. (As of early 2020, open 8 a.m. to 10 p.m. at Housekeeping Camp, across the road from free Yosemite valley shuttle bus stop #12 and head across the Housekeeping Camp parking lot towards the left. Keep in mind that some of the dryers are a little older and may require more than one round to get your clothes completely dry.)
BUT it was not open winter of 2022 and 2023, so bring lots of spare socks!
–A warm jacket, with many different warm inner layers under it like sweaters, a wool workshirt, or a vest, (one heavy coat by itself won't work). These layers should not be cotton. Maybe you'll be comfortable sleeping in sweats, but out in the weather you don't want cotton. On a budget? Goodwill usually has lots of wool and synthetic sweaters, (but they have more in at least part cotton and you don't want those). They might be a little worn, but that's fine for camping.
At different times of the day you'll wear different amounts of layers and different degrees of waterproofness. During daylight it will be warmer than nighttime, and any precipitation might be falling as rain, so you'll wear the rain jacket and rain pants with fleece, polypro and sweaters underneath. As it gets colder, you might add a down or fleece vest. After nightfall, as it gets colder, rain could turn to snow falling. Then you could wear a thick ski jacket, and if it's waterproof, or if you're incredibly careful to keep snow brushed off, might not need the rain jacket over it.
Sometimes in the middle of a sunny day you'll be hiking in just a shirt/shorts or shirt/pants if you're warm from exercise and sunshine, but carry the warm and waterproof stuff with you, don't ever think you'll make it back to the car or campsite in time should the weather change.
This guy started out on the hike to Upper Yosemite Fall wearing a big jacket, but got warm as he hiked, so it's now around his waist. Some hikers recommend you wear short shorts, men's jammers (longish legged) swimsuit, or runners compression shorts under all the warm stuff, so if you get too hot mid-day, you can take off your heavy pants and be comfortable.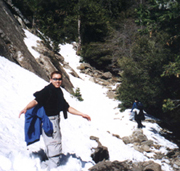 and below one hiker wearing leggings was loaded up with warm jackets/pants that went back on as it got dark and colder. (2020 photo by Jimmy Pham):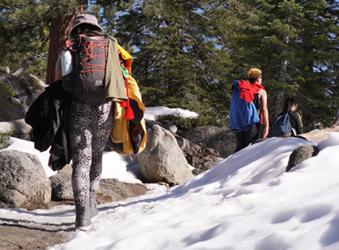 If you don't carry your raingear on a hike (or any time outside) and it starts to rain or snow, even lightly, your clothes can get soaked through. In the cold temperatures of the mountains, winter or not, even with no rain, but just wind, you could die from exposure. Even if your hiking group is all strong, experienced hikers, someone in your hiking group could sprain an ankle and take much longer to hike out, making your adventure last until after dark. The club requires that everyone carry their good rain gear and a headlamp or flashlight (electric torch) all the time on the trip.
Wool or fleece pants are best. Blue jeans (or other cotton pants) would be potentially deadly in winter wilderness, and we don't recommend them, but you might get away with them on this trip while down in the valley if you are super careful about keeping them dry, wear polypropylene next to your skin, a windproof and waterproof layer over them, and bring extra pairs in case they get damp or wet.
On a budget? Rent the warm jacket and pants.
Different Sports Basement stores have different rental selections.
https://shop.sportsbasement.com/collections/snow-apparel-rentals
(Campbell in the Pruneyard Shopping Center, 1875 S. Bascom at Campbell Ave. suite 240, same parking lot as Trader Joe's),
(Sunnyvale 1177 Kern Avenue off Lawrence Expressway between 101 and Central Expressway),
often reservable online in advance, or take your chances for a same day walk-in rental. Please verify rates/terms.
-A warm (synthetic or wool knit, microfleece or fleece) hat and gloves (but mittens can be warmer because your fingers touch inside, you might want both). On a budget? Women should also shop in the men's department. The men's fleece gloves at Old Navy for example, were much higher quality than the women's and at a lower cost during a sale than the women's. So if you can do with gray, navy or black instead of hot pink…
('Magic gloves' that you can get at discount stores for 99 cents are too thin to work by themselves, but could make good glove liners within rubber gloves for snow sculpture designing.)
On a budget? In a previous pre-trip shopping survey Target had (check the men's section as well as the women's) various colors of knit watch caps for $4.99 to $7.99. A huge local recreation equipment store was charging $20 to $46 for knit hats of various styles.
You'll be warmer overnight if you wear the hat to bed, especially if camping or in one of the cabins without a bath or the canvas tent cabins:
– High-SPF sunscreen, 15 SPF is a joke. (Remember that the sun reflects up off the snow and you need sunscreen under your chin and on the underside of and just inside your nose).
– Chapstick (best with sunscreen),
– dry skin lotion (not just one big bottle, but a few little ones you can carry in various pockets to use regularly especially if it's windy, but be certain to find them at bedtime and get them into the bear box).
– your personal prescriptions and anything over-the-counter you can't do without. You should plan to bring an adequate supply of your prescriptions for a longer-than-you-anticipated road trip and over-the-counter remedies for any ailment you get that could spoil your trip, possibly including: aspirin, Ibuprofen, acetaminophen, Naproxen Sodium, athlete's foot, anti-itch hydrocortisone, cold and cough syrups and lozenges, allergy tablets / eye relief / sinus relief, stomach ache, Breathe Right, Imodium, calamine lotion, (please check their expiration dates),
and preferred (unscented since scented attracts mosquitos and other irritating insects) toiletries such as toothpastes, mouthwashes, dental floss, sunscreen, shampoo, deodorant/antiperspirant, dry skin lotions, insect repellent, petroleum jelly as well as a personal first aid kit with various sizes of bandages.
Over-the-counter medications can be ineffective if not used as directed on the label,
or can even cause potentially long-lasting or even life-threatening consequences.
"Oooops, was I supposed to take one of this tablet every six hours or two every four hours?"
Don't expect that you will remember, even if it is something you take regularly.
If you re-pack them into small containers be sure to copy and pack the instructions (and expiration date) with them.
See a list of things you can usually buy at the main store in Yosemite Valley to help decide what to pack. At stores in Grand Teton National Park you will not find as large of a selection, and the nearest town is miles away, so bringing what you might need with you is wise.
But remember that stores can sometimes be out of stock of what you might reeeealy need:
Yosemite Search and Rescue recommends:
"Recreating with medical conditions:
Medical conditions should not prevent recreationists from enjoying Yosemite's vast wilderness; however, proper management of medical conditions is essential for a successful wilderness experience. Whether hiking in a party of two or ten, it is important for fellow hiking companions to be aware of medical conditions in the group and proper treatment and management of medical conditions. Recreationists who are prescribed medication should carry the medication (plus a few extra doses) in a personal pack so that they don't miss a dose if an outdoor outing goes awry or longer than anticipated."
(We always recommend 2 sets of meds in separate dry bags for overnights involving a paddle to a camping location.)
An organizer for Yellowstone trips said:
"If you have diabetes, consider carrying the following with you to Yellowstone: twice as much insulin as is usually needed; extra syringes (or pump); a glucose meter with extra batteries and extra test strips; supplies to treat low blood sugar, such as glucose tablets or gel; other medications, such as glucagon; and a letter/prescription from a doctor (in the event extra insulin is needed). If you are participating on an overnight trip, be prepared to protect your insulin from freezing or overheating. . . some diabetics have reported having problems with their insulin pumps at altitudes greater than 8,000 feet."
Water purifying tablets are not on this list because some brands are not effective on Giardia AND Cryptosporidium and we prefer to use a water purifying pump because it is easier and faster.
If you decide to do without a water-purifying pump, please note:
From National Center for Biotechnology Information, U.S. National Library of Medicine "Diarrhea is the most common illness limiting long-distance hikers. Hikers should purify water routinely, avoiding using untreated surface water. The risk of gastrointestinal illness can also be reduced by maintaining personal hygiene practices and cleaning cookware." Preferably use a water purifying pump, but bring chemical means should the pump die. Be sure the chemical method you choose will work against cryptosporidium and giardia and note how long (four hours??) the water must be treated for the treatment to be effective. Note also that iodine tablets are not effective against cryptosporidium / giardia and some people are allergic to iodine.
– Not-cheap sunglasses that really reflect ultra-violet and infrared. The light can be really bright reflected off the snow. You might need these while driving, so don't pack them away. Denali park tells mountain climbers "Many climbers bring two pairs of sunglasses, one for more normal lighting conditions and one for very bright days; the redundancy is also advised as sunglasses are easily broken or lost." If you have them, snow goggles could be great, but you don't need to rush out a buy a pair.
If you want to be able to go into buildings (hotel lobbies, stores) or ride the free bus to the ski resort, or go on the Ranger-led snowshoe walk, you have previously sometimes needed a mask (and please do try to remember to wear one when you go into a restroom). Having a few extras in a jacket pocket could make things much easier for you. Yes, this applies to those of us who are fully vaccinated and have all our boosters if the park has this rule in place again.
The Centers for Disease Control shows us various wrong ways to wear a mask: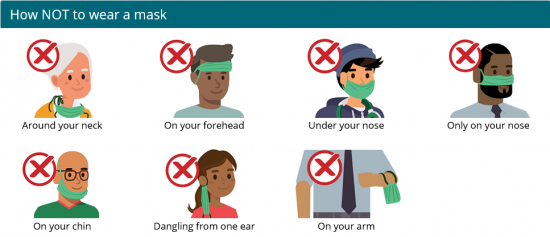 below:
A National Park Service photo of Yosemite Falls in mid-January, 2004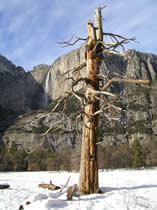 –
A very good sleeping bag,
(or two ordinary ones and extra blankets). NOT a rectangular cotton filled bag, not even for our summer trips. If you borrow a bag, check to make sure it has a tube of insulation running along the inside of the zipper.
You will want a good sleeping bag if you choose to stay overnight in one of the Curry Village cabins, cabins without a bath or canvas tent cabins, even a heated one. Some years they offer rental of sleeping bags but have a very limited supply.
Store your sleeping bag in a car during the day when you're away from the campsite so it can't get soaked or stolen.
–An insulating sleeping pad, (two would be much better and it is recommended you bring two). An air mattress (the kind you float on in a pool) won't work by itself, the air in it between you and the ground will make it softer for you, but what you need most is insulation from the cold ground. You can put an insulating pad(s) on top of an air mattress or on top of a chaise lounge pad. You can bring a futon if there's room in the vehicle you are going up in. Your yoga mat isn't enough by itself but could be an additional layer. A soft egg-carton-shape type foam pad might not be thick enough to insulate properly by itself, unless you fold a huge one over a few times, or unless it is a 'closed-cell' pad made for winter, but even then you will need two.
On a budget? You can rent a sleeping bag from Sports Basement. Different Sports basement stores have different rental selections, including a sleeping bag and sleeping pad. https://shop.sportsbasement.com/collections/camp-hike-rentals
(Campbell in the Pruneyard Shopping Center, 1875 S. Bascom at Campbell Ave. suite 240, same parking lot as Trader Joe's),
(Sunnyvale 1177 Kern Avenue off Lawrence Expressway between 101 and Central Expressway),
often reservable online in advance, or take your chances for a same day walk-in rental. Please verify rates/terms.
Different REI stores have different rentals. See rentals info at REI Saratoga https://saratoga.rentals.rei.com/portal/category/Camping%20&%20Hiking%20Gear/810?page=1
-A sheet or blanket to cover your bag to collect condensation that might drip from the inside of the tent as you sleep. Picture in the winter how when you breathe, fog comes out of your mouth. Your tent will trap some of that moisture inside on the walls and ceiling. If you don't leave enough tent zippers open, and/or you have enough people in the tent, a lot of moisture will collect on inside surfaces and it can fall on all of you when someone bumps the tent walls at night. Or it can soak into any part of a sleeping bag that ends up pressing next to a tent wall. Despite this warning it has happened to someone on every trip so far.
How many sleeping pads under you and how many extra sleeping bags over you?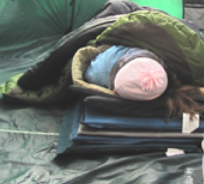 Two insulating pads on an air mattress, futon or chaise lounge pad will put you and your sleeping bag up just a little higher off the tent floor, so if you have a puddle or two in the tent from tracked-in snow, (or any precipitation blown in by the wind), you'll stay drier.
If you decide to bring a full sized air mattress, try it out in the tent before the trip.
If it is too big and fills the entire tent floor and bulges out the tent sides you will be wet.
Please no cots: A cot won't fit in most winter-rated tents, and bottom edges of the legs will make holes in the tent floor. If you decide to bring a tent of your own big enough for a cot, remember that a cot won't be enough protection from the cold without insulating pads even though it gets you up off the ground.
And about hammocks the park service says: "You may attach hammocks, clotheslines, and other tensioned lines in campgrounds as long as they do not create a hazardous condition and are padded to prevent damage to trees. These may not be attached to oak trees."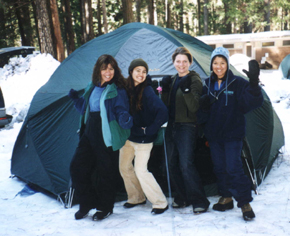 –A freestanding tent suitable for snow camping. It should be dome-shaped, not box-shaped, with a rain fly that goes all the way down the sides , not 1/3 or 2/3 of the way as some summer tents are designed. Cheap tents have only a partial, cap-sized rainfly. Rain soaks through all the tent roof not covered by the rainfly and drips into the tent. This can happen quickly.
A good tent will have full zippers around doors and windows, not flaps. It will have full zippers around window and door covers in the rain fly, not flaps. Pitch the tent and test the zippers to see if they open and close easily.
The tent and rain fly should pitch taut. There should be a small amount of space all around between the fly and the tent when it is pitched.
It could turn out to be wise to bring a tarp large enough to fully cover an older tent, even if it looks good.
See below a poorly designed tent with a rain fly that is not pitched taut and does not go all the way down the outside, so rain and melting snow drip down onto the tent fabric and soaks in, plus the classic mistake of having a tarp under the tent that sticks out the sides. Then the rain dripping off the rain fly collects on the tarp and soaks under the tent and through the bottom fabric. (It's better to custom cut a thick plastic bottom protection, tent 'footprint', that fits completely under the bottom of the tent if you want to protect it from abrasion, wear & tear from rocks and twigs.) These people said their sleeping bags were wet after only one night.
Would you pitch your 8 foot diameter tent in an 8 foot diameter puddle?
That is, in effect, what these campers did: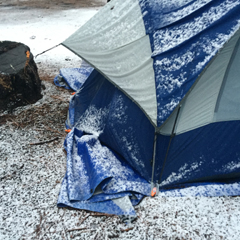 You can usually rent 3 season tents.
from Sports Basement (Big hint, a larger one will be much more comfortable for one or two people than a smaller one.)
https://shop.sportsbasement.com/collections/camp-hike-rentals?refinementList%5Bnamed_tags.Rental%20Type%5D%5B0%5D=Tents
(Campbell in the Pruneyard Shopping Center, 1875 S. Bascom at Campbell Ave. suite 240, same parking lot as Trader Joe's),
(Sunnyvale 1177 Kern Avenue off Lawrence Expressway between 101 and Central Expressway)
Rental "tents should be dry and swept out prior to return to avoid possible cleaning charges."
If you bring a tent that requires guy lines and tent pegs you'll need special snow tent pegs, which might not work in fluffy snow. Even if it doesn't snow much on our trip, the ground can be too hard in winter for tent pegs to be pounded in. If the Rangers move you from the campground because of the Mono winds we could end up sleeping on an asphalt parking lot with no way to put in pegs.
Better to borrow or rent a freestanding dome tent.
below: three pictures of the same tent,
one after being pitched Saturday of the 2008 Yosemite winter trip,
the next taken Sunday morning after two feet of snow fell overnight,
and the same tent a little later Sunday morning when one of the occupants woke up and looked outside, knocking a little snow off the tent: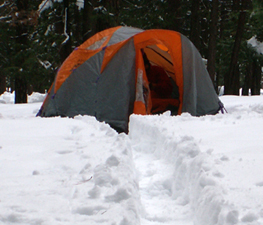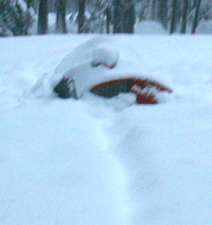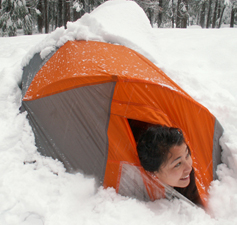 If your friend says he's bringing a tent for a bunch of you, pin him down on how good it is. On one trip a guy brought a big box shaped very old tent with acres of plastic sheeting to cover it. It didn't work, but on that trip there was space in other tents for the people who had been expecting to sleep in it.
The people who used the tent below pitched their tent incorrectly. (Many tents have instructions printed on the bag, did they read them? If they borrowed it from someone did they ask for instruction on how to pitch it?) When they were having difficulty with it they did not ask other more experienced campers they were traveling with for help. In the dark, from a distance, it looked to the other campers as if they were okay. They were found in their car in the morning and complained that their tent was "unstable," as if to say it was a fault of the construction/design of the tent, rather than their failure to properly put the ends of the tent poles into the ring pins at the tent.
(They put the ends of the tent poles in the snow.)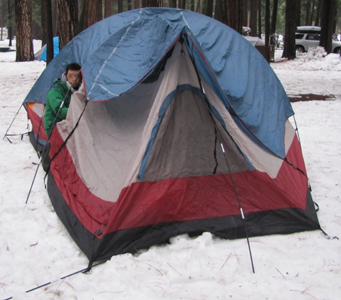 No good tent should have the ends of the rain fly poles in the ground or in the snow. All good tents will have pockets or ring pins for the ends of poles to go in to, as in this example: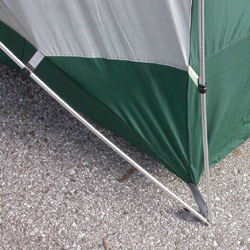 More tent mistake pictures are at: Don't buy a cheap tent
If you borrow a tent, pitch it before the trip to be sure all the poles and parts are there, and so you know how to do it in a hurry if you arrive after dark and it's precipitating. If you can't quite figure out how to pitch it, we've got experienced people to help, so bring it to the mandatory pre-trip meeting.
On a past trip, some people needed, but didn't get, help with pitching the tent they borrowed. They put it up without the rain fly poles, and left the tent bag and poles out in the snow. Hey, it's not their tent, why should they care? The next morning it snowed, and then warmed up and the snow turned to slush. Their tent leaked badly and their sleeping bags were soaked. They moved to hotel rooms.
So, the moral of this story is, get your tent, with the rain fly, pitched properly right away when you arrive. If it's not taut, there's something wrong, get some help!. (Yes, you should get your food/toiletries into the bear-proof campsite food storage box first.)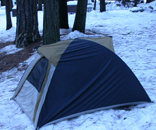 One guy on the 2004 trip didn't follow this advice. He told us he had a good tent. He was lucky, before rain soaked through this tent with the tiny pretend rainfly we found room in a better tent for him.
There is no guarantee that future trip members with bad tents will find room for the night in a good tent with someone else on the trip who is better prepared. If you are not absolutely certain your tent is good enough, bring it for us to look at before the trip.
Check out the tents at Is my tent good enough?
Remember to unpack the tent right away when you get home, wipe it down with a damp sponge as needed and spread it out or, even better, pitch it, so it can dry out. A tent that is even a little damp that is stuffed into a tent bag and forgotten will mildew and smell bad and basically be ruined.
Ideally you would only have four people in a six-person tent in the winter, but how horrible would it be to try to stuff more people in and sleep crowded with gossiping and giggling all night?

If you use a tent or dining canopy that needs tent pegs in the ground, please put some pieces of kindling or other small wood pieces in the ground or in the snow sticking up next to the tent/canopy pegs. In low light or no light the pegs and the (usually) white guy lines will be nearly invisible. Help prevent people tripping on your guylines. (The faculty advisor usually has bright pink tape to tie on guylines.)
Below: these people made a front porch for their tent from a tarp with poles that needed guylines. They put a piece of kindling where the guyline peg went into the snow. The kinding is quite visible, but the guyline isn't.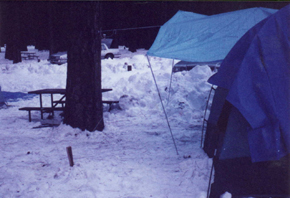 For info on the logistics of where to pitch your tent, dealing with iced car door locks, staying warm and comfy overnight and more, go to: First-timer's instructions
-A whistle in case you get a little or a lot lost. You can blow on a whistle a lot longer than you can yell for help. Three blasts on a whistle at a time is a 'help-needed' signal.

– Tire chains. Not all vehicles have space between the wheel well and the big wheels for chains!
-ALWAYS CARRY TIRE CHAINS OR CABLES! Make sure they are the proper size for your tires and are in working condition.
This is best done at home, on a dry day, in your driveway, before it snows.
Chains must be installed on the drive wheels.
Make sure you know if your vehicle is front or rear wheel.
If you don't know, ask your mechanic or check your vehicle owner's manual.
In the winter the Rangers often won't let you drive with just four-wheel drive with snow tires
(or they won't let you into the park),
even if the weather report is for sunny weather.
Some of the time you won't have to put the chains on if you have snow tires (look for m+s or a similar designation for mud and snow on the side wall) but they must have tread at least 6/32 of an inch deep,
and you must always have chains with you.
On a budget? You can sometimes find places that sell chains will let you return them if you don't use them. Read Snow chain rentals
There are tow trucks from the Yosemite valley garage, but if it's obvious that you slid off the road because you didn't have chains during chains required conditions, CSAA or other auto club towing packages will not pay for the tow–you will.
Safe driving in Rain or Fog.
– pack a pair of safety googles with your jumper cables and take a look at Road trip vehicle prep and recommended service
-Keep at least a half-full gas tank (to prevent gas line freezeup). Why? Any space above the gas in the tank has moist air in it. In the cold, especially overnight, that can condense into water. The water will sink to the bottom of the tank and if enough builds up it can end up going to your fuel line and cause hard starting or even block the fuel line completely.
You'll also want to keep a closer to full tank should you need to change routes, idle, drive slowly or turn back. You can only buy emergency gas in Yosemite Valley, sometimes, at the garage.
Prepare for winter driving.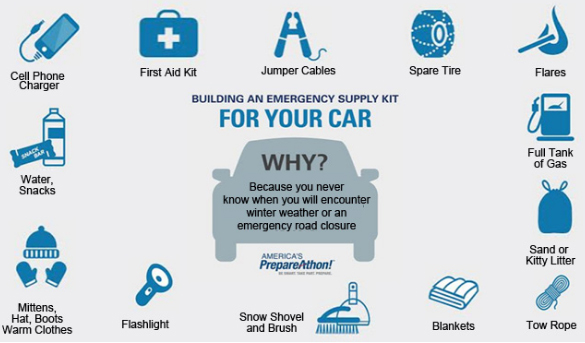 — cash or credit card for your share of gas, park entrance fee, bridge crossing fees, chain rentals, etc. as well as possible meals out at the restaurants or to rent a tent cabin in case you try camping but decide you don't like it, or for ski/snowboard lessons
– Extra water in your diet (more than you might think)–by the time you feel thirsty you have already dehydrated too much, and are down a liter. Cold depresses your thirst mechanism. Drink at least two quarts of water, perhaps five daily under strenuous conditions. This will help keep your toes warm, as will avoiding caffeine and nicotine, which constrict your blood vessels so your toes get less warm blood going to them.
If you have not trained as an athlete to drink extra water, you may have to drink more than you are used to. It's a good idea to start each morning with a liter. Another two or three glasses at bedtime will help rehydrate you and insure you wake up in the middle of the night to use the restroom and take a minute to clear excess snow off your tent. The ski resort said "We strongly recommend increasing your water intake several days before your ski trip, which will help keep you hydrated, give your body a chance to adjust to the lower oxygen levels at a high altitude, and speed up your acclamation time."
On the '98 trip this would this would have saved one tent from collapsing in the middle of the night from the weight of snow (this was the first tent ever on a trip to have this happen, and no, nobody got close to being hurt, just annoyed).
– three large screw-top water bottles for hiking. If they go in your tent or Curry tent cabin they need to never have had anything but water in them because the faintest scent of lemonade, for example, will smell to animals.
We do not trust waterbottles with a cap that has a built-in ultraviolet light supposedly able to kill waterborne microorganisms. On a hike either bring enough water or bring a good quality water-purifying pump. If you have your own water purifying pump, it will be much easier to back-wash it and/or take it apart and clean the exterior of the filter cartridge at home before the trip, than waiting until the trip when it starts to not work well. (Follow the manufacturers instructions, which you kept a copy of when you bought the pump, yes?)
– No food or toiletries in your tent or Curry tent cabin (they attract coyotes, raccoons, and the occasional bear who woke up during hibernation). Oh, of course you can brush your teeth at bedtime, but no tube of toothpaste in the tent!
– First aid kit -spend the money to get good quality water-resistant bandaids (the club will provide an extensive first aid kit, but you will want a personal one)
– – and first aid knowledge, especially about frostbite and hypothermia. De Anza offers a Red Cross first aid certification class, HLTH57A
You might still be able to download a free copy of this Red Cross first aid textbook to your smart-enough phone
the Red Cross Wilderness and Remote First Aid Emergency Reference Guide
https://www.redcross.org/content/dam/redcross/training-services/no-index/wilderness-remote-first-aid-erg.pdf
Red Cross Wilderness and Remote First Aid Pocket Guide
https://www.redcross.org/content/dam/redcross/training-services/no-index/WRFA_PocketGuide.pdf

– Good wood matches, preferably some waterproof, not paper "book" matches. Strike-anywhere-type matches can be started against a rock. The striking surface on boxes of other kinds of wood matches sometimes wears out or gets wet. Packing a small piece of sandpaper can give you a striking surface if everything else is wet or covered with snow. Packing a butane lighter can allow you to start a long wood match that you can then use to light that lantern/campfire/. . .
– A real flashlight, (electric torch) not one of the types you squeeze to make it work, or a tiny key chain model or pencil-sized model. A huge flashlight with 4 "D" or "C" sized batteries is fine for at home or in camp, but too heavy for hikes.
Most models of wind-up dynamo flashlights don't produce enough light to get around the campsite in the dark. They do produce enough light to read in bed by, but are so loud when being rewound they would keep others awake.
Keep your flashlight warm in a jacket pocket; batteries are weak when cold. Lithium batteries tend to last longer in the cold than alkaline batteries.
Your cell phone might have a flashlight function, but it will probably NOT last all evening, much less all night/weekend and will not be bright enough. You must have a flashlight or head lamp on your person all the time on all club overnight trips and never depend on your cell phone flashlight function.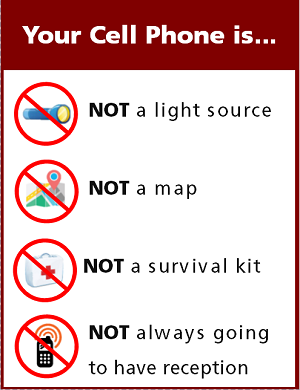 If you put a fairly clear water bottle (with water) on top of a gi-normous flashlight, it can disperse light much more effectively, turning it into an effective lantern spreading light across a table top: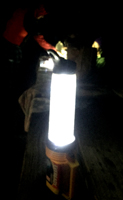 – Stove and a repair kit for your stove that you know how to use and extra fuel. Please don't depend on cooking any meals over a fire.

If you spill liquid fuel on your hands when handling a camping stove in the cold, you can get instant frostbite when it evaporates quickly. The fuel can damage or permanently wreck your fancy tent fabric, or your fancy clothing, so refuel at home before the trip and if needed during the trip, refill carefully outside of the tent. See details about cold injuries
Accidental burns or carbon monoxide poisoning from cooking inside a poorly ventilated tent are distinct possibilities, plus spilled food will attract animals, so no cooking in the tents.
Did you read Snow camp weather, hike safety and first aid considerations ?
Do not refill single-use propane cylinders (DOT-39). They are intended for ONE TIME USE ONLY and should NEVER be refilled.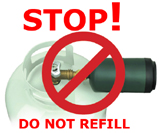 — the usual cooking accouterments (can opener, cutlery, utensils) paper towels, pans, dish soap/scrubbie, potholder, etc. and ingredients
Please use reusable cutlery, not the disposable-and-easily-breakable plastic ones.
Tear off the appropriate size and number of sheets of foil you will need, fold and pack them with a few plastic sandwich bags as needed instead of bringing whole packages, so you will be better able to fit everything in the campsite food storage locker.
Yes! →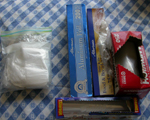 ← No
Pack in haste, repent at leisure … pretending to use a hatchet as a can opener: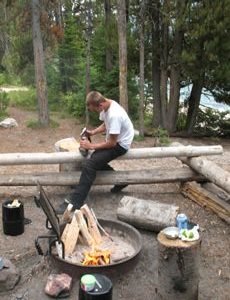 – Food that does not need cooking or is precooked and only needs to be rewarmed or that is very simple to cook. Some food that requires no cooking, for lunch and snacks on a hike, or in case the weather prevents or hampers cooking, like the long list at GORP and hiking snacks .
(Yes, it's true, one guy on the 2002 winter trip cooked lobster.)
The club does not provide food, but if you forgot catsup, oil, matches, dish soap, a can opener or something, ask around, somebody probably has something. Plus, there's a good-sized grocery store just a couple of shuttle bus stops away.
Some people on this trip will cook by themselves, others will get together before the trip to plan some menus, and buy and even pre-cook food for the trip. A few might want to go mostly to the cafeteria, especially if they do the major hike and get back late. Often meals end up as a friendly, impromptu pot-luck if people bring extra of something they'd like to share. BUT if you bring something to share you are still responsible for it. Don't leave it sitting where animals can get into it and walk away thinking someone else will watch it and/or put it away after people are done tasting.
If you bring food that needs refrigeration, bring a ice chest for it, don't expect to fit it in someone else's ice chest. And the club bans styrofoam ice chests and drinking cups since they can break up in to bazillions of pieces that can't be cleaned up.
DINNER MENU SUGGESTIONS
Please note: Winter sunset will be around 5 p.m.
You'll probably be cooking and cleaning up after dark.
It is okay if the propane tank for your stove frosts over while you cook out in the cold: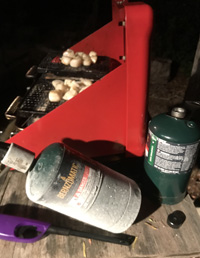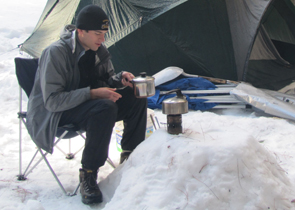 Alex says the next time he makes a snow table he will find something to put under the stove, as it got hot and started to melt into the table. He almost lost a hard-earned pan of by then tepid water.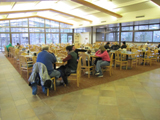 You can bring extra money and just eat out the deli, cafeteria or restaurant at various Yosemite valley locations, (see a list of restaurants with menu links at Yosemite valley restaurants, coffee bars, cafeterias, food service and groceries) but if you decide to camp, why not try a least one winter outdoor dinner?
Plan to eat more than usual (your energy output is up). You can eat all unheated food, but warm stuff feels good.
In really bad weather it's easier to cook only things that have boiling water added to them, like cups of mashed potatoes, noodle entrees and soup. With them you could have salad and sandwiches/wraps, raw veggies and fruit, crackers/cheese and cookies. Some people only bring simple things like this, and spend less time cooking and cleaning up, having more time to play. One guy on the '98 trip seemed to always be eating only peanut butter and jelly sandwiches, and he may have eaten better than others who planned extravagant menus.
A suggested sandwich combo for gastro-nouveau dining:

If you barbecue, do small pieces of meat or fish at a time instead of a whole one that will get cold before you can finish eating it. No, there won't be room in the bearproof food storage box for your barbecue grill, but you might be able to fit a small rack to go over the campsite grill. Remember, frequently the weather won't let you cook over a fire, so have a stove or other backup method of cooking.
Food that comes with its own 'insulation' is good, hot dogs in a bun, sloppy joes, fajitas, or burritos. But only make up one per person at a time, and maybe split it with someone so you can finish eating it before it gets cold. It can get cold fast.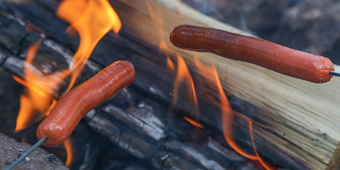 Pick things that are 'wet' enough they can simmer for awhile to stay warm.
Cheese or seafood fondues (with maybe a little extra liquid) can stay warm while people dip french bread or broccoli pieces into them. A double boiler (small pan of food sitting right over a pan of boiling water), can keep things warm with less risk of burning them. If you don't have a real double boiler you can put a saucepan of food in a slightly larger frying pan with water in the frying pan.
Eat a stew, chili, or spaghetti and sauce in small portions in an insulated mug. Why serve it all at once spread out on a plate where it will get cold?
For safety's sake, don't bring raw chicken. Much chicken has salmonella which needs to be killed during cooking. It's easier to prepare it cleanly at home and just re-heat it at camp, plus you reduce the risk of raw chicken juice spilling on other things in your ice chest and contaminating everything. We are talking about very sick from salmonella.
Make some food in advance and just reheat it, like spaghetti/sauce, baked potatoes, bacon, or that baked chicken. One very popular guy on the '96 trip brought lots of extra prebaked potatoes to share. To reheat, quarter them so it takes less time. Top them with sour cream, chives, yogurt, grated cheese, salsa, chili and/or ranch style dressing.
You could eat grilled chicken spinach caesar salad easily if you grill the chicken, rinse the spinach and grate the cheese at home. Any time you spend preparing food at home means more time to play, and can mean you're more likely to have an enjoyable meal, when you want it, instead of struggling with the weather.
All the trip agreements say: "If you share clothing/towels/sleeping bag/sleeping pad or other personal items, use sunscreen, any other toiletry or over-the-counter medications, or eat/drink anything given to you by anyone on the trip, you take full responsibility and hold harmless the person(s) who gave them to you, if the sunscreen/over-the-counter medications are not effective or if you develop an allergic reaction/rash, food poisoning or any other malady."
Washing your hands before you prepare any food is always wise.
It is also wise for anyone sharing food with others to realize that many people have serious food allergies and accidental cross-contamination of food is a risk for them. For example, you cut a powerbar or other food containing peanuts in half, then use that same knife to cut up an apple to share. The apple slices now have tiny bits of peanuts on them, maybe enough to cause a serious reaction in anyone allergic to peanuts who eats it.
BREAKFAST POSSIBILITIES
We're recommending that people plan on a simple in-camp breakfast the first morning (Saturday) of the winter Yosemite trip, such as juice, hot chocolate, fruit, granola bars, oatmeal or cream of wheat that will power you for hours. Yes, you can sneak in a sweet-roll as well, but it won't keep you going by itself. Trying to cook a full breakfast with eggs and toast will probably take more time than you have, will get cold fast and could make you late to the skiers/snowshoe walk bus or give you a too late start on the all day hike.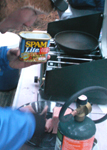 taste treat dining sensation: Spam lite??? Jalapeno Spam ?!?!?
On the '98 trip one guy brought a package of bacon to cook. When he was asked what he was going to do with the grease, he said he would dig a hole in the ground and scrape the grease into it. This is against the rules anyplace you camp, including backpacking someplace remote. It's possibly dangerous to attract animals to the smell and have them digging. It's rude to the future people who camp there. Can you imagine not knowing someone buried bacon grease in a campground, and pitching your tent over it, or near it, and having animals harass you all night? Hey, cook the bacon in advance at home, wrap it in foil and then just re-heat it at camp.
Steamed gloves? Nope, actually just trying to warm them up a little before putting them on.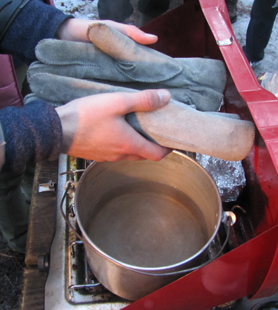 Dispose of trash and garbage in the dumpster at the end of the campground loop.
At the end of each campsite loop in Upper Pines campground, for example, there are trash and recycling dumpsters, and at the end of some of the loops, a smaller trash-can-sized receptacle for propane canister recycling only.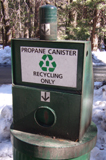 Please use the clip on the trash bin to lock it. If a bear gets into a dumpster on a hot day it can be a death trap.
If you notice one is un-clipped, please clip it.
Immediately report it to a hotel front office, ranger or campground host if the clip is missing from the dumpster.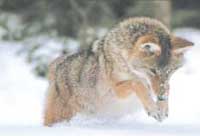 This National Park Service photo shows a coyote going after a meal under the snow. There WILL BE coyotes and raccoons, and maybe even bears who woke up from hibernation, in the campground.
Most campsite food (and anything that smells much like food) storage lockers are 33″ deep x 45″ wide x 18″ high (tall). No, you can't use food storage lockers in closed campsites in the rest of the campground if you have too much stuff. If you are sharing a campsite with the maximum six people, and your food, toiletries and cooking gear won't fit in one sixth of the space available, you will have to buy another campsite, move the food to a bearbox at a day-use parking lot or throw out your excess. One ice chest per person won't fit, but three people could share an ice chest and plan to fit their stuff in half a bear box so the other three people at the campsite can use the other half of the bearbox.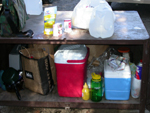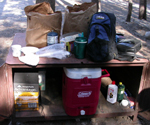 Using a campsite food storage locker, gives you ideas on how to use a metal campsite food storage locker, including some logistics on sharing one in a large group.

If you want to downhill or snowboard you might want to rent your gear at the Yosemite resort. If you rent gear at home before the trip it could be a waste of money if a storm closes the resort or you decide that a big hike that day would be more fun.
– Hey, lots of people lock their keys in the running vehicle when they stop to put on chains!
A spare set of vehicle keys in your or someone else's pocket could be a wise investment.
– the entrance fee to Yosemite is (2023) $35, $30 per motorcycle. An annual park pass will cost $70. IF someone plans to go on our Grand Teton trip this coming August, it would be wise to get an America the Beautiful (National Parks and Federal Recreation Lands) annual pass to all National Parks for $80. Add up the cost of the Yosemite entrance fee ($35) and the same entrance fee for seven days in Grand Teton (only one week and most people go on this between-summer-and-fall-quarter trip for more than one week) and you will probably want to visit other National Parks on this between-summer-and-fall-quarter road trip. Yellowstone is just north of Grand Teton and it has it's own $35 (7 day) entrance fee. With a year-long pass you save money.
OR better yet, find someone to carpool with who already has an America the Beautiful (National Parks and Federal Recreation Lands) annual pass
OR find someone who is an active duty U.S. military member or dependent and has their ID Card (CAC card or form 1173) and can get a free national parks pass https://store.usgs.gov/MilitaryPass
OR find someone who is 62 or over to get a lifetime seniors pass for $80.
(The passes can't be transferred/shared/borrowed so the person who has the pass needs to be in the vehicle and show a photo ID.)
– You can download and read the park newspaper in advance of the trip, and then you have a copy if you come into the park when the entrance station is closed. The paper has hours of operation for tours, stores, food service, laundromat, post office, auto service, gas stations (no gas stations in Yosemite valley, fill up before you come into the park, or drive 30 minutes to Crane Flat and hope the self-service pumps are in order) and more.
It could also be wise to download and print a copy of the schedule for the free bus to the ski resort. Look for it at: https://www.travelyosemite.com/winter/badger-pass-ski-area/
– You can download an App with "information about park services and programs, as well as an interactive map designed to help visitors locate iconic features, scenic spots, trailheads and amenities."
". . . Most app content can be downloaded before arriving in the park and used offline in areas of limited cell service"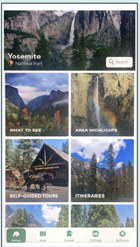 – Bird watchers can download or print a Yosemite Bird Checklist that includes which species you can expect to find at each season.
(To print on 8.5×11-inch paper, it might work to click on "Properties" to select "2 Sided Print, Flip on Short Edge" and scale page to "Shrink to Printable Area.")
and download photos of common birds.
Color photos of over a hundred Yosemite birds are at:
https://www.audubon.org/climate/national-parks/yosemite-national-park
– – – – – – – – – – – – – – – – – – – – – – – – – – – – – – – – – – – – – – – – – – – – – – – – – – – – – – – – – –
– Good quality earplugs, not the simple foam ones, but the ones with a thicker wax-like quality, often made with silicon putty.
Curry Village recommended "ear plugs for additional sleeping support" and that can apply to almost every overnight accommodation or campground you will ever stay in.
– If you stay in a hotel room or cabin, you should store your snacks, crackers, candy in something the ubiquitous deer mice can't get into, such as an ice chest with a heavy lid (and without ice).
– High-carbohydrate/high-fat snacks for just before bedtime to help keep you warm while you sleep
(cashews or peanuts, for example, would be better than chips, popcorn, cookies).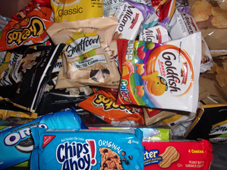 – marshmallows, chocolate bars and graham crackers (If you've never eaten them together we'll give you the recipe on the trip.)
– Polypropylene glove and sock liners (these synthetic 'plastic' materials can melt, so don't substitute polypropylene glove liners for potholders). These could almost be on the must have
list, and you could wish you had more than one pair. Thin Magic gloves can suffice as liners.
– A headband to keep your ears warm when a hat is too much.
– More firewood .
Note that you want a small fire, not a big bonfire, because you want people to be able to get close to it to warm up. Plus, you don't want to melt all the huge clumps of snow off of the tree branches above and near the fire, which will fall in big thudding plops onto either people standing around the fire or onto the fire itself, possibly putting it out.
(FIREWOOD: As long as Sudden Oak Death is still a problem, we must follow quarantines of host material, including local (Santa Clara County and other infected coastal counties) firewood. We can't even bring cut up scrap lumber or pallets. We need to buy it in the park, or bring Presto type "logs"(compressed sawdust and wax) or "Firewood collection of dead and down wood is permitted within the boundaries of campgrounds in Yosemite Valley, and can otherwise be gathered anywhere in the park that is outside Yosemite Valley, below 9,600 feet, and not in a sequoia grove." But the dead and downed wood that is actually burnable available on the ground in campgrounds is rare, so plan ahead to bring presto-type logs or buy bundles / boxes of wood in the park.)
Boxes of firewood you can buy in parks will likely have various sizes of wood pieces. Look for "kindling included" on the box. The branch / log shaped piece in the bottom left corner of this box, not split down the center, should be the last piece you put on, once you have the fire going well enough that it will light.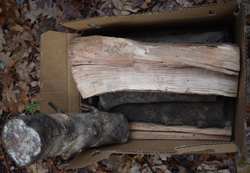 How to build a campfire that doesn't smoke too much is at:
Campfires
The Outdoor Club does not recommend this method of drying boots or a hat: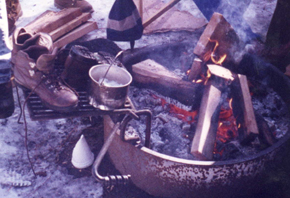 –duct tape for repairs (such as those rental boots that fell apart).
– One set of decent clothes you kept clean, for the drive home. (Please do not put on perfume/cologne if you get a shower before breakfast together the last morning – people sitting near to you at brunch may have allergies.)

Most women camping don't wear as much makeup as they might at work or school, if any at all.
See also: Camping solutions for women
– Your fingernails may have more wear, so a real, sturdy, (metal?) 'sapphire' type nail file will be better than a paper emory board. Real nail clippers work for nails; scissors don't.
– More towels; they may not dry between showers.
There is a shower house a short walk (or one bus stop away on the free bus system) from the campground. And in the winter some years people not staying at Curry village can pay at the Curry Village front desk for a shower – in the summer people not staying at Curry village can pay to swim in the pool and use the showers.
Hint: the last skier's buses leave Badger Pass / Yosemite Ski resort at (most years) 4:30 p.m. for about an hour trip. Expect long lines and possibly lukewarm water after that. The shower house has blow dryers mounted on the walls, but you might want your own hair dryer.
Bring a couple of big plastic bags to keep shower spray off your clothes and towels.
Some years the shower house has been closed for cleaning 10 – 11 a.m. and 10:30 p.m. to midnight.
To find the showerhouse (and swimming pool in summer), when you take the bus to Curry Village (briefly named Half Dome Village) or if you drive and park in the free shuttle parking / Curry Village parking, look for a driveway to the left of the stores.
365 day a year shower house is next to the (blue rectangle) summer swimming pool on the right up the service vehicles only road from the parking lot. The map below shows bus stops 14 and 20, and the road to the shower house / pool: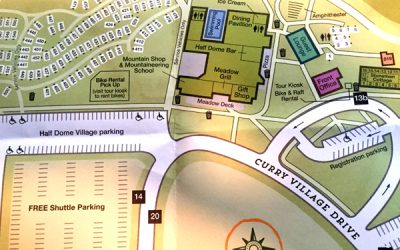 Up it on the right is the shower house /pool entrance: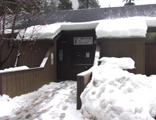 – Headphone cassette player so you can play music as loud as you want without the neighbors complaining to the rangers. Some neighbors seem to anticipate and expect problems from a college-aged group, especially noise. No, you can't just sit in your car with the windows rolled up and play loud music, it can be heard three campsites away. And people want to be able to hear the avalanches coming down off the cliffs and bird song they can't hear at home. You are expected to turn off your radio, etc. when you enter the campground.
– Cat litter (simple, non-clumping, unscented cat litter) or sand. One year one of the most popular people was a woman who brought what must have been a 20-pound bag of cat litter to get cars' tires unstuck. Yes, the men tried to muscle the car unstuck first. Yes, she said "I told you so." In an emergency you could put your floor mats under the drive wheels. You do know if your vehicle is rear or front wheel drive, don't you?
– Your college photo ID or Emergency Responder (police, fire, EMT) ID or Military ID, if the ski resort has a deal that year
– A dining canopy (especially one of the more rigid 'easy-up' kinds) to put above a picnic table if it is only snowing lightly or raining (heavy snow could collapse it), and a lantern, not just a flashlight.
-A car with a better battery (in cold weather, batteries are 50 per cent less efficient) If the owner of the Buick below had cleaned the battery terminals before the trip the half hour spent trying to get his car to start on the 2016 trip could have been spent on something more fun. Read Prepare for winter driving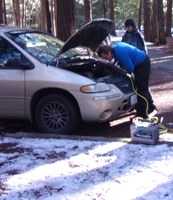 Yosemite driving regulations from 1913 included:
"Every person presenting a car for admission to the park will be required to satisfy the guard issuing the ticket of passage that the brakes of his automobile are in first-class working order and for this purpose all automobilists will be required to effectually block and skid the rear wheels of their automobiles with either the foot or hand brakes or such other brakes as may be a part of the equipment of the machine."
"All motor cycles are forbidden to enter the park."
– A pair of shorts in case we get a brief spell of early spring weather
– red cellophane for over your flashlight on a night hike to protect your night vision
– Batteries for your flashlight that are NOT the cheap rechargeable kind, and lots of extras. Possibly a spare bulb. A second flashlight can be really convenient. A 'snake light' can be carried on your shoulder or you could use a headlamp to keep your hands free, but try not to blind others with it. A headlamp worn around your neck pointing downwards will not blind others as easily as one on your forehead.
In thick fog or blowing snow you will see better to hike/walk if you put a flashlight headlamp on a belt at your waist instead of on your head.
. . . and again, your cell phone will not function as a flashlight long enough or bright enough after dark.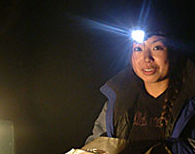 – More warm clothes, and more dry ( non-cotton ) socks, but not so many socks on your feet at once that it cuts down circulation
-An insulated drinking mug and a second one for the main course (but if you leave the mug in your pack or the bear box all day and it's cold, pre-warm it in your jacket before you put hot soup in it or it may crack)
– Even more water in your diet than you thought you'd need when you read the 'must have' section of this trip webpage.
– A backpack rather than a tiny daypack for hikes so you can really have room to bring all the water you'll need to drink and gear you need to be warm, safe and dry. See the list of day hike gear at our summer: Camping equipment checklist
If you don't carry your raingear on a hike and it starts to rain, your clothes can get soaked through. In the cold temperatures of the mountains, winter or not, you could die from exposure.
– Hand or toe or foot warmers …small packets of chemicals, which when activated, will produce heat for hours. Those for sale in the park have in recent years cost twice as much as those at home. If you purchase foot sized warmers for in your boots, be sure they do not make your boots tighter and restrict blood flow to your toes. Some kinds can be boiled to be reused, are more expensive in the short run, but can be reused for years and are much more earth-friendly.
– A mini-alarm clock to set so you can make it to the bus for the Ranger snow-shoe walk, skiing, or get up in time for a long hike. It's hard to get moving in the morning, and cooking outside in the winter can take a lot of time, so set it for enough time. Almost every year so far someone has missed the skiers' / snowshoe walk bus.
And even though some of us refer to the Raven calls near sunrise as the Raven Alarm Clock, and you will probably be wakened by them (or by other campers getting up), you can't count on that for you to make it to the bus.
Hear Yosemite bird songs at:
https://www.nps.gov/media/video/view.htm?id=C87D7447-1DD8-B71B-0B82603B8150C783
-A real sled or tube if you want to slide snowbanks (insulating sleeping pads get destroyed when used as sleds, and cardboard pieces won't protect you from rocks hiding in the snow) Hey, don't dig your feet in to the snow to brake!
– Loops of cord on your jacket, sleeping bag, and pack zipper pulls so you can use them without taking your mittens off (glow-in-the dark kids' shoelaces are great on sleeping bag zipper pulls)
– More gloves. Keep your best pair dry
and bring alternates for wet activities like igloo, snowman, snow fort and sculpture building.
(On a budget? Instead of buying $35 to $100 insulated overmitts, try polypropylene glove liners ($4 to $9), or non-cotton 'magic' gloves under home-made overmitts. Possibilities: start with liners, over them put plastic bags and then socks (maybe with a loose rubber band at your wrist). Or liners with oven-mitt potholders, or liners with garden gloves, plastic bags and socks, or liners with rubber dishwashing gloves or large first aid gloves.
An inner layer next to your skin of vinyl or nitrile first aid gloves can work as a vapor barrier layer with other glove layers over it.
-A knit scarf to wrap around your face so you can pre-warm cold air by breathing through it, especially at night. You might even consider this a part of first-aid for hypothermia.
–Booties or fleece socks or… Some tent mates decide in advance that no one can walk inside the tent or Curry tent cabin with boots on, to keep snow (and melted snow, dirt) from accumulating inside. They put an old towel just inside the entrance to leave boots on. If you do this you might want booties or slippers of some kind for hanging out in the tent playing cards, etc.
-A folding or pop-up chair for sitting at the campfire and foam/ensolite pad –you can use some kinds of sleeping size pads to line a folding chair and you'll be noticeably warmer sitting around the campsite, as in the chair on the left in the photo below: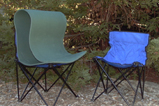 .
-A hot water bottle for bedtime, yeah that old yellow one like Grandma used (but wrap it if it's really warm so you don't get burned, don't inflate it a lot like a balloon, and don't sleep on top of it in case it leaks)
– long handled cooking utensils and a pot gripper
Since a high powered flame could cook the handles of some pans, many people use handle-less pans and a pot gripper.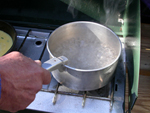 –
a windscreen
for the stove
– Gaiters to keep snow out of your boots, if you intend to hike through deep snow
-A real snow shovel, with a wide flat blade. If you borrow one, return it right after you get done using it, so the next person who wants to use it doesn't have to track you down. Use it only to shovel snow, when used as a hammer or ice axe during igloo or snow sculpture building snow shovels tend to break into a multitude of pieces.
Three people shoveling snow makes the job go faster:

– More small pans. It's much more efficient to heat water for cocoa, cream of wheat, doing dishes or whatever in small pans. One big pan of water sometimes loses heat to the outside air in winter as fast as it gains it from the stove, plus…trying to balance a huge pan on a small camping stove is dangerous
– Antibacterial towelettes are great to clean hands when it's just not convenient to trudge to the restroom before preparing a meal. But the whole plastic tub will take up too much space in the bear box, bring some in a zip-lock bag, or a small bottle of liquid. Maybe a second bag or bottle for hike lunch time. (And not the lavender or mint scented hand sanitizer that will attract mosquitoes to you and everyone near you.)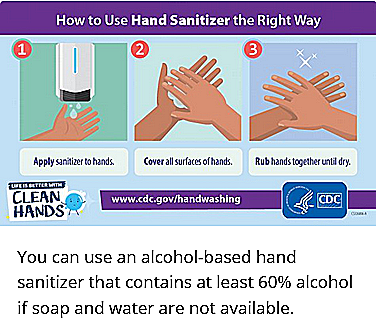 -A thermos that has never had anything but hot water in it (and therefore didn't pick up any food odors). You could fill it with warm water for overnight drinking in your tent or Curry tent cabin.
– Extra empty, clean, gallon bleach bottles to bring water to the campsite from the faucets.
– A can (maybe a few cans) of spray de-icer for your car windshield, windshield washer nozzles and door locks. Invest in enough de-icer. The Centers for Disease Control website warns:
"Never pour water on your windshield to remove ice or snow; shattering may occur."
– Solvent in your windshield washer reservoir. On a budget? The Yosemite Daily report said: "Top off your wiper fluid reservoir with freeze-proof fluid, a few tablespoons of rubbing alcohol added to standard fluid works as well."
– A real windshield ice scraper.
__________________________________
New wiper blades are cheap insurance that you will be able to see out of the car well enough to get there and get back safely.
If your wipers are on, your lights should be on.
Sometimes even new wiper blades have trouble keeping up with huge raindrops:

__________________________________
– A small pad to kneel on while you put on the tire chains (and to sit on the picnic table bench). Prepare for winter driving
-get a spare door and/or ignition key made for the car and keep it in your pocket so you can't lock yourself out. People have been known to do so when putting on chains.
Before you rent a car, check about chains. Most rental companies won't let you use chains on their vehicles.
– If it snows while we are on this trip you will be able to get the snow off the vehicle much more easily if you cover it with a big tarp or at least cover the windshield with a small tarp. You did read Prepare for winter driving , didn't you? If you tow a utility trailer, (a big van full of passengers with their gear in a trailer is a great combo for this trip), you will really want at least a small cover wrapped/tied around the trailer hitch area so you don't have to clean snow off it before you hitch it the last morning.
– Mend things before the trip, that tiny tear in the rain pants will be easier to fix at home than it will be in the campsite when it's a big rip. Are your boot laces about worn out? Clip your toenails before the trip.
– You might wish you had been to the dentist/doctor within the last six months. Are your immunizations up to date? (When was your most recent tetanus shot?)
-Something to wrap the stove propane canister in before you store it at night to keep it from freezing (this can be as simple as a large sock for a small propane canister).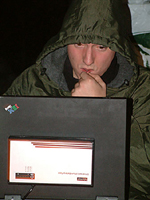 – a journal, pen, maybe a laptop for homework?
-A swimsuit (bizarre for winter camping, huh?). No, really. Always bring your swimsuit on all trips, so when your car dies and you have to spend the night in Buttonwillow or Lodi, and the "Y" or your motel has a heated pool, you could be having fun! Your suit (and a cap in case they enforce the rule or just to be warmer) doesn't take up much space.
– Rollerblades??!! (and pads, helmet) There are more than 12 miles of surfaced bike paths on the valley floor and the weather is sometimes good enough to ride a bike or rollerblade and the club requires you wear a helmet, even if you are not-at-all-young.
addresses of people to send postcards to
and postcard stamps
– In low light you might want a tripod for your camera, and you can get one for your cell phone: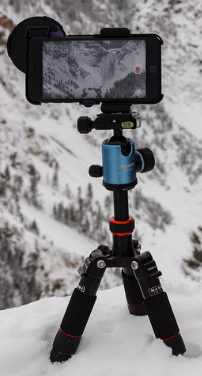 -Your camera will need special care, but we've read conflicting things about it so we choose not to give advice, except to bring lots of film if you are still using it. Batteries lose power in the cold, so lots of As or AAs for your digital camera is smart, or you can miss taking that special picture. On a wolf watching trip in 10 degree weather in Yellowstone in January, Lynn Ellwein solved the weak camera batteries problem by using a toe warmer chemical packet to rewarm hers, thus repowering them.
When you take the memory chip out and put it in your laptop to look at pictures, you do remember to put it back in to the camera, yes?
and see: They were just taking a selfie.
-No tripod for your telephoto, or not enough time to get one out?
Try this advice from the National Park Service:
"Use your zoom, and to steady your shot, touch your elbows to your ribcage, or rest your elbows on your knee or another stable surface."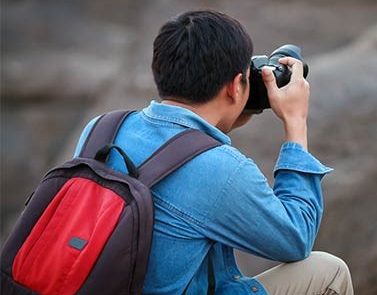 or perhaps have a way to attach your cell phone to a snowy tree branch? Yes, this worked.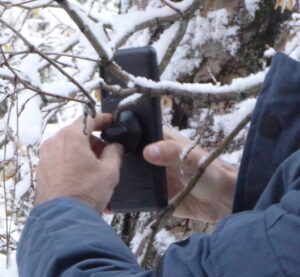 -An umbrella can keep the drizzle away from your face, let you pull down your rain jacket hood and better look at or photograph the scenery. You know it won't work in the wind. A compact umbrella will take up less space in the car and gets other things less wet.
– Ice axes and crampons (which need instruction in their proper use) are not necessary on most of Yosemite's maintained trails. Just be sure to check with the Rangers about conditions before you start out.
-Many people sleep better with their favorite pillow from home than with a jacket wadded up under their head. Or some bring a pillow case to wad up the jacket in or put some spare clothes in a pillowcase.
-lots of people bring a favorite stuffed animal
-Candles, preferably in a candle lantern (last longer than flashlight batteries for evenings and feel warmer)–but bring a flashlight also. If you risk using a candle lantern in your tent or Curry tent cabin, remember that it is very hot on top, leave some air space between it and the tent ceiling, and don't risk falling asleep with it still lit. Better yet, use it at a table, but not in a tent or Curry tent cabin.
–More things could fit it the campsite and/or tent cabin bear-proof storage lockers if everyone brought their gear in small, deep plastic trash cans or other plastic boxes close to, but no more than, 17 inches tall. A typical bedroom waste receptacle could be 9″ by 12″ by 17″ deep and hold quite a few cans of food, cooking items and toiletry bags. If this makes no sense to you, read
Using a campsite food storage locker
packing a wet sleeping bag to go home.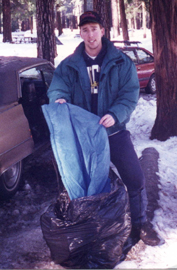 -Extra large plastic bags (the 30-gallon yard clippings size and maybe a few tougher 3 mil trash compactor bags) for emergencies and to store wet stuff on the drive home. Guess what: the average tent won't fit back in its stuff bag with even a thin layer of snow or sleet on it. Bags to put your boots in to store them under your sleeping bag or in the end of your sleeping bag at night. A small hiking plastic litter bag to bring all food wrappers, etc. back to camp, including stuff other people dropped. More large plastic bags to enclose your gear if you go up in a pickup truck. Large plastic bags to keep gear dry in the rain as you move it from the car to your tent. A couple of big plastic bags to keep spray off your clothes and towels when you take a shower and clean up for the Sunday morning breakfast together and the drive home.
Gallon sized bags to wrap around your inner socks as you put your feet into boots that turned out to not be waterproof.
Or… if your feet are wet and very cold and you have no spare dry socks, slide a plastic bag over your inner liner sock and put your thicker outer sock over the plastic bag. This becomes a semi-Vapor Barrier Liner. Your inner sock and feet will be wet, but warmer. These VBLs will wear out.
-more socks (not cotton!! —not any percentage of cotton!!!)
– Covid mask even if they are not currently required. N95 in case of smoke drifting from even a far away forest fire.
– A credit card to pay for a heated or not heated tent cabin/cabin/hotel room (walking distance or a free bus ride from the campground) if you camp and all of the above does not work for you.
You can preview potential accommodations walking distance from the campground at Curry Village. Yosemite Valley overnight accommodations. And at the Yosemite Valley Lodge, check out the bunkbed rooms.
– chargers for your cell phone, camera (someone might have an inverter in their car or on some trips, like the between-summer-and-fall-quarters Grand Teton trip, some or all people stay in cabins) AND, it is fully charged as you leave home, correct?
Do not plan to charge your phone in the campground restroom, where you might find a sign warning that things you leave to charge are subject to impound AND if you plug in your E-Bike to charge, you can blow a fuse and cut off power to the restroom building: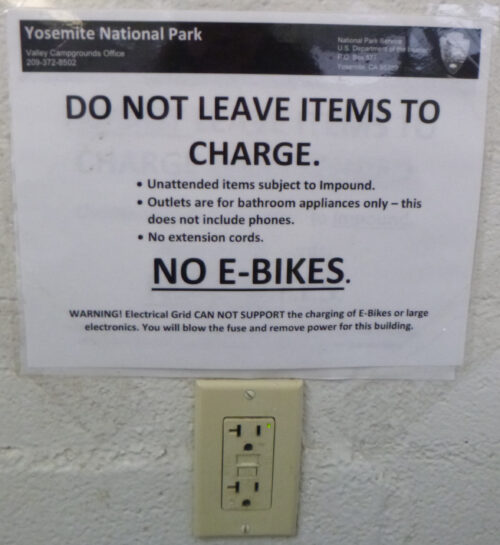 Cell phone service is NOT available in all parts of Yosemite. It is usually okay in the vicinity of the main visitor center. (In June, 2021 we got 3 bars for Verizon and 3 bars for AT&T near the main visitor center, versus 2 bars for Verizon and 1 bar for AT&T at the Ahwahnee, 2 bars Verizon, 2 bars AT&T in Upper Pines campground, 4 bars Verizon, 1-2 bars AT&T at the Yosemite Valley Lodge and 2 bars Verizon, 1 bar AT&T at Curry Village. Outside of Yosemite valley, at the Tuolumne Grove, Olmstead Point and Badger Pass were 1 bar Verizon, zero bars AT&T. Glacier Point and the top of Half Dome usually have 3 bars Verizon, 2 bars AT&T.)
The park service said: "Cell phone coverage in Yosemite is spotty . . . Cell service is often impacted during daily peak visitation by the large number of people trying to access limited service; if you have four bars of service, but you can't get a signal, this is why . . . cell coverage depends on your phone, the cloud cover and other seemingly mysterious factors and is not always reliable. "
___________________________________
Search and Rescue can find you better if they know where you are.
IF you have cell phone coverage, you could tell them your location by latitude and longitude.
Find a compass, altitude, latitude and longitude on your cell phone here.
Knowing the elevation you attained on a hike and or climb can be fun for the been-there-and-done-that part of your adventure. Below, a photo taken of the compass app on a cell phone at Lake Solitude, in Cascade Canyon, Grand Teton National Park: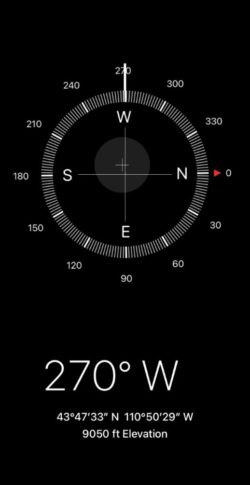 The 270 degrees W (west) shows the direction the cell phone was pointing, useful for orienting to a typographical map.
The winter Yosemite Tuolumne Meadows rangers gave this advice about map and compass:
"Practice with these tools when you know where you are;
not when it's getting late, dark, cold and/or cloudy."
__________________________________
– – – – – – – – – – – – – – – – – – – – – – – – – – – – – – – – – – – – – – – – – – – – – – – – – – – – – – – – – –
Few Yosemite hotels, cabins have TVs. All the Ahwahnee Hotel rooms have large screen televisions with an in-house TV channel that plays videos from the Yosemite Conservancy Nature Notes series. You can "upgrade" your lower cost overnight accommodation / campsite by downloading the nature video series in advance of your trip and then watch them on your laptop.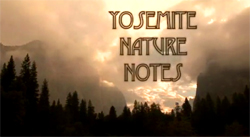 You can watch or download the videos at:
https://www.youtube.com/playlist?list=PL890957589F8403A4
– – – – – – – – – – – – – – – – – – – – – – – – – – – – – – – – – – – – – – – – – – – – – – – – – – – – – – – – – –
___________________________________
When you first fill an ice chest with food and ice everything is fine. As you drive along to your destination, and as days of getting things in and out go by, things get jiggled around. Containers' lids can loosen. The ice melts and water fills up the bottom of the ice chest, but you don't have the time to drain it as often as you should. The ice chest may have been 'clean' to start with, but if it had any even unseen mold or… the water is not so clean. The smaller containers near the bottom of the ice chest end up partially submerged in the melted ice water and some of the water leaks in, possibly contaminating the food. That plastic bag of fruit somehow gets down into the melted water and is potentially contaminated.
A solution to this problem is to create an extra upper shelf in your ice chest that can hold the smallest containers or plastic bags of items like loose fruit on it. Below, we used an old dish drainer and a cupboard organizer.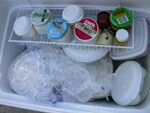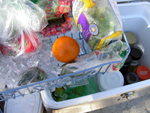 then finally, put a "layer" of ice on top in zip lock bags that can be easily removed to get at food: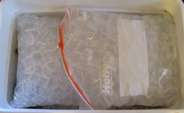 Plastic ice blocks that are advertised to work a whole weekend don't last that long. Ice cubes melt relatively fast. Buy ice in blocks and split it with a hatchet to make it fit around in the ice chest better, or plan a little in advance to make your own mini-ice blocks in pans in your freezer. A loaf pan is a very good size. You'll still need ice cubes, but they will last longer.
And again, the club bans styrofoam ice chests and drinking cups since they can break up in to bazillions of pieces that can't be cleaned up.
__________________________________________________________________________
__________________________________________________________________________

Some things wise people remember
(Bears are not true hibernators and wake up in the middle of the winter and break into cars looking for food.)
Puuuuuulease get rid of the dashboard hula girl that emits the pina colada scent, (only $2.79 at the Frys one day Flash Sale and you couldn't resist) and everything else scented from your vehicle so the bears won't be tempted to break in. Stop stuffing the ashtray with gum wrappers. Dig the old french fries out from under the seats. Hey, no scented air fresheners hanging from the rear-view mirror! The day pack you leave sitting on the seat overnight looks like a food container to a bear and they WILL break in to get at it.
No, you can't taser any animals. Read more about keeping bears out of your vehicle at BEARS
Wise winter travelers lift the wiper blades off their windshield as soon as they park, or at least before the snow starts, so the blades won't be frozen on the windshield in the morning: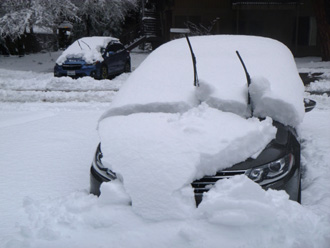 Don't use cruise control in winter driving conditions, you need to be in control based on the road conditions, like that black ice on that bridge. Safe driving in rain and fog
Remember the posted speed limit in Yosemite park is 25 mph when Chain Requirements are in effect. This speed limit overrides all higher posted limits within the chain control area. Prepare for winter driving.
Don't use a mini-sized lock on your tent zipper. Putting a 'lock' on the tent zipper will not keep thieves or raccoons out, they will just tear the tent material to get in. Yup, like raccoons did to a guy camping on a previous trip.
No baseball, frisbee, kite flying, soccer, biking or other trampling of meadows! .
Many parks ban volleyball/badminton, etc. in campsites or on beaches, but you might find a place you can play as long as you don't destroy plants.
Selfies can be a ton of fun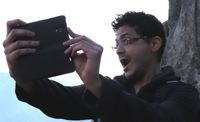 but they can also be dangerous: They were just taking a selfie . . .
Depending on a GPS unit to intentionally be separated from your hiking partners can lead to confusion or even disaster. Be certain that the people you are with are happy with this prospect.
__________________________________________________________________________
__________________________________________________________________________

Do not bring:
boomboxes, drums, tubas, generators, noisy equipment to fill air mattresses, etc.
(noise is the first thing other campers complain about to the rangers)
troubles
any weapons, including but not limited to any firearm, knife, explosive, air gun, bow and arrows, spear, slingshot, BB or pellet gun, or other object (throwing knife, throwing star, taser) that could be classified as a weapon even though some of them may be legal in Yosemite
No drones. Use of drones is illegal in National Parks.
Animals get aggressive when people fly drones around/over them, endangering everyone in the vicinity.
If I see a park service rules violation, such as someone using a drone, do not approach the person(s), but instead contact the park service and try to give them a description of the people, what they are doing and where, as well as vehicle license plate number, color, make and model and report them and the location (campsite number) to Rangers (do not approach or talk to the people breaking the law, just report them).
If you have cell phone coverage, call park dispatch. The phone number for dispatch is usually in the park newspaper you receive when you enter the park.
(When people fly drones around forest fires, the helicopters with firefighters and tankers with sprays to put out the fire can't fly!)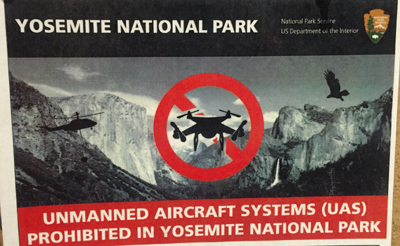 alcoholic beverages or mind altering substances on college sponsored events, even during activities that are not official club activities. This is especially important in the winter when the surfaces you will be walking on can be quite icy.
Have you been washing / rinsing / drying clothes with a favorite scented product?
Scented attracts mosquitos and other unpleasant insects,
so for the wash just before the trip you might want to switch to unscented.
Don't bring clothes camping that have been rinsed or dried with mosquito-attracting scented softeners (plus, dryer sheets can make a greasy stain on clothes if they get stuck to them, and the softeners can decrease the lofting and wicking of garments).
You might also consider choosing clothes that are not black, orange or red as they may attract mosquitos. Lighter colors instead of darker could be a good idea, too. Nature.com reported that "the US military changed its dress shirts from dark blue to light blue in part to mitigate mosquito biting."
And you could go through your toiletries, shampoo, body soap, lotion, suntan lotion, deodorant etc. and only pack unscented since that great floral scent in the shampoo will attract mosquitos.
organic French lavender hand sanitizer spray, since it will attract bears into your car, and attract mosquitoes to you.
salt tablets (salt tablets can irritate your stomach and cause nausea and/or vomiting)–but a few salty soups and snacks area good idea to replenish salt after sweating. Some people (nope, not on our trips) have needed to be rescued when they failed to include salty snacks in their diet, hiked a lot, got very hot and sweated a lot (sweating is your body's number one way to to cool down), then could no longer sweat because they did not have enough salt to produce sweat, and were unable to even walk, and were starting to die from the heat. Lack of salty foods can be as dangerous as dehydration. "Easily digestible salty snacks to replenish what you lose through sweat" are recommended.
An injured or frostbitten area can swell, so first aid includes immediately removing jewelry. Or you could decide to not wear jewelry at all when out adventuring. Chip a gemstone off that ring and we will never find it.
never bring a snake bite kit with razor blades or a suture kit – – – take a real first aid class and learn how to handle emergencies properly
styrofoam ice chests and cups that chip and break into little ugly bits you never can get cleaned up
Again, for safety's sake, don't bring raw chicken. Much chicken has salmonella which needs to be killed during cooking. It's easier to prepare it cleanly at home and just re-heat it at camp, plus you reduce the risk of raw chicken juice spilling on other things in your ice chest and contaminating everything. We are talking about very sick from salmonella.
And again, do not trust a waterbottle with a cap that has a built-in ultraviolet light supposedly able to kill waterborne microorganisms. On a hike either bring enough water or bring a good quality water-purifying pump.
and repeating this:
Please no cots: A cot won't fit in most winter-rated tents, and bottom edges of the legs will make holes in the tent floor. If you decide to bring a tent of your own big enough for a cot, remember that a cot won't be enough protection from the cold without insulating pads even though it gets you up off the ground. and the park service says: "You may attach hammocks, clotheslines, and other tensioned lines in campgrounds as long as they do not create a hazardous condition and are padded to prevent damage to trees. These may not be attached to oak trees."
—————————————

__________________________________________
______________________________
(Links to all De Anza Outdoor Club Coming Attractions are here.)
______________________________
__________________________________________
For a list of gear you'll want on a long day hike see the list of day hike gear at our summer:
Camping equipment checklist
For info on the logistics of where to pitch your tent, dealing with iced car door locks, how to keep snow from collapsing your dining canopy, staying warm and comfy overnight, logistics of packing up and moving into your tent in the evening and getting up in the morning and more, go to: First-timer's instructions Experienced people tell us they learned things to make winter camping easier.
Will it actually snow during our trip? Maybe, maybe not. Snow camp weather, hike safety and first aid considerations
There's easy camping info at: Have more fun camping
For a checklist of most of the above (but without all the reasons and descriptions)go to Snow camp equipment checklist .
If you are not certain about any gear, bring it to a club meeting so we can look at it.
For the answer to the question: How do I convince my parent(s)/guardian that I can go on this trip? or How do I convince them to pay for some gear for the trip? Go to: Snow camp FAQs
Cell phones in the wilderness has advice on how/when to use a cell phone to contact 911 in the wilderness and a warning about interference between cell phones, iPods and avalanche beacons.
see also: GPS is not infallible
Hiking Advice has advice, hiking logistics and the answer to the question: When is the best time of day to cross a mountain stream?
an eight person tent holds this many campers
and Heat Illnesses

You can download and read this book about Yosemite by John Muir for free:
The Yosemite http://www.gutenberg.org/ebooks/7091
some favorite winter trip chapters include:
Winter Storms and Spring Floods
Snow-storms
Snow Banners
This list by itself is not enough info to be able to safely go camping in the winter so check out the links at Snow Camp and don't miss the pre-trip meeting!
Return to:
Interesting weather does not cancel club events.
No refunds unless we cancel.
Photo below was one night of snow: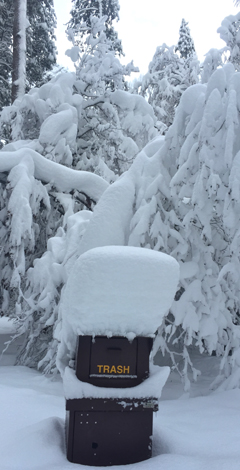 "All you need is a bicycle pump, an ordinary deck of playing cards and a pair of deerskin slippers,
and you're ready to begin."
Bob Mankoff, The New Yorker.