We intend to schedule the next trip for Feb. 2-4, 2024. The info below from 2023 will likely change for the 2024 trip.,
The weekend of Friday, Feb. 2 – depart Sunday Feb. 4, 2024, will be the THIRTY-FOURTH ANNUAL Yosemite Valley winter trip.
(If there are still Covid limitations, we can expect that the park and most facilities will be open, the free shuttle bus around Yosemite Valley and the free shuttle bus to the ski resort will be running, and there is lots to do even if some programs / facilities are closed.)
After reading this, the main links you probably need are:
things to do in advance of the trip
how to sign up (for the 2023 trip, will be changed closer to the 2024 trip).
##########################################################################
You r-e-a-l-l-y need to read all this material before you come to sign up.
(First photo below courtesy of the park service.)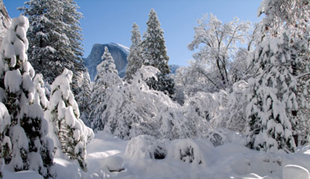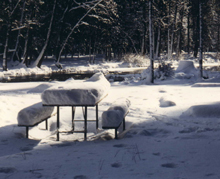 Usually one of our biggest trips. Rain? Snow? Sleet? Sunshine? Campfires! Coyotes!
Raccoons (quite possibly IN the tents or tent cabins if people are not careful about snacks in daypacks or their pockets)
raccoons know how to unzip your tent door.
– – – – – – – – – – – – – – – – – – – – – – – – – – – – – – – – – – – – – – – – – – – – – – – – – – – – – – – – – –
It really is warmer with 15 people in a six person tent, right?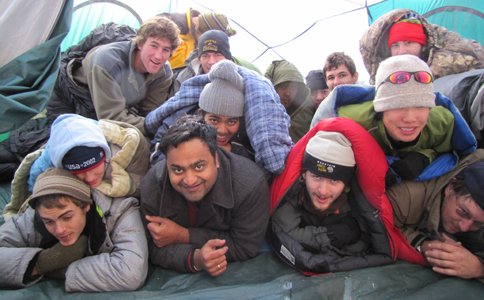 The photo above was taken on a trip before Covid.
Even if people wore masks, it might not be safe to re-create this photo during the 2024 trip,
so we will wait hopefully to do it during a future trip.
– – – – – – – – – – – – – – – – – – – – – – – – – – – – – – – – – – – – – – – – – – – – – – – – – – – – – – – – – –
– – – – – – – – – – – – – – – – – – – – – – – – – – – – – – – – – – – – – – – – – – – – – – – – – – – – – – – – – –
YOU CHOOSE which activities you want to do:
night hikes,
early morning hikes,
long hikes to viewpoints above the valley or to the top of one of the tallest waterfalls in the world,
Ranger nature walks,
ice skating,
rollerblading, biking, climbing, (sometimes the weather is good enough for these)
snow sculpture building,
photo walk with a professional photographer, 9 a.m. Saturday (which you need to sign up for in advance, used to be free but now they charge for it),
photo tour of you create the route for,
of places to photograph iconic landmarks
using the following links to webpages of locations to photograph Yosemite Falls, Bridalveil Fall,
El Capitan, Staircase Falls and Half Dome.
This could be a driving tour or
a walking / free shuttle bus tour of the east end Yosemite Valley. During years the free valley shuttle is in use during our trip, people can use the free shuttle bus. Stop at the main visitor center, near free shuttle bus stops 5 and 9 and take a look at the museum and visitor center. At free shuttle bus stop 6 you can do a walk to the base of Yosemite Falls and do a short or long walk around Cook's meadow. A short walk with a Ranger naturalist could be included in these plans during years they have them. In 2020 the subject on Saturdays at 2 p.m. was Ahwahneechee Lifeways and this walk met in front of Yosemite Museum, next to the main visitor center, near free shuttle bus stops 5 and 9.
People can do this by copying or downloading the locations-to-take-the-best-Yosemite-photos webpages linked to above and bringing them on the trip. Hmmmmmmm, and you might also want a copy of Things to do during a Yosemite snow storm besides hiding in your tent.
Do a 45+ minute drive or take the free bus to the ski resort Look for the Shuttle link at:
https://www.travelyosemite.com/winter/badger-pass-ski-area/
for
snowboarding/skiing (lessons and/or rentals),
Ranger Naturalist snowshoe walks,

Possibly a Saturday evening campfire if people get a campsite or meet at a picnic area that has grills, etc., but often the Yosemite Falls hikers take all day and are tired and want a quick no-cook dinner (or pizza / cafeteria) and sleep instead of a campfire. (Wise people bring enough picnic-type-no-cook food that they can eat even if the restaurants have a power outage or they get back late from the all-day mega hike.)
If no one has a campsite, but the ice skating is open, they often have a huge fire with seating around it: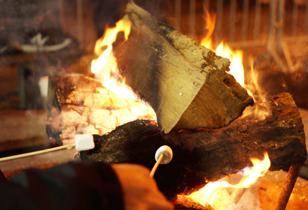 Some years there is a 7 p.m. Ranger Evening Program at the Yosemite Lodge Cliff Room.
a Sunday morning breakfast together (This will be an official club activity, but the cost of it is not included in the trip fee, just as the cost of lift tickets, ski lessons, ice skating, etc. are not included.)
The club has always met on Sunday morning at the end of the trip to eat together and share photos and tales of hikes, skiing people did, plan ahead for the next kayak lesson.
We (many years everyone) usually got dressed up and went to the Ahwahnee hotel for the grand brunch.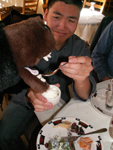 But they started remodeling the hotel dining room and in 2022 and 2023 we did our own pot-luck brunch that many of us preferred to the hotel brunch.
We plan again for 2024 to have a pot-luck breakfast and share tales of adventures. In 2022, 2023 we thought we did a better menu than the hotel buffets and the club set aside some money for part of the food. Details about signing up to bring whatever you would most like to eat, with enough to share, (chocolate, juices, fruit, pastries, pies, nuts, bagels and tooooo many choices of toppings, cheese plate, salami, . . . chocolate) will be discussed at various pre-trip meetings. Nope, no homemade food.
(Yup, in 2023 one woman left the huge bottle of juice at home in her fridge.)
The choice of where we will meet to eat Sunday morning might be announced at the official pre-trip meeting (and last chance to sign up for the trip) at the De Anza pool . . .date / time winter quarter to be determined.
##########################################################################
And since the faculty advisor can't do all the activities listed above see below for what will be an official club activity:
The official club activities 2024 will likely be
– – a 7 a.m. (yup, at sunrise) Saturday morning coffee/tea/hot chocolate, snacks, see who wants to ski, who wants to hike, who wants to do the snowshoe walk, plans-for-the-day-look-at-trail-maps-required-meeting,
why 7 a.m.??
. . . because the longest hike takes all-day-and-sometimes-into-the-evening, so people need to get moving early.
. . . and because the free bus to the ski resort / ranger snowshoe walk leaves early (Confirm the bus schedule mentioned below is still accurate at: https://www.travelyosemite.com/winter/badger-pass-ski-area/)
On the 2022 trip all the students stayed in the campground, so we had our Saturday morning meeting, you guessed it, at one of the campsites. Most people on the 2018, 2019, 2020 and 2023 trips stayed overnight at tent cabins, cabins etc. at Curry Village or at the Lodge instead of camping in the campground (and in 2020 no one camped). We might decide where to meet Saturday morning in advance of when we leave for the trip.
Free shuttle bus pickups schedule (most years) a First Run at 8:05 a.m. from bus stop #13 at Curry Village, in front of the Stoneman building. Shortly after that (8:10 a.m.) from a covered bus stop "Yosemite Transportation" adjacent to the garage in Yosemite Village, then from the Ahwahnee Hotel at shuttle stop #3 (8:15) and last morning pickup leaves from the Yosemite Lodge hotel Porte Cochère at the front desk (covered driveway in front of the hotel lobby across the street from shuttle stop #8) at 8:30 a.m.).
2023, as of mid-January, a Second Run:
Curry Village registration- 10:35am
Yosemite Transportation- 10:40am
Yosemite Valley Lodge- 11:00am
2023 Badger Pass Return Shuttles leave from the day lodge at Badger Pass- 2:00pm and 4:30pm. Drops off at all pickup locations.
The 7 a.m. meeting may be the time most people finally decide what they are doing on Saturday.
– – and optional (but usually everybody – or most trip members) pot-luck breakfast together the last morning
(hotel buffet or cafeteria or at a campsite or at a hotel room area or . . . described above).

There is a shower house at Curry Village, a short walk (or one bus stop away on the free bus system) from the campground. And in the winter some years people not staying at Curry village can pay at the Curry Village front desk for a shower – in the summer people not staying at Curry village can pay to swim in the pool and use the showers. Pictures of the shower house, and directions for finding it are at the YOU WILL WISH YOU HAD section of snow or rain camp must haves
Because people who choose to camp will be in a campground with heated restrooms, showers nearby, restaurants to bail to if cooking out doesn't work, and 24 hour in-the-park ambulance service, this isn't a true wilderness adventure.
But we have had someone on almost every trip who has never been in the snow
or has never been camping before
(or even both),
so for them it meets all definitions of an adventure.
(So they've never been in a snowball fight, either. Okay, yes, all activities are optional, including snowball fights.)



The new friends in these group photos
at the end of previous winter Yosemite trips
were mostly strangers when the trip started.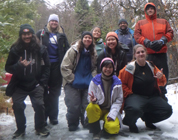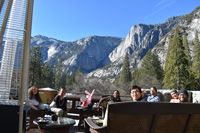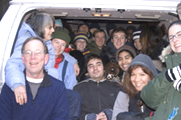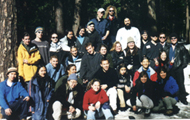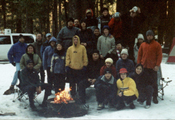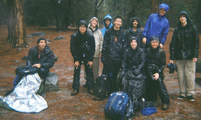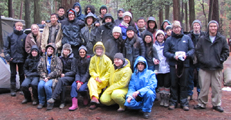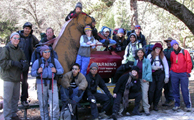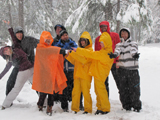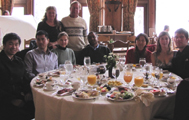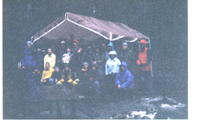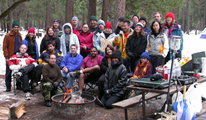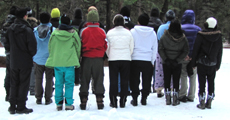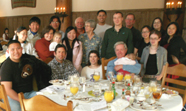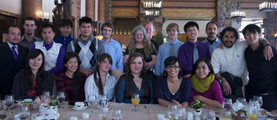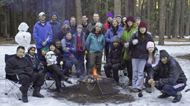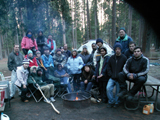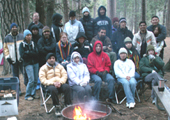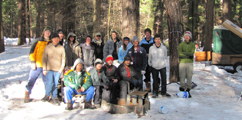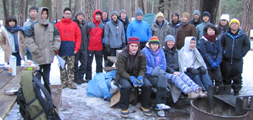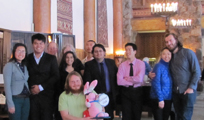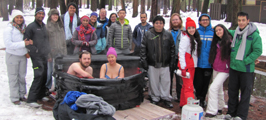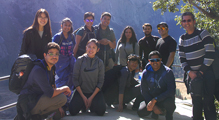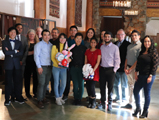 2005 February 2005 Yosemite camping
2006 De Anza College Outdoor Club Yosemite winter trip 2006
2008 Oops, no group photo: De Anza Outdoor Club Yosemite snow camp 2008
2009 De Anza winter Yosemite trip 2009
2010 De Anza Outdoor Club Yosemite winter trip 2010
2011: De Anza College Outdoor Club winter Yosemite trip 2011
2014: 2014 Yosemite winter trip
2015: Yosemite winter camping trip 2015
2016: Yosemite winter camping trip 2016
2017 photos, with the hot tub in the snow, are at snow camp 2017
2018: Yosemite winter trip 2018
2019: Yosemite winter trip 2019
2020: Yosemite winter trip 2020
2022: Yosemite winter trip 2022

The club requires that we see your waterproof rain gear when you sign up,
because on previous trips the faculty advisor has had to dress people in plastic leaf bags.
Really.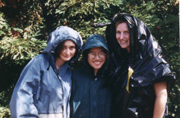 "But I haven't a thing to wear."
There are ideas for people on a budget at the complete description of what to bring at: Snow or rain camp must-haves You can rent a winter ski parka/pants, winter boots, a great sleeping bag at local ski suppliers.
You must have (and show us when you sign up) a waterproof hooded jacket and pants, either a simple rain jacket/pants set like the construction workers ones they sell at hardware stores, or as fancy as a set of Goretex gear. Your snowboarding gear could be snow-proof, but not actually waterproof out in the rain. We will not accept rain ponchos or thin, easily torn temporary rain gear like they sell at airports for emergencies.
People who have never been too cold for too long (hypothermic) tell us they do not think they really need waterproof outer layers. But even if the weather report says sunny, it can change quickly, and when the wind comes up after dark, your waterproof outer-layer can also keep you warmer by protecting you from the wind. Hypothermia is one of the main causes of death in people recreating in the outdoors yet it is PREVENTABLE.
These two people (not anyone from our trips)
with ponchos on that are draining water down on to their legs are likely quite cold: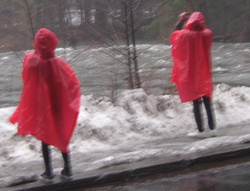 – – – – – – – – – – – – – – – – – – – – – – – – – – – – – – – – – – –
Overnight Accommodations
The club will not make reservations for any overnight accommodations, individual students do that.
You have a number of choices of where you stay overnight (campground, heated-or-not wood floored canvas roofed/sided tent cabin, wood walled cabin or hotel room) and who you share a campsite with / have as a roommate (or you could come up just for the day Saturday – but people rarely do).
Trip members often make reservations for one of the tent cabins, cabins or hotel rooms (see photos below) well in advance, so they have more choices of where they will stay, and make a big note on their calendar of the deadline to cancel without paying a cancellation fee. (Seven days????) Then they look for roommates. (And for the 2024 trip some made tent cabin and hotel room reservations months in advance).
We do not recommend staying overnight outside of Yosemite valley for this trip, even if it looks like you can get a really nice place to stay for a low price. Please talk to use about any you are considering.
(From the park website: "Camping or sleeping in vehicles is permitted only in designated campsites. Sleeping in vehicles is not permitted anywhere else in Yosemite.")
– – – the lowest cost overnight accommodation is camping overnight in either Camp Four, without a reservation and with no parking space at your campsite,
or
in Upper Pines Campground, (the only campground open in the winter with individual campsites with parking spaces). Each Upper Pines campsite ($36 per night, as of mid 2023) holds six people and two vehicles. (Campsites in Upper Pines campground Yosemite Valley for the 2024 trip (or for any dates Jan. 15 thru Feb. 14, 2024) go on sale five months in advance on Sept. 15, 2023 at 7 a.m. PT. People wanting to go with the club who are willing to get a campsite should consult with us in advance. The best campsites book right away, just after 7 a.m. on the first day available, even for trips in the winter. We have always been able to get sites next to or very near each other if we make advance plans.)
map of Upper Pines, Lower Pines and North Pines campgrounds
But sometimes the campsite parking spaces are not plowed of snow well enough for two vehicles to park, especially two SUVs. This is fine with one SUV with six people in it, but many people will want to drive in two-people-per-vehicle carpools or even by themselves. They could possibly fit more people sleeping overnight (strictly enforced rules of maximum 6 people per campsite) and save money by paying for fewer campsites, by having some of those who want to drive in small carpools drop of their gear at the site and use free day-use parking for the extra vehicles. They could travel with three or four cars and six people but only buy one campsite. Maybe the car(s) that get to park at the site could pay a larger share of the campsite cost.
The nearest free parking lot is next to parking for Curry Village, a relatively short walk from the campground or a free daytime bus ride during years the free shuttle bus is in full operation.
One year, someone brought chocolate cake for breakfast: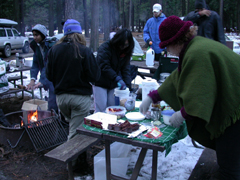 Each campsite has a metal food storage box you must use for all food/toiletries ,
Even a think layer of ice / snow slides off the top of a bear box fairly easily, so it might be where you start: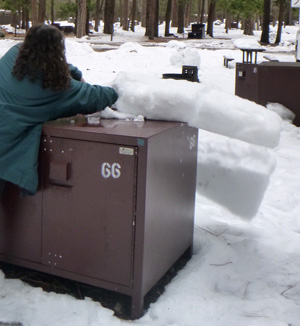 a picnic table which can not only have snow that needs clearing, but a layer of ice beneath that needs more tools to remove it: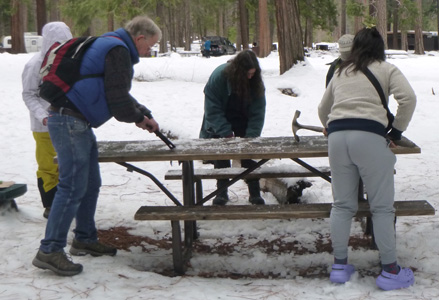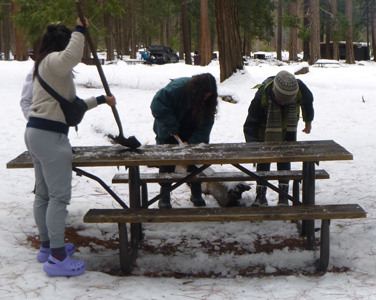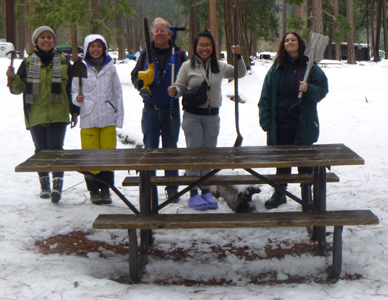 fire ring,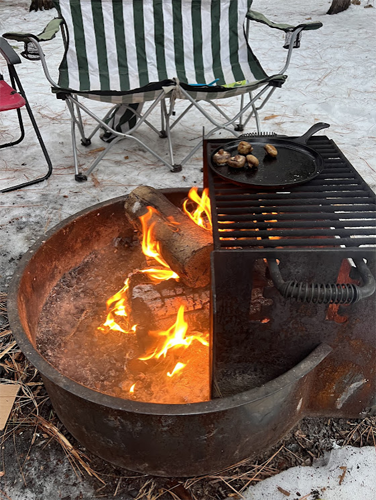 (yup, you guessed it, no WiFi, sometimes not even on your smart-enough-phone is not getting reception in much of Yosemite valley).
Each campsite loop has nearby restrooms, see the map. Showers available for anyone during our winter trip are at Curry Village when Curry Village is open.
Please note that no pets are allowed on our trips. There are no hook-up campsites for motor homes.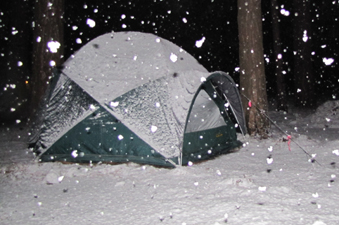 (Photo taken at 4:30 a.m. when it had been raining, but then it got colder and rain turned to snowflakes the size of fifty cent pieces, captured by the camera flash.
One woman sleeping in the tent above on the 2011 trip had never been camping before.
Another on the trip had never seen snow fall. )
At the end of the 2019 trip it started snowing heavily "SNOWZILLA". . . and for 2 1/2 days all roads out of Yosemite Valley were closed and all campgrounds were closed due to risk from falling trees, but the students got out after brunch and just in time.
Here, an NPS photo of the result when a large tree fell on a campground restroom: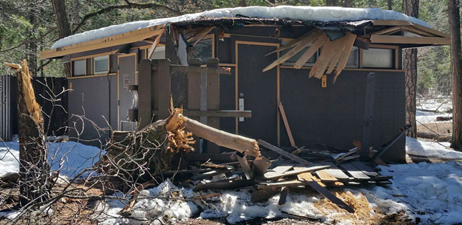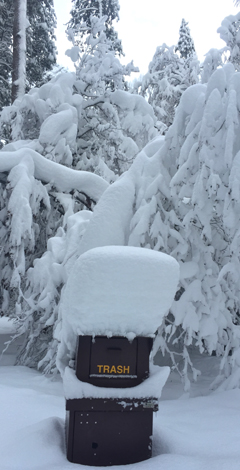 In other years we have occasionally had snow followed by rain and parts of the campground flood (parts we do not camp in, even if we do not expect any interesting weather):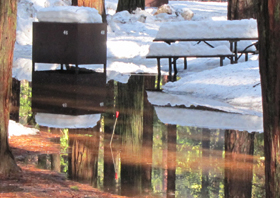 and you will want to have taken a look in advance at other accommodations to retreat to, as in below.
canvas walled/roofed heated or not tent cabin,
wood walled cabin with a bath
luxury or generic hotel rooms, suites with a bath
– – – those without cold weather camping gear (or who just want to be more comfortable) spend a bit more on a wood-floored, canvas roofed/sided tent cabin, (optionally heated, but bring a reeeealy good sleeping bag or even two) with various double bed and single bed combinations, electric lighting, restroom/showers nearby, lounge with free guest WiFi, walking distance from the campground (or a free daytime shuttle bus ride in years the shuttle is running the full route) but no phones/TV/fridge.
(Renting a tent cabin could be less expensive than renting proper winter camping gear / tent. )
AND it will not matter how late you leave town, as you will not need to pitch a tent out in the potential weather, you just move right into your tent cabin.)
Lots of details to make your stay in a Curry Village (briefly named Half Dome Village) tent cabin more fun and comfortable are at:
Yosemite valley tent cabins tips and tricks
Below (photo courtesy of the NPS) are some of the canvas tent cabins and a bear that broke into one people left food in. Always use the bearboxes provided at each tent cabin and campsite. (First-timers info.)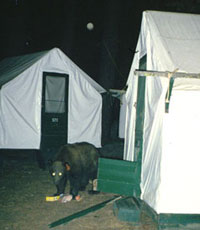 There is no cooking allowed at any tent cabins, cabins or hotel rooms, but cabin/hotel dwellers can join people at the campground or go to various picnic areas, some with grills as well as picnic tables.
Please read In Advance of the Yosemite trip
TO LOOK AT THE cabins/hotel rooms/tent cabins,
and find details about how to check current prices and make a reservation.

Who's going? / How Much?
We have had small and large groups (as many as 30 or 40 IF people sign up early and spread the word).
We always have people with previous experience on the trip and often have people who have never been camping/done major hike and/or have never been in the snow. Occasionally (2015, 2016, 2017, 2018, 2020) we have had a student who was an EMT on the trip.
You don't have to be a club member to go on trips with us, just a De Anza student (or most faculty/staff), but members pay less for club events. Membership is $15 for 365 days. Reasons why you should become a member are at: Membership benefits
Rarely people decide to come up for just one day. If you decide to stay overnight, where you stay overnight will be up to you, but people usually decide to share campsites and/or tent cabins to save money.
2023 WINTER YOSEMITE TRIP COST paid to the Outdoor Club was the same as 2018 to 2022:
$10 Outdoor Club members, $20 other students.
2024 might be close to that price.
Trip participants are responsible for trip arrangements and costs, including, but not limited to: food you bring and potential meals eaten at restaurants, campsite, cabin or hotel cost, gas and other transportation costs, a little change for the laundromat to dry some damp clothes, ski/snowboard costs (there are rentals and lessons at the Yosemite ski resort), skate rentals and/or ice rink fee, postcards, t-shirts and other souvenirs, sleeping and eating gear and other personal gear. You can rent winter boots, jacket/pants at home before the trip.
You will need to pay the park vehicle entrance fee. As of late 2022 the Yosemite park entrance fee is $35 per vehicle or $20 per motorcycle. An annual park pass will cost $70.
OR better yet, find someone to carpool with who already has a (National Parks and Federal Recreation Lands) Interagency annual pass. (If you also go on the club between-summer-and-fall-quarter Grand Teton National Park trip it would be very wise to get a year long national parks pass, $80 as of late 2022.)
OR find someone who is active duty US military personnel or their dependent "with proper identification (CAC Card or DD Form 1173)" and can get a free national parks pass https://store.usgs.gov/faq#US-Military
(These passes can't be transferred/shared, the pass holder needs to be in your vehicle and show a valid government-issued photo ID.)
If you are riding in a carpool bring your share of gas, park entrance fee, etc. money.
– – – – If you are fairly sure (or completely sure) you are going on the 2024 Yosemite trip, please email the club advisor at donahuemary@fhda.edu to get on the trip email list.
Include how sure you are that you are going, how you will get to Yosemite National park, and where you will stay overnight.
The club advisor does not have the time to answer questions about the trip that you could have found the answers to by reading ALL the Yosemite winter trip webpages linked to from this page thoroughly and carefully.
(And you will have an adventure that is much more fun if you really understand everything before you sign up.)
Please also read details about what you must agree to in the trip agreement before you come to sign up: 2023 Yosemite winter trip agreement. And after you do, look at how to sign up.

How to do it info:
For a list of required equipment (and another list of the things you might really wish you had) as well as menu advice, and a discussion of what to look for in long-johns, fabrics and rain gear, go to: Snow or rain camp must-haves To go on our trip you must read the must haves list and follow it. On a budget? We do shopping surveys and list the cheapest places to buy the needed gear, often at half the price of higher priced camping gear stores, as well as rentals of snow boots/jackets/pants and tents/really good sleeping bags/insulated sleeping pads.
How many people can you fit in an eight person tent?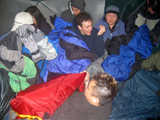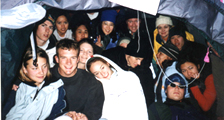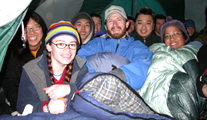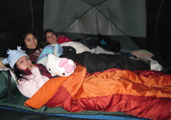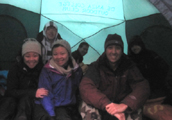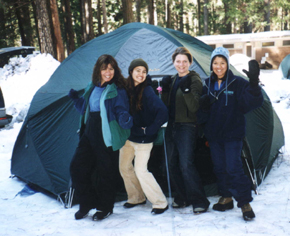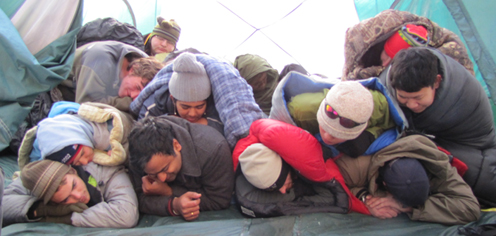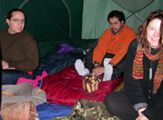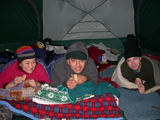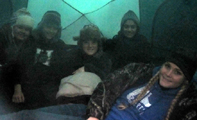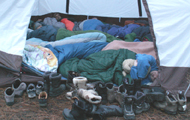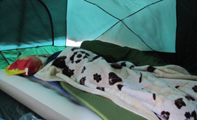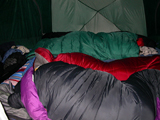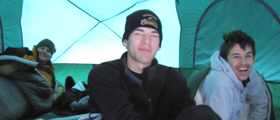 For info on the logistics of where in the campsite to pitch your tent, dealing with iced car door locks, staying warm and comfy overnight, how bears reeeeeaaaally do break into cars and much more, go to: First-timer's instructions .
_______________________________________________________
This National Park Service photo shows a coyote going after a meal under the snow.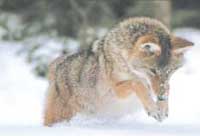 There
WILL BE coyotes and raccoons, possibly bears that woke up from hibernation, in the campground and cabin/hotel areas.
We've seen coyotes every time of the day and night and heard them singing overnight. People on previous trips have made lots of mistakes about food storage and dealing with animals. PLUS When any De Anza club camps as a group we face this problem: Someone in a nearby campsite will expect the worst (noise, etc.) from an obviously college-age group. And they will be quick to complain about any rule infraction (some of which carry heavy fines). To go on our trip you must read
A problem and its solution
_______________________________________________________
! ! ! ! Tent walls are thin. You can wake up everybody in the vicinity ! ! ! ! when you want to get into your car and you use the keyless (remote) door opener and the car makes the usual loud beep. People don't think to just use the key to open the door or don't know that if you look in the owner's manual you can find a way to disable the beep. On De Anza Outdoor Club trips you are required to either disable the beep or not use the remote (remove it from your key chain during the trip) or park at day use instead of at the campground.
Some vehicles have a beep activated whenever you open the trunk, that can't be easily disabled. Every time the trunk is opened it beeps and it will wake up people on our trip and in neighboring campsites. If your vehicle has this function, either look in the owner's manual for info on how to disable the beep or take it to the dealer and get it done, or do not park it at our campground. This advice and lots more is at: A problem and its solution

There will be a last quarter moon on Friday, Feb. 2, 2024, that won't come up until 1:15 a.m. on Saturday.
Venus and Jupiter should have good visibility if the sky is not cloudy.
Sunrise Feb. 2 will be 7:03 a.m., sunset 5:24 p.m. (and within a minute or so each day around then)
Civil twilight (when the sky starts getting light before sunrise) will start at 6:36 a.m.
You will likely be cooking dinner in the dark and might finish a hike in the dark.

What will the weather be like? We could have 1 1/2 foot deep snow in Yosemite Valley or very-early-spring type weather with only a little snow on the ground leftover from a storm weeks before.
It might snow or rain while we are there, or the sky could be clear of clouds and at night we can see the stars of the Milky Way. It might rain during the day and when it gets colder at night the rain could turn into snow falling. It could rain at the lower elevation of Yosemite Valley (4,000 feet) and at the same time, it could be snowing at a higher elevation going up the trail to the top of Yosemite Falls (6,500 feet) and at the ski resort (7,200 feet). (For a comparison, De Anza College is at only 300 feet elevation.)
Often when there is a National Weather Service winter storm warning for the California mountains it will list many places that will have snow and say: "Yosemite National Park outside of the valley," because Yosemite valley is at lower elevation and can expect less snow than most other parts of the mountains. Highways I 80 and 50 (Tahoe-ish) are much, much more likely to close than the ones into Yosemite Valley. 120 into Yosemite will have more snow than 140, the usual route most people on our trips take.
We could have to deal with the Mono winds. You might encounter hazards on trails. (The ski resort sometimes closes in advance of when mega-snow-storm is expected.) To go on this trip you must read: Snow camp weather, hike safety and first aid considerations
If we have clear weather, with hardly any moon out, we could have great stargazing;
_______________________________________________________
Details are below
of what there is to do on this trip.
On Saturday, some people on this trip will take the free bus to the ski resort to snowboard, ski or snowshoe. (In 2014 the weather brought the skiers fresh powder that morning.) They offer (fee) snowboard or ski (downhill or cross-country) lessons/rentals at the resort and a (free) Ranger-Naturalist guided snowshoe walk (early 2023 scheduled for 9:30 – 11:30 a.m. Saturdays, Sundays and Wednesdays, then switched to 10 a.m. – noon. Check the Yosemite Guide for details). (The ski resort sometimes closes in advance of when a big storm is expected.)
Most years, depending on snow pack on the trails, usually more people will do a major hike, like the one to the top of or the base of upper Yosemite Falls, one of the tallest waterfalls in the world. (There's a free bus to the trailhead, but at our Saturday morning meeting, before the hike, we can discuss why people not staying at the Lodge (where they can walk to the trailhead) might want to carpool and plan to park at the free Lodge day use parking lot.)
Others will do a few short hikes / walks or a Ranger nature or history walk, photo walk you design for yourself or go ice skating. (Free bus to those places, too.) Some will try to fit in working on a term paper on a laptop, but most of that homework is usually done in the evening.
Again, the REQUIRED 7 a.m. Saturday meeting may be the time most people finally decide what they are doing on Saturday.
– – – – – – – – – – – – – – – – – – – – – – – – – – – – – – – – – – – – – – – – – – – – – – – – – – – – – – – – – –
Yosemite Falls Hike
Below is a Park Service photo of upper Yosemite Falls with the winter snow cone at its base. The potential Saturday hike, if the trail is clear enough, can get us quite close for photos.

The hike part way, to an overlook at Columbia Rock, is 2 miles round trip with a 1,000 foot elevation gain and is often quite clear of snow. The hike to the top is 7.2 miles round trip with a 2,700 foot elevation gain. You can hike any distance you choose, as long as you stay with a group.
The section of the upper Yosemite Falls trail near the top, as shown below, has a lot of snow some years, which is part of the reason we expect people to hike in groups of four or more if they go above the valley floor. That way if someone gets into trouble, there is someone to stay with them while two others go back for help. The Park Service has reported about people who went off trail on the Yosemite falls hike, went to an unsafe area and died. Did you read Snow camp weather, hike safety and first aid considerations ?
More pictures, maps and photo maps of this hike are at Upper Yosemite Fall hike .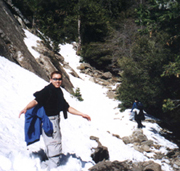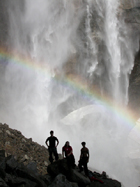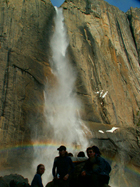 Many people who take the trail to the top of upper Yosemite Fall
do not realize there is a trail with a railing out across the cliff face at the top.
(Check out the people in almost the center of the photo below):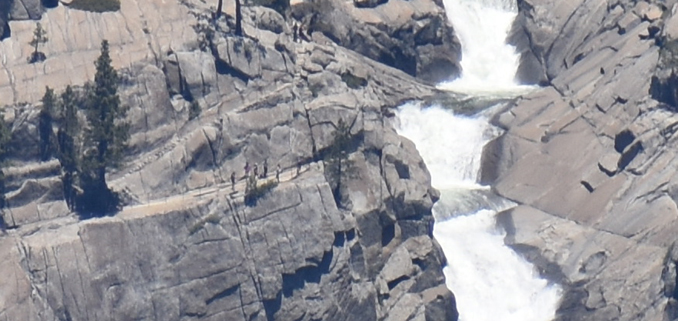 – – – – – – – – – – – – – – – – – – – – – – – – – – – – – – – – – – – – – – – – – – – – – – – – – – – – – – – – – –
Ski, Snowboard
There are nearly 350 miles of cross-country skiable trails and roads in Yosemite including 25 miles of machine groomed track and 90 miles of marked trails (no fee) that begin at the Yosemite Ski and Snow area (Badger Pass). Very near Badger Pass there are some relatively short trails to scenic points and some nearly level machine groomed track for beginners. The road to Glacier Point is groomed for cross country skiing in the winter.
Composting toilets are usually open for use at Summit Meadow, #21 Bridalveil Creek Ski Trail, Sentinel Dome Parking, and Glacier Point.
The mileages from Yosemite Ski and Snow area (Badger Pass) are:
Summit Meadow, 1 mi. (There is almost always an operational outhouse there.)
Bridalveil Campground, 2.8 mi.
Bridalveil Creek, 3.3 mi.
Ostrander Trailhead, 4.1-4.5 mi.
Clark Range View, 5.7 mi.
Sentinel Dome, 9.2 mi.
Glacier Point, 10.5 mi.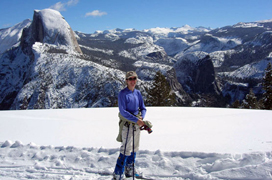 Only very experienced skiers should attempt the route to Glacier Point.
Signed winter trails (no fee) are also available at Crane Flat, in the backcountry and among the Giant Sequoias of the Mariposa Grove.
Brochures (including maps) of cross country ski and snowshoe winter trails are available as PDF files: (200-500 kb in size).
Badger Pass and along the Glacier Point Road
http://www.nps.gov/yose/planyourvisit/upload/badger-winter.pdf
Mariposa Grove of Giant Sequoias
http://www.nps.gov/yose/planyourvisit/upload/mgrove-winter.pdf
Crane Flat area
http://www.nps.gov/yose/planyourvisit/upload/cflat-winter.pdf
If snow is late in coming to the park, the Nordic Center sometimes opens for cross-country and snowshoe rentals before the Yosemite Ski & Snowboard Area (Badger Pass) for downhill, snowboarding and tubing. Some days there has been too much snow and the resort closes for a few days mid-January 2017, for example, or in late December 2021.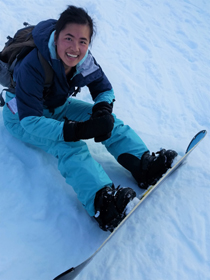 Links to Yosemite Ski and Snow area (Badger Pass) downhill and cross-country skiing, snowboarding and tubing start at:
http://www.travelyosemite.com/winter/yosemite-ski-snowboard-area/downhill-skiing-snowboarding/
and
http://www.travelyosemite.com/winter/yosemite-ski-snowboard-area/cross-country-skiing/
The two terrain parks have boxes, rails, rollers and big-air jumps.

Many years they offer a (must show I.D.) "Special discount for military, emergency medical services (EMS), police and firefighters to say thank you for your service.
"Badger Pass Ski Area is proud to extend the following offers to military and first responders and their families. Present your ID or documentation at the Badger Pass Ski Area Activities Desk to receive this offer."
Free lift ticket for all military and first responders
Immediate family members receive a 50% discount on regularly priced lift ticket prices"
there are Blackout Dates, but not during our trip.
details for 2021-2022 ski season are at:
https://www.travelyosemite.com/winter/badger-pass-ski-area/season-passes-discounts/
and click on Military and First Responders.
– – – – – – – – – – – – – – – – – – – – – – – – – – – – – – – – – – –
lift ticket ( half day / all day) and equipment rentals, lessons prices are at:
https://www.travelyosemite.com/winter/badger-pass-ski-area/downhill-skiing-snowboarding/
cross-country ski info:
https://www.travelyosemite.com/winter/badger-pass-ski-area/cross-country-skiing/
– – – – – – – – – – – – – – – – – – – – – – – – – – – – – – – – – – –
Badger Pass webcam.
Call 1 (209) 372-1000 for ski conditions.
And check the schedule for the free bus to Badger Pass Yosemite ski area, for anyone to use, whether you ski or not. Look for the Shuttle link at:
https://www.travelyosemite.com/winter/badger-pass-ski-area/
Please note that it can change during the season (weekends only versus everyday / locations of stops / times of pickups).
(Note that it a different bus, with a more rigid schedule, than the free Yosemite Valley shuttle bus.)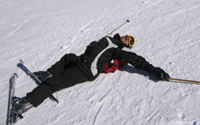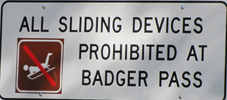 If you want to rent downhill or snowboard gear you might want to rent it at the Yosemite resort. If you rent gear at home before the trip it could be a waste of money if a storm closes the road to the resort, shuts down power to the ski lifts, closes the resort completely or you decide that the all day hike that day would be more fun.
– – – – – – – – – – – – – – – – – – – – – – – – – – – – – – – – – – – – – – – – – – – – – – – – – – – – – – – – – –
Snowshoe walk with a Ranger
Conditions permitting, the rangers offer a free daily or a few times a week, snowshoe walk (moderate to strenuous) with a Ranger naturalist
which meets at the Yosemite Ski area (Badger Pass) Ranger office A-frame: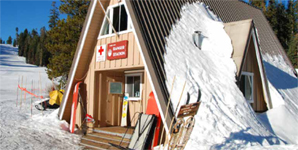 In 2022 reservations for the snowshoe walk were required. But as of the January 2023 Yosemite Guide https://www.nps.gov/yose/planyourvisit/guide.htm they are no longer required. (You guessed it, this could change.)
beginning January 11, 2023
Snowshoe Walk: Explore the Forest in winter (conditions permitting)
Space is limited, based on snowshoe availability.
Meet at Badger Pass Ranger Station for a naturalist led tour of winter landscape. Snowshoes provided. Bring warm clothing.
Expect a moderately-strenuous experience. Not recommended for children under 10 years old
Adult sized snowshoes provided, no experience necessary. (Early 2023 scheduled for 9:30 – 11:30 a.m. Saturdays, Sundays and Wednesdays, then switched to 10 a.m. – noon. Check the Yosemite Guide for details.)
The walk is 2 miles with roughly 500 feet elevation gain.
Note that if the walk is cancelled (example: snow storm left too much snow on the roads) there will likely be no way for you to be notified.
If a mask is required – the mask will keep your nose warmer.
(Please don't confuse this with the snowshoe walks/hikes sometimes offered by the Yosemite concessionaire, at a higher price, with signups and payment in advance required.)
The ranger will describe the subniveal space between the surface of the ground and the snow, and the creatures (mice, voles and shrews) that live and travel there all winter.
(Read info about how animals get through the winter at: https://yosemite.org/winter-wonder-in-mariposa-grove/, which has raccoon and deer prints in the snow.)
(Photos below by Monica Colmenares and Richard Neimrec.)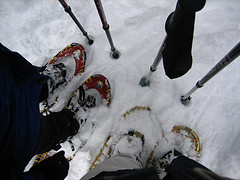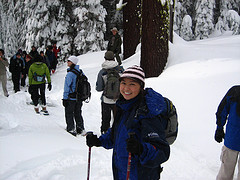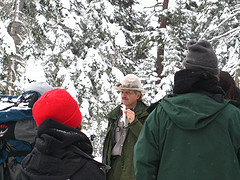 Sometimes the walk ends with an optional snowshoe run: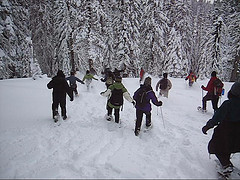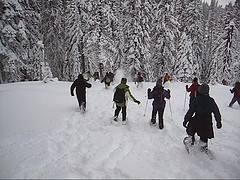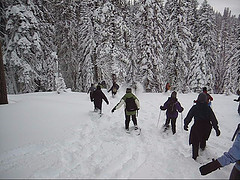 – – – – – – – – – – – – – – – – – – – – – – – – – – – – – – – – – – – – – – – – – – – – – – – – – – – – – – – – – –
Free bus to skiing, snowboarding, snowshoeing
Road and weather conditions permitting, the free bus to the ski resort for the snowshoeing, skiing and snowboarding leaves Curry Village (two blocks from the campground) at
(most years – note that some years, or parts of some winters, there is only one pickup time, not two)
8:05 a.m. and 10:35 a.m. and makes stops at various hotels: Yosemite Village 8:10 and 10:40, Ahwahnee 8:15 and 10:45, Yosemite Lodge 8:30 and 11) arrives at Badger Pass approx. 9:30 and 12:05 and returns from the ski resort at 2 and 4:30 p.m. arriving at Curry Village (again about two blocks from the campground) approx. at 3 and 5:30 p.m. Confirm the return times when you get to the ski resort.
Allow at least one hour from the last pickup stop to get to Badger Pass; one hour for the return to Curry Village.
Look for the Shuttle link at:
https://www.travelyosemite.com/winter/badger-pass-ski-area/Please note that it can change during the season (weekends only versus everyday / locations of stops / time of pickups), and I might not know, so you should verify when you get there.
Here, a line of (15!) people wanting to get on the bus at the stop at Yosemite Lodge who were turned away because the bus was full. (The Outdoor Club people that year were early in line to get on the bus.) Notice, at the lower left, the doors open to the big storage section for your skis, snowboard and other bulky items.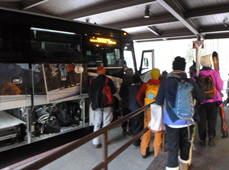 – – – – – – – – – – – – – – – – – – – – – – – – – – – – – – – – – – – – – – – – – – – – – – – – – – – – – – – – – –

In Yosemite Valley
If the Yosemite Valley Visitor Center, Yosemite Theater and Yosemite Museum need to be closed; an outdoor visitor contact station staffed by park rangers is available at the Visitor Center (or sometimes in front of it – look for signage).
The Yosemite Conservancy Bookstore at the main visitor center is sometimes operating as an outdoor "to-go" store, daily from 9am to 4:30pm. OR you can shop online and "your purchases help fund important work in Yosemite, to repair trails, restore habitat, protect wildlife and much more". https://shop.yosemite.org/
The park newspaper which you will be offered a copy of as you pay at an entrance station to enter the park, or you can read, download or print in advance, has all the current hours of operation, activities and is updated as needed.
http://www.nps.gov/yose/planyourvisit/guide.htm
A free shuttle bus (a different one than the ski/snowshoe walk bus) goes to stops at stores, restaurants, visitor center, trailheads in the valley in the winter (early 2023) from 7 a.m. to 8 p.m. (but check the timetable at each stop) at 20 to maybe 30 minute intervals. The route, stops and how to find the stores, restaurants, etc. are at: Yosemite Valley free shuttle bus
From shuttle bus stop number six, you can take a short walk along a loop to the base of Yosemite Falls, with this view from the far left portion of the loop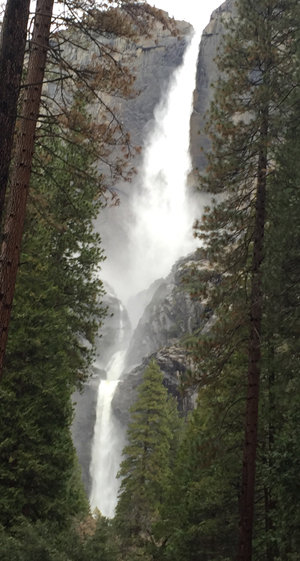 You can set up a photo of getting a drink from the lower fall: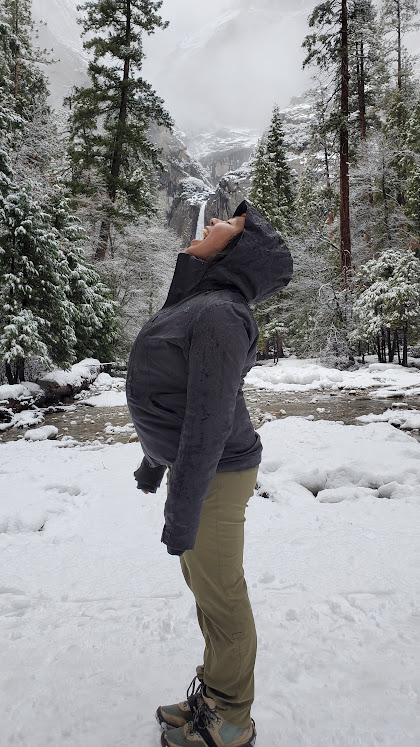 Read more about this walk, and find a map at:
How to find the location of John Muir's cabin (hang nest) in Yosemite Valley
INDIAN CULTURAL VILLAGE
Walk through the reconstructed Indian Village of Ahwahnee and learn about the structures the Ahwahneechee lived in and the plants they used for survival. View the interactive displays and see the ceremonial roundhouse, bark houses, and sweathouse members of the local tribes still actively use.
Located behind the Yosemite Museum in Yosemite Village.
At stop 5 the Visitor Center and bookstore are open 9 a.m. to 5 p.m. Two films play every half hour in the theater behind the main building. (early 2020 – Mon.- Sat. 9:30 a.m. to (last film) 4:30 p.m. (Sunday first showing at noon). Yosemite – a Gathering of Spirit by Ken Burns shows on the hour and The Spirit of Yosemite a great visitor orientation film with some swooping aerial views along with history and scenes from all seasons and all parts of the park, shows on the half hour. Free.
The Yosemite Museum, next to the main valley visitor center is usually open (early 2020) 9 a.m. to 5 p.m., may close for lunch.
The Ansel Adams gallery has photo walks with a professional photographer, weather permitting, at various times/ days of the week. Used to be free, but as of 2022 they are only offering lessons for a fee. Sign up in advance at the gallery. Check with them for the current details. 1 209 372-4413.
see also: Yosemite winter photos
There are more than 12 miles of surfaced bike paths on the valley floor and the weather is sometimes good enough to ride or rollerblade. (2016 had most of the bike trails safe to ride on, some icy.) A map of bike paths is at: http://www.nps.gov/yose/planyourvisit/biking.htm
When we get early spring weather instead of snowy winter, the bike rental stands are sometimes open. Look for the rental info (and a map) at Yosemite Lodge at free shuttle bus stop number 8.
Listen to the snow fall, listen to coyotes sing, make snow angels…

Yosemite Today / Yosemite Guide newspaper has lots of safety info, a calendar of park activities including Ranger walks, and hours of operation for visitor centers and museums.
As an example, these ranger walks met at 2 p.m. for 1 1/2 hours:
Friday: Discover Yosemite, meet in front of the main visitor center, near shuttle stops 5/9
Saturday: Ahwahneechee Lifeways, learn about the culture of Yosemite's first people. Meet in front of the Yosemite Museum, near the main visitor center, near shuttle stops 5/9
Sunday: Merced Meanders, meet in front of the main visitor center, near shuttle stops 5/9
Saturday, 7:00pm Ranger Evening Program at the Yosemite Valley Lodge Cliff Room. See the Yosemite Guide for more topics and locations), evening films likely at the Yosemite Valley Lodge hotel Cliff Room.
The Yosemite Guide newspaper has hours of operation for tours, stores (late 2022 from 8 a.m. to 8 p.m.), food service (winter 2023 from 7 a.m. to 5 p.m., 6 p.m. 7:30 p.m. or 8 or at one place even 9 p.m.) (During our trip, other hours parts of the rest of the winter: Curry Village, a moderate walk from Upper Pines Campground, very near the shower house, Coffee Corner 6:30 a.m. to 11 a.m. Saturday, Sunday, holidays and Pizza Deck 5 p.m. to 9 p.m. Friday, noon to 9 p.m. Saturday), laundromat (early 2020, 8 a.m. to 10 p.m. BUT NOT OPEN 2021 / 2022 / 2023, at Housekeeping Camp), showers (24 hours at Curry Village, OR open for weekends only (Friday/Saturday nights) some winters, closed for cleaning sometimes), post office, auto service, gas stations (no gas stations in Yosemite valley, fill up before you come into the park, or drive 30 minutes to Crane Flat and hope the self-service pumps are in order) and more.
What if it storms so much they close the road to the ski resort?
We won't be able to ski, go on the ranger snowshoe walk
or take one of the long hikes.
Will there be anything to do except hide in the car,
play cards at the laundromat
or go online at wherever they have it
(usually for a fee and not always operable)?
The answers are at:
Things to do during a Yosemite snow storm besides hiding in your tent
– – – – – – – – – – – – – – – – – – – – – – – – – – – – – – – – – – – – – – – – – – – – – – – – – – – – – – – – – –
Evenings are spent
at a restaurant
and / or
Ice skating
http://www.travelyosemite.com/winter/half-dome-village-ice-skating-rink/
Pay to ice skate at stop 13B.
(1 (209) 372-8341 ) Usually more (and earlier) sessions on Saturday, Sunday and holidays than on weekdays. Some winters only open on Friday/ Saturday. Look for the schedule in the Yosemite newspaper. (Free helmet upon request.) Could close during and after rain. We usually have trip members who know how to ice skate and can teach others in the group: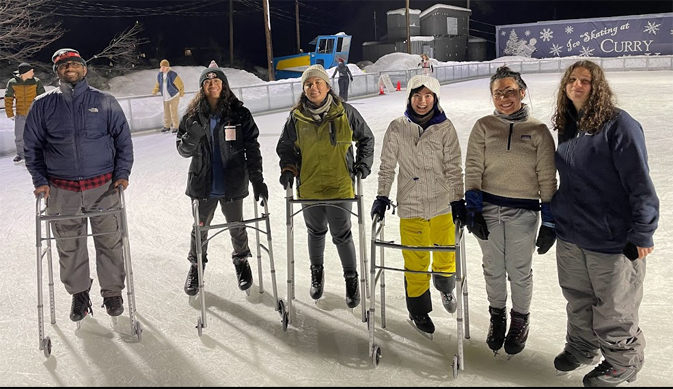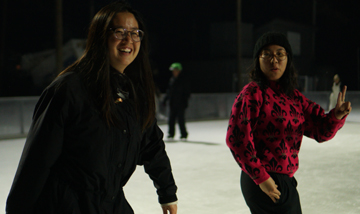 photo below by who?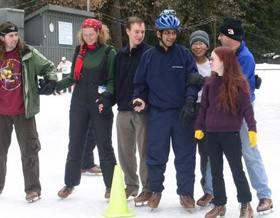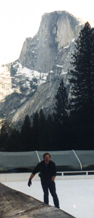 When none of the group gets a campsite, you can still roast marshmallows at the huge fire with lots of seating next to the ice rink: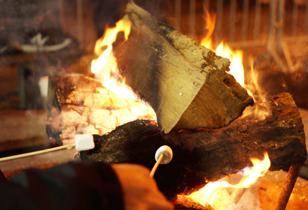 If it is not cloudy we can see a lot more stars than at home.

Evenings in the campground are spent playing guitar and gossiping around the campfire, working on a term paper, playing charades and board games, if there is enough snow finishing an igloo
(first four photos below by Colin Underwood.)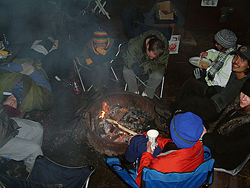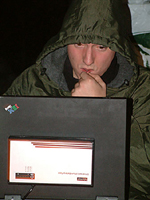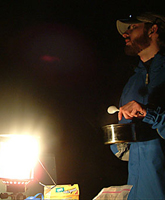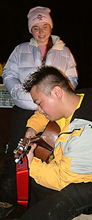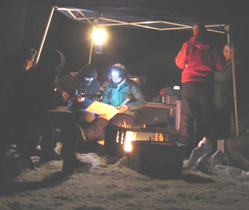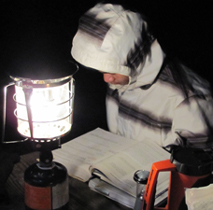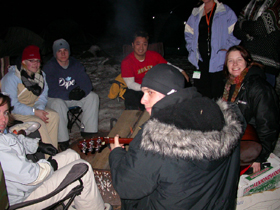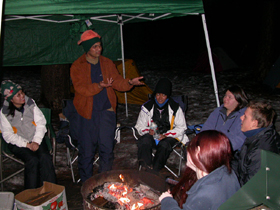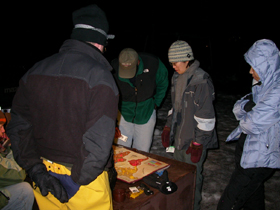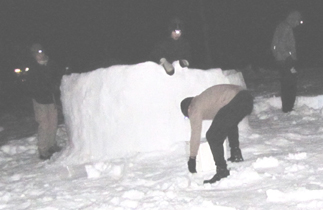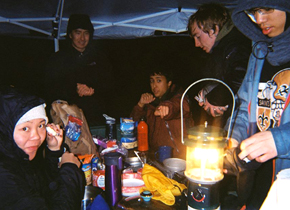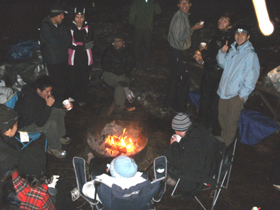 This girl was caught studying in the restroom at 5 a.m. on one of our Yosemite winter trips. Why in the restroom? Because it's heated in the winter and you can save on flashlight (electric torch) batteries. At 5 a.m. it's quiet except for the coyotes she heard howling in the distance. Lots of people study on our trips, bringing homework, projects and even laptops. Some study in cars on the way to and from the trip. This might not be as effective as studying at home, but you've got to get away and have fun sometime!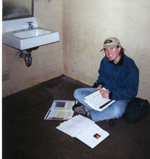 – – – – – – – – – – – – – – – – – – – – – – – – – – – – – – – – – – – – – – – – – – – – – – – – – – – – – – – – – –
Getting to Yosemite:
The club can't arrange rides, (students arrange carpools among themselves), but people going on our Yosemite road trip have various options of how to get there. For ideas, driving directions and a few pictures of what you will see along the way, please take look at (and we advise you print a copy of) snow camp carpools and driving directions, so you can find the campground and hotels and miss out on the $280 fine you might not be aware of.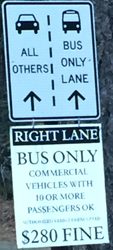 Parking and traffic jams in Yosemite valley tips and tricks
Prepare for winter driving has a link to bad weather driving tips, tips for using tire chains, tricks for dealing with frozen car locks, how to prepare your vehicle for winter driving, how to de-fog the windows, a winter survival kit for your car and what to do if you get stranded. Don't have tire chains? Yosemite requires them in the winter. Try: Snow chain rentals
Road trip advice and etiquette from club road trip experts, could make the drive more fun.
How can I sign up for this trip?
The Outdoor Club has a good reputation with Risk Management and they let us do adventurous trips like this one as a result. The club wants to keep that reputation and wants the trip to be safe and fun. You will need to read most of the links from this page about safety, Yosemite rules and take a written test before you can sign up for the trip. The first people to sign up in 2022 got perfect or almost perfect scores on the test. Sample test questions and a few of the answers are at: Snow camp pre-test sample questions
We got tired of people who brought useless rain gear on previous trips.
We had to dress them in plastic leaf bags: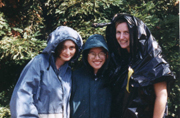 So
you will need to show us your waterproof rain gear
(rain pants and hooded rain jacket) when you sign up for this trip. We will not accept a rain poncho. We will not accept thin, easily torn temporary rain gear like they sell at airports for emergencies.
Go to: Snow or rain camp must-haves for details and ideas for people on a budget.
People who intend to camp instead of getting a hotel room / tent cabin in Yosemite really should bring the tent they want to use and pitch it for club experts to look at.
and you will need to pay for the trip when you sign up. Details about how to pay are here.
You must sign up in person.
How/when/where to find us to sign up is at:
how to sign up for the 2023 Yosemite winter weekend trip.
For the answer to the question:
How do I convince my parent(s)/guardian that I can go on this trip? or How do I convince them to pay for some gear for the trip?
Go to: Snow camp FAQs
__________________________________________
When camping or sharing tent cabins with a large group of people, some

complain there is not enough room

in their shared bear box for all their food.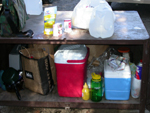 More things could fit in the bear-proof storage lockers if everyone brought smaller containers of food, etc.
NO!→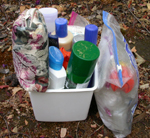 ← Yes!!
and if everyone brought their gear in small, deep plastic trash cans or other plastic boxes close to, but no more than, 17 inches tall. A typical bedroom waste receptacle could be 9″ by 12″ by 17″ deep and hold quite a few cans of food, cooking items and toiletry bags. If you've never shared bear boxes with a big group, read
Using a campsite food storage locker
__________________________________________
Yikes! Does this trip info have too many webpages? Can't remember where the info you need is? Go to: Yosemite trips index
__________________________________________
In the NPS photo of flooded Sentinel Meadow taken May 16, 2005, you can just make out the sunken edge of the boardwalk across the meadow between the two posts on the fence and can just see Yosemite Falls thru the low clouds in the background. Next to it is the same place in June, 2005 and again in February 2008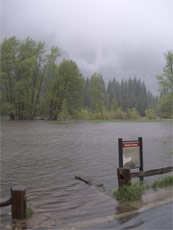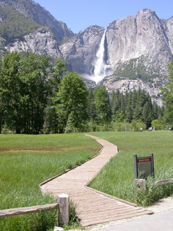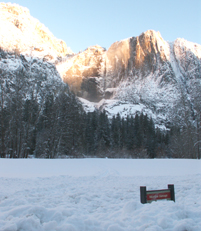 see: Yosemite Falls view in February snow and other seasons
Yosemite webcams brought to you by the Yosemite Conservancy, a non-profit park support group:
https://yosemite.org/webcams/yosemite-falls/
https://yosemite.org/webcams/half-dome/
__________________________________________
For a laugh, and to help insure you won't become an entry on the page, read
Camping Blunders
There's easy camping info at: Have more fun camping
__________________________________________
The entire text of The Yosemite by John Muir is at:
http://www.abovecalifornia.com/lib/JohnMuir
Favorite chapters for winter trip reading include:
Winter Storms and Spring Floods
Snow-storms
Snow Banners

__________________________________________
Yosemite Valley
is an attempt to show the dramatic scale of the depth and width of the valley through pictures of Yosemite Falls.
How much water will there be in the Yosemite waterfalls?
Yosemite nature podcasts: http://www.nps.gov/yose/photosmultimedia/ynn.htm
episode #5 is snow, #2 is Yosemite Falls
#19 is night skies
#28 is ski Yosemite
#9 is frazil ice
and see Winter Moments
______________________________________________

photos below by Quang-Tuan Luong/terragalleria.com
, all rights reserved.


______________________________________________
Yosemite nature and photography links
has links to photo tips, geology, birding and wildflowers (well, okay, no wildflowers in the winter, but…) info.
Answers to most questions about how the De Anza Outdoor club works are at: Outdoor Club Basic Info
The main rules common to most of our trips, including who is eligible to go, are at: Outdoor Club trip rules.
__________________________________________
______________________________
(Links to all Outdoor Club Coming Attractions are here.)
______________________________
__________________________________________

two photos below by Quang-Tuan Luong/terragalleria.com
, all rights reserved.
Valley View (seen on the way out of Yosemite Valley) panorama spring and winter: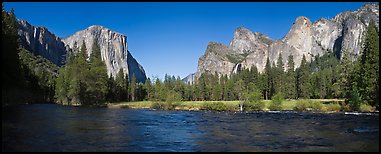 ______________________________________________
from the Yosemite Daily Report:
"Safe Bat Encounters
Yosemite has an ecologically rich population of bats. The park's bat species are active mainly at night, but occasionally you may see a bat out in daylight. However, if you see unusual behavior in a bat such as being unafraid of humans or lying on the ground, it may be sick. Do not approach the bat! Humans can get some diseases that make bats sick, including rabies. If you see a bat on the ground or acting sick, do not approach it and contact the wildlife management office (209-372-0476). If you accidentally have contact with a bat, report this immediately to your supervisor, the wildlife management office, the park public health officer . . . and consult with your physician to determine whether any post-exposure treatment is necessary. Although less than 1% of bats are infected with rabies, you cannot tell if a bat is infected without laboratory testing. It is important that you are aware of who to contact if a human-bat encounter takes place. Rabies is 100% preventable if appropriate medical attention is given, but is 100% fatal if an exposure is not treated. The California Department of Public Health and Centers for Disease Control and Prevention websites have important information about rabies."
from Grand Teton National park:
"Grand Teton National Park Media Release
Wildlife Can Carry Rabies- Always Have Situational Awareness
Group Leader Takes Life-Saving Action
MOOSE, WY- Visitors to Grand Teton National Park are reminded that wildlife can carry disease, including rabies. The risk of humans contracting rabies from wildlife is very low.
This past week a park visitor was bitten by a bat that tested positive for rabies. The visitor was with an organized group near Jenny Lake when a bat fell from a tree onto the visitor's shoulder. As the visitor tried to brush the bat off, the bat bit the individual's hand. A leader of the group safely captured the bat in a plastic bag and contacted park rangers for assistance.
Park staff transferred the bat to the Wyoming State Veterinary Laboratory for testing. The visitor was evaluated at St. John's Medical Center and consulted with National Park Service Public Health officials. Post-exposure treatment was deferred at the time, pending the results of the rabies testing. When the test results were positive for rabies, the visitor was contacted and immediately began treatment.
Grand Teton National Park Acting Superintendent Gopaul Noojibail shared his concern and well wishes to the individual affected and said, "The group leader did the right thing by safely capturing the bat and reporting this situation to park rangers, which assured that life-saving procedures were followed."
The park worked in cooperation with Teton County Health Department, Wyoming Department of Health and National Park Service Public Health on this incident to assure an appropriate response.
Rabies is a rare but real concern. Rabies is almost always fatal but completely preventable if treated before symptoms begin. According to the Centers for Disease Control and Prevention, the vast majority of rabies cases reported each year occur in wild animals such as raccoons, skunks, bats and feral cats.
Bats are an important part of the ecosystem. At least 12 species of bats have been found in Grand Teton National Park. They eat insects and some pollinate plants. Typically, less than 1% of bats have rabies. To date this calendar year, there have been a total of five bats that have tested positive for rabies in Wyoming.
Human-bat exposure can happen in natural and developed settings, such as in or around older log buildings. To limit human encounters with bats, close outside doors at all times, especially around dawn and dusk, and open windows should have screens without holes.
Teton County Health Department reminds residents and visitors that if they encounter a bat and may have been potentially exposed to try to properly capture the bat and submit it to a veterinarian office for testing. Visit https://www.cdc.gov/rabies/bats/contact/capture.html for more information about properly capturing a bat. If unable to safely capture the bat, please call a pest service to assist.
The Centers for Disease Control and Prevention recommend evaluation for post-exposure treatment when:
Contact with a bat,
Waking up in a room with a bat, or
Witnessing a bat in a room with a previously unattended child, person with a mental or cognitive disability, or intoxicated individual.
It is important for a potentially exposed individuals to be evaluated by a medical professional as soon as possible."
__________________________________________
Below, a NPS photo of Half Dome cloaked in snow on Jan. 5, 2005, and a picture taken near our campground at sunset by Mike Rivers and another with alpenglow January 2011:



__________________________________________
Summer of 2012 some visitors to Curry Village in Yosemite contracted hantavirus pulmonary syndrome and some of them died. According to the park service, "Since HPS was first identified in 1993, there have been approximately 60 cases in California residents and 602 cases nationally. Nationwide, approximately 12 percent of deer mice carry hantavirus." And deer mice live in every state.
Plague was detected in fleas in some campgrounds in 2015.
Plague frequently asked questions are at: https://www.nps.gov/yose/planyourvisit/plaguefaq.htm
Advice has included not sleeping on the bare ground, but instead sleeping in a tent,
and keeping all food, even items in the bear boxes, in tightly sealed containers. Do not feed wildlife.
There is more at: http://www.travelyosemite.com/discover/travel-tips/health-safety/