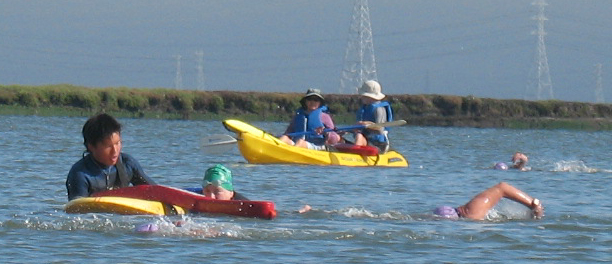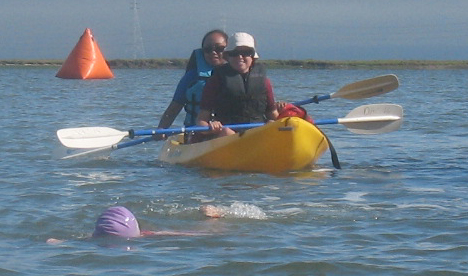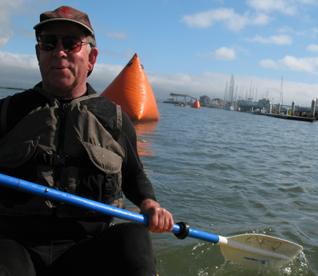 … and before the race, while the lifeguards were setting up gear, an athlete had dislocated his finger but the EMTs had not yet arrived so the guards were asked to give first aid. The athlete did not realize his finger would start to swell and had not taken off his wedding ring or elevated his hand to reduce the swelling.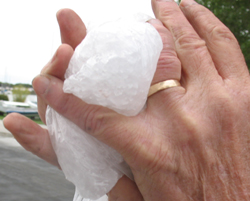 After the first aid we gave, the swelling was reduced and when the EMTs arrived they were able to lubricate his finger and get the ring off.
This info was given to the guards before they volunteered:
This is information for my students considering volunteering at the Summer National Senior Games. The games have hordes of individual and team events (800 this year) for qualifying athletes over 50 (12,750 athletes this year). This year it is being held in the bay area, including a triathlon (400 M swim, 20K cycling and 5K road race) Sunday, August 2, starting with a swim at the port of Redwood City. The tri has athletes from just about every state, Hawaii to Florida, some in their 80s.



I have been invited to bring volunteer lifeguards and other volunteers for the tri. You will get bragging rights, an up close look at a major event, probably a race t-shirt and probably a goodie bag.
Pot-luck snacks / lunch. ( Athletes are not allowed glass containers at any time and neither should we have any.)
They expect guards there from 7:45 am-11 am, other volunteers until 12:30 or 1. I'd like us all to be at the start by 7 a.m., especially considering that parking and walking to the event start could take longer than people estimate. They estimate the Tri finish should be at noon.
Please follow the link from http://www.2009seniorgames.org/sports-triathlon
"for a course map click here."
and take a look at the Event Parking map, a lot on Seaport Court, off Seaport Blvd. ( "All athletes, spectators and volunteers MUST park here and walk around the marina to the transition area.") You can scroll in and out.
photo http://www.2009seniorgames.org/venues-port-of-redwood-city
Worth reading for the lifeguards:
Tipsforguardingopenwaterswims
They will go off in waves, some waves of 30-45 athletes, one as small as six (men 80 plus years old).
5 minutes between each wave should be good enough to deal with any initial problems.
8:30 a.m. ­Men 50-54 and 55-59
8:35 ­Men 60-64 and 65-69
8:40 ­Men 70-74 and 75-79
8:45 ­Men 80+
9:00­ Women 50-54 and 55-59
9:05­ Women 60-64 and 65-69
9:10 ­Women 70-74, 75-79 and 80+
tri rules: from USA Tri and the Senior Games:
Every participant, official, volunteer and spectator should consider all safety issues and make related decisions prudently without reliance upon the Competitive Rules…
Participants shall refrain from unsportsmanlike conduct, including the improper use of language or conduct directed toward an official…
No participant shall use his body, head, arms, or legs to gain an unfair advantage, or to push, pull, hold, strike, or force through one or more participants…
(and then there's… Gross or continued unsportsmanlike conduct; Physical violence directed toward a race official, participant, volunteer, spectator, or other person; Public nudity … are not allowed… for them or us…)
Swim caps mandatory, goggles or face masks or neither are okay, they can rest on the bottom or an inanimate object (bouy/rope) as long as they do not use it to make forward progress, no artificial propulsion devices (fins/gloves/paddles or floating devices) are allowed.