The CDC (Centers for Disease Control and Prevention) notes:
"What are some risk factors for choking?
Eating while talking or laughing, or eating too fast
Medical conditions, such as neurological or muscular disorders that affect the person's ability to chew and swallow
Dental problems or poorly fitting dentures that affect the person's ability to chew food properly"
What foods and objects can be choking hazards for children younger than 4 years?
Small foods, such as nuts, seeds and popcorn
Round, firm foods, such as hot dogs, grapes and hard candies
Sticky foods, such as peanut butter, chewing gum and gummy candies
Large foods that break easily into small pieces, such as teething biscuits and cookies
Chunked foods, such as fruit, raw vegetables, and meat or cheese
Small, round objects such as coins, buttons, button batteries, magnets, beads and vitamins
Small metal or plastic items such as toys, jewelry, safety pins, pen or marker caps and the pull tabs from soda cans
Plastic bags and deflated or broken balloons
Baby powder"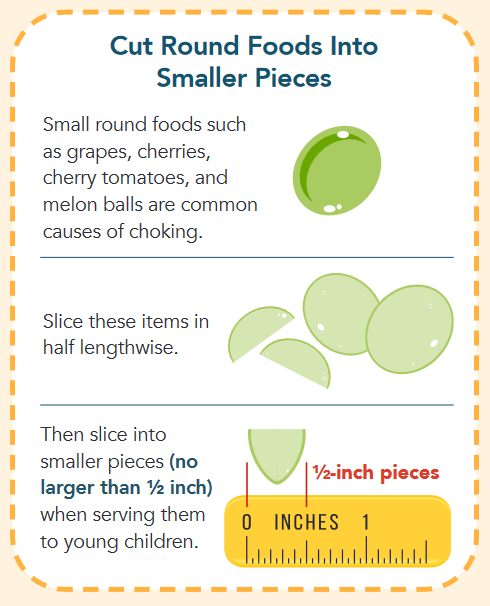 The Centers for Disease Control and Prevention (CDC) lists these
Potential Choking Hazards for Young Children
Fruits/Vegetables
• Cooked or raw whole corn kernels
• Uncut cherry or grape tomatoes
• Pieces of hard raw vegetables or fruit, such as raw carrots or apples
• Whole pieces of canned fruit
• Uncut grapes, berries, cherries, or melon balls
• Uncooked dried vegetables or fruit, such as raisins
Proteins
• Whole or chopped nuts and seeds
• Chunks or spoonfuls of nut and seed butters, such as peanut butter
• Tough or large chunks of meat
• Hot dogs, meat sticks, or sausages
• Large chunks of cheese, especially string cheese
• Bones in meat or fish
• Whole beans
Grain Products
• Cookies or granola bars
• Potato or corn chips, pretzels, popcorn, or similar snack foods
• Crackers or breads with seeds, nut pieces, or whole grain kernels
• Whole grain kernels of cooked barley, wheat, or other grains
• Plain wheat germ
Sweetened Foods
• Round or hard candy, jelly beans, caramels, gum drops, or gummy candies
• Chewy fruit snacks
• Chewing gum
• Marshmallows
The Resuscitation Council UK notes "Following successful treatment for choking, foreign material may nevertheless remain in the upper or lower respiratory tract and cause complications later. Victims with a persistent cough, difficulty swallowing, or with the sensation of an object being still stuck in the throat should therefore be referred for a medical opinion."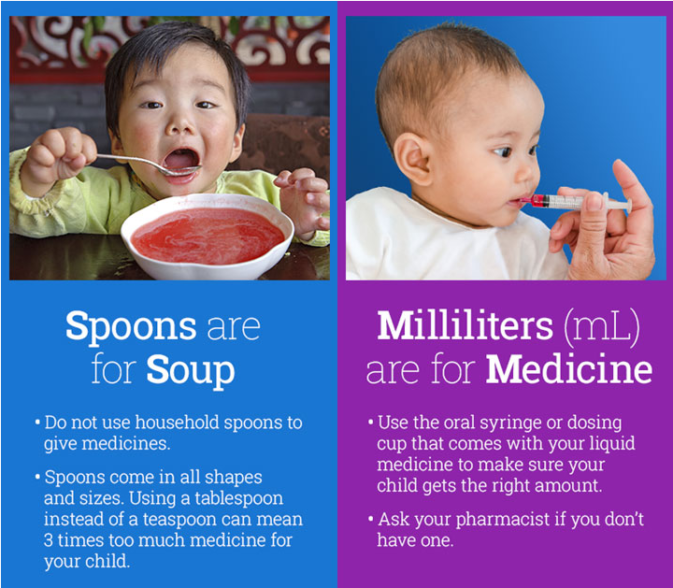 The CDC (Centers for Disease Control and Prevention) warns:
"About 50,000 young children end up in emergency rooms each year because they got into medicines while an adult wasn't looking.
These emergency visits can be prevented by always putting every medicine up and away and out of children's reach and sight every time you use it."
https://www.cdc.gov/medicationsafety/protect/campaign.html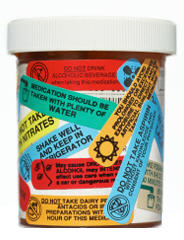 ##########################################################################
And perhaps also of interest:
Helping Children Cope with Disaster
Family Child Care Emergency Plan Workbook
with: Find out what could happen to you, Determine your planning needs, Create a Disaster Plan.
Evacuation, Shelter-in-place, Build a kit of emergency supplies, Put your plan into action,
Talk to parents about your plan, Complete a Home Emergency Diagram, Practice and maintain your plan.
https://cchealth.org/emergencies/pdf/childcare_emerg_wkbk.pdf
Babysitter Consent and Contact Form is for parents to fill out and leave with the babysitter or designated caregiver ( including relatives who might not be fully aware of current health issues for your child).
– – – – – – – – – – – – – – – – – – – – – – – – – – – – – – – – – – –
(Note to on-line users not in my classes: this is a study sheet. It is not complete instruction in first aid or the topic named in the webpage title.)
– – – – – – – – – – – – – – – – – – – – – – – – – – – – – – – – – – –