Most people are not prepared for the coming big earthquake.
Over 60 percent say they expect to rely on emergency responders in the first 72 hours following a disaster, according to a recent FEMA study.
Emergency managers warn us: "YOYO96…You're on your own for 96 hours.
With preparation you can get through it… if you have thought through everything you can be prepared…"
Being prepared to be self-sufficent for 96 hours or longer after a quake will also prepare you for winter storm power outages or rolling blackouts.
Many likely earthquake scenarios for the Bay Area will cause more damage than the Loma Prieta quake:
Ten plus years after Loma Prieta our infrastucture is vulnerable.
In the bay area there are thousands of soft structure apartments housing hundreds of thousands of people who will become homeless. Picture the upper floors falling down into the first floor parking garage of many local apartment buildings.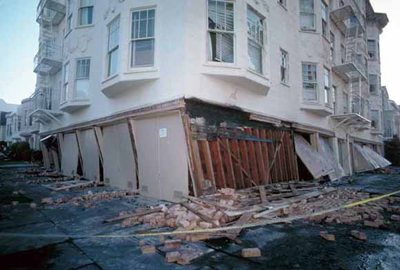 Over a thousand public school buildings and hospitals are vulnerable to life threatening earthquake damage.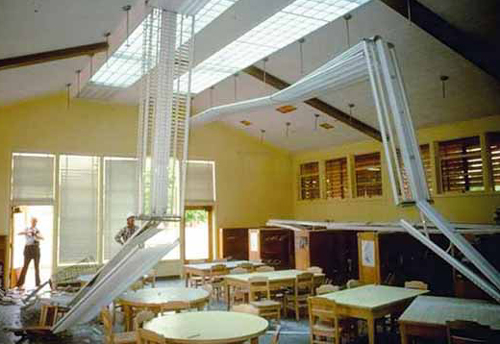 (1983, 6.7 magnitude) Coalinga schools reported that over 1,000 fluorescent bulbs fell from fixtures and fixtures fell down.
In a third floor high school chem lab chemicals overturned and burned through to the first floor.
File cabinets, movie screens and maps became projectiles.
1,700 stretches of road will be impassable after a major Hayward fault quake.
BART's elevated tracks will lean.
The transbay tube will most likely crack and flood.
Not all of our overpasses and bridges have been retrofitted.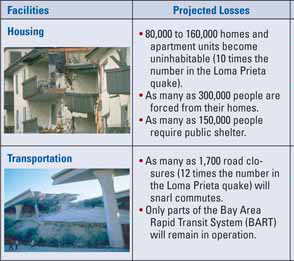 YOU CAN START PREPARING with the first three steps at the family (and babysitters, caregivers, overnight guests) disaster plan: Disaster planning and work on from there.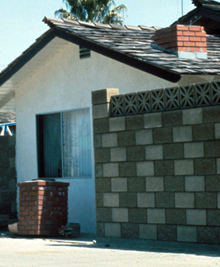 Even with a house built to modern building codes, chimneys will fall. Who would imagine that a chimney could hop that far? Where is your car parked? Is the dog run right along the side of the house where the chimney will land? It's time to take a tour of your house and start making it safer. earthquake home hazards survey
Earthquake and pets advice Consider having the vet 'microchip' your pets… Wouldn't it be easier to transport your cat in a real carrier s/he is used to than in a pillowcase?
From the Red Cross: " Nationally, polls show that only about one in every 14 people have taken the necessary measures to prepare for a disaster.
Perceptions are partly to blame — perceptions that disasters can be avoided easily and pose minimal risk to any single person. Another factor is complacency, which has several causes. Some of the complacency toward earthquakes stems from the fact that California is prone to temblors, and over time most residents become indifferent to warnings about them. In addition, many people believe that some level of risk is unavoidable, so they feel less motivated to prepare for unexpected emergencies."
___________________________________________
YOYO96…You're on your own
for 96 hours.