A 2004 map showing every Richter magnitude 1.5 to 7 earthquake in the Bay Area (67, 750 of them) from 1970 to 2003 is at: http://pubs.usgs.gov/sim/2004/2848/
Online, phone and library videos sources
The Association of Bay Area Governments has a lot of info (earthquake hazards maps and information, including estimate of levels of disruption to transportation systems – look up your neighborhood, and your route to work or school) at:
http://resilience.abag.ca.gov/
You can find detailed maps (with zoom in capability) of potential road closures, risk of liqufaction and flooding (including if a local dam fails during a quake), such as this map of potential Bay Area road closures after a San Andreas fault 7.2 quake,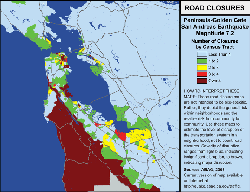 Especially useful
–On Shaky Ground– Ground shaking hazard maps for Bay Area cities,
–Preparing for Traffic– maps and safety tips for driving in traffic after disasters
— Hazmat Incidents and Dam Failure– click on the links that take you to dam failure and see if your home could be flooded after a quake
You can type in an address and see (not completely accurately, but roughly) where flooding will occur during/after a Tsanami at:
http://maps.conservation.ca.gov/cgs/informationwarehouse/index.html?map=tsunami
The PG&E guide with lots of pictures, on how and when to turn off your gas is at:
https://www.pge.com/en_US/safety/gas-safety/gas-safety-tips.page#p3
You might want to print a copy of it.
The City of San Leandro has extensive material. Go to
and search for earthquake
USGS earthquake info link
https://earthquake.usgs.gov/learn/faq.php
topics at the USGS site:
Dictionary of Earthquake Terms; Current Earthquake Information;
Common Myths about Earthquakes (including the misguided "triangle of life", animals predicting quakes, position of the moon and planets);
Earthquakes, Faults, Plate Tectonics, Earth Structure;
Measuring Earthquakes; Seismographs;
Earthquake Effects & Experiences;
Probabilities, Seismic Hazard & Earthquake Engineering;
Earthquake Prediction (with links to a dozen scientific studies);
Historic Earthquakes and Earthquake Statistics;
Nuclear Explosions and Seismology;
Regionally-specific Earthquake Information; Earthquake Preparedness
___________________________________________
Did You Feel It? is a website where you can look to see if that really was an earthquake you felt, and where you can report one. You select from regions: California, Alaska, Hawaii, Western Mountain, Pacific Northwest, Northeast, Central US, Puerto Rico & US Territories, and Other countries.
The site says: "This is a U.S. Geological Survey project to collect information about ground shaking following significant earthquakes. You can help us by filling out a questionnaire for each earthquake you feel. A Community Internet Intensity Map will be made and updated every few minutes following a major earthquake. At first only a few ZIP codes will have intensities assigned, but over time others will be assigned as data comes in. Check back often and watch the maps change!"
http://earthquake.usgs.gov/earthquakes/dyfi/
______________________________________________
A family (and babysitters, caregivers, overnight guests) disaster plan is at:
______________________________________________
As a part of preparing for the next earthquake, do a what if? survey of your home, crawl space, attic . .
earthquake home hazards survey
______________________________________________
Helping Children Cope With Disaster
Store water for after an earthquake
Babysitter Consent and Contact Form
Fast, easy, cheap earthquake preparedness
hazardous household chemical mixtures
Earthquake and pets advice (Consider having the vet 'microchip' your pets, and more…)


Call 1-800-480-2520 to get a copy of 'Are you ready? A guide to citizen preparedness' with some of the above information and technological and man-made hazards including national security emergencies.

Video – available on the Santa Clara County Library system – and legal to copy for your
own personal use.
An Ounce Of Prevention: Strengthening Your Wood Frame House For Earthquake
Safety,
by the Bay Area Regional Earthquake Preparedness Project
library # V.C.693.852 Ounce
The phone number listed on the video to get information mailed to you from the Calif.
Office of Emergency Services has changed – it is now (510) 286-0873. They'll send you a
big packet of home and/or business preparedness tips.
Video Earthquake: Home Safe Home, by the Owner-Builder Center
library # V.C. 693.852 Earthquake

An earthquake early warning alarm system could give people seconds to ten of seconds warning of a major quake. Transit trains could be stopped, fire and ambulance services alerted, and warnings could be sent to home computers and cell phones in the region. Traffic lights could all be made to turn red, stopping traffic before a bridge or a busy intersection. Nuclear power plants could stop operations and refineries could isolate tanks and vulnerable pipelines. People could duck, cover and hold on instead of being knocked off their feet.
Yes, there could be false alarms, but practice at getting under a desk is worthwhile.
Japan has a working system. http://elarms.org/

Find myths about earthquakes (including the misguided "triangle of life", animals predicting quakes, position of the moon and planets) at
https://earthquake.usgs.gov/learn/faq.php