On the May 12, 2019 De Anza College Outdoor Club kayak trip in Monterey bay we had mostly cloudy weather, but no rain. Most of the students had not been kayaking before. No one fell out of their kayak!
We had a paddling lesson/advice in the parking lot, and we launched, as usual, on a floating platform in the harbor and people did some paddling there before going out to the bay where there were swells to deal with. (We always launch early in the morning so we can miss the afternoon winds and potential white caps on the water.)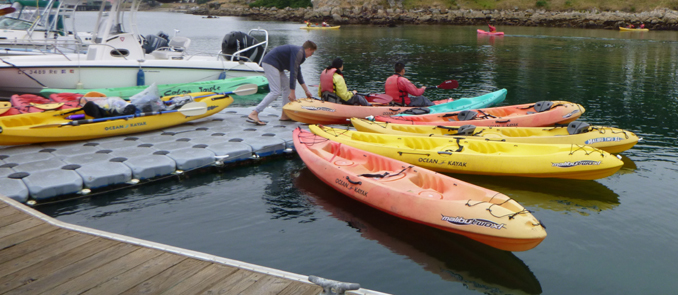 Our first attempts at getting in a row for a group photo were not quite as good as mid-way through the trip when we got to the Monterey Bay Aquarium.

As we paddled out from the harbor past the breakwater, we saw a multitude of furry baby and juvenile sea lions on the rocks.

On the way to the aquarium a mom and baby otter swam along in parallel to us for hundreds of yards. At first we thought we heard a bird call we had not remembered from previously. Then we saw the baby otter, who was giving a squeaky cry whenever mom dove below the surface and left the baby alone.
The view of all the animals was much better in person, as due to the cloudy weather, and the fact that the kayak I was in moves a lot on the water, my camera got a few blurry pictures.
Here is a view of paddlers and a large pod of otters, moms and babies, that we kept a proper distance from but could still enjoy seeing:
and here, the row of otters, (best picture I could get)

Cormorants flew right past us, just above the surface of the water.
At the aquarium we formed a group for an official photo with the aquarium behind us:
Huge masses of bubbles came up to the surface and distressed some of the students ("what is under us??!?") who might have not noticed scuba divers launching from the beaches we paddled past. They were relieved when I pointed out that the bubbles were coming from human marine mammals.

The next De Anza College Outdoor Club trip paddling on Monterey Bay is announced at Day Trip webpage.
We will also do a lot of paddling in Wyoming on the between-summer-and-fall-quarter trip to Grand Teton National Park.