These photos are from the 2006 De Anza College Outdoor Club ocean kayak day trip.
When you finish ocean kayaking and come back into the beach, ideally you let the wave break in front of you,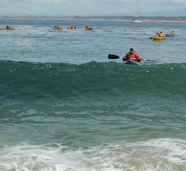 but sometimes the wave has a mind of its own and you end up riding it in.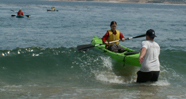 The kayak outfitter we use always has an employee at the beach when we launch and when we come back in to help us, and the water is standing depth, so it's not really dangerous.
Can you see the wave starting to build up slightly behind this kayak?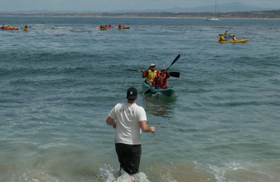 Despite the safety factors, it can still be a bit of a thrill when a breaking wave speeds up and seems to suddenly pick up your kayak.
Hoang-My (Mimi) Dunkle at the bow and Imelda Terrazas in the stern sum up the adventure for first time kayakers with the looks on their faces.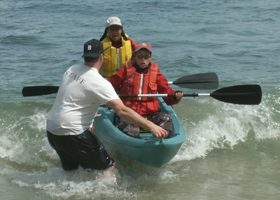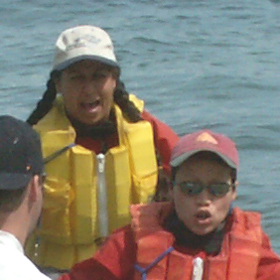 2006 Ocean Kayak Day Trip has more pictures.
Details and rules about this trip are at: Monterey ocean kayak day trip