After we launched on our annual spring break Monterey bay kayak day trip and lined up for a group photo, a curious seal swam by to take a few looks at us: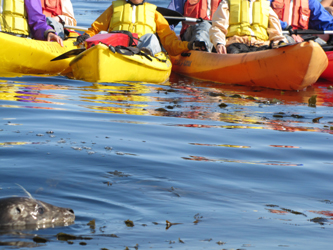 then finally surface dived and swam away

The high tide made for easier paddling with the water level above the kelp tops and the whole group went past the aquarium and part or most of the way to Lover's Point.
Our lips are sealed as to the identity of the two students who ended up falling out of their kayaks.
We hiked and picnicked at Point Lobos afterwards and saw a baby seal.
Details about the next trip are at: