Note to online users: this is not complete instruction in the use of a rescue board. It outlines some of the safety precautions for my classes before we start American Red Cross Waterfront Lifeguard certification.
First, read pages 123 to 125 in your textbook.
Note in step 1 on page 124 the book says to "position the board so that the victim is slightly forward of the middle of the board."
This will depend on the board and the size of the victim, but note below what will happen if you try to rescue someone who is unconscious or cannot climb onto the board, by making the mistake of flipping the victim onto the board more towards the end of the board: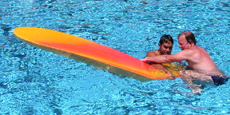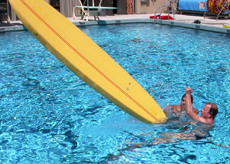 If you were in the water practicing when this mistake was made by soemone else, you could easily be hit by and hurt by a board. For this reason, when we are trying these skills we require that all the boards be lined up on one side of the pool, with open space beyond them.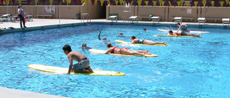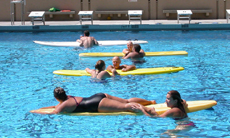 Note on page 125, step 2, if you were to grab the victim's hand and do the initial flip of the board with their forearm at the edge of the board you could really hurt them. Make certain that their fingers are at the board edge. Note the difference below: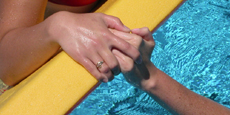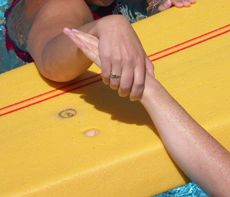 For the second flip the book says in the tips section on page 126: "Make sure the victim's armpits are along the edges of the board before flipping the board. Use caution when flipping the board to ensure that the victim's armpits and not the upper arms, remain along the edge of the board during the flip."
note the difference below: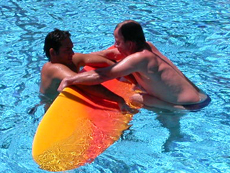 The text at step 4 says to "kneel on the edge of the rescue board using your own body weight to flip the board," but it does not show what kneeling is. The pictures above show the lifeguard's knee on the edge of the board. Pull both of the victim's arms across the board, reach to the far side with both hands, pin the victim's upper arms down with your forearms, and again, use your body weight to flip the board by putting your knee(s) on the board.
You will practice rescuing a distressed swimmer, as well as an unconscious person or someone who is unable to get onto a rescue board. May I suggest that, for your own safety, when you are being the victim you keep your eyes open and do not pretend to be that unconscious. If your rescuer does not position the board where you will not be hurt, speak up before s/he actually starts the flip(s). When you are being flipped you will feel less pressure at your armpits if you flutter kick slightly.