De Anza students ages 17, 17, 18, 18, 18, 19, 19, 20, 21, 21, 22, 23, 25, 25, 28, 32, 34, 39, and
41 took a beginner's surfing lesson with professional instructors at Cowell's Beach, Santa Cruz
on Oct. 24, 2003.
Wetsuit and soft long board rental are included. The lesson starts on the beach with lecture, stretching and practice standing up.
Almost all of the people you will see below had never tried surfing before this lesson.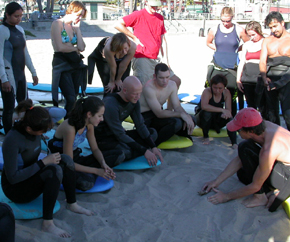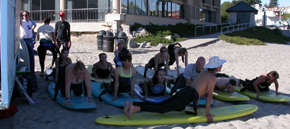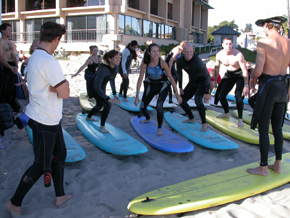 The leash for the surfboard goes on your ankle that will be towards the back of the board when you stand up. If you lead with your left foot you are normal; if you lead with your right foot you are goofy-footed.
The instructors, about one per five or six students for our group event, go out in the water with the students and help them, especially with the timing of when to paddle and when to stand up.

Steamer's Lane is only yards from where we find some beginner's waves.


"Even the wipeouts were fun."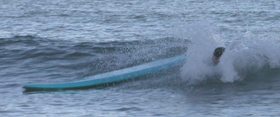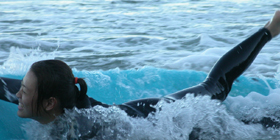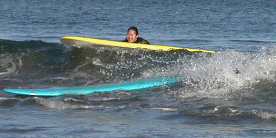 "When I moved out to California that was something I really wanted to do.
I could do this
forever!"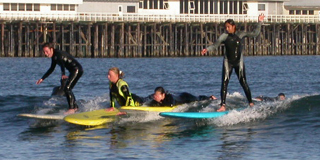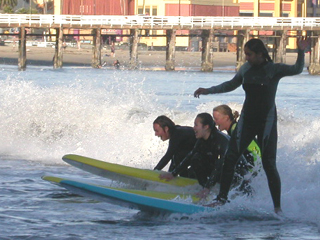 "I didn't think it would be this much fun."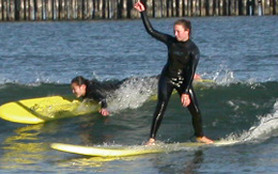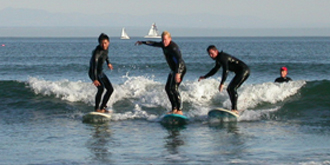 "Before I was very anxious. I'd wake up and look at the calendar and it says it's only 21 days until
surfing."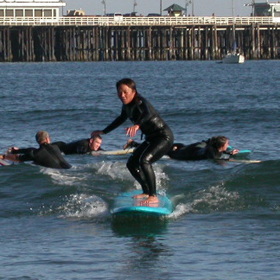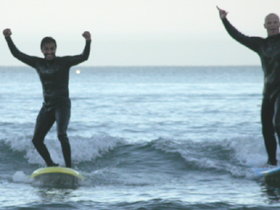 "I felt like I was on top of the world."
________________________________________
more photos from this event are at:
Surfing Oct. 2003 photo page two
________________________________________
For info on our surfing lesson this year go to:
Outdoor Club Coming Attractions
Answers to most questions about how the club works are at: Outdoor Club Basic Info