The campground reservation office for the spring, summer and fall months at Tuolumne Meadows becomes the ski hut in the winter, usually with no phone service, "firewood and 10 bunks that are available on a first-come, first-served basis."
(And see also the Snow Creek Cabin: https://www.nps.gov/yose/planyourvisit/snowcreekcabin.htm )
(All the National Park Service (NPS) photos on this page were used with permission. Most were probably either by Tracey Wiese or Bruce Carter, winter Tuolumne rangers at the time).
NPS photo below: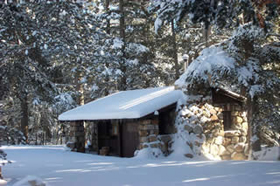 Google maps 360 degree view in the summer.
Winter conditions at Tuolumne Meadows:
http://www.nps.gov/yose/blogs/tmconditions.htm
– – – – – – – – – – – – – – – – – – – – – – – – – – – – – – – – – – – – – – – – – – – – – – – – – – – – – – – – – –
NOTES FROM VARIOUS YEARS:
Jan. 20, 2022
One of Tuolumne's two winter rangers, Laura Pilewski, was interviewed by Megan Wimberley had this advice for people wanting to stay overnight in Tuolumne in the winter:
"Winter wilderness settings requires a person to be knowledgeable and have appropriate gear. Pilewski explains that people often underestimate the short days and how difficult it can be to travel through snow. One of the most common mistakes people make coming into Tuolumne is thinking they can just hike in. "Most of our incidents in Tuolumne have revolved around people trying to hike across the Sierra during early winter thinking 'it's just a road.' At least a few of these people tried to self-extricate and fashion their own snowshoes out of pine boughs or willows." Though this is not the recommended method, sometimes your greatest asset is resourcefulness.
But the reality is, nothing is better than being prepared with the appropriate gear and an educated understanding of what you are doing and where you are going. So many people come into the park expecting that they can "just wing it," but that can be a recipe for disaster. Winter conditions can be unforgiving and the human body is not made to survive and move in these cold, snowy environments. Having the right gear is an absolute must. For gear, Pilewski recommends, all the things you'd have in your summer pack as well as:
• Avalanche Gear (beacon, shovel, probe, knowledge: take an avalanche course or stay off of or out from under avalanche terrain! Check out Eastern Sierra Avalanche Center
https://www.esavalanche.org/
• & Colorado Avalanche Center https://avalanche.state.co.us/
• Snowshoes/Ski/mountaineering gear (gaiters, traction devices for shoes, crampons, ice axe, whippet, ski crampons, ice axe, crampons, etc.)
• Emergency bivy sack. A good one; not just those pieces of "foil."
• Garbage bag (for ground cloth)
• 2 re-usable plastic grocery bags for vapor barrier liners in boots
• Foam sit pad (great emergency splint & keeps you warm & dry when taking a break on rock or snow)
• Thermos &/or insulated hydration bladder (don't forget to blow back in the hose!)
• Extra pair of gloves and/or socks (can be used as mitts in a pinch).
• Extra battery pack to charge devices; keep it warm!
• For planned overnight trips:
o Again, shovel (great for making camp kitchen or snow shelter, burying human waste but don't' get it dirty as you probably use it to gather/melt snow!!).
o Collapsible water bucket & p-cord to gather water so you don't have to sit around/burn fuel melting snow. Creek/lake edges can become rather vertical/difficult to accesses, hence the p-cord.
o "Deadman" anchors for tent the lightest of which are small empty stuff sacks that you can stuff with snow & bury. We know many visitors whose tents have blown away winter and summer. The Sierra=wind.
o Down booties with traction (you don't want to slip when & fall when you go out to "look at the stars" at night) and removable liner, my favorite.
Another thing so many people forget to do is to give a responsible party their itinerary and make sure they know who to contact if you need help/don't return on time. This is something that a lot of people fail to do, but if you find yourself in a bind this one action could be the difference between life and death. Always make sure someone knows where you are going and when you plan to return. Personal Locator Beacons (PLBs) and Satellite messenger can also be an irreplaceable asset in an emergency, but it is important to note that you should only send and SOS call for real emergencies."
Read the entire article and see photos at:
https://www.friendsofyosar.org/the-cache/winter-wilderness-safety-laura-pilewski
– – – – – – – – – – – – – – – – – – – – – – – – – – – – – – – – – – – – – – – – – – – – – – – – – – – – – – – – – –
Tuolumne Meadows Winter Conditions Update for December 28, 2021
(https://www.nps.gov/yose/blogs/update-for-december-28-2021.htm)
New Snow: 78 inches
Settled Snow Depth: 70 inches
High temperature: 35°F (December 22)
Low temperature: 7°F (December 26)
Ski Conditions and Weather: Christmas delivered all the goods that winter enthusiasts could have asked for: abundant snowfall, cold temperatures, and settled snow depth of six feet. With the additional 78 inches of new snow measured here in Tuolumne Meadows this week, this is now the snowiest December on record (since 1980). To date we are at 154 inches of new snow for the month. The previous most snow recorded in December was 143 inches in 1996. An important distinction to make here is the difference between "new snow" or the amount of snow falling in a 24 hour period (measured on a "storm board" which is cleared every 24 hours: HN24), the settled snow depth (measured by a permanent snow stake that fluctuates throughout the winter as new snow falls and settles over time: HS), and the water content of new snow (the method historically used here is to melt the snow gathered in a rain gauge and then measure the height of the water in a calibrated cylinder every 24 hours: HN24W). By this metric there have been wetter Decembers based on water content (perhaps there was rain, and/or the snow had a higher water content), but the 154 inches measured so far this month is the "highest" recorded at the Tuolumne Meadows plot in 42 years of record keeping (not long in the grand scheme of Mother Nature).
Ski conditions varied this week with this formula of new snow, settled snow, and water content. For example, on December 23 we measured 11 inches of new snow with a water content of 1.03 inches (about 10% snow density), and the settled snow depth was 37 inches. The skiing that day was supportable, and skis only penetrated 6 inches or so into the snow surface. By contrast, over the past three days we have measured 44 inches of new snow with a combined water content of only 1.83 inches (about 4% density), and a current settled base depth of 70 inches. The skiing today is not supportable and skis penetrate about three feet (between knee and waist deep depending on which one of us it is). It will be slow going and difficult trail breaking until the snow settles over time. But enough of the snow geek math for now….
Avalanche and Snowpack Conditions: Please refer to the Eastern Sierra Avalanche Center (ESAC) for the avalanche advisory for this part of the Sierra Nevada.
ESAC issued "avalanche warnings" for several days this past week. Their daily avalanche forecasts are an invaluable resource for people living/working/recreating in this part of the Sierra Nevada in winter. Avalanche warnings are issued during a period when the hazard from avalanches is rated "high" or above, and natural and human-triggered avalanches are very likely due to the weather forecast and snowpack conditions. Factors that increased the rating this week were rate of new snowfall, high winds, and water content of the new snow which added a tremendous and rather sudden weight to the existing snowpack.
During periods of high avalanche hazard we stay off of, and out from under, avalanche terrain. Therefore, we try and assess avalanche activity from afar using binoculars. This typically involves skiing up Lembert Dome and having a good look around. At times this week, it was unsafe and too deep to even do that. Due to the extreme weather, we were unable to see any avalanche activity, but we did observe signs of instability in the snowpack in the form of shooting cracks from our skis (also known as propagation). The new snow yesterday had a poor bond with the old snow surface causing the new snow to "crack" in a cohesive layer over the old snow surface. If this were on a slope that was steep enough to avalanche this would be considered a "storm slab" avalanche hazard.
The primary hazard presently is from wind slab avalanches. There is plenty of low-density snow out there now available to be transported by the wind and formed into a slab on lee slopes. Times like these are good for riding the lifts at the local ski resort where the ski patrol works hard to mitigate the avalanche hazard. It is also a good time to study about snow and avalanches. The ESAC has excellent resources, including videos of real time snowpack assessment using stability tests, that we encourage our readers to check out.
Wildlife: For the most part this week "…not a creature was stirring, not even a mouse." Occasionally, one could hear a flock of red crossbills chirping among the clouds. But we were unable to see their red and green holiday feathers (male and female respectively) during the maelstrom. This morning as the skies are clearing a bit, it would appear that the pine marten has gotten the first tracks of the day.
Questions: The wilderness is open! But, especially during this pandemic where local resources may be limited, we implore you to be self-sufficient and not put others at risk. Please #RecreateResponsibly by planning and preparing thoroughly for your outdoor activities in the park. Read through the following two pages before embarking on any day or overnight snow travel within this park:
Wilderness in Winter – https://www.nps.gov/yose/planyourvisit/wildwinter.htm
Winter Safety – https://www.nps.gov/yose/planyourvisit/winter-safety.htm
You may contact us (Laura_Pilewski@nps.gov) with any additional winter Tuolumne Meadows related questions. Szczesliwego Nowego Roku! From the "polish" ski rangers. (L. and R. Pilewski)
– – – – – – – – – – – – – – – – – – – – – – – – – – – – – – – – – – – – – – – – – – – – – – – – – – – – – – – – – –
("Szczesliwego Nowego Roku" translates to Happy New Year.)
– – – – – – – – – – – – – – – – – – – – – – – – – – – – – – – – – – – – – – – – – – – – – – – – – – – – – – – – – –
Tuolumne Winter Conditions Update for March 3, 2021
New snow: none
Total settled snow depth: 40 inches (at 8,600 feet)
High temperature: 46°F (February 28)
Low temperature: 2°F (February 27)
February Weather Summary:
New Snow: 25 inches (Historical Average 62.1 inches)
Snow Water Equivalent: 2 inches (Historical Average 4.53 inches)
Average Temperature: 25.45° (Historical Average 25.2°F)
Ski Conditions and Weather: Yosemite National Park completed the monthly snow surveys this week and the results show a drier than normal snowpack for the Tuolumne River Basin. The basin is at 56% of the April 1 average.
There is just a hint of spring in the air in the central Sierra. The daily sunshine, longer days, and the sound of running water make one think of the changing seasons. However, the overnight lows in the single digits and the incessant alpine winds are a constant reminder that this is not the case quite yet.
The snowpack is becoming a bit more spring-like. The snow surface has gone through enough melt freeze cycles to be supportable on most aspects especially the first part of the day. The firm snowpack makes for good ski touring conditions. South aspects at the middle elevations are becoming patchy. Firm and variable snow conditions should be expected above the tree line.
Avalanche and Snowpack Conditions: For the avalanche advisory for this area of the Sierra Nevada go to https://www.esavalanche.org/for the Eastern Sierra Avalanche Center.
The avalanche hazard is low in the Tuolumne Meadows area. Wilderness travelers should be prepared and be ready to change plans as weather and conditions dictate.
Wildlife: This week we saw the meandering track of a bobcat in the meadow between Ranger Camp and the Tuolumne Meadows Ski Hut. Interestingly, we typically only see sign of this animal once a season and in the same vicinity. Being only winter residents, we aren't sure how often these felines are seen in Tuolumne Meadows during the summertime. Since our habits vary as much as the wildlife's, it is hard to know if the wind or sun erases these tracks before we get to see them or if indeed, some of these critters just wander through from time to time. Either way, it is a neat feeling to know one is not alone when traveling through these mountains even in the midst of winter.
General Information: The Tuolumne Meadows Ski Hut is closed for the 2020-2021 season. (R. & L. Pilewski)
– – – – – – – – – – – – – – – – – – – – – – – – – – – – – – – – – – – – – – – – – – – – – – – – – – – – – – – – – –
Tuolumne Meadows Winter Conditions Update for December 31, 2020
https://www.nps.gov/yose/blogs/update-for-december-31-2020.htm
New snow: 9 inches
Total settled snow depth: 24 inches (at 8,600 feet)
High temperature: 42°F (December 24)
Low temperature: 1°F (December 25)
Ski Conditions and Weather: This is our first post for the winter of 2021. We are grateful to be working as the Tuolumne Meadows winter rangers again this year. Returning to Tuolumne Meadows for our 10th winter really does feel like coming home.
It is good to see the landscape in its winter coat of white. Several weather systems came through over the past few weeks and left snow in their wake. The settled snow depth is two feet here around Tuolumne Meadows, with around three feet at the higher elevations and on north facing slopes. Temperatures have been in the normal range for the season with overnight lows in the single digits and daytime highs in the thirties. As is typical for winter in the Sierra, there have been some wind events during December. Snow at the higher elevations is very wind affected, while below tree line the snow is more uniform and powdery. As of this writing, the snowline goes down to the gate in Lee Vining Canyon to the east.
Avalanche and Snowpack Conditions: Please refer to the Eastern Sierra Avalanche Center (ESAC) for the avalanche advisory for this part of the Sierra Nevada.
The snowpack in the Tuolumne Meadows area presently has some very weak layers. These weak layers primarily exist near the ground and are the result of the first storms of the winter back in November. Snow from those storms sat on the ground under a very shallow snowpack and the cold clear nights of December have turned the snow crystals into facets (large, sugary, cohesion-less, snow crystals). The current hazard from these weak layers is low, but when they are loaded with new snow, especially a slab of new snow, the hazard will increase dramatically. In the alpine zone especially, the wind alone can load slopes days to weeks after a storm cycle so do not become complacent this season after storms have departed. Stay vigilant and attentive.
Wildlife: With the short days of December, the resident wildlife has been busy trying to pack in the calories just like us over the holidays. Given all of the tracks and multiple large piles of scat, at least one bear seemingly spent a week basking in the sun and eating juniper berries just above the Tuolumne Meadows housing area prior to our arrival. One could even see the roof of our house from where it had bedded down in the litter beneath the juniper trees. Thankfully, the bear had no idea there were five months' worth of our provisions that were just under its nose!
General Information: The Tuolumne Meadows Ski Hut is closed for the 2020-2021 season. Happy New Year! Rob and Laura Pilewski, Tuolumne Meadows Winter Rangers (R. Pilewski)
– – – – – – – – – – – – – – – – – – – – – – – – – – – – – – – – – – – – – – – – – – – – – – – – – – – – – – – – – –
Tuolumne Meadows Winter Conditions Update for December 18, 2019
https://www.nps.gov/yose/blogs/update-for-december-18-2019.htm
New snow: Trace
Total settled snow depth: 28 inches (at 8,600 feet)
High temperature: 43°F (December 12)
Low temperature: -8°F (December 16)
Ski Conditions and Weather: This is the first post of the 2019-2020 winter season. We skied up Hwy. 120 from Lee Vining on December 14 and entered the park via Tioga Pass and the Tioga Road. Snow cover was thin with patchy bare pavement from the gate in Lee Vining Canyon to the 9,000 foot elevation. Ski conditions were excellent from the Warren Fork (9,000 feet) to Tuolumne Meadows. Snow depths averaged from 36 inches+ at Tioga Pass to around 30 inches at Tuolumne Meadows. These are some of the best early season conditions we have seen in our eight winters here. We are delighted to be working in Tuolumne Meadows again this winter!
Winter storms arrived to the central Sierra Nevada in late November and have laid down a healthy blanket of white. The alpine snowpack is very wind affected as winds during the storms were strong out of the southwest, and then switched to the northeast afterwards. The snowpack and ski conditions are less wind affected below tree line making for fine touring conditions. Prior to the low density snow that fell over the weekend there was a warm spell that caused melting at the snow surface which has subsequently refrozen. This melt freeze crust can be found in most places below 11,000 feet. It is exposed where the wind has scoured the new snow off and buried beneath the new snow in most places.
Avalanche and Snowpack Conditions: Please refer to the Eastern Sierra Avalanche Center (ESAC) for the avalanche advisory for this part of the Sierra Nevada.
The bountiful amounts of new snow that fell on bare ground in November could help to mitigate the potential for deeper snowpack instabilities this season. That will depend on how the winter progresses from here of course. If the three feet of snow that lies on the ground now does not get deeper and we continue to have clear and cold nights we could start to see depth hoar development. This is just another reason to hope for more snow! Although at present, it is more likely that facets will develop around the melt freeze crust that is much closer to the snow surface. This will need to be monitored as a potential weak layer once loaded.
The avalanche hazard is low below tree line and in the Tuolumne Meadows area presently. In the higher elevations, wind slabs have been forming on different aspects due to variable wind directions and the "fetch" of new snow available for transport. Visitors should get updated avalanche and weather forecasts prior to setting off for the high country on extended trips.
Wildlife: On our first wilderness patrol of the season along the shoulder of Mt. Dana we were greeted by the chirps of the evening grosbeak. This flock of six was a first sighting for us up here in our eight seasons, but apparently like other grosbeaks, their distribution or range can vary dramatically from year to year based upon food availability and other factors, not unlike skiers who tend to flock to where there is good powder.
General Information: The Tuolumne Meadows Ski Hut is open. There is firewood and 10 bunks that are available on a first-come, first-served basis.
For those visiting the Tuolumne Ski Hut from the east (only) permits are self-issued at the Ski Hut. For those entering from other areas, please see Yosemite's website: https://www.nps.gov/yose/planyourvisit/wildpermits.htm (#3 Do I need a wilderness Permit during Winter?) or you may contact the wilderness office at 209/372-0740.
There is no phone service in Tuolumne Meadows. We can be contacted regarding winter travel to Tuolumne Meadows via email, but we may be delayed in responding if we are on patrol. Come prepared, and please make good decisions while traveling in the wilderness! Follow our blog: https://www.nps.gov/yose/blogs/tmconditions.htm. Happy Winter Solstice!
Laura and Rob Pilewski – Tuolumne Winter Rangers. (L. Pilewski)
– – – – – – – – – – – – – – – – – – – – – – – – – – – – – – – – – – – – – – – – – – – – – – – – – – – – – – – – – –
(Feb. 2018) ski conditions comparing two weeks:
"Ski Conditions and Weather: Last week held some of the best (and let's hope not the last) ski touring of the season. Where there was snow on south-facing slopes, the meager corn harvest was on. On north facing slopes, the short days of winter have kept the powder cold and dry. To get to the high elevations, however, one has to contend with the ice flows that have formed on most of the trail corridors (wear ice cleats if you're hiking at mid elevations).
Now that the windstorm has passed through, crampons and ice axes are advised in the alpine zone. We received two inches of new snow in Tuolumne Meadows, and approximately eight inches at Tioga Pass thanks to the upslope Mono Lake effect. With the forecasted colder temperatures, expect some challenging ski conditions in places. But, also expect some powder stashes on north, north-east facing aspects!
For those skiing the road corridor, conditions have also changed quite a bit from last week as the Tioga Road was snow free east of Tioga Pass prior to what fell or was blown by the wind the past few days. Between Tioga Pass and Tuolumne Meadows the road is snow covered until 9,000 feet and then there are a few small patches of bare pavement. The same goes for a section east of Tenaya Lake and in the vicinity of Olmsted Point. The Snow Creek Trail to Tioga Road is mostly snow free as well. The snow conditions on the road vary with aspect from powder, to breakable crust to fast spring-like snow. Touring in Tuolumne Meadows is lovely.
Avalanche and Snowpack Conditions: Please refer to the Eastern Sierra Avalanche Center (ESAC) http://www.esavalanche.org/ for the avalanche advisory for this part of the Sierra Nevada.
The avalanche hazard at the time of this writing has increased temporarily on leeward slopes where there may be sensitive pockets of wind slabs. "Slide for life conditions" will exist on many of the alpine slopes this week given the forecast.
Wildlife: A pine grosbeak was heard in upper Budd Creek this week. Although we don't seem to pause enough to see or hear them more often, their call is quite distinctive. During this warm spell, we have already been hearing the mating songs of the mountain chickadee and brown creeper for a couple of weeks as well."
– – – – – – – – – – – – – – – – – – – – – – – – – – – – – – – – – – – – – – – – – – – – – – – – – – – – – – – – – –
2017 In a January 19 report they made a change that there is no electricity or phone service. They received 25 inches of new snow in one week early in January. High temperature: 44 degrees F (January 17). Low temperature: 2 degrees F (January 15). "Short and long-tailed weasel tracks seem more abundant this season than others…" " … Follow our blog: http://www.nps.gov/yose/blogs/tmconditions.htm – Laura and Rob Pilewski – Tuolumne Winter Rangers."
2016 At the ski hut: "There is firewood and 10 bunks that are available on a first come, first served basis. There is power but no public phone service in Tuolumne Meadows this winter. . . Come prepared; don't count on phone service at the ski hut."
For the avalanche advisory for this area of the Sierra Nevada go to http://www.esavalanche.org for the Eastern Sierra Avalanche Center.
". . . depending on conditions, many groups will ski all the way to the ski hut in a day. It is a 15 mile arduous trip. Other visitors will spend the first night near Tioga Pass or elsewhere then come to the ski hut on the second day. The ski hut rarely fills up except if it's a holiday or spring break but visitors should be prepared with a minimum of bivy gear in case they have to spend the night outside at any point during their trip."
– – – – – – – – – – – – – – – – – – – – – – – – – – – – – – – – – – – – – – – – – – – – – – – – – – – – – – – – – –
From the 2015 Yosemite Guide:
"The Tioga Road offers a 39-mile scenic drive past forests, meadows, lakes, and granite domes.
The road closes after the first big snowfall, and overnight parking ends on October 15."
– – – – – – – – – – – – – – – – – – – – – – – – – – – – – – – – – – – – – – – – – – – – – – – – – – – – – – – – – –
From the 2009 Yosemite Guide:
"Tioga road is closed to vehicles during the winter months, usually until May or later. Winter brings ski and snowshoe options for experienced parties. Reaching Tuolumne Meadows via the road is a serious, multi day undertaking. An experienced guide and avalanche beacons are among the essentials needed for the journey."
Tuolumne Meadows Ski Hut
– – – – – – – – – – – – – – – – – – – – – – – – – – – – – – – – – – – – – – – – – – – – – – – – – – – – – – – – – –
Winter 2014-5
There is an ample supply of firewood and 10 bunks that are available on a first-come, first-served basis. There is power but no public phone service in Tuolumne Meadows this winter.
– – – – – – – – – – – – – – – – – – – – – – – – – – – – – – – – – – – – – – – – – – – – – – – – – – – – – – – – – –
Winter 2009-2010
The Tuolumne Meadows Ski Hut is now open for the winter season until the Tioga Road opens to traffic in the spring (usually sometime in May or early June). It sleeps 10 and is available at no charge on a first-come, first-served basis. Parties should always be prepared to camp out in case the hut is full, which happens on occasion, particularly in the spring.
The ski hut is the stone building facing the Tioga Road just west of the bridge across the Tuolumne River and right at the entrance to the Tuolumne Meadows Campground (in the summer, the building is the campground reservations office). It is approximately eight miles west of Tioga Pass, and sits at about 8,600 feet in elevation. A wooden sign out front indicates "SKI HUT."
The hut has a wood stove for heat, firewood is provided, and an axe is available for splitting wood. There are electric lights and electric hotplates for cooking ­unless the power goes out, a not-too-unusual occurrence. An outhouse is located behind the hut and a dumpster for trash is located at the summer store just to the west. Snow will need to be melted for water and pots are provided for that purpose. Bring your own pans and stove for cooking. A large rodent-proof can is provided for storing food while staying in the hut.
The closest route to Tuolumne Meadows is a 16-mile ski up Highway 120 (closed to vehicles this time of the year) just outside the town of Lee Vining, and over 10,000 foot Tioga Pass­a one or two day trip under good skiing conditions, but possibly a much longer trip after heavy snowfalls. Numerous other backcountry ski routes of varying length and difficulty exist to access the Tuolumne Meadows area.
Once again this year, Tioga Pass Resort (TPR) will NOT be open this winter. In past years, the good folks at the lodge made the ski in from the east side much easier by packing out the road, cutting through avalanche paths, and even transporting people and gear up to snow line. None of that will happen this winter. Skiers need to be much more aware of avalanche danger, snowpack conditions, and forecasted weather this winter, especially along the road east of Tioga Pass, and realize that the lodge is unoccupied and not available as a place to retreat to should you encounter difficulties.
_________________________________________________
Jeff and Kathy, the 08-09 Tuolumne winter rangers, recommended http://www.esavalanche.org and click on advisory. There they had a note about interference between cell phones, iPods and avalanche beacons:
"Another issue is radio frequency interference ("RFI"). With so many different electronic devices carried by backcountry recreationalists these days, complete testing of every possible device is infeasible so I'll cover this briefly here. I have found that a *transmitting* cell phone (CDMA band) or FRS/GMRS radio can cause interference to varying degrees in some (but not all) beacons. But no beacons suffer RFI from an on-yet-not-transmitting phone or two-way radio. Far more importantly, playing an iPod will cause RFI to vary degrees in *all* avalanche beacons at close range. My general conclusions with RFI are: Be very careful if deciding to call for help while simultaneously searching with an avalanche beacon; and if you are touring with any brand of avalanche beacon, never listen to an iPod. (I am very serious about this: the potential for an iPod to be inadvertently left on and then cause interference in a beacon search is dangerous."
– – – – – – – – – – – – – – – – – – – – – – – – – – – – – – – – – – – – – – – – – – – – – – – – – – – – – – – – – –
From the 2006 Yosemite National Park website:
TUOLUMNE MEADOWS SKI HUT
WINTER 2005-2006 had the notes above and Bruce and Tracey, the Tuolumne winter rangers, gave this warning:
"Choose your route well, this soft slab avalanche near Cathedral Peak ran hundreds of feet on a nearly level surface."
NPS photo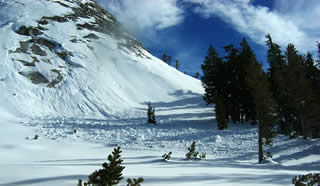 In a March, 2006 report they answered the question
"Can I ski across Tenaya Lake?
Answer: We have never been tempted to in our six winters here. Do you know how thick or strong the ice is? Did you know that while snow insulates ice from the sun it also adds weight and stresses the ice? Did you know there are springs in parts of the lake where little or no ice forms? Also look at the map and decide if going across any part of the lake is much of a short cut given the consequences."
And in an early February, 2004 update, this report:
"AVALANCHE/SNOW CONDITIONS: (above 8000') Avalanche danger still appears to be CONSIDERABLE on north or near north aspects. Any granite domes and slickrock areas have avalanche potential when snow covered.
DISCUSSION: The north aspects of the Cathedral Range are full of slides, sloughs and surface cracks, left from the 1 to 2 feet of fresh snow we received early this week. Besides the larger slides off peaks like Unicorn, smaller slides too numerous to count, have come off short slopes and banks of 35 degrees or more. Even more numerous are the stress fractures or surface cracks found where terrain steepens or becomes convex. Most of this action was early to mid week but we still found several weak spots within the top 24" of the north aspect snowpack. We found shear layers within the new snow, most easily detected by holding a column of new snow on a shovel and tapping the shovel from below. We suspected its presence by the natural slides at that depth but many shear tests that work from the top of the snow down would not easily reveal this weakness. There was also a weak layer several feet down in the snow that appeared to be an old surface, possibly associated with buried surface hoar. In some areas we heard whumping of the snow surrounding our skis. We assume this was settling on recrystalized snow that left weak hollows under light crusts before this new snowfall.
During this last storm we had winds from the south that built cornices and loaded many near north aspects, no doubt adding to the above mentioned slides. We have not had any significant warming since this last good storm so be alert for the first warm days on this new snow."
NPS photo (probably either by Bruce or Tracey):
– – – – – – – – – – – – – – – – – – – – – – – – – – – – – – – – – – – – – – – – – – – – – – – – – – – – – – – – – –
from the Wilderness Conditions Update
January 2004
"Tuolumne Meadows is a popular destination for skilled wilderness skiers and snowshoers. Numerous backcountry routes of varying length and difficulty exist to access this area of the high country. The shortest route to Tuolumne Meadows is a 16 mile ski or snowshoe trek on the closed Tioga Road (Hwy 120) beginning 4 miles from the town of Lee Vining near Hwy 395 and continuing over 10,000 foot Tioga Pass. Under good snow conditions this trip can take 1 or 2 days each way. Even this most popular route passes through steep, uncontrolled avalanche areas so avalanche skills and awareness are essential. If you are not familiar with assessing avalanche conditions and navigating in unmarked backcountry terrain it is highly recommended that you ski on the marked trails at Badger Pass, Crane Flat and the Mariposa Grove."
NPS photo of an avalanche area just north of Tenaya Lake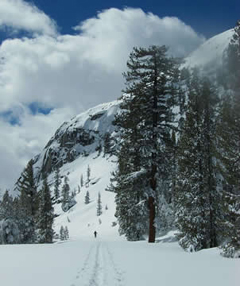 NPS photo of the Tuolumne River emerging from the snow in March, 2004.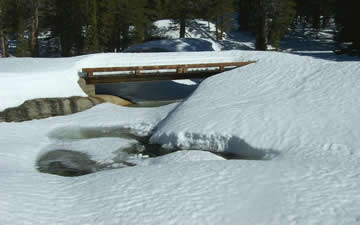 and another from April: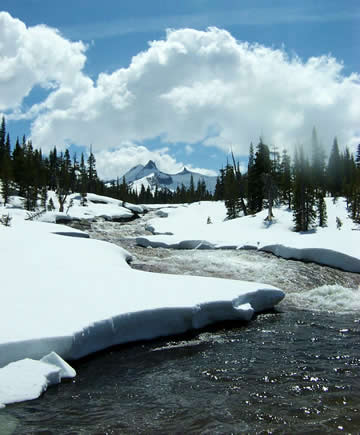 Bruce and/or Tracey titled the photo above
The Tuolumne River slowly emerges from winter.
And said in their April 8 report with the photo:
"The days are full of song from winter residents and new arrivals. New arrivals, or birds just up for the day, include: Northern Flickers, Williamson's Sapsuckers, Brewer's Blackbirds, Common Merganser, Mallards, Red-tailed Hawk, Sharp-shinned Hawk, Mountain Bluebird, and Killdeer. There has also been a pair of Ravens who have been spending the last few days picking pine seeds off the snow. We have seen several food caches melt out of the snow, one of plants collected by a Mountain Beaver (Aplodontia rufa) and another cache of small roots from some other under the snow resident of the meadows. At Soda Springs we watched Mountain Chickadees flying in and out of a tree hole like a bird feeder, a closer look revealed that the chickadees were raiding someone's seed cache. "
_____________________________________
Bruce and Tracey, the Tuolumne winter rangers, said in a Yosemite Daily Report of 2003:
"If you've got the slightest interest in avalanches or related topics we
suggest you visit www.avalanche.org which gives detailed avalanche reports
from across the country including accidents, education and forecasts."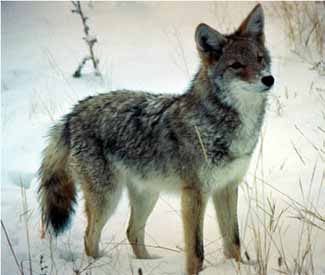 Winter Wildlife in Tuolumne Meadows, Yosemite National Park
Read winter wildlife notes by Tracey Wiese and Bruce Carter, the Tuolumne Winter Rangers, at:
http://sierranaturenotes.com/naturenotes/archives.htm
Snow or rain camp must-haves has gear advice.
The Mammoth Dweeb weather report is consistently detailed and accurate. It's at:
Prepare for winter driving has a link to bad weather driving tips, tips for using tire chains, tricks for dealing with frozen car locks, how to prepare your vehicle for winter driving, a winter survival kit for your car and what to do if you get stranded.
__________________________________________
The bears are not true hibernators and can wake up and roam around even in winter.
Mid-November 2004, with 17 inches of snow on the ground at Tuolumne, the rangers reported:
"Tracey stepped out of the ski hut and nearly hit a small Black Bear with the door one evening. We have been seeing this bruin's tracks for the last week visiting all the buildings, garbage cans and recycle cans in
the Tuolumne and Tenaya area. Although there are no rewards habits die hard."
The Yosemite National Park rangers would like you to call them
if you see a bear in Yosemite,
no matter where it is or what it is doing.
Since 2003 there has been a note in the Yosemite Guide: "REPORT ALL BEAR SIGHTINGS! To report bear sightings, improper food storage, trash problems, and other bear-related problems, leave a message for the Bear Management team at: 1 (209) 372-0322. Your call can be made anonymously."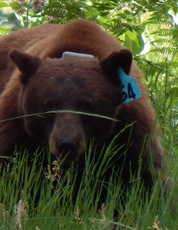 If you can, in all the excitement, try to notice if the bear has a tag (usually on the ear), the color of the tag and if possible, the number on it (the tag is large enough that with a telephoto lens you should be able to read the number).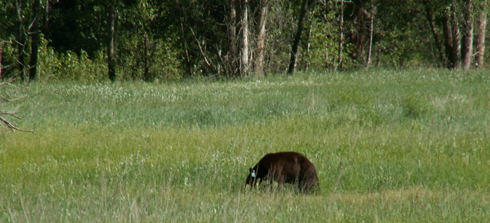 From the Yosemite Daily Report newspaper:
"It is extremely important to remember to yell at bears that are in and around development, even if they are foraging on natural food. Though it is very tempting to get close for a picture, or just to watch these incredible animals, it is important not to give into this urge. Yelling at them if they are in residential areas or near people is critical to keep bears natural fear of humans. Giving bears plenty of space. When bears become too comfortable around people, they will often start causing damage to structures and vehicles, or will even become too bold around people, creating safety concerns."
= = = = = =