The campground reservation office for the spring, summer and fall months at Tuolumne Meadows becomes the ski hut in the winter, usually with no phone service, "firewood and 8 bunks that are available on a first-come, first-served basis."
(All the National Park Service (NPS) photos on this page were used with permission. Most were probably either by Tracey Wiese or Bruce Carter, winter Tuolumne rangers at the time).
NPS photo below: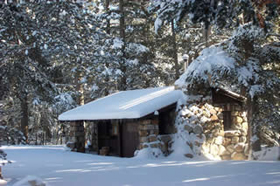 Winter conditions at Tuolumne Meadows:
http://www.nps.gov/yose/blogs/tmconditions.htm
OTHER NOTES FROM VARIOUS YEARS:
(Feb. 2018) ski conditions comparing two weeks:
"Ski Conditions and Weather: Last week held some of the best (and let's hope not the last) ski touring of the season. Where there was snow on south-facing slopes, the meager corn harvest was on. On north facing slopes, the short days of winter have kept the powder cold and dry. To get to the high elevations, however, one has to contend with the ice flows that have formed on most of the trail corridors (wear ice cleats if you're hiking at mid elevations).
Now that the windstorm has passed through, crampons and ice axes are advised in the alpine zone. We received two inches of new snow in Tuolumne Meadows, and approximately eight inches at Tioga Pass thanks to the upslope Mono Lake effect. With the forecasted colder temperatures, expect some challenging ski conditions in places. But, also expect some powder stashes on north, north-east facing aspects!
For those skiing the road corridor, conditions have also changed quite a bit from last week as the Tioga Road was snow free east of Tioga Pass prior to what fell or was blown by the wind the past few days. Between Tioga Pass and Tuolumne Meadows the road is snow covered until 9,000 feet and then there are a few small patches of bare pavement. The same goes for a section east of Tenaya Lake and in the vicinity of Olmsted Point. The Snow Creek Trail to Tioga Road is mostly snow free as well. The snow conditions on the road vary with aspect from powder, to breakable crust to fast spring-like snow. Touring in Tuolumne Meadows is lovely.
Avalanche and Snowpack Conditions: Please refer to the Eastern Sierra Avalanche Center (ESAC) http://www.esavalanche.org/ for the avalanche advisory for this part of the Sierra Nevada.
The avalanche hazard at the time of this writing has increased temporarily on leeward slopes where there may be sensitive pockets of wind slabs. "Slide for life conditions" will exist on many of the alpine slopes this week given the forecast.
Wildlife: A pine grosbeak was heard in upper Budd Creek this week. Although we don't seem to pause enough to see or hear them more often, their call is quite distinctive. During this warm spell, we have already been hearing the mating songs of the mountain chickadee and brown creeper for a couple of weeks as well."
2017 In a January 19 report they made a change that there is no electricity or phone service. They received 25 inches of new snow in one week early in January. High temperature: 44 degrees F (January 17). Low temperature: 2 degrees F (January 15). "Short and long-tailed weasel tracks seem more abundant this season than others…" " … Follow our blog: http://www.nps.gov/yose/blogs/tmconditions.htm – Laura and Rob Pilewski – Tuolumne Winter Rangers."
2016 At the ski hut: "There is firewood and 10 bunks that are available on a first come, first served basis. There is power but no public phone service in Tuolumne Meadows this winter. . . Come prepared; don't count on phone service at the ski hut."
For the avalanche advisory for this area of the Sierra Nevada go to http://www.esavalanche.org for the Eastern Sierra Avalanche Center.
". . . depending on conditions, many groups will ski all the way to the ski hut in a day. It is a 15 mile arduous trip. Other visitors will spend the first night near Tioga Pass or elsewhere then come to the ski hut on the second day. The ski hut rarely fills up except if it's a holiday or spring break but visitors should be prepared with a minimum of bivy gear in case they have to spend the night outside at any point during their trip."
From the 2015 Yosemite Guide:
"The Tioga Road offers a 39-mile scenic drive past forests, meadows, lakes, and granite domes.
The road closes after the first big snowfall, and overnight parking ends on October 15."
From the 2009 Yosemite Guide:
"Tioga road is closed to vehicles during the winter months, usually until May or later. Winter brings ski and snowshoe options for experienced parties. Reaching Tuolumne Meadows via the road is a serious, multi day undertaking. An experienced guide and avalanche beacons are among the essentials needed for the journey."
Tuolumne Meadows Ski Hut
Winter 2014-5
There is an ample supply of firewood and 10 bunks that are available on a first-come, first-served basis. There is power but no public phone service in Tuolumne Meadows this winter.
Winter 2009-2010
The Tuolumne Meadows Ski Hut is now open for the winter season until the Tioga Road opens to traffic in the spring (usually sometime in May or early June). It sleeps 10 and is available at no charge on a first-come, first-served basis. Parties should always be prepared to camp out in case the hut is full, which happens on occasion, particularly in the spring.
The ski hut is the stone building facing the Tioga Road just west of the bridge across the Tuolumne River and right at the entrance to the Tuolumne Meadows Campground (in the summer, the building is the campground reservations office). It is approximately eight miles west of Tioga Pass, and sits at about 8,600 feet in elevation. A wooden sign out front indicates "SKI HUT."
The hut has a wood stove for heat, firewood is provided, and an axe is available for splitting wood. There are electric lights and electric hotplates for cooking ­unless the power goes out, a not-too-unusual occurrence. An outhouse is located behind the hut and a dumpster for trash is located at the summer store just to the west. Snow will need to be melted for water and pots are provided for that purpose. Bring your own pans and stove for cooking. A large rodent-proof can is provided for storing food while staying in the hut.
The closest route to Tuolumne Meadows is a 16-mile ski up Highway 120 (closed to vehicles this time of the year) just outside the town of Lee Vining, and over 10,000 foot Tioga Pass­a one or two day trip under good skiing conditions, but possibly a much longer trip after heavy snowfalls. Numerous other backcountry ski routes of varying length and difficulty exist to access the Tuolumne Meadows area.
Once again this year, Tioga Pass Resort (TPR) will NOT be open this winter. In past years, the good folks at the lodge made the ski in from the east side much easier by packing out the road, cutting through avalanche paths, and even transporting people and gear up to snow line. None of that will happen this winter. Skiers need to be much more aware of avalanche danger, snowpack conditions, and forecasted weather this winter, especially along the road east of Tioga Pass, and realize that the lodge is unoccupied and not available as a place to retreat to should you encounter difficulties.
_________________________________________________
Jeff and Kathy, the 08-09 Tuolumne winter rangers, recommended http://www.esavalanche.org and click on advisory. There they had a note about interference between cell phones, iPods and avalanche beacons:
"Another issue is radio frequency interference ("RFI"). With so many different electronic devices carried by backcountry recreationalists these days, complete testing of every possible device is infeasible so I'll cover this briefly here. I have found that a *transmitting* cell phone (CDMA band) or FRS/GMRS radio can cause interference to varying degrees in some (but not all) beacons. But no beacons suffer RFI from an on-yet-not-transmitting phone or two-way radio. Far more importantly, playing an iPod will cause RFI to vary degrees in *all* avalanche beacons at close range. My general conclusions with RFI are: Be very careful if deciding to call for help while simultaneously searching with an avalanche beacon; and if you are touring with any brand of avalanche beacon, never listen to an iPod. (I am very serious about this: the potential for an iPod to be inadvertently left on and then cause interference in a beacon search is dangerous."
From the 2006 Yosemite National Park website:
TUOLUMNE MEADOWS SKI HUT
WINTER 2005-2006 had the notes above and Bruce and Tracey, the Tuolumne winter rangers, gave this warning:
"Choose your route well, this soft slab avalanche near Cathedral Peak ran hundreds of feet on a nearly level surface."
NPS photo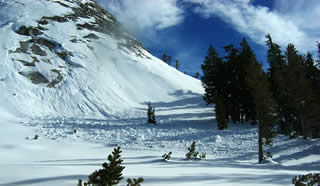 In a March, 2006 report they answered the question
"Can I ski across Tenaya Lake?
Answer: We have never been tempted to in our six winters here. Do you know how thick or strong the ice is? Did you know that while snow insulates ice from the sun it also adds weight and stresses the ice? Did you know there are springs in parts of the lake where little or no ice forms? Also look at the map and decide if going across any part of the lake is much of a short cut given the consequences."
And in an early February, 2004 update, this report:
"AVALANCHE/SNOW CONDITIONS: (above 8000') Avalanche danger still appears to be CONSIDERABLE on north or near north aspects. Any granite domes and slickrock areas have avalanche potential when snow covered.
DISCUSSION: The north aspects of the Cathedral Range are full of slides, sloughs and surface cracks, left from the 1 to 2 feet of fresh snow we received early this week. Besides the larger slides off peaks like Unicorn, smaller slides too numerous to count, have come off short slopes and banks of 35 degrees or more. Even more numerous are the stress fractures or surface cracks found where terrain steepens or becomes convex. Most of this action was early to mid week but we still found several weak spots within the top 24" of the north aspect snowpack. We found shear layers within the new snow, most easily detected by holding a column of new snow on a shovel and tapping the shovel from below. We suspected its presence by the natural slides at that depth but many shear tests that work from the top of the snow down would not easily reveal this weakness. There was also a weak layer several feet down in the snow that appeared to be an old surface, possibly associated with buried surface hoar. In some areas we heard whumping of the snow surrounding our skis. We assume this was settling on recrystalized snow that left weak hollows under light crusts before this new snowfall.
During this last storm we had winds from the south that built cornices and loaded many near north aspects, no doubt adding to the above mentioned slides. We have not had any significant warming since this last good storm so be alert for the first warm days on this new snow."
NPS photo (probably either by Bruce or Tracey):
from the Wilderness Conditions Update
January 2004
"Tuolumne Meadows is a popular destination for skilled wilderness skiers and snowshoers. Numerous backcountry routes of varying length and difficulty exist to access this area of the high country. The shortest route to Tuolumne Meadows is a 16 mile ski or snowshoe trek on the closed Tioga Road (Hwy 120) beginning 4 miles from the town of Lee Vining near Hwy 395 and continuing over 10,000 foot Tioga Pass. Under good snow conditions this trip can take 1 or 2 days each way. Even this most popular route passes through steep, uncontrolled avalanche areas so avalanche skills and awareness are essential. If you are not familiar with assessing avalanche conditions and navigating in unmarked backcountry terrain it is highly recommended that you ski on the marked trails at Badger Pass, Crane Flat and the Mariposa Grove."
NPS photo of an avalanche area just north of Tenaya Lake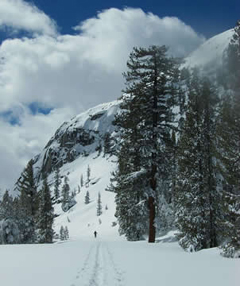 NPS photo of the Tuolumne River emerging from the snow in March, 2004.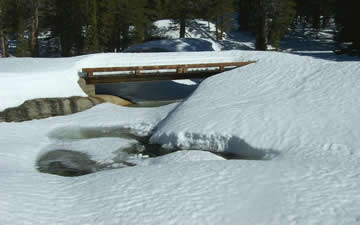 and another from April: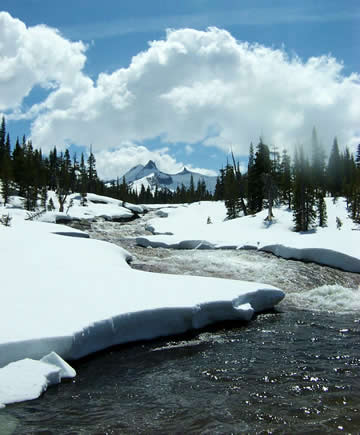 Bruce and/or Tracey titled the photo above
The Tuolumne River slowly emerges from winter.
And said in their April 8 report with the photo:
"The days are full of song from winter residents and new arrivals. New arrivals, or birds just up for the day, include: Northern Flickers, Williamson's Sapsuckers, Brewer's Blackbirds, Common Merganser, Mallards, Red-tailed Hawk, Sharp-shinned Hawk, Mountain Bluebird, and Killdeer. There has also been a pair of Ravens who have been spending the last few days picking pine seeds off the snow. We have seen several food caches melt out of the snow, one of plants collected by a Mountain Beaver (Aplodontia rufa) and another cache of small roots from some other under the snow resident of the meadows. At Soda Springs we watched Mountain Chickadees flying in and out of a tree hole like a bird feeder, a closer look revealed that the chickadees were raiding someone's seed cache. "
_____________________________________
The bears are not true hibernators and can wake up and roam around even in winter.
Mid-November 2004, with 17 inches of snow on the ground at Tuolumne, the rangers reported:
"Tracey stepped out of the ski hut and nearly hit a small Black Bear with the door one evening. We have been seeing this bruin's tracks for the last week visiting all the buildings, garbage cans and recycle cans in
the Tuolumne and Tenaya area. Although there are no rewards habits die hard."

Read more at Bears.
Bruce and Tracey, the Tuolumne winter rangers, said in a Yosemite Daily Report of 2003:
"If you've got the slightest interest in avalanches or related topics we
suggest you visit www.avalanche.org which gives detailed avalanche reports
from across the country including accidents, education and forecasts."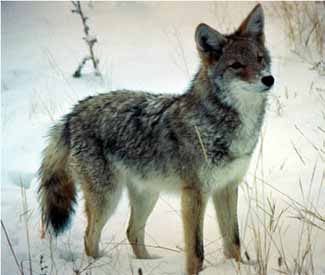 Winter Wildlife in Tuolumne Meadows, Yosemite National Park
Read winter wildlife notes by Tracey Wiese and Bruce Carter, the Tuolumne Winter Rangers, at:
http://sierranaturenotes.com/naturenotes/archives.htm
Snow or rain camp must-haves has some gear advice.
The Mammoth Dweeb weather report is consistently detailed and accurate. It's at:
Prepare for winter driving has a link to bad weather driving tips, tips for using tire chains, tricks for dealing with frozen car locks, how to prepare your vehicle for winter driving, a winter survival kit for your car and what to do if you get stranded.