Wise people do not trust that they will be able to keep gear in a canoe or kayak dry, even on a sunny day when paddling carefully on fairly flat water.
Some gear you bring on an overnight would be useless if wet (especially anything with a down stuffing such as a down sleeping bag, as these take a long time to carefully and fully dry out).
We have had some success at keeping gear dry in large plastic bags (thicker bags with less risk of tearing, such as 2 mil trash compactor bags), but dry bags are the best choice.
We don't trust any dry bag that says it is waterproof and breathable. Goretex jackets can be, but for storing gear we want fully waterproof.
For most of our Grand Teton National Park kayaking sightseeing we kayak two people per craft, (but for an overnight went go as single paddlers, with our sleeping bags, clothes, etc. in dry bags and the seats adjusted as needed).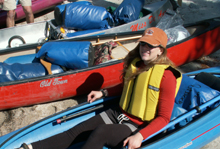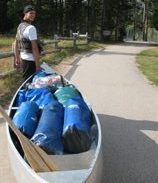 We paddle in the rain (but never during a thunderstorm), so our cameras need to be kept completely dry. We can get them out of a dry bag for a photo by holding them under a cover, but no, paddling with umbrellas isn't practical (except for a fun photo).

Some dry bags are more durable, others lighter weight and more flexible. Many bags advertise that they are "resistant to punctures and abrasion," but if you put in anything that could cause a tear, that surface of the item should be padded. Likewise anything that could be damaged if you drop the dry bag needs sufficient paddling.
If you use clear plastic dry bags you can put a map showing through, and not have the risk of the map getting soaked or blowing away: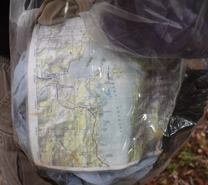 Most dry bags will float if they fall into the water IF they are not too full of heavy things – a dry bag filled with only a down sleeping bag will have lots of air in it, even after you stuff the sleeping bag into its stuff bag, but a dry bag with multiple cameras / lenses, might not be able to float.
BUT if dry bags fall out of a boat you have the risk of them floating quickly away from you, so we always clip them onto a part of the boat when we do not actually have our hands on them, sometimes adding extra straps across the tops of bags.
Dry bags can be clipped to kayak or canoe thwarts to secure them: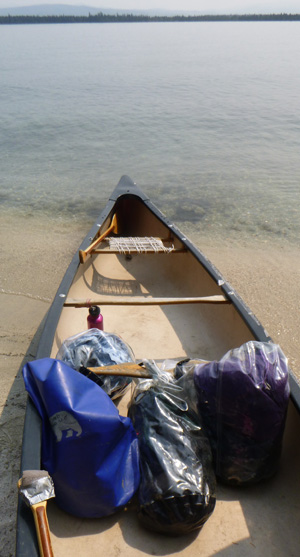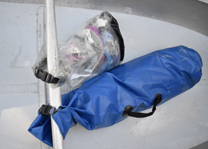 The long blue dry bag above was purchased specifically to fit a spotter scope we like to bring.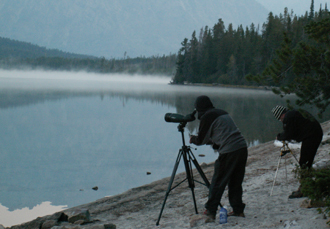 When you buy them, most are listed by size, for example a small 1 liter to a large 35 liter, as well as specialized small bags "dry envelopes" for cell phones or ham radios. You should notice if this "volume" is measured with the roll-top closure rolled the full 3 times or not rolled at all. (See details below about sealing – folding and rolling the top of most styles of dry bags.)
And you should notice if the length measurement is measured with roll-top closure open or rolled the full three times. If the measurement given is when open, you will not be able to store an item that length in it. (For example, when we bought an extra long dry bag for a long spotter scope.)
One brand of dry bag we found listed what people can fit in various sizes:
"a layer and a meal or so worth of food,"
"8 liter: a puffy jacket & a sleeping bag or food for 2-3 days"
but if you store food in your dry bags, the bag will absorb food odors, and the clothes, etc. in the bag with them will as well. You might not notice the odor, but a bear or other animal, with a much better sense of smell than you, will. You will never be able to put a drybag that you stored food and toiletries like your toothpaste in, in your tent overnight.
If you leave it sitting out, an animal can quickly chew into it.
(People have had their day packs very quickly chewed into by ground squirrels who want their snacks when they left them sitting for just a moment).
Ravens are adept at poking into bags.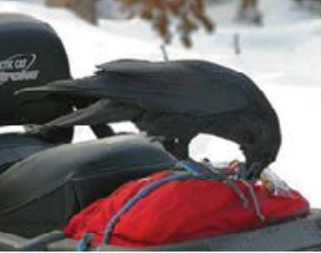 Instead of using the dry bags for food, we have had success with 2 mil trash compactor bags with cloth food bags or small soft lunch boxes inside them – and with bags for the more-trash-than-you-might-have-anticipated after an overnight.
To use a dry bag, start by filling it, leaving plenty of room to be able to fold / roll the top of the bag at least three times (or as the manufacturer suggests).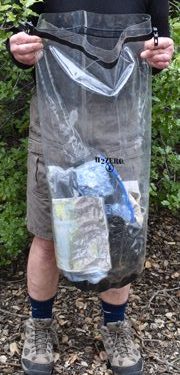 while holding the bag at the top, pull the opening flat, if possible getting extra air out so you can fit the dry bag more easily in your boat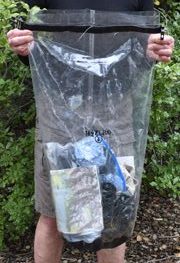 then fold the top edge (in this case clear plastic) over the band (in this case black plastic) that has the clips at the ends of it,

and then just keep folding (or more like rolling as it gets bulkier) again and again


until you have folded it at least three times, (or as the manufacturer specifies) then clip the buckle pieces at the ends together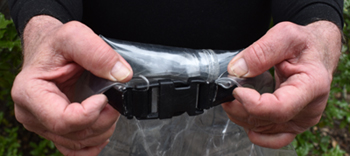 There are also specialized small dry bags, "dry envelopes," for cell phones or ham radios, that clip or snap shut (shown here with a cell phone for size comparison).