De Anza students don't have to be a club member to go on events, but club members usually pay from $5 to $10 less per event and sometimes get to sign up before other students.
Members who pay a higher membership fee get to rent club-owned equipment for club events. We own tents, lanterns and stoves in backpack and basecamp sizes, insulated sleeping pads, thermarests, gaiters, dining canopies, backpacks, Garcia canisters, folding chairs, ice chests, fanny packs, geez we've got a lot of stuff!
Outdoor Club membership is $15 for 365 days. Members who pay an additional $15 (for 365 days) rental fee along with their membership pay no rentals cost and can use club equipment with refundable full (retail) replacement value, cleaning and late fee deposits (if you return the gear clean, dry, in good condition and on time you get a refund). Members who do not pay the higher priced membership fee can rent from places often listed at Snow or Rain camp must-haves
Details about equipment and rentals can be found at: Outdoor Club Equipment and Outdoor Club Sample Rental Agreement
According to a 2015 price list for a local outdoor gear rental firm, one full size (6 ft)Thermarest insulating pad would cost you as much as $42 for a weekend, a 2 person tent $60, a two burner stove $45. But as an Outdoor Club member with the yearly rental fee paid, your rentals from our club for our events are free and and fully refundable (if you return the gear clean, in good condition and on time).
We only have one equipment rental time for each trip and only one return time to get a full refund.
Below: a spacious eight-person Cabela tent (we fit a lot more people in than show in the photo).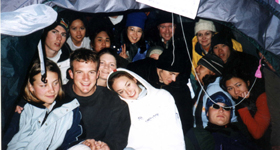 Members don't have to attend meetings unless they want to sign up for an event or volunteer to help on trips or run a trip.
For details about club events and on how to find us to pay for a membership, sign up for events or volunteer, go to:
Outdoor Club Coming Attractions
Only members can be officers. Read Outdoor Club Constitution for more info.
Any club member can propose and plan a club trip. For details about how click on: Club Trip Leader Job Description
How club money is spent is at: Outdoor Club Finances
More club info is at:
____________________________________________
The Outdoor Club is a completely volunteer organization, neither the officers nor the advisor are paid. As a result you will not get the same "service" from us as from a professional group. We do not have the time to return phone calls or emails from people asking questions that they could have found the answers to by simply looking through this website. We can't always find a way to sign up people who can't make it to our regular meetings, to a class when we are there, or to a table we have on campus. People who wait until the last minute to sign up are sometimes left out.