De Anza College graduates volunteered again in 2017 at the Escape from Alcatraz Sharkfest swim, and a swim student made her first try at the race.
First, a group photo on the beach at Aquatic Park, before we paddled to Alcatraz:
front row, left to right, Jovill Gruspe, Christina Nguyen, (behind her) Mary Donahue, Jessica Perine
back row, left to right, Alan Ahlstrand, Chris Throm, Nicholas Pusateri, Kelly Gomez and Iqra Shaikh
And another group photo, with slightly different people (two were too late for the first group photo, but did participate as race volunteers, one swimmer also did not make it to the first group photo) after a pot-luck lunch: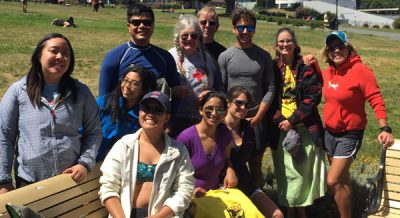 on bench, left to right: Christina Nguyen, Iqra Shaikh and Kelly Gomez
back row, left to right: Christine Luc, Kim Filipinas, Jovill Gruspe, Mary Donahue, Alan Ahlstrand, Nicholas Pusateri, Jessica Perine and swimmer Christine Leonard
I encourage all my swim students to believe they can do this swim, where people ride ferries to Alcatraz, jump off and swim to San Francisco, a little less than a 2 mile swim (or 1 1/2 miles if you swim accurately). One of my swim students swam the race and I got an email from her a few days before the race:
"Hi Mary,
I just wanted to let you know I've been actively swimming and training for Sunday's Sharkfest. I ended up joining the South End Rowing Club and have been swimming in Aquatic Park since April – no wetsuit! I really love open water swimming because there are no walls, but I also love pool swimming to work on drills and I can see. . .
I just wanted to thank you for showing that Sharkfest video in class last fall. I needed a new challenge and this is it. Hopefully I'll see you and the De Anza crew out there on Sunday! I may just write, Hi Mary! on my arm in black marker . . ."
Christine Leonard"
A photo of myself and Christine well before the race started: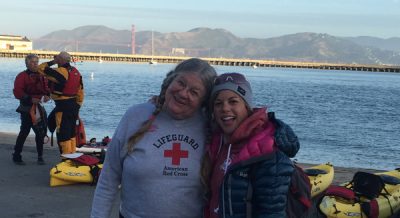 Christine's time in this, her first Alcatraz swim, was 01:05:08.7.
Many swimmers took 39-42 minutes. The fastest swimmer in the non-wetsuit category (yes, in 58-62° F temperature water, wearing no wetsuit, like Christine) was a 19 year old male at: 30:24.7.and a 15 year old female at 32.11. In the wearing a wetsuit category an 18 year old male had a time of 29:15.2 and a 37 year old female at 31.03.
Some of the people in their sixties beat people in their teens. A few in their seventies beat people in their twenties.
It is named the Sharkfest, but we have never seen any sharks. Occasionally we see a few seals swimming and diving at the outside edge of the swimmers.
During the swim, the shipping channel between Alcatraz and S.F. is closed to shipping.
In the next photo, the two ferries have arrived at Alcatraz and 850+ athletes are jumping off and making their way to the start line formed by kayaking volunteers: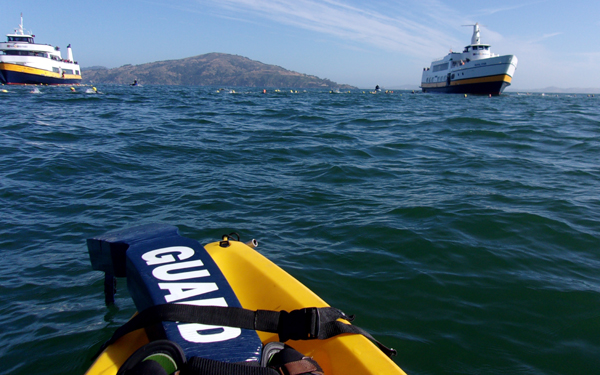 The athletes fill all the levels of both ferries, and in this photo, can you spot the two San Francisco Police Department (SFPD) officers on their watercraft at the side of one of the ferries: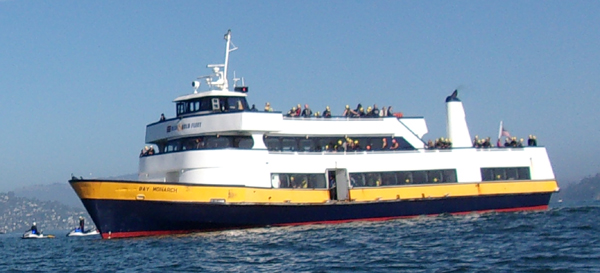 The start line is formed by kayakers and is not quite straight.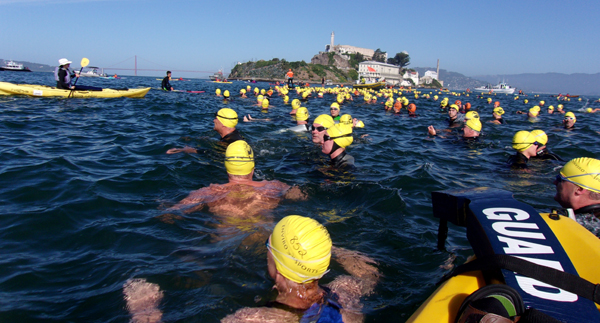 In this next photo you can see the boat with big red buoys the swimmers will follow to near the entrance to Aquatic park where their finish is.

Those of us with radios can hear the countdown and start yelling out ten, nine, eight, seven . . . and cheers come up from the athletes, then the race is on: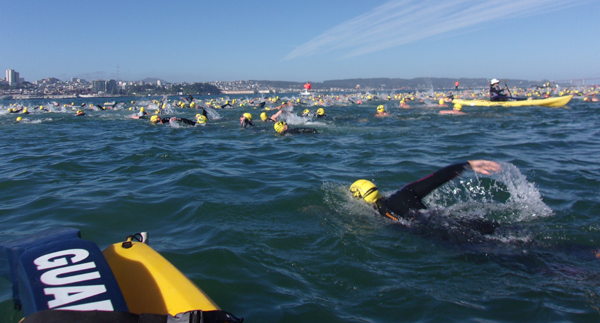 Moments after the start, can you spot the lead boat with giant red buoys for the swimmers to follow?

The next photo is courtesy of Envirosports. You can see the row of kayakers on each side of the swimmers, trying to keep them on course (and help those in trouble and turn around those who get disoriented and start swimming to Oakland or back to Alcatraz):

If a swimmer indicates they need help, a kayaker goes to them, or sometime a lifeguard notices a distressed swimmer and approaches them and talks to them. They are given encouragement, but if they need medical or other help (this year including hypothermia, an allergic reaction, severe cramps and one young man who was just a bit too overwhelmed) they sometimes get a swift ride to the finish (where an ambulance and large paramedic team is waiting) on the back of a water craft with a San Francisco Police Department rescue swimmer/officer (she is lying down on the sled at the back and you can see her yellow swim cap).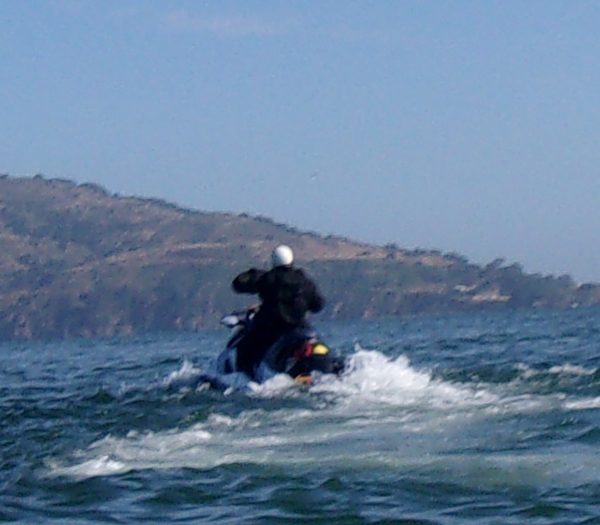 At the finish in Aquatic Park, the last few swimmers, after an hour in San Francisco bay, are accompanied by about ten kayakers per swimmer. The swimmers run up on the beach to a pad on the ground that records their time from a timing chip velcroed around their ankle during the swim.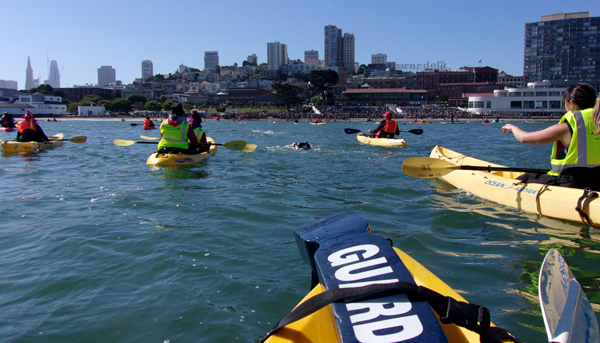 The race is set to start when the current is bringing people to San Francisco. Near the end of the swim time (usual cutoff of 75 minutes) the current changes and the athletes can't swim fast enough to get to the finish, so some are given a lift on a Zodiac or boat to the entrance to Aquatic Park where they can complete the swim. In this 2017 race, everyone finished in time before the current changed!
People from all over the U.S. and many other countries swim this race. In 2017 the list of cities people came from included almost every city/town in California as well as London, Perth, Sydney, North Vancouver, Calgary, Winnipeg, Venice, Holland, Quebec City, Batavia, Val-d Or, St Louis, Fort Worth, Boston, Tacoma, Tempe, Fort Collins, Phoenix, Woodstock, Denver, Mesa, New York, Salt Lake City, Huston, Scottsdale, Albuquerque, Bend, Las Vegas, Nashville, Raleigh, New Orleans, Kalamazoo, Seattle, Lake Waukomis, Naperville, Boulder, Philadelphia, Baltimore, Annapolis, Cedar City and Colorado Springs.
The race provides kayaks and gear for volunteers (if you sign up in advance), or you can bring your own. If you want to volunteer at a future race, or if you are considering swimming it, please see more pictures and info from the race coordinators for volunteers and swimmers at Escape from Alcatraz 'Sharkfest' swim volunteering
If you are a non-swimmer, consider taking novice swimming at De Anza College.
Kayaking experience is needed to volunteer at the race, such as the De Anza Outdoor Club October or spring break/spring quarter Monterey trip. For the date and price of the next De Anza College Outdoor Club kayak day trip go to: Outdoor Club Coming Attractions and read details at: Monterey ocean kayak day trip.
You do not need to be a lifeguard to help at the race, but if you are interested in becoming one, take a look at:
Lifeguard Training FAQs
You do not need first aid training to volunteer, but many of the volunteers are trained and you can get a Red Cross first aid certification class at De Anza College, with a free download of the textbook: HLTH 57A.
Golden Gate Sharkfest July 22, 2018 has pictures of kayaking under the of the Golden Gate Bridge in San Francisco Bay, another race Alan Ahlstrand, Tuchih Tsai, Joan Chiou, Ka Yun Cheng, Kelly Gomez, Krishnakanth Batta and Mary Donahue volunteered at.
And see: Alcatraz group photos