City emergency services personnel are best trained and equipped to handle emergencies. But following a catastrophic disaster, our neighborhoods may be on our own for hours or days due to the size of area affected by the earthquake or other disaster. That's what CERT training prepares people for.
"The primary reason for CERT training is to give people the decision-making, organizational, and practical skills to offer immediate assistance to family members, neighbors, and associates while waiting for help. While people will respond to others in need without the training, the goal of the CERT program is to help people do so effectively and efficiently without placing themselves in unnecessary danger."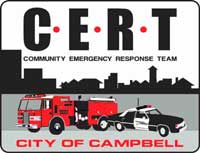 In the fall of 2002 my husband and I took Community Emergency Response Team (CERT) training through the city of Campbell.
The training included disaster preparedness, fire suppression, medical operations, light search and rescue, and team psychology and organization. The final 'exam' on a Saturday morning at a neighborhood fire station included using a fire extinguisher to put out a small gasoline fire the fire station personnel started, a search of a room after a simulated quake with the removal of a victim from under a heavy object (without wrecking your back), practice of carrying victims (without wrecking your back), triage (first aid sorting) of a simulated busload of victims and much more.
Below: the simulated victims at a bus crash await traige at a Cupertino CERT exercise (final exam).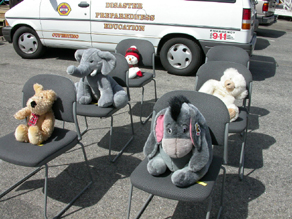 This is low cost training.
Out of 30,000 plus people in our city, only a few dozen of us are CERT trained. I highly recommend it and hope more of our neighbors can find the time to take the training. My husband and I are Red Cross first aid/CPR instructors and I am an earthquake instructor, but we still learned new things from the class. This is not a difficult class, with a lot of testing or stress.
Below: Cupertino CERT students practice cribbing. With these techniques a small team can carefully lift a bookcase or other heavy object up off a victim. (But wouldn't it be easier to have your bookcase bolted to your walls?)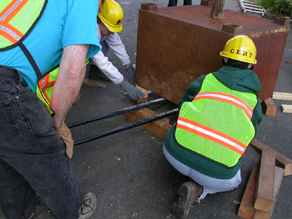 In 2003 my husband and I became instructors for CERT.
___________________________________
Photos below from a summer exercise at De Anza College, with Campbell, Cupertino, Saratoga and Los Gatos/Monte Sereno CERT teams, are by Arleigh Movitz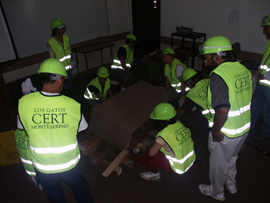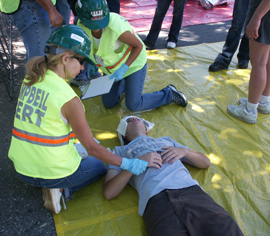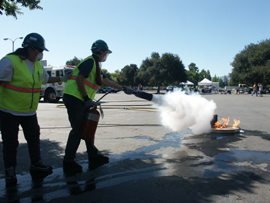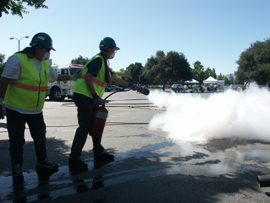 The Santa Clara County Fire Department sponsors CERT training primarily intended for individuals who live in the communities of Campbell, Cupertino, Saratoga, Los Gatos and Monte Sereno.
It consists of a total of 21 hours of training (8 modules) in:
Emergency Preparedness
CERT organization
Disaster Psychology
Fire Safety
Light Search and Rescue
Emergency Medical Operations
Terrorism
Disaster Simulation Exercise/Graduation
Cost and details of West Valley region (Campbell, Cupertino, Los Gatos, Monte Sereno and Saratoga) classes are at:
http://www.sccfd.org/community-education/emergency-preparedness/community-emergency-response-team-cert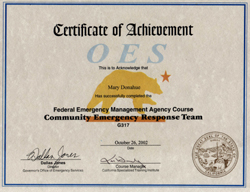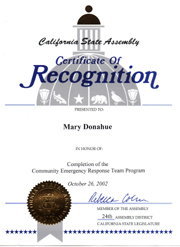 Having passed the course, our "job" is to try to organize our neighborhood to be better prepared for the next quake, for example. So I'm using space at my website to pass on information we learned in the course and to provide links to other sources.
Note to our neighbors who may be reading this: no matter how many of us get trained and organize, each family will have to be prepared to get by on their own. The CERT team members might not be in town or at home when the next disaster strikes, or may have their own problems to solve first. If your house slides off its foundation and you are trapped and injured or if a big fire starts, we aren't trained to help you and the help you would need might not be able to get to you in time. Preparation/prevention is the key. So, read on for ideas.
earthquake home hazards survey
A family (and babysitters, caregivers, overnight guests) disaster plan is at: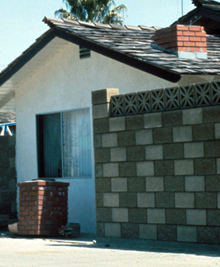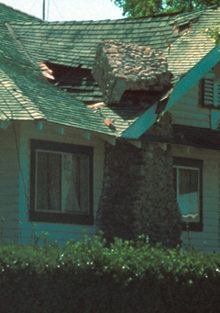 Earthquake info sources
Earthquake information sources is a page of links to most often needed how-to-do-it information from PG&E, City of San Leandro, Association of Bay Area Governments, Los Angeles Fire Department,
USGS, Red Cross, and the Federal Insurance and Mitigation Administration.
CERT disaster medicine students: START Triage quiz is for review.
The American Red Cross and the CDC created a website on terrorist incidents:
"The possibility of terrorist incidents in the United States concerns many people. To help, the American Red Cross and the Centers for Disease Control and Prevention (CDC) have teamed up to answer common questions and provide guidance on steps you can take now to protect you and your loved ones."
http://www.redcross.org/preparedness/cdc_english/CDC.asp

______________________________________________
If this hasn't motivated you or you don't have the time for all this or you need some more reasons to motivate a household member to get ready, read:
Why bother getting ready for an earthquake?

(If our houses won't slip off the foundation during a quake), we are all at greater risk from a fire in our homes than from an earthquake.
You need an A B C type fire extinguisher in the garage and/or workshop, kitchen, on the second floor and in your vehicles(s).
Class A – Ordinary combustible fires
Class B – Flammable liquid, gas or grease fires
Class C – Energized-electrical equipment
One of the first things we did after taking the CERT class was to switch from the cheap $5-ish model of smoke alarm we had in the hall to the better $25-ish model and put them in more rooms. The better models, with I (ionization) and P (photoelectric) on the box, will detect smoke faster than the cheap models.
Replace smoke alarms every ten years as they become less sensitive over time. This is a joint
recommendation of the National Fire protection Association and the U.S. Consumer Products
Safety Commission.
We also bought more ABC type fire extinguishers (we already had one in the kitchen, garage and each car, but a couple of them were probably too old).
If you ever need to put out a small fire with one, call the fire department anyway. They won't consider it a waste of time. They would much prefer to come out and check up on things and find you did a great job than to come out later when it turns out you didn't.
You need to put out the fire in your fireplace or woodstove completely before you go to bed or leave the house, even if you are in the good habit of closing the firescreen, in case a quake should knock things around.
We have liter bottles of water in the woodbox in case a quake shuts off the water supply, so we can put out the fire quickly.
http://www.fireextinguisher.com/ has rules for fighting fires, types of fire extinguishers, how to use them and more
Use the following checklist as a safety guide to spot possible fire safety problems which may be present in your home. It is a first step in reducing the risk of fire. Check YES or NO to answer each question. If you check NO to any question, the potential hazard should be corrected to avoid the risk of injury or death.
______________________________________________________
YOUR CELL PHONE and 911
When you call 911 from a land line telephone, such as in your house, you get dispatch for the city the phone (your house) is located in. When you call 911 from a cell phone you get the Highway Patrol at a central location. Sometimes, especially if you are not calling about something on the freeway/highway, it would be faster to get dispatch for the specific city the problem is happening in. This requires knowing the direct dial seven digit phone number for each dispatch.
Direct dial emergency phone numbers for most cities in Santa Clara County, California, can be found at the Santa Clara County ARES/RACES (Amateur Radio Emergency Services/Radio Amateur Civil Emergency Services) website.
http://www.scc-ares-races.org/dd-emer-nos.html
or in the government section of the phone book.
San Mateo County cities (and the San Francisco airport) direct dial phone numbers can be found at:
http://www.blackberryreact.org/smco911phones.html
When you are planning a camping trip, try to get the direct dial number for the park/Sheriff or agency in charge before you go.
______________________________________________________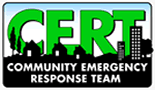 Check out the website for the CERT classes in Cupertino:
https://www.cupertino.org/residents/community-services-programs/emergency-preparedness/safety-training-and-volunteer-programs/cert
Cupertino CERT

_________________________________

More suggestions in anticipation of the next emergency:
Give Blood. Only about 5% of eligible donors give blood. It's estimated we need an average of 34,000 units of blood per day in the U.S.
It only takes about an hour, and the Red Cross on North First Street, which is certainly on some kind of a work or shopping commute you take, has a huge supply of OJ, lemonade, chocolate chip cookies (and new & old magazines if you forget to bring a project or want to catch up on your trashy reading).
If you've never done it, it doesn't have to be intimidating or scary! For info on what happens, go to:
If every blood donor gave only one more time yearly, we would not have blood supply problems.
I also occasionally teach Earthquake Preparedness.