Mom wanted to eat, but her calf wanted to play. We lost track of how long we watched these two.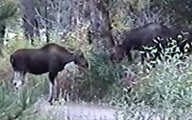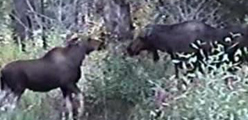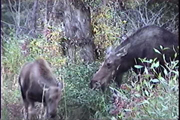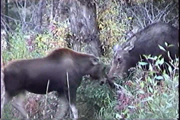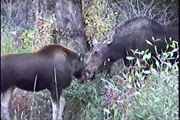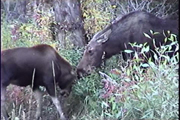 A newborn moose calve can stand up the first day and within a couple of weeks can swim. It will be weaned in about six months and mom will drive it off just before her next calf is born. Calves are very well defended by mothers. Moose's heavy hooves can dent a car or drive off a grizzly.
There are more moose pictures at:
Moose cow and calf, Grand Teton National Park September, 2006
Grand Tetons recommended reading has links to on-line bird and mammal field guides, as well as books to buy or check out from the library before the trip
Grand Tetons is the main page about the De Anza Outdoor Club trips to Grand Tetons National Park.
see also Grand Tetons trip pages index
Grand Teton and Yellowstone National Park photos