Links to other on campus activities in arts, music, recreation and more are below.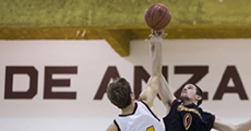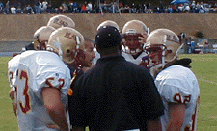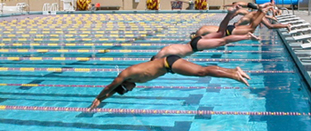 Most of the year, at least twice a week, there is a home athletic event at De Anza College in Cupertino, California. Directions to the campus and a map of the campus can be found at:
http://www.deanza.fhda.edu/map
Many De Anza Dons home games can be attended for free. The pool area, gym and stadium have plenty of bleacher seating, some of the other venues have little seating and you would want to bring a pop-up chair.

For the most up to date team schedules, go to: http://www.deanza.edu/athletics/, click on the sport you are interested in on the left hand column, then look again at the left hand column for schedule.
De Anza College will host the CCCAA State Swim And Dive Championships on Thursday May 2 – Saturday, May 4, 2019.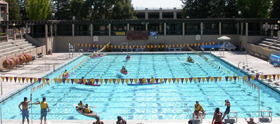 The De Anza College Outdoor Club offers kayak/canoe lessons for beginners in the De Anza pool once each quarter. See: kayaking / canoeing lessons and Outdoor Club Coming Attractions
Take an interactive virtual tour of De Anza College, including the athletic fields, Olympic-sized pool, Outdoor Events Arena, at: http://www.deanza.fhda.edu/vtour/
Some people find the virtual tour more useful than a campus map for finding their way around the first week of classes.
"Learn about De Anza's academic programs, student services, college life and learning facilities with a trip through our interactive map.
Read descriptions about our world-class buildings.
See Key to Campus Life for places to eat, meet and study in each area.
Find links to more information about programs and services.
Peruse photo galleries to see why De Anza College is Simply the Best place to achieve your goals!"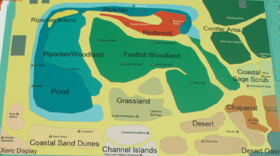 The one and a half acre Cheeseman Environmental Study Area (ESA)
is a lush natural garden with a pond, stream and 400 species of plants representing 12 natural communities. This arboretum is at the corner of Stelling and McClellan. It is open weekdays and free tours for community groups can be arranged. http://www.deanza.fhda.edu/es/esa/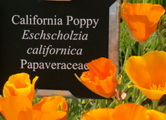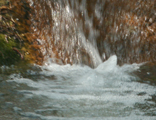 ______________________________________
The Kirsch Center for Environmental Studies has occasional tours and a lecture series: http://www.deanza.edu/kirschcenter/
______________________________________
The Euphrat Museum of Art exhibitions are listed at:
http://www.deanza.edu/euphrat/
Student dance performances are listed at:
http://www.deanza.edu/dance/performances.html
Music recitals and events are at:
http://group.deanza.edu/music/events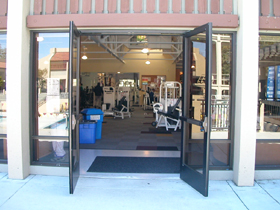 The Lifetime Fitness and Wellness Center has weekday, evening and weekend hours. Some people enroll at De Anza just to be able to use this state-of-the art center, others add the class along with those they are taking towards a degree or certification.

For info about De Anza teams go to:
http://www.deanza.edu/athletics/
Family Astronomy Evenings and Laser Light Shows
Saturday Nights at the Planetarium – with a 50 foot dome
http://www.deanza.fhda.edu/planetarium/
A calendar for the Flint Center for the Performing Arts is at:
guided campus tours http://www.deanza.fhda.edu/about/campustour.html
Take an on-line virtual tour of De Anza College at:
http://www.deanza.edu/vtour/
A Flea Market is held the first Saturday of the month, weather permitting, which earns $300,000 annually for a variety of student programs, services and events. It has 825 vendor stalls which usually sell out very quickly. In good weather it typically draws approximately 15,000 to 20,000 shoppers.
http://www.deanza.edu/fleamarket/
De Anza College usually has blood drives fall, winter and spring quarters. For info go to: http://www.deanza.edu/healthservices/blooddrive.html
Answers to questions about donating are at:
Blood donation FAQs
On-campus massage clinics offer hands-on massages by De Anza students http://www.deanza.fhda.edu/pe/massage/clinic.html
______________________________________