When you have only two eight-person tents, and one person requires luxury,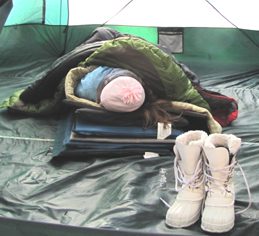 then the rest of the campers need to fit in the other tent …. and be much warmer: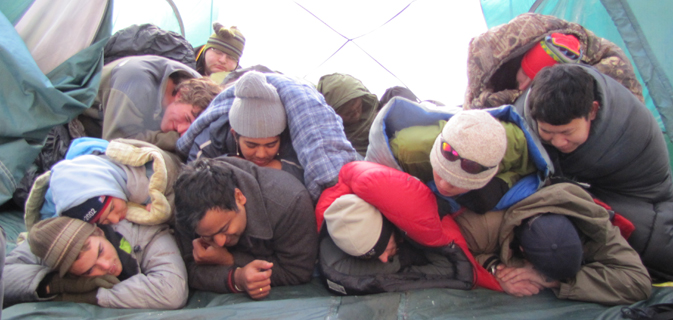 Okay, not really, we had lots of tents:
Student ages were: 18, 19, 19, 19, 20, 20, 20, 20, 21, 25, 25, 25, 26, 27, 28, 29 and one, shall we say, over 30, for this 20th annual winter camping trip.
A couple of people missed the Sunday morning group photo: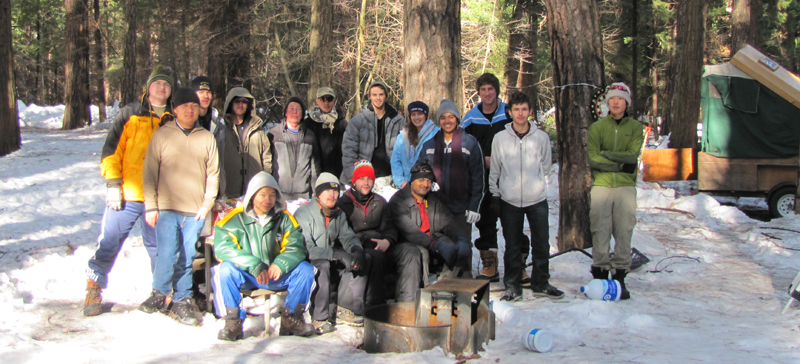 Two trip members had never been camping before, another had never seen the snow before. Almost all had never been camping in the snow. First-timer's instructions and Snow or rain camp must-haves helped them out.
One camper made a bed of branches downed by a previous storm for under his tent (Marine Corps training in action):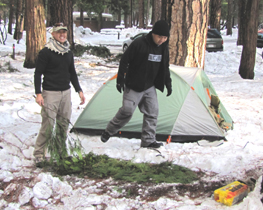 Another preferred his snow table to a picnic table: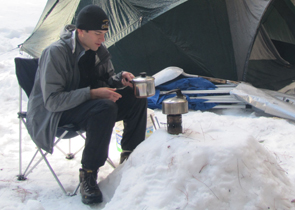 Saturday activities included hikes, snowboarding, ice skating, a ranger-naturalist led snowshoe hike, photography and more. Snow Camp has links to Yosemite winter activities.
Saturday evening was spent skating at the ice rink, singing around the campfire or trying to finish an igloo, or going between igloo building and singing. A raccoon and a ring tailed cat visited the campsites a couple of nights and we heard coyotes singing one night.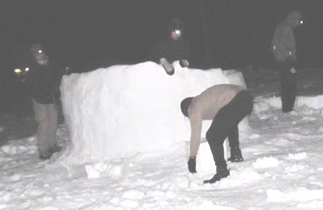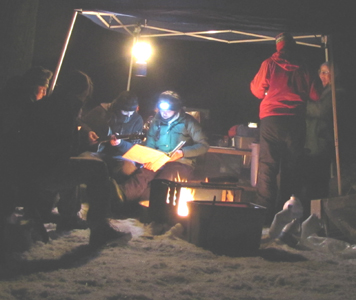 It seemed like a good idea to anchor tent guylines to branches buried in the snow until two mornings later after steady rain Friday night and a Saturday night low of 21 degrees. Sunday morning they were frozen solidly in place and initially trying to dig them out was quite frustrating. (Untying the lines did work.)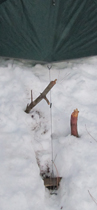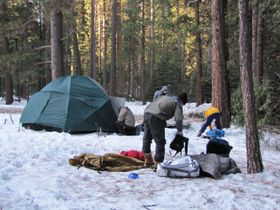 It also seemed like a good idea to pitch a tent in the unfinished igloo and sleep there, but it turns out to be exceptionally cold: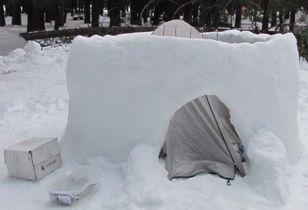 _______________________________________
Posing the group photo in the tent: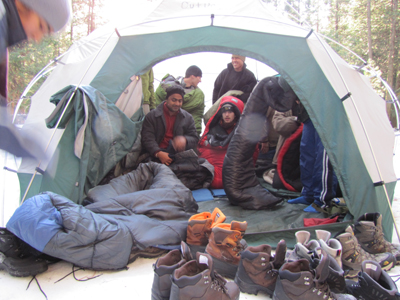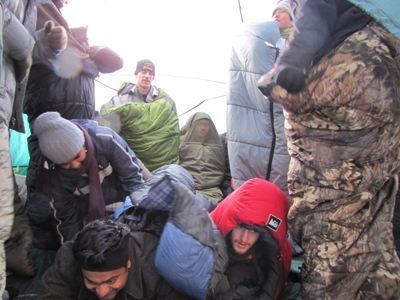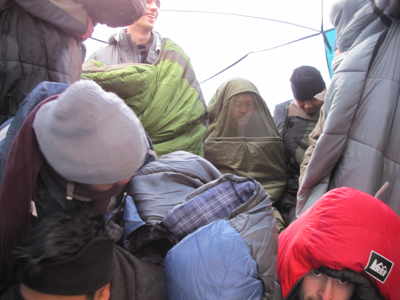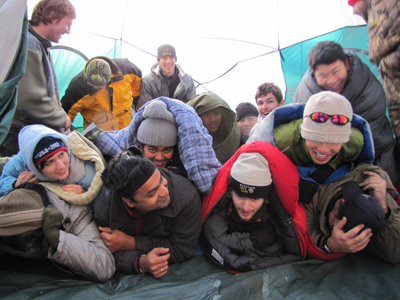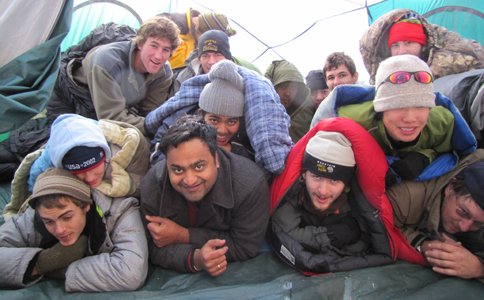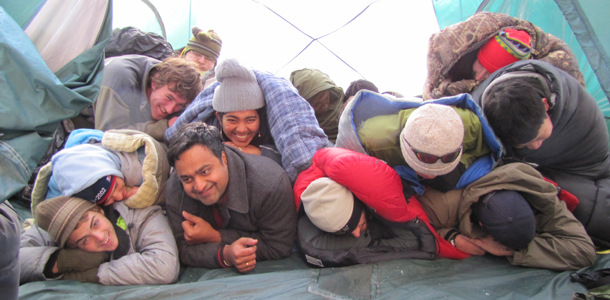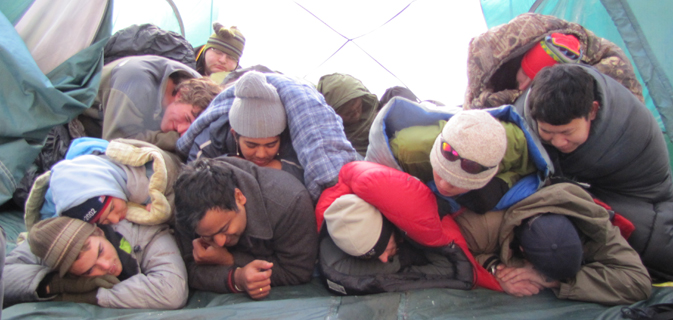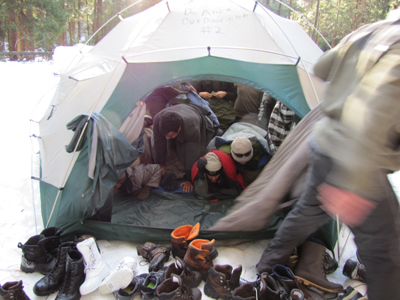 sung at the campfire:
Pack Up Your Sorrows (by Richard Fariña and Pauline Marden )
No use crying, talking to a stranger,
Naming the sorrows you've seen.
Too many sad times, too many bad times,
And nobody knows what you mean.
Chorus:
But if somehow you could pack up your sorrows,
And give them all to me,
You would lose them, I know how to use them,
Give them all to me.
No use rambling, walking in the shadows,
Trailing a wandering star.
No one beside you, no one to hide you,
Nobody knows where you are.
Chorus.
No use gambling, running in the darkness,
Looking for a spirit that's free.
Too many wrong times, too many long times,
Nobody knows what you see.
Chorus.
No use roaming, lying by the roadside,
Seeking a satisfied mind.
Too many highways, too many byways,
And nobody's walking behind.
Chorus.
You would lose them, I know how to use them,
Give them all to me.
Snow Camp will have details about the next winter Yosemite trip.
Outdoor Club Coming Attractions has all the events currently planned.