When the De Anza Outdoor Club went to Grand Teton National park in September of 2005, initially we had over a dozen people really wanting to come with us. But they didn't all make plans to get off work soon enough, so six of us went.
Mother Nature gave us a light dusting of snow on the peaks for our arrival:

We had sunset dinners on Lunch Tree Hill:


We got up at 5 a.m. to go paddling at sunrise.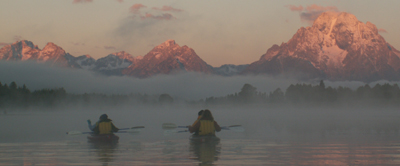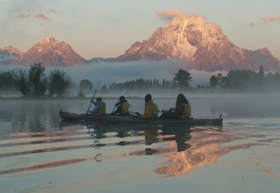 We quietly paddled all around the various islands of Oxbow Bend, hoping to see some moose, but only seeing various ducks. We talked to people on shore who were using binoculars, but they had not seen anything. As we were going to head upriver to look around some more, Alan spotted a juvenile moose in the morning mist and we all stopped paddling.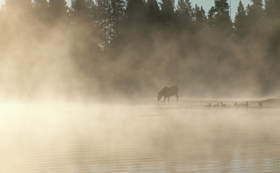 As we first started watching him we heard an elk bugle and shortly after, a coyote howl in the distance.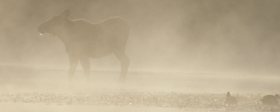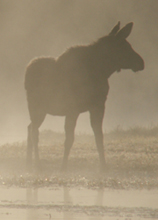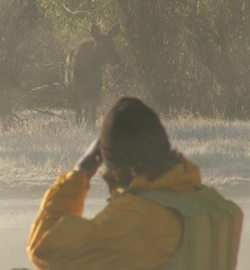 At one point he seemed to be curious about us and he wandered closer and we backed up. Initially we wondered where his mother was, then we later spotted her.
We watched the two of them go back into the bushes and eat, then they laid down to take a nap.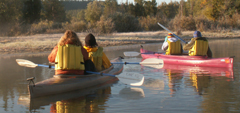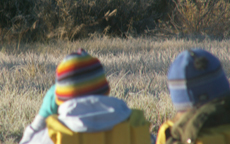 You can just see the two moose lying down onshore beyond the girls in one of the photographs above. If you come with us on one of our future Tetons adventures, you will really want your own binoculars and/or telephoto lens.
People from a tourbus stopped to take a look and watched us from the far shore through their binoculars, doubtlessly trying to see what we were seeing.
__________________________________
At a stop to get takeout food at the Jackson Lake Lodge, we saw people in a group. This usually means either a tour bus group, or… moose in the parking lot.

The children in this picture were allowed by their mom to get much too close. The juvenile moose became separated from mom and then got nervous and ran back.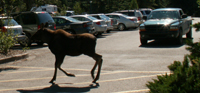 One day we hiked up Cascade Canyon. Along the trail there are places we have seen moose in previous years, but the streamside bushes are so thick we need to have someone climb rocks on the opposite side of the trail to get a better viewpoint to look for moose:

Some of the group made it all the way to 9,035 foot elevation Lake Solitude and were snowed on there: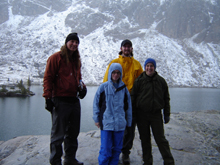 There is a description of the trail and pictures at: Cascade Canyon, Grand Teton National Park
On another day, we got a wilderness permit, packed the camping gear into the craft and went for a kayaking/canoeing overnight on String and Leigh lakes.
Usually we kayak two people per craft, but for the overnight we went mostly as single paddlers, with our sleeping bags, clothes, etc. in dry bags and the seats adjusted as needed.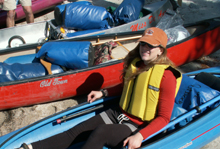 Below: landing at the end of String Lake, the portage with a trailer Alan made, a controlled slide of a loaded canoe down the portage stairs to Leigh Lake, underway on Leigh Lake with portage stairs showing in background and the craft beached at the campsite: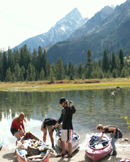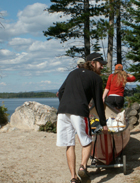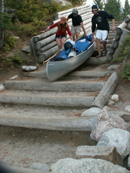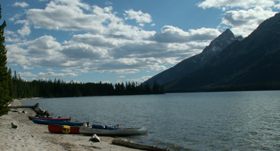 Our idyllic campsite had been visited by horseback riders who ignored the rules that horses must stay on the trail. One had left a deposit in the campfire area, so the club president was volunteered to do the cleanup.

below: a campfire at dusk: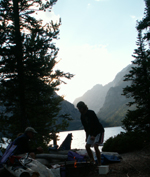 In the middle of the night after the full moon set, we could see the Milky Way and the water on the lake was so still we could see stars twinkling in the water.
below, morning on the lake and the lake shore edge: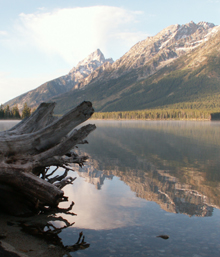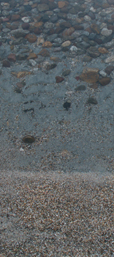 It was 38 degrees overnight and we found frost on the lifejackets in the morning: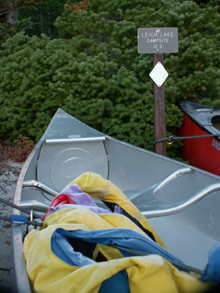 This picture doesn't do justice to the wind and choppy water we had on the paddle back: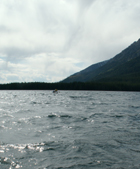 We all had real rain gear instead of floppy ponchos, great non-cotton longjohns and we ate regularly to keep the calories coming.
__________________________
In an effort to let this page load more quickly, bigger copies of some of the pictures on this page and photos of individual padders are at:
Tetons paddlers 2005
The main De Anza College Outdoor Club Grand Tetons trip information page is at Grand Tetons