Photo below from the shore of Jenny Lake looking across at Cascade Canyon © E J Peiker http://www.ejphoto.com/grand_teton_page.htm

This is the view of Cascade Canyon from a turnout on the one way road along Jenny Lake, labeled
Jenny Lake Overlook on the map below.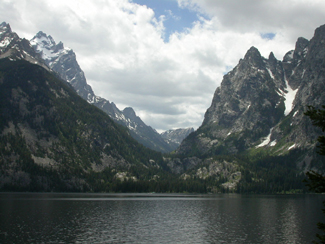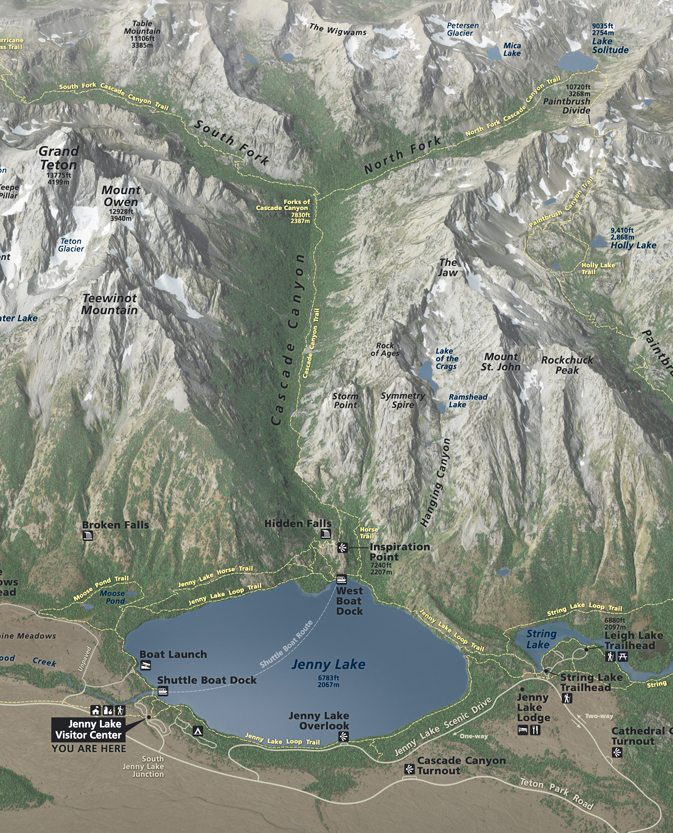 The hike up into Cascade Canyon is probably the most popular in Grand Teton National Park, sometimes crowded, but not if you get up earlier and walk a little farther than most of the hikers.
(Often 500 people per hour have used the trail to Hidden Falls. In a 2011 one day visitor count 1,626 people (650 per hour) reached Hidden Falls, 1,377 of them continued on, and of those, 1,060 reached Inspiration Point. Previous studies show that of those who visit Hidden Falls and Inspiration Point, only 31% continue up the Cascade Canyon trail past Inspiration Point.
below, a photo of a display at the Jenny Lake visitor center, Cascade Canyon is the one almost snow free near the center: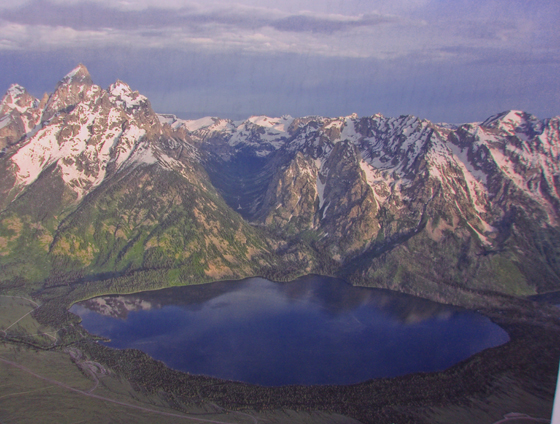 We've seen deer, a fox, a weasel, a pine marten,
moose, (and moose also like to use the trail to get places, but most of the time stay away from humans),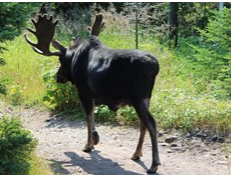 a black bear,
(and bears also like to use trails, but if you see a juvenile bear on a trail like this, mom is likely very nearby and very protective)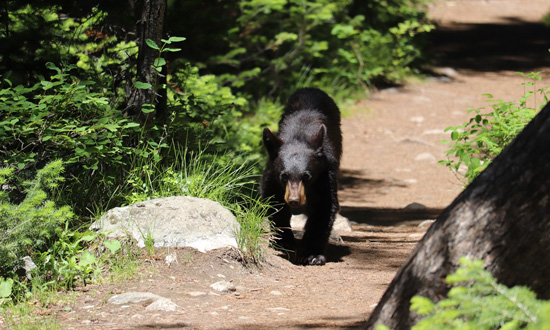 marmots, pikas,
this photo of a Marmot and a Pika sitting side by side on the trail up into Cascade Canyon is also at Rocky Mountain mammal size comparisons.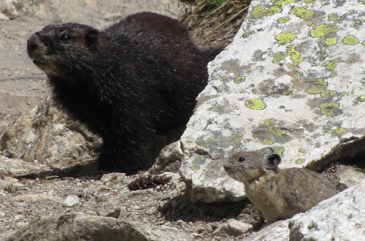 river otters,

golden-mantled ground squirrels, tree squirrels, Steller's Jays, Gray Jays, Tanagers, Sparrows, Water Ouzels, butterflies and more.
The park says you might also see: "secretive harlequin ducks, ruby-crowned kinglets, yellow-rumped warblers, golden eagles, golden-crowned kinglets, dark-eyed juncos and occasional Townsend's warblers."
There can be climbing closures from May to August at Baxter's Pinnacle and Descent Gully near the mouth of Cascade Canyon to protect an active Peregrine Falcon nest.
"Baxter's Pinnacle Closure
The following area is temporarily closed to public entry: The Baxter's Pinnacle climbing route, approach trail, and surrounding cliffs. This closes the Baxter's Pinnacle climbing route to human traffic as well as the social trail that branches from the horse trail and serves as the approach to the climb. The National Park Service has determined that the closure is necessary for the protection of nesting peregrine falcons and their young. The peregrine falcon is a state Species of Greatest Conservation Need and is protected under the Migratory Bird Treaty Act."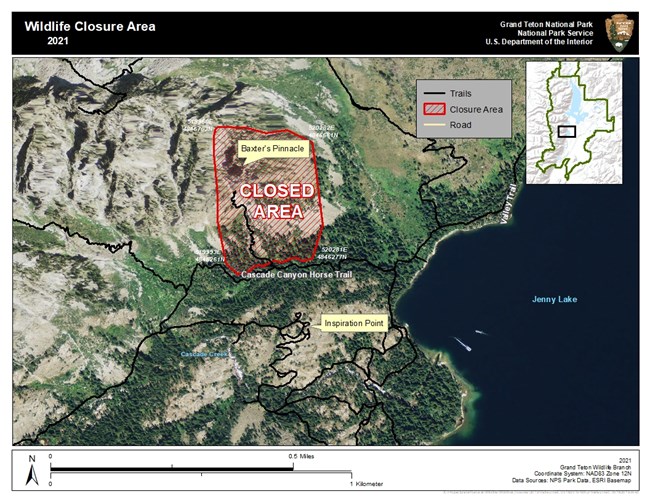 As you go up in elevation you'll find different spring/summer flowerings. Moose, Wyoming is at 6,454 feet elevation. Just as the snow melts earlier at a lower elevation, the same flowers that bloom in Moose will be blooming about a day later for every 100 feet in elevation you climb.
A long spring or early summer hike up Cascade Canyon will not only give you great views back down to the flatlands, closer-up views of the snow-topped range and all those cascades tumbling down the cliff walls, but also days earlier peak wildflower bloom than on the flats.
This map includes the trail around the Moose Ponds and various routes to Hidden Falls, Inspiration Point and into Cascade Canyon: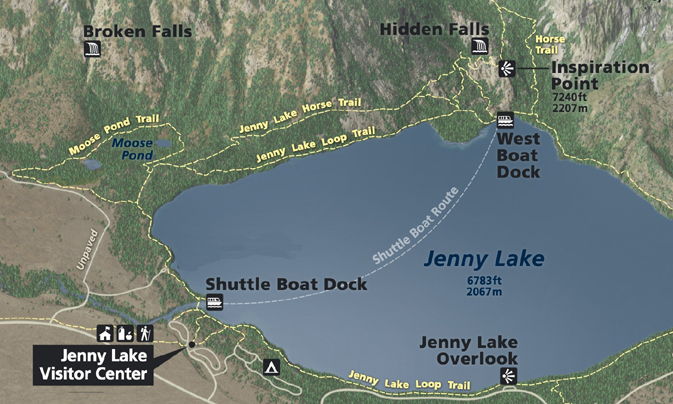 You can catch the (fee) shuttle boat across Jenny Lake (late spring to early fall)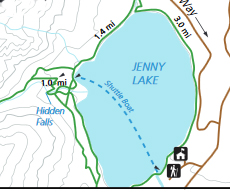 and save 2 miles of hiking, but you have to wait for the first boat run. (Check when the last shuttle boat return run will be and plan your hike accordingly or plan to walk farther. Last boat leaves the dock at the posted closing time.) Reservations not required.
The line can stretch a ways down the dock, but shortens quickly as each boat loads and takes off.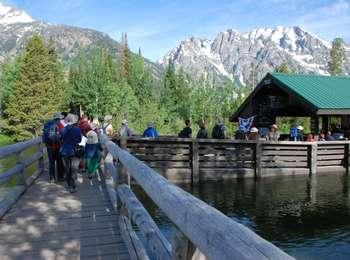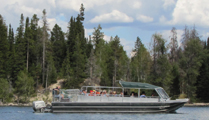 and here, people lined up on the steps down to the dock at the far (West Boat Dock) end of the shuttle boat route across Jenny Lake, waiting for the boat to properly dock and unload passengers so they can get on.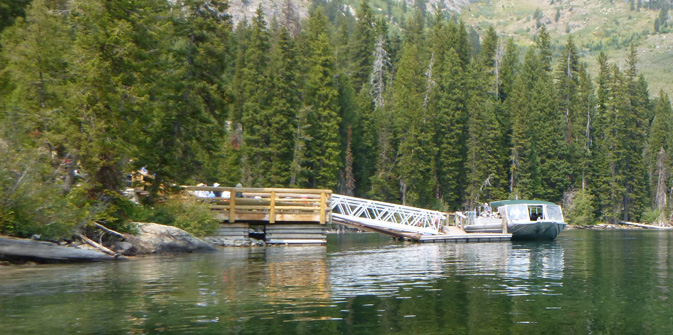 and an NPS photo of people waiting on a busy afternoon for the ride: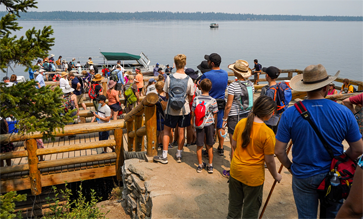 and farther up to the end of the line, up on the trail down to the west boat dock, people standing in line next to a sign telling them there will be a 30 minute wait from that point (this is a park service photo, we have never seen the line this long):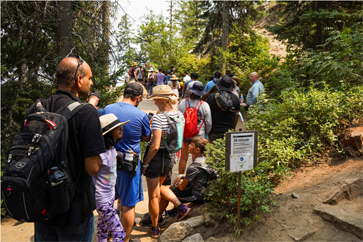 Sample schedule from the website in 2023,
"2023 Season
Water, Weather, and Trail Conditions permitting, our schedule will be as follows:
Operating Hours*
May 15 – June 2: 10 am-4 pm
June 3 – Sept 4: 7 am-7 pm
Sept 5 – Sept 30: 10 am-4 pm
From the website in 2023: "Reservations are not taken as the boats run continuously throughout the day. Come to the East Boat Dock, purchase the fare, and board the boat. . .
Shuttles run every 10-15 minutes throughout the day. The last boat will leave the dock at the posted closing time."
Cost (from the website 2023)
$ 20.00 – Adult Round-trip (12 yrs to 61 yrs)
$ 12.00 – Adult One-Way
$ 12.00 – Child Round-trip (2 yrs to 11 yrs)
$ 10.00 – Child One-Way
$ 17.00 – Senior Round-trip (62 yrs and over)
No Senior One-Way rate
FREE Under 2 years of age and over 80 yrs.
At heavy usage times there will be a line to wait in.
Jenny Lake boating lightning policy 2007
Google maps view of the dock at the far side of Jenny Lake.
You have your choice of distances to hike in Cascade Canyon.
For each of these, note that you subtract 3.8 miles round trip if you take the (pay for) shuttle boat across Jenny Lake instead of using the Jenny Lake Loop Trail (the trail around Jenny Lake).
Hidden Falls is accessible via Jenny Lake Loop Trail (4.8 miles round trip) or by taking the shuttle boat to shorten the hike (1 mile (1.6 km) round trip). Once on the west side, from the boat dock, the trail gently slopes up 200 ft in elevation to Hidden Falls. (The Rangers sometimes lead hikes there, described as 2 1/2 hours, 2 miles, "moderate uphills" usually limited to 25 people.)
From there many people continue up switchbacks another 0.5 mile to Inspiration Point. Total distance via the Jenny Lake Loop Trail (5.8 miles round trip) or by taking the shuttle boat to shorten the hike ("easy, 1.8 mi (2.9 km) round trip, out and back hike with 550 ft (170 m) of elevation gain with an average slope of 16%").
Fewer people continue up into Cascade Canyon, the trail goes 4.5 miles back into the canyon before splitting at the "forks" (elevation 7,840 feet) for a total via the Jenny Lake Loop Trail (14.6 miles round trip) or by taking the shuttle boat to shorten the hike ("Forks of Cascade Canyon is a moderately strenuous, 9.4 mile (15.1 km) round trip, out and back hike with 1,480 ft (450 m) of elevation gain with an average slope of 9%.).
From there a few people choose to continue another 2.7 miles and a 1,000 foot plus climb to Lake Solitude at 9,024 feet elevation. This part of the trail may have snow until the first part of July and ice may not leave the lake until then. Wildflowers at Lake Solitude peak in late July or early August depending on the snow melt. Lake Solitude is a total 2,500 ft of elevation gain, and a total distance via the Jenny Lake Loop Trail (20 miles / 32 km round trip) or by taking the shuttle boat to shorten the hike (14.2 m/22.5 km round trip). Wise people always bring rain gear and flashlights on every hike, especially if they took so many photos that they chance missing the last shuttle boat ride back across Jenny Lake.
OR others go from the Forks to Hurricane Pass "a very strenuous, 20 mi (32.2 km) round trip, out and back hike with 4,120 ft (1,260 m) of elevation gain with an average slope of 9%."


The trial was re-constructed as a part of the Jenny Lake renewal project. Hikers will find the "newly completed Hidden Falls viewing area and continue 0.3 miles uphill to the scenic Lower Inspiration Point." Read more about the project and see before and after pictures at the campaign for Jenny Lake
AND in part of summer 2018, (and it could happen again) rangers were "monitoring a crack in a rock buttress above the Hidden Falls viewing area near Jenny Lake. To ensure visitor safety, the information is being used to develop a risk assessment of the potential for rockfall. . . (July) the Hidden Falls viewing area is currently closed out of an abundance of caution . . and the trail reopened in August. The huge piece of rock fell in early November ("The crack in the rock identified earlier this summer was approximately 100 feet long and it appears that the entire length of the crack broke off or calved from the mountainside. After initial observation, it appears that the Hidden Falls Overlook did not receive any damage. Large rock debris is located about 50 yards from the overlook with small rock and tree branch debris closer to the overlook area.").
Always check with Rangers for trail conditions before you go so you won't need to be disappointed.
The Grand Teton Online Ranger Station, with climbing, mountain pass, canyon and trail route conditions is at: http://www.tetonclimbingpass.blogspot.com/
There you will find info you need to know, for example in 2012, Lake Solitude started to melt around the edges by June 30, and was open water July 13. By July 13 the north fork of Cascade Canyon was mostly dry and all campsites were snow free.
As of "July 20, 2021 There is no longer any snow travel required at this point in the season" in Cascade Canyon.
Below are pictures of the raised relief map at the Moose and Jenny Lake visitor centers showing the area from Taggart Lake to Jackson lake and a closeup of (L to R) Jenny Lake (6,783 feet elevation), Leigh Lake and Cascade and Paintbrush Canyons. The red arrow points to the Jenny Lake visitor center and shuttle boat dock location.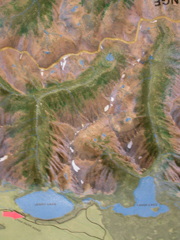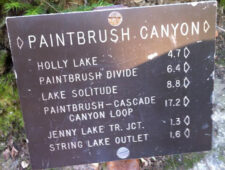 You can find a larger copy of the NPS photo map below of Jenny Lake, String Lake, Leigh Lake, Paintbrush Divide, Cascade Canyon, Paintbrush Canyon, Hanging Canyon, Mount Woodring, Mount Moran, Teewinot, Holly Lake and Lake Solitude at:
https://www.nps.gov/grte/planyourvisit/loader.cfm?csModule=security/getfile&PageID=2325994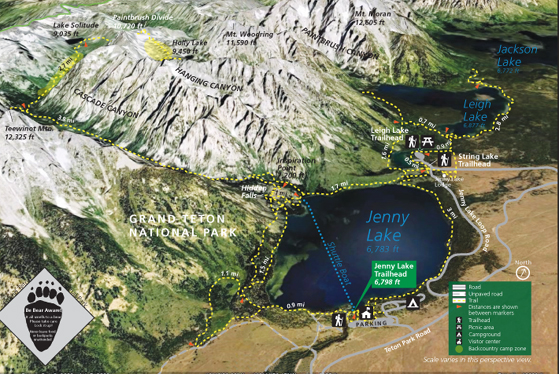 You can find a larger copy of the NPS photo trail map below of Thor peak, Mount Moran, Mount Woodring, Rockchuck Peak, Mount Moran, Paintbrush Divide, the Jaw, Jenny Lake, Leigh Lake, String Lake, Bearpaw Lake, Trapper lake, Paintbrush Canyon, Leigh Canyon, Cascade Canyon, Moran Canyon, Holly Lake and Lake Solitude
at https://www.nps.gov/grte/planyourvisit/loader.cfm?csModule=security/getfile&PageID=2326000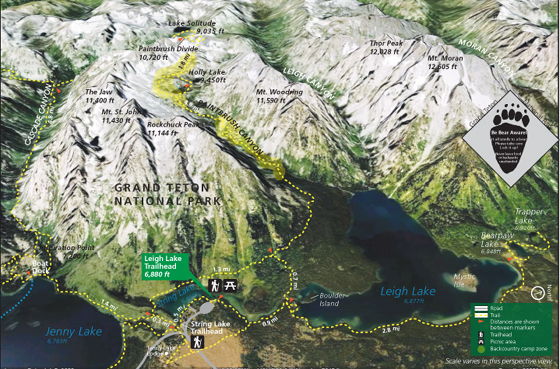 Most people only do the short walk to Hidden Falls, so the crowds disappear as you go farther.
Below, Hidden Falls in June and September: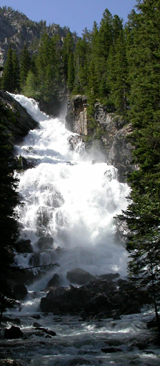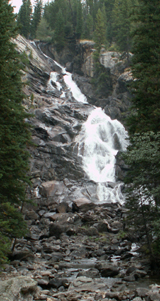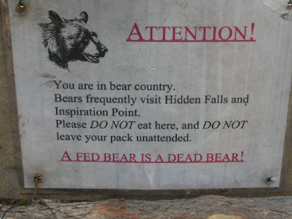 After the fall the trail becomes increasingly steep, leading to several viewpoints with wide views across Jenny Lake. The first viewpoint has almost as good of a view as the last, so consider at least going that far if the remaining steeper trail would bother you.
Below, the last long switchback to Inspiration Point:
(The park service notes that "no stair rail or handholds are available in the exposed last set of steps to Inspiration Point.")

Below, a shuttle boat takes off from the dock below a viewpoint.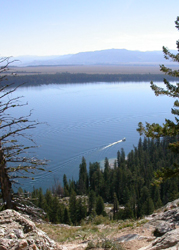 Below the view up into the canyon from Inspiration Point: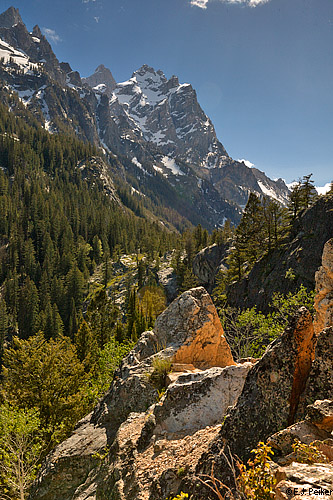 photo above © E J Peiker http://www.ejphoto.com/grand_teton_page.htm used with permission
If you planned ahead and brought enough water, lunch, bear spray and rain gear (and see more here) you could continue into the canyon.
There is water only steps away here and there in the canyon,

but it is only safe to drink if you brought a water purifier.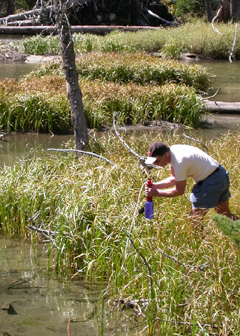 There are no restrooms or pit toilets along the trail. You should be prepared to "urinate at least 200 feet from streams and lakes. To prevent contamination of waterways, bury feces in a hole 6-8 inches deep at least 200 feet from streams and lakes. Pack out" (do not bury or burn) "used toilet paper," etc.
How to poop in the woods.
"Bear Bells" do not work to let bears know you are in the vicinity.

After some hiking near the creek, the trail opens up with a first view of the peaks.
Can you see the hiker midway along the trail in the photo on the left?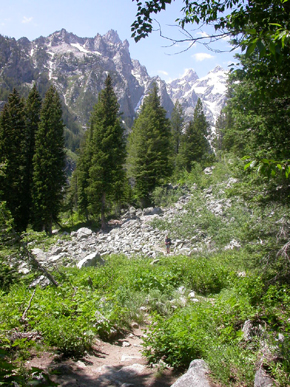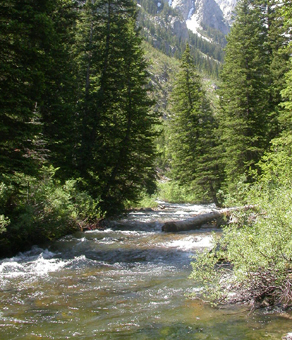 About a half mile along the flatish section of trail above the first canyon switchbacks, Storm Point draws climbers. The first part of the southwest ridge route, known as Guide's Wall, draws more climbers than most other one day climbs. Climbing experience required. Without experience, but with with binoculars, you can spot and watch climbers along a lot of the canyon when you hear their voices reflecting off the walls.
The park service warns that you should stay 300 feet from big mammals like moose, elk or bison. (The flowers in the foreground are columbine.)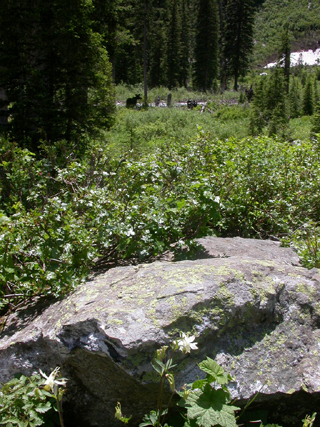 The bull didn't give us a classic pose for a picture during the half an hour we watched him. With your own binoculars you can see animals up close.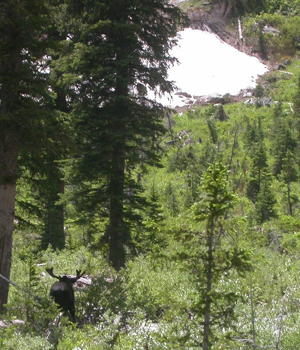 Friends hiking the day before also photographed a bull moose from a safe distance. You can always enlarge part of the photo. (Photo below by Wendy Sato).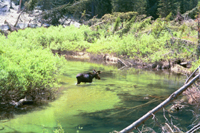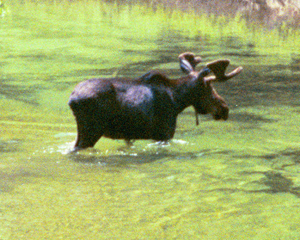 As luck may have it, you can wait and watch for hours and the Bull Moose with the huge antlers will stay napping.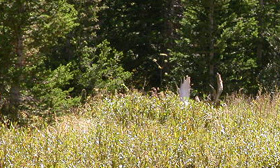 But minutes later, another person in your group could find this scene Sylvia Gallegos photographed: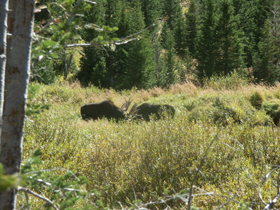 2007: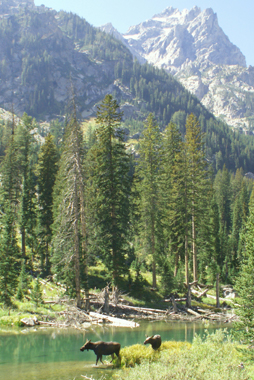 Or you might be able to sit on the trail, looking down towards the river, and watch a bull moose for a half hour: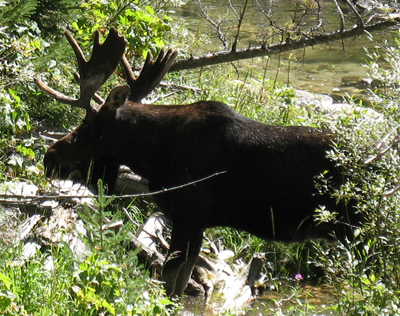 Stop for awhile and look for Pikas and Marmots in the talus (rockslide) slopes. Below a baby pika huddles close to mom. (Photo by Wendy Sato).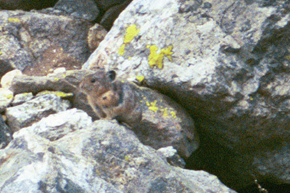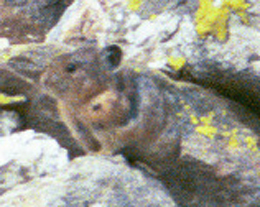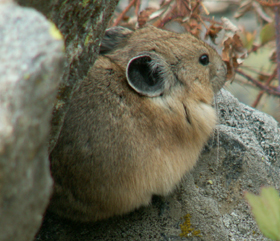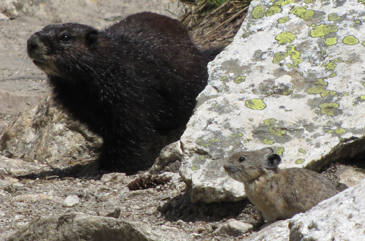 Above photos are of a Pika on the left and the photo on the right shows a marmot and a pika near each other for a size comparison.
We have watched pikas scampering with food to dry and store for the winter.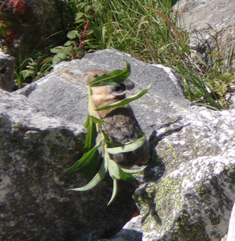 (see also Pika )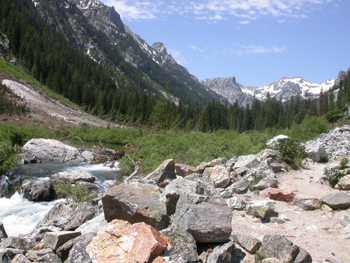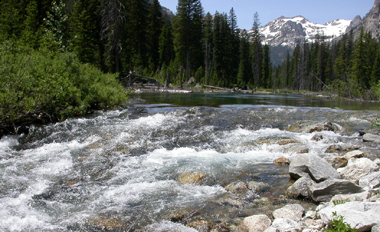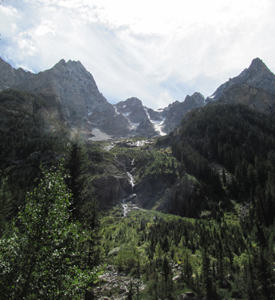 Google maps view of the trail.
and another view.
All along this trail you will find wildflowers.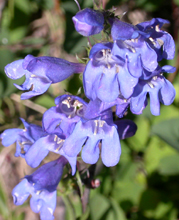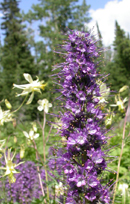 At Cascade Canyon wildflowers you'll find pictures of Penstemon, Silky Phacelia, Western Serviceberry, Cascade Mountain Ash and Columbine in June and fall colors of Asters, Mountian Ash and Aspen in September.
The farther into the canyon and the higher in elevation you go the lower the temperature will be.
One forecast on the 2009 trip had 75 degrees in the valley at 6,000 feet elevation, 68 degrees at 8,000 feet and 60 degrees at 10,000 feet.
Another forecast had 68 degrees in the valley at 6,000 feet, 61 degrees at 8,000 feet and 53 degrees at 10,000 feet.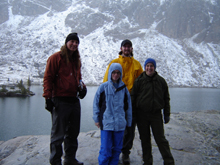 In 2005 and 2007 it snowed on hikers at 9,039 feet elevation Lake Solitude and rained on those lower down.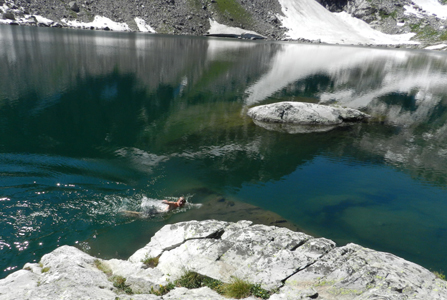 In 2011 it was sunny all day and a couple of hikers swam.
Google maps view of Lake Solitude.
Grand Teton National park gets deep snow over the winter, and some years at higher elevations, there is still snow along the trails, even late into the summer.
Early in the season (this from June 2014) you might find some of the trail lower down completely filled with not-yet-melted snowbanks: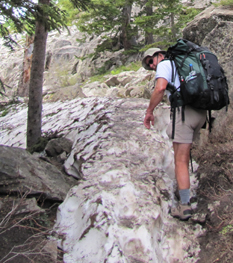 By June 8, 2014 there was 60% snow up Cascade Canyon and nearly 100% snow to Lake Solitude.
By June 4, 2013 the first 4.5 miles of the Cascade Canyon trail had minimal snow, by July 4, 2013 the Cascade Canyon trail was free of snow all the way to to Lake Solitude.
Most park high elevation trails, canyons and passes still contained patchy snow or small snowfields to cross by the end of July 2010/2013, mid July 2012. By the end of July 2011, there was still 2-5 feet deep snow at higher elevations and many passes.
High elevation campsites can clear up from snow with enough space to pitch a tent in mid to late June, but the bear boxes can remain buried in snow so bear canisters will be required by the park.
Below, park service photos of the north fork of Cascade Canyon as seen from the summit of the Grand Teton July 25, 2010 and June 28, 2012. In July, 2010 Lake Solitude was barely melted out and Paintbrush Canyon had a small path shoveled out of it's steep snow patch. A backpacker had lost his balance on this steep snow, and broke (open fracture) his leg July 18.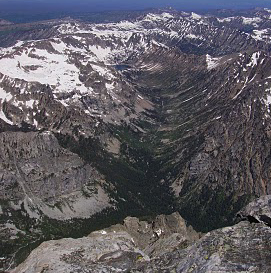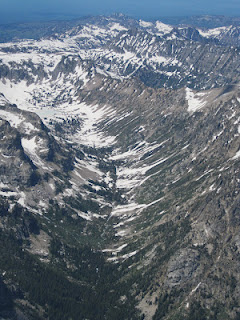 Again from NPS, Cascade Canyon, May 21, 2016: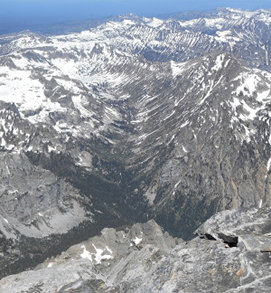 And on July 2, 2016 the Jenny Lake Climbing Rangers had this note: "Patchy snow up near Lake Solitude with continued patchy snow on the long traverse and climb up to Paintbrush Divide. Ice axe still recommended for the divide."
Below: NPS display of part of the trail up to Lake Solitude, over Paintbrush Divide and down to Holly Lake on the Paintbrush Canyon trail.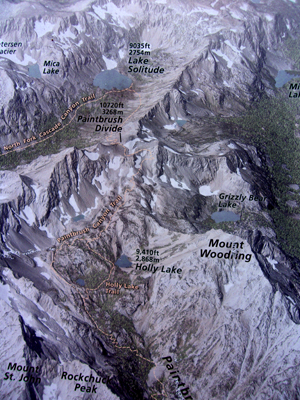 an a NPS drawing that also show the forks of Cascade Canyon: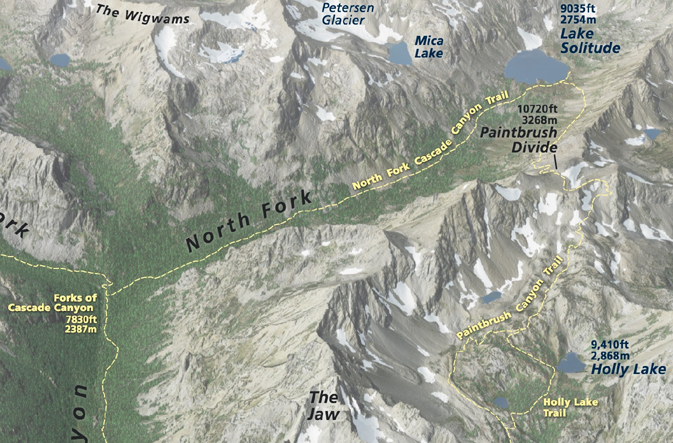 NPS photos of Lake Solitude and the view to the southeast from above Lake Solitude: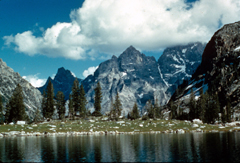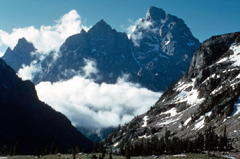 and Lake Solitude again and the Paintbrush Canyon trail: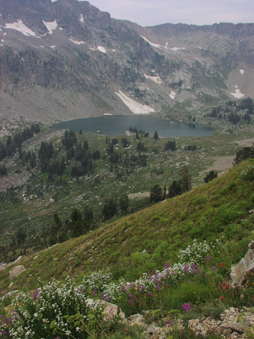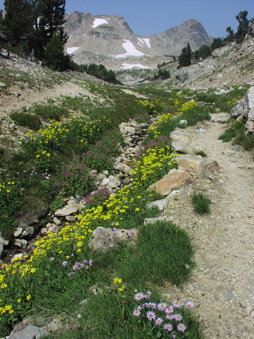 The peaks you see from Lake Solitude are (right to left below) Grand Teton, Mount Owen, and Teewinot Mountain: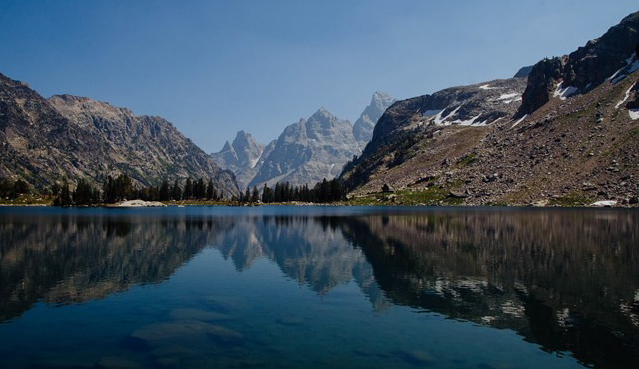 As seen from the North Fork of the Cascade Canyon Trail, (right to left below) Grand Teton, Mount Owen, and Teewinot Mountain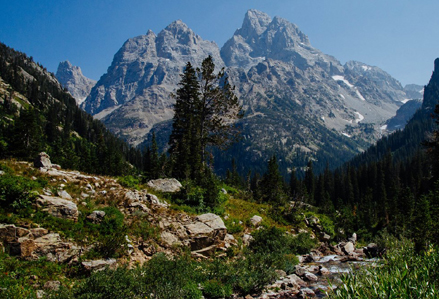 With a permit you can camp up in the far reaches of Cascade Canyon, but you can not camp at Lake Solitude.
Here are maps of backcountry campsites in the north fork of Cascade Canyon: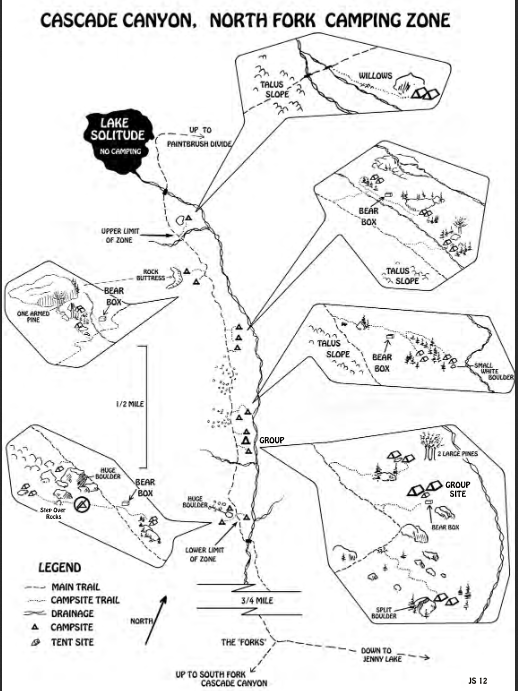 and the south fork of Cascade Canyon: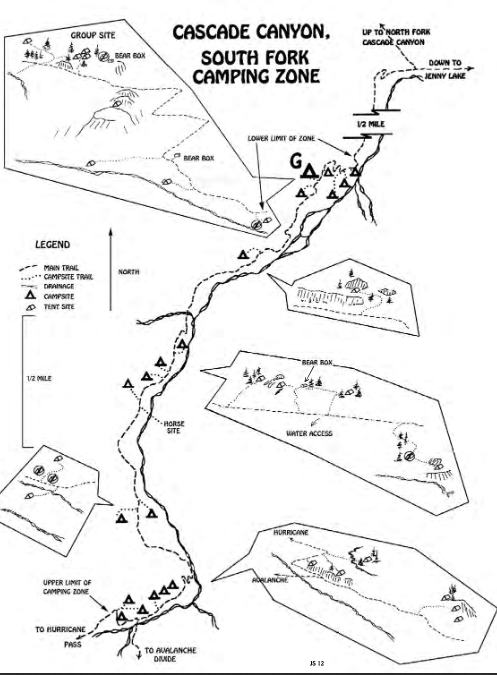 Enhance your hike by reading:
The day hike gear section at Camping equipment checklist
Thunderstorm and lightning safety includes the answer to the question: Why can't you swim during a lightning storm? A strike on a lake doesn't kill all the fish in the lake.
see also: Cell phones in the wilderness which has advice on how/when to use a cell phone to contact 911 in the wilderness and a warning about interference between cell phones, iPods and avalanche beacons.

You can't always expect a helicopter rescue
fatal, near fatal or close call incidents/accidents in camping, backpacking, climbing and mountaineering
Can a person who is prescribed an epi-pen risk going into the wilderness?
and some sting prevention notes are at: Anaphylaxis quick facts

There are no restrooms, privies or outhouses in Cascade Canyon.
To truly be able to leave no trace and follow backcountry rules about digging your personal latrine hole the proper distance from water, you will need to know how far 200 feet is.
Lay out a tape measure at home and walk it and count your paces.
How to poop in the woods.
Hiking Advice has hot weather hiking advice, hiking logistics and the answer to the question: When is the best time of day to cross a mountain stream?
Enhance your drive to the park: Road trip advice and etiquette
The day hike gear section at Camping equipment checklist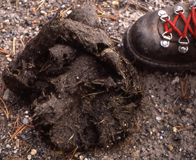 animal sign comparisons
(how to use tracks and scat to distinguish species)
Please do not handle scat. Wolf scat, for example, can transmit tapeworm eggs to humans.
Watch a Grand Teton National park video identifying and comparing animal tracks
https://www.nps.gov/media/video/view.htm?id=2896C9FD-155D-451F-67912A1CB1362CCF

This NPS photo came with this warning:
"when a moose is stressed it will lay its ears back along its head and its hackles will rise."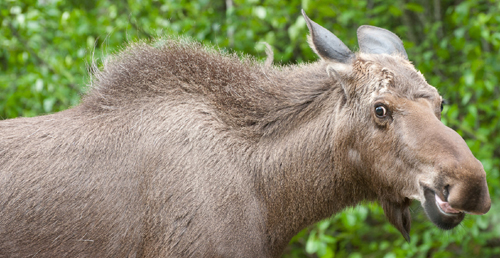 Was that a black bear or a grizzly, a coyote or a wolf or a fox we just saw?

Rocky Mountain mammal size comparisons has photos and comparisons of beavers, squirrels, pika, marmot, elk, moose, bison, fox, coyote, wolf, golden-mantled ground squirrel, chipmunk, Red Squirrel (also known as) Chickaree, Unita Ground squirrels, bobcat, lynx, mountain lion (cougar), pine marten, mountain goats, bighorn sheep, pronghorn, grizzly and black bears, tundra swan, trumpeter swan, adult and juvenile Bald Eagles.

Grizzlies are growing in number in the Tetons.
your safety in grizzly bear territory tells you what to do if
you see a bear in the distance or a bear charges you and has info, including links to park videos about Bear Pepper Sprays.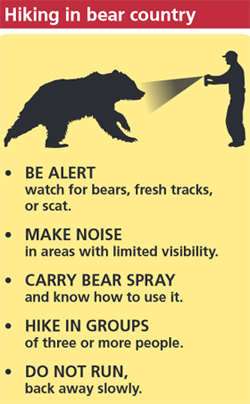 Camping solutions for women has tips for and answers typical questions from first-time women campers,
including the question: Can menstruating women camp or backpack around bears? YES.
Bears has links to general info about bears, then practicalities of camping and backpacking around bears, (food storage, what to do if you see a bear) mostly geared towards our trips around black bears in California.

Grand Teton and Yellowstone National Park photos
___________________________________
Grand Teton National Park
birds
has photos and details about the most common ones we can hope to see
including Bald Eagle, Red-winged Blackbird, Canada Geese, Clark's Nutcracker, Golden Eagle, Great Blue Heron. Great Gray Owl, Harlequin duck, Loon, Magpie, Merganser, Northern Flicker (woodpecker), Osprey, Ouzel, Pelican, Peregrine Falcon, Ptarmigan, Raven, Sandhill Cranes, Steller's Jays, Trumpeter Swan , Western Meadowlark, and Western Tanager, with links to calls / songs from most of them to listen to.
and you can Download photos of over a hundred birds of Grand Teton National Park
https://www.audubon.org/climate/national-parks/grand-teton-national-park

___________________________________
What is the name of that mountain peak? Teton range peak names has maps and photos to help identify what peaks you are seeing at different viewpoints in Grand Teton National park.
NASA aerial photo of Teton Range

photo below by Quang-Tuan Luong/terragalleria.com, all rights reserved.