over thirty motor vehicle accidents.
From the National Park Service Daily report:
"Holiday Weekend Storm Causes Multiple Accidents
On Sunday, February 19th, the Big Oak Flat Entrance Station received a report of a single vehicle accident just outside the park boundary on State Highway 120. Rangers responded and discovered a sport utility vehicle that had struck a large pine tree, causing multiple injuries to the occupants.
EMS, law enforcement, and fire personnel responded from Tuolumne County, the California Highway Patrol (CHP) and the park.
Due to blizzard conditions, response was slow and extremely hazardous. Ranger/medics coordinated the medical care, while Tuolumne County Fire and Yosemite Fire handled extrication of one patient, CHP investigated the accident, and plow drivers directed traffic.
A total of six people were transported by county and two park ambulances with transport times greater than one hour to trauma centers. Two patients remain in intensive care at this time.
During the holiday weekend, rangers responded to about 30 other motor vehicle accidents, one involving eight vehicles and an ambulance that slid off the icy road and two in which vehicles collided with NPS snowplows. Temporary road closures and mandatory tire chain requirements continued throughout the weekend.
Other incidents included two SARs, two arrests, and a major power outage which closed lifts at
Yosemite's Badger Pass ski area. [Submitted by Greg Lawler, Subdistrict Ranger]"
back to:
and see:
fatal, near fatal or close call incidents/accidents in camping, backpacking, climbing and mountaineering
Yosemite National Park regulations, policies and rules links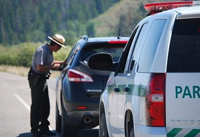 Top reasons not to speed in a National Park has defensive driving advice.