Many National Parks have lower speed limits than people are used to on a road of the same width, number and degree of curves, number of lanes, etc. There are few streetlights.
Some people do not realize that the Park Rangers they most commonly meet,
a Ranger naturalist they meet on a Ranger led walk, or at a Visitor Center,
are not the only kind of Rangers there are.
Some National Park Rangers have full legal ability to issue REAL traffic tickets
(as a sheriff, police officer, constable or gendarme would do where you live),
or even arrest park visitors and take them to jail.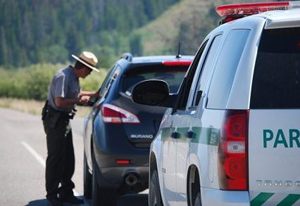 "L.E.s" (Law Enforcement Park Rangers) can sometimes choose to give you a verbal warning or "educate" you about a park law you break, but have some things they MUST give you a citation for.
For example, let's say you do not know that drones are illegal in National Parks. If you fly one near or over a bison herd in Grand Teton Park, your attempt at a very convincing argument that you were not really trying to fly over the herd to make it stampede, but were just innocently getting pictures for your son's school class to see when you get back home will not be accepted. It is a mandatory citation. AND the first court date available could be in October for what you did in August. Likewise, if you use that drone anywhere near the Jackson Hole airport (which is within the boundaries of Grand Teton National Park) you will also get at least a mandatory citation.
Please also note that if you fly a drone near a wildfire,
the helicopters needed to fight the fire can't fly,
and your photography can put human lives and property in danger.
Some parks have specific speeds that if you exceed them, or if the amount of alcohol you consumed is too high by law, a citation is mandatory.
A Law Enforcement Ranger may have discretion to decide, based on what you did, to give you a traffic ticket, a warning or just educate you. Were you not only going too fast, but also passing over a double yellow center line, passing multiple vehicles at a time, tailgating, or swerving in and out of traffic? Is your "child not restrained" examples: a child sitting in the driver's or any passenger's lap, kneeling on a seat, climbing from front seats to the back, sticking their head out a window or a skylight?
Is there a record in the park of your being cited previously?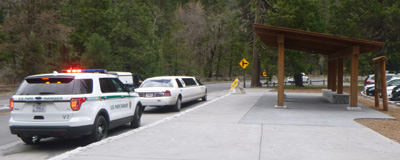 – – Lower speed limits can help you move in time when a foreign national accidentally drives on the left side of the road, as they are used to at home, (see below).
Next to drowning, motor vehicle crashes are the second leading cause of accidental deaths in the National Park Service. One study found that
"visitors distracted by scenery was a contributing factor in 27% of all motor vehicle crashes,
alcohol was a contributing factor in 23% of the crashes,
visitors from Asia and Europe crossing over the centerline to drive on the left side of the road was a factor in 14% of the crashes,
excessive speed was the primary factor in 8% of the crashes,
and visitors driving off-road and hitting stationary objects or rolling over was the primary factor in 11% of crash fatalities.
The Grand Teton National park annual report for 2023
https://www.nps.gov/grte/upload/Grand-Teton-2023-Annual-Report.pdf
mentioned
876 Warnings Given
Citations Issued 514
Grand Teton National Park has this advice:
"Wildlife are often active near park roadways, difficult to see and can cross the road unexpectedly.
Use caution and slow down, especially at dawn, dusk and at night when visibility is reduced."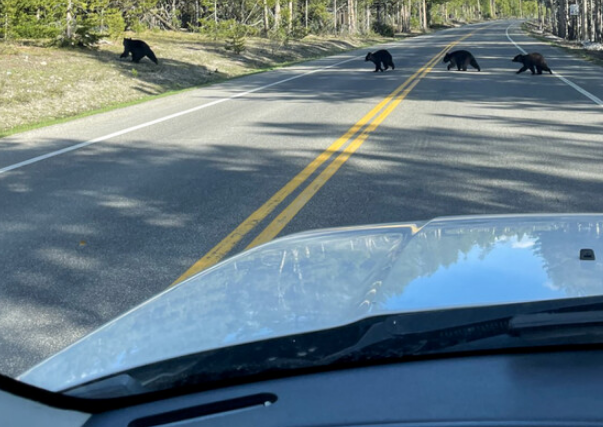 Defensive driving can include
– – Be prepared for cars in front of you trying to move suddenly into your lane or stopping suddenly. Keeping an extra-long following distance from the car in front of you can help you keep out of a multiple vehicle collision, perhaps more common in a park, when people (hmmm, you?) are watching the scenery rather than keeping their eyes on the road / traffic.
Keeping an extra-long following distance can be wise to avoid rear-ending photographers who stop suddenly in the traffic lane instead of carefully pulling over to the side of the road. Drivers are often distracted when driving through parks. Was that a coyote over there?
Bicyclists are often warned to ride defensively as the drivers are often watching the scenery, not bike riders.
– – Pulling over at the first safe opportunity when you were doing the speed limit and a driver who came up on you quickly and is now tailgating or even close to it. Let them pass you and you can miss out on having your vacation ruined by being hit from the rear.
WATCH OUT!!! and please be assured that some drivers will not notice road direction changes / closures, even with multiple signs. (There was a large sign with flashing lights at the beginning of this section of road designating this change and then four of these yellow double arrow signs alongside the road on both sides. We watched multiple vehicles drive in the wrong lane for part or all of this section of road.)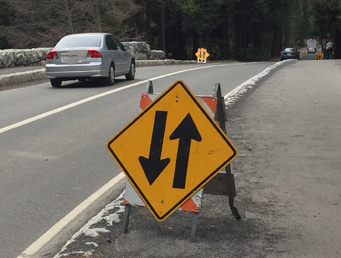 __________________________________________
Be prepared for people standing in the roadway to look at the view, get a picture, often not looking out for oncoming traffic, or even with their backs turned to oncoming traffic:

__________________________________________
Be prepared for people standing alongside the roadway who suddenly step out into the lane of traffic, or don't quite have the leg of a tripod for that huge camera off the roadway: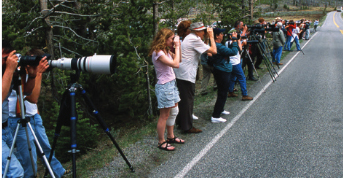 __________________________________________
A driver going even a bit fast coming around this curve might not see the cyclists until it is too late to stop in time or swerve to miss hitting them (and drivers coming in the opposite direction should anticipate an oncoming driver swerving into their lane):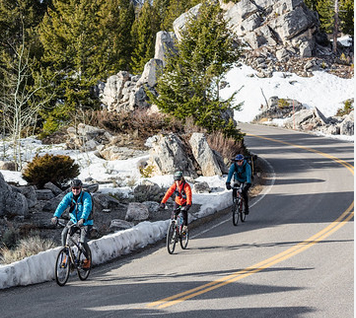 __________________________________________
Sometimes people who can't find a space in a tiny parking lot, such as the one at Yosemite Swinging Bridge, where this photo was taken from, decide to park (it's just for a few minutes, so it's okay, right ?) with two tires and half of their vehicle actually IN a traffic lane of the main road.
Drivers who had to try to move to the adjacent lane (some of them suddenly swerving, that you might hit if you are not doing the speed limit) were honking at these two, but to no avail, as they were not in the vehicles.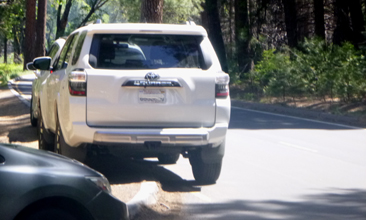 __________________________________________
Remember that the drivers of large RV campers, especially the rental camper vans, are not used to driving them. They are often not used to the large size of the vehicle, especially the width of those huge rear-view mirrors AND they often are not used to how long it can take to stop a big, heavy vehicle, so watch out for them as well: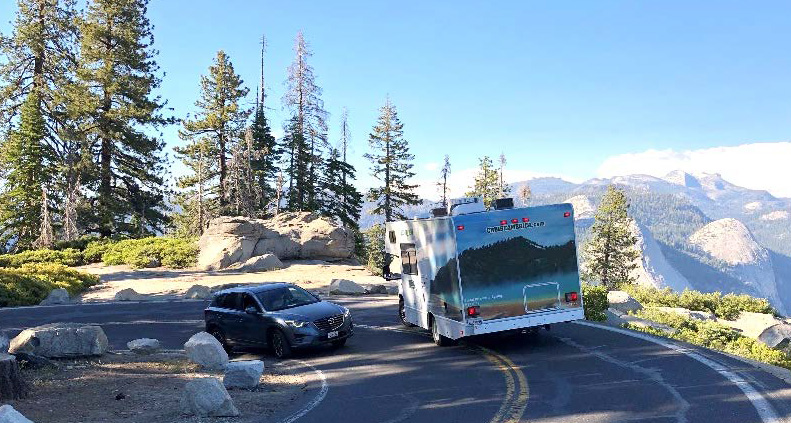 __________________________________________






The lower speed limits are often in place to protect wildlife. A maximum speed limit might be 35 mph everywhere in one park, and in another with a major highway going through it, there might be a speed limit of 55 during the day and 45 at night on that highway.
You will not be able to stop in time to not hit an animal that darts across the road, especially at night when people "overdrive their high beams
– when stopping distance is greater than the headlight illumination distance."
"Motorists are reminded to drive the posted speed limit and to be prepared to stop suddenly for wildlife along or on park roadways. Driving slower than indicated speed limits, especially at night, can increase the margin of safety for people and wildlife. Collisions between motor vehicles and wildlife may result in severe damage to a vehicle, serious or fatal injuries to the wildlife."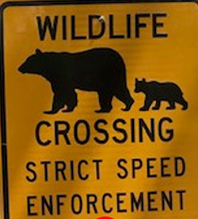 Rarely there will be Park Rangers managing traffic: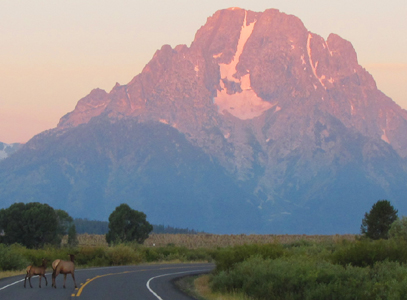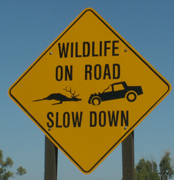 Annual impacts of vehicle collisions with wildlife in Grand Teton National park:
$155,000 personal property damage, over 100 large animals killed annually.
Photo of griz and cubs crossing a road in Grand Teton park courtesy of NPS:


_________________________________________________________________________
Hundreds of the animals that make our National Parks so special are killed each year, mostly by people not obeying speed limits. And in the process, you can not only get a traffic citation, you can do serious damage to your vehicle, whether you actually hit an animal, or just try to swerve away from it.
Damage to a Chevy that collided with a bison: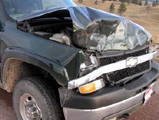 Down on the right, a wrecked red pickup: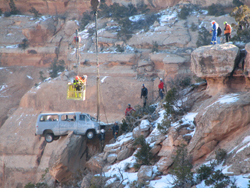 Average cost of a collision between a moose and a vehicle $30,760
(according to the Jackson, Wyoming police department).
_________________________________________________________________________
In Grand Teton National park, this tour bus "toppled onto its side & slid several feet down Highway 89/287, creating a mass casualty incident that sent 27 people to area hospitals & closed the park road for 5 hours . . . Twenty-four people were transported by three Grand Teton ambulances, a Jackson Hole Fire/EMS ambulance and a Grand Teton Lodge Company passenger van to receive medical care at St. John's Medical Center in Jackson, Wyoming. Two seriously injured passengers were flown to Eastern Idaho Regional Medical Center (EIRMC) in Idaho Falls via two EIRMC life-flight helicopters that were able to land near the accident site.. . Although the bus did not completely roll over, the impact of the crash caused some level of injury to all 27 bus occupants, making this a mass casualty incident. " A park service spokesperson said: "the bus driver, who was injured in the crash, veered on to the side of the road and then overturned, apparently because the driver turned too sharply to get back to the pavement."
https://www.nps.gov/grte/learn/news/news-release-14-41.htm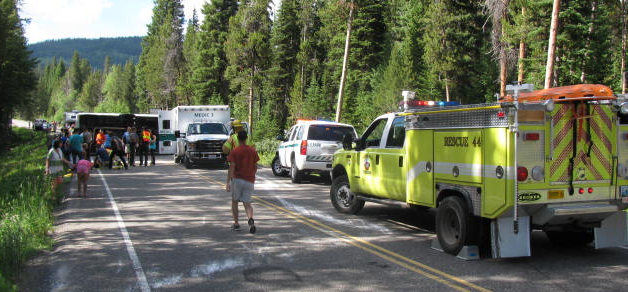 _________________________________________________________________________
Highway(s) 191, 26/89, from Jackson, Wyoming into and through Grand Teton National park has a nighttime (30 minutes after sunset to 30 minutes before sunrise) speed limit of 45 m.p.h.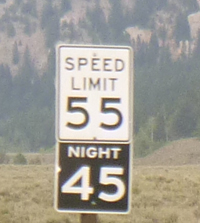 Trying to say that you have never been in this park will not work, anymore than telling an officer that you thought the highway number sign (280, 140, 101, 89) was actually a speed limit sign.
You can read the most important rules/ laws you should be following in the park newspaper you can get a copy of as you enter the park, or in advance of your vacation, as most parks post it at webpages. You can also search for the Superintendent's Compendium at each park website to read. Yosemite National Park regulations, policies and rules links is an index to Yosemite National Park websites on most subjects that have regulations affecting people's use of the park.
Many of the park websites / compendiums have the reasons behind the rules.

How much will I have to pay for my ticket?
Will I have to go to court?
For some, a mandatory appearance in court may be required at the discretion of the citing officer and if the person does not appear, a judge "may issue a warrant of arrest for that person."
For other citations / tickets issued in National Parks, people can pay without coming to court.
Subject to change, but by way of examples, (as of 2023, last revised 03/01/2010).
While camping, creating unreasonable noise between hours of 10:00 PM and 6:00 AM: $150 or mandatory appearance in court
Exceeding Speed Limits
1 – 15 mph $100
16-25 mph $180
26 or over $350
Operating a motor vehicle in a manner which unnecessarily causes its tires to squeal, skid or break free of the road surface: $150
http://www.caed.uscourts.gov/caednew/assets/File/Collateral%20Forfeiture%20(Bail)%20Schedule.pdf
From the Yosemite webpage: "Failure to store your food properly may result in impoundment of your food or car and/or a fine of up to $5,000 and/or revocation of your camping permit."
– – – – – – – – – – – – – – – – – – – – – – – – – – – – – – – – – – – – – – – – – –
When you decide to land your helicopter illegally in a National Park,
IT WILL MAKE A DIFFERENCE in how much of a fine you pay / jail time you serve,
if you were previously cited in another National Park or National Recreation Area.

(June 2023) A helicopter "illegally landed at Moran Bay on the west shore of Jackson Lake, inside Grand Teton National Park. Rangers responded by boat across Jackson Lake and found the helicopter and pilot and a companion picnicking along the lake."
The pilot "was charged with two violations under the Code of Federal Regulations, "Operating or using aircraft on lands or waters other than at locations designated pursuant to special regulations" and "Use of aircraft shall be in accordance with regulations of the FAA." Each violation is a Class B misdemeanor that could include up to a $5,000 fine and/or six months in jail .. .
(Name of pilot) was previously cited for flying a fixed wing aircraft below minimum safe altitude, against Federal Aviation Administration (FAA) regulations in the Black Canyon of the Gunnison National Park, four months ago, in February 2023. (Name of pilot) paid a $530 fine set by a federal judge.
The unauthorized landing of helicopters is prohibited on the lands and waters within the boundaries of Grand Teton National Park in order to protect wildlife and other natural resources and to preserve the visitor experience."
_________________________________________________________________________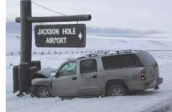 It can take you three times the normal distance to stop when a road is icy (even with anti-lock brakes, four wheel drive and snow tires). Spin-outs are common in the winter in parks that are open. Leave a good following distance. Slow down well in advance of stop signs.
Expect people coming from another direction to not be able to stop and to slide into the intersection (and possibly into you).
_________________________________________________________________________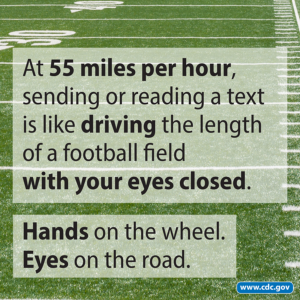 _________________________________________________________________________
In Yosemite, in late May some years, Highway 140 between Crane Creek and the Yosemite National Park border (Parkline) in El Portal becomes "thick with thousands of California tortoiseshell butterflies. This species emerges in spectacular numbers in some years and is thought to be the source of Mariposa County's name, which is Spanish for butterfly.
Please help minimize the number of butterflies killed by reducing your speed when you encounter their swarms. At 25 mph, the butterflies are more likely to follow the slipstream around your car, and emerge unscathed. At higher speeds the butterflies don't fare as well. Dead butterflies along the roadway also increase the risk to the birds that come to feast on the dead butterflies."

Get up early in the morning and go for a bike ride or walk or hike before other people are up and making noise, and you might be lucky enough to spot a bear having breakfast in a Yosemite meadow.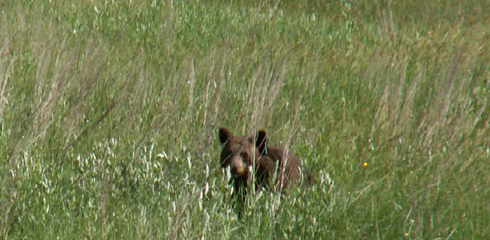 We watched this one for at least 20 minutes, and s/he did notice us, but we stayed still, then other not-very-quiet people came along and the bear noticed them and moved out of the meadow.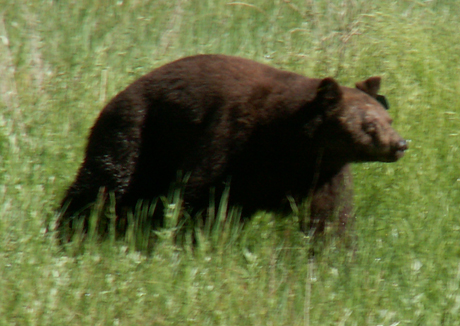 We saw where the bear was heading and had time to carefully stop oncoming traffic on southside drive before the bear crossed the road

and watched as s/he went up into the forest across the road.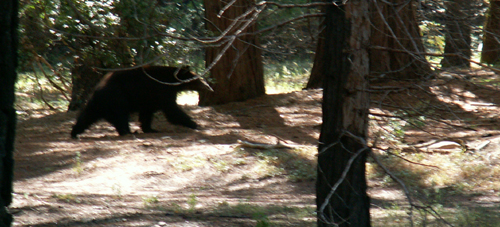 You might also want to read
How to not collide with a deer,
Parking and traffic jams in Yosemite valley tips and tricks
Prepare for winter driving has a link to bad weather driving tips, tips for using tire chains, tricks for dealing with frozen car locks, how to prepare your vehicle for winter driving, how to de-fog the windows, a winter survival kit for your car and what to do if you get stranded
Road trip advice and etiquette has ideas for limiting boredom, getting along on a road trip and some packing and safety tips.
fatal, near fatal or close call incidents/accidents in camping, backpacking, climbing and mountaineering is a collection of some of the true stories I use in my wilderness first aid class to illustrate how the wilderness is not dangerous, it's the people who aren't prepared, who don't know what they are doing, or who take inordinate risks, that are the danger.
Yosemite National Park regulations, policies and rules links
Cell phones in the wilderness has advice on how/when to use a cell phone to contact 911 in the wilderness and a warning about interference between cell phones, iPods and avalanche beacons.
Thunderstorm and lightning safety includes a warning about not using your cell phone or IPod during a storm.
The use of cell phones for photography (with or without a selfie stick) has made preventable injury or even death by selfie common They were just taking a selfie . . .
your safety in grizzly bear territory tells you what to do if you see a grizzly in the distance or if a bear charges you and has info about Bear Pepper Sprays.
This warning from Canada can apply to any long-distance drive: "Visitors to large cities and popular tourist destinations should be aware that parked cars are regularly targeted for opportunistic smash-and-grab thefts, and they are cautioned to avoid leaving any unattended possessions in a vehicle, even in the trunk. Due to the high incidence of such crimes, motorists in Montreal, Toronto, Vancouver and some other jurisdictions can be fined for leaving their car doors unlocked or for leaving valuables in view. Visitors should exercise precaution to safeguard their property."
Another source mentioned smashed windows when car thieves target property left in plain sight such as luggage, purses, electronics, laptops, tablets, and even expensive sunglasses.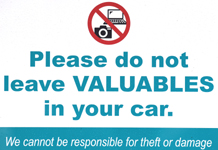 It uses less gas to drive with the air conditioning on than to drive with windows open.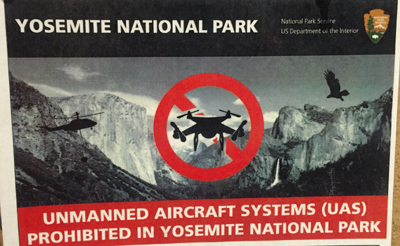 Reasons why you can't play with / photograph with your drone are at: https://www.nps.gov/yose/learn/news/use-of-unmanned-aircraft-systems-drones-prohibited-in-yosemite-national-park.htm

Yosemite driving regulations from 1913 are at:
https://www.nps.gov/yose/blogs/first-automobile-permit-issued-100-years-ago_500611.htm
including:
"Time and speed restrictions: Automobiles are restricted to an approximate speed of 10 miles per hour on rolling mountain country . . ."
"Cars may leave Yosemite Station going out of the valley between the hours of 6 and 7.30 a. m. every morning, but at no other time during the day."
"Every person presenting a car for admission to the park will be required to satisfy the guard issuing the ticket of passage that the brakes of his automobile are in first-class working order and for this purpose all automobilists will be required to effectually block and skid the rear wheels of their automobiles with either the foot or hand brakes or such other brakes as may be a part of the equipment of the machine."
"All motor cycles are forbidden to enter the park."