Here are a number of variations. Staff can choose and or edit as they see fit for their needs.
_____________________________
But first, this FAQ:
One of the pools I swim at allows little kids with swim diapers. Do swim diapers or swim pants prevent fecal matter from entering the water?
According to the the Centers for Disease Control website the answer is "not likely." For more go to
http://www.cdc.gov/healthyswimming/faq/swimmers.htm
________________________________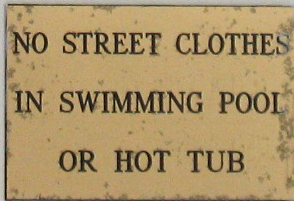 Proper attire required. Men and boys must wear swimming trunk with liner.
Women must have one or two-piece swimming suits. NO EXCEPTIONS.
Women Modest one-piece swim suits are required. No two-piece swim suits.
No low scoop neckline or backs, French-cut, thong style, holes in
stomach and sides. Either a pair of swim shorts OR a t-shirt can be worn over the
one-piece suit, but not both at the same time.
Bathing suits must be worn by all. Cut-offs, gym shorts, sport bras, and
leotards absorb pool chemicals out of the water. Also, no t-shirts or other
clothing may be worn; this includes underwear.
Swimsuits, trunks, or shorts must be worn by persons in the water.
T-shirts
are allowed, but must be short sleeve and clean.
Shorts must be above the
knees. Cut-offs must be hemmed.
Swimmers must wear proper attire, i.e. swimming suits or trunks.
Undergarments are not allowed under swimsuits for health & sanitation
reasons.
No bathers shall wear a bathing suit that is unclean.
Hair that is longer than shoulder length must be tied back securely (male
and female).
_________________________________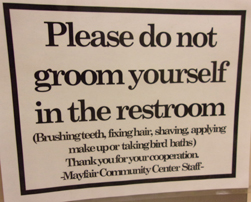 Soap showers must be taken by all before using the pool.
No person with a communicable disease is allowed to use the pool.
No person suffering from a fever, cough, cold, inflammation of the eyes,
nasal or ear discharges, or any
communicable diseases shall be allowed to use the pool.
No person with sores or other evidence of skin disease, or who is wearing a
bandage or medical covering of any kind, shall be allowed the use of the
pool.
Individuals will not be admitted into the pool area if they have open
sores, rashes, or are under the influence of drugs or alcohol.
Admission to the pool enclosure is forbidden, at the discretion of the
pool manager, to anyone wearing bandages, or with skin abrasions, colds,
coughs, extremely inflamed eyes, open sores, infections, excessive sunburn,
nasal or ear discharge, or other symptoms which are determined by pool
management to be detrimental to the health of others.
REFUSAL OF ADMISSION – The pool manager or a lifeguard may refuse admission to anyone
having an infectious or contagious skin disease, open sores, or cuts;
anyone who is intoxicated or under the influence of drugs or opiates; or
anyone known to be of other than good moral character.
Band-Aids must be removed before entering the pool.
————————————-
No person shall spit in or in any of other way contaminate the pool, or its
floors, walkways, aisles, or dressing rooms.
Spitting, spouting of water, blowing the nose, or urinating or
defecating in the pool is prohibited at all times.
No person shall bring or throw into the pool any object that may in any way
carry contamination or endanger the safety of bathers.
No one may throw or place any stones, debris, trash or discarded
substances or articles of any kind in the pool or swim area or willfully
pollute the waters of the pool.
____________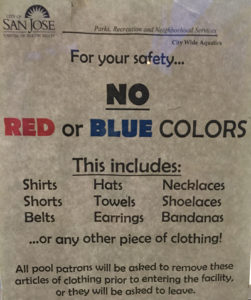 __________________
Other lists of swimming pool rules at this website:
pool rules concerning children
______________________________________
How to tell if the lifeguards are doing their job properly ,
pool safety deficiencies or Preventative lifeguarding might also interest you.
Lifeguarding and Red Cross links of interest to professionals are at the page Lifeguard training, swimming, CPR and first aid links
______________________________________