Extreme rogue waves can sink ships, even supertankers, (see the links at the bottom of the page).
Many people don't realize that smaller and mid-size rogue waves occur regularly along the coast. People sightseeing on shore which has relatively dry sand can be hit by a wave that seems to come out of nowhere, a sleeper or sneaker wave.
People who thought they were safely up on a jetty or low cliff, far enough away from where the waves were breaking, can be splashed and thoroughly soaked, or even swept off the cliff and slammed into it. Plus, jettys and rocky areas are very slippery and even a small wave can cause you to go unexpectedly swimming.
People climbing up on big logs or downed trees which seem high and dry can find themselves in the water, possibly even under the log, when a sneaker wave washes well up on to shore and floats the log. People hanging out near a big log can find it suddenly floating and ramming into them.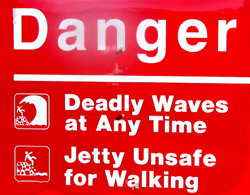 Never turn your back on the ocean.
Don't close your eyes for any length of time, whether to contemplate the beach experience or take a nap.
Don't put yourself in a position you can't quickly move from (such as a complicated yoga pose or standing on your head).
No selfies along the shore.
Stay well back from where waves are breaking.
Supervise children all the time.
There are beaches where you should not play in OR NEAR the water at all: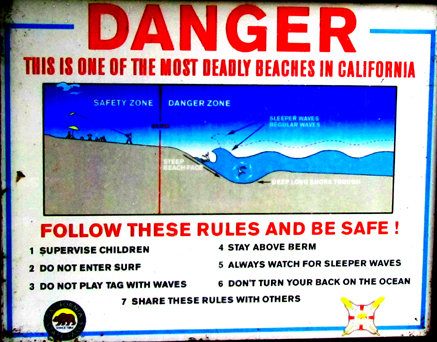 Waves are caused by wind blowing across the top of the water; high winds cause big waves, light winds cause smaller ones. If there is very little wind, the ocean sometimes has hardly any waves and can be flat and placid.
Bigger waves move faster than small ones. Big waves catch up to smaller ones and carry them in to the beach, getting stronger and faster as they go.
The biggest waves are called sleeper waves or sneaker waves. They are unpredictable, happen at least daily and vary in magnitude, sometimes running as much as 100 yards past the foam line.
It seems like bigger waves happen in a regular pattern, like every fourth or eight wave, but they don't really.
Tsunamis (tidal waves), are caused by earthquakes and can be somewhat predicted, sneaker waves can't be (see info at the end of this page).
Sneaker waves are not weather related and can strike on sunny or stormy days. Sneaker waves often occur during outgoing tides.
The Red Cross book Swimming and Diving includes these warnings:
"Any open water area may have dangerous waves…A sudden wave may carry or push a nonswimmer into deep water. Any swimmer can be knocked over by a wave breaking close to shore. A breaker may roll you under the surface or slam you into the sand. Children playing at the water's edge can be knocked down and pulled into the water by sudden, large breaking waves."
This warning goes for adults as well as for children.
______________________________________
"April 5, 2000
In response to a series of widely separated events along the California coast, the California Department of Boating and Waterways issued a safety advisory for those recreating on or near coastal waters.
So-called rogue waves along the Northern and Central coast have caused several serious accidents recently, resulting in at least four deaths. These large breakers are also referred to as sneaker waves, because they can appear with little warning on seemingly moderate to calm sea conditions. Sometimes caused when waves from storms out at sea encounter areas of shoaling, sneaker waves are well known in Tomales Bay in Marin County, Pillar Point Harbor in San Mateo County, and Eureka in Humboldt County, but can also occur along the Southern coast.
In the most recent incident, a group of hikers were swept away by ocean waves near Shelter Cove in Humboldt County. "We understand many of the processes behind the formation of rogue waves," said Dr. Reinhard Flick, oceanographer for Boating and Waterways. "The difficulty is that the precise time these waves will hit a certain spot is impossible to predict. Every hour or two, a wave several times higher than the average wave will occur. Undersea depth irregularities often focus wave energy and increase both the average and the sneaker wave heights. Also, strong currents flowing out of harbor entrances can exaggerate incoming waves, making them higher and steeper."
The advisory cautions all persons who use coastal areas for sport, recreation, or work to be mindful of the possibility of rogue waves. Those in areas directly exposed to open ocean conditions, entrances to bays, or in headlands areas are cautioned to be vigilant to sea conditions at all times. Periods of high surf and higher-than-normal tides also present the need for special precautions, including knowledge of the predicted tides. Recent tragedies especially underscore the importance of wearing a U.S. Coast Guard-approved life jacket while boating on coastal waters. Case studies on rogue wave accidents indicate people may find themselves in the water unexpectedly, and it is too late if you are not already wearing a life jacket.
Last year, 88% of the people who drowned in California boating accidents would have lived if they had been wearing the life jackets most carried on board. In one year, 13 people lost their lives in Tomales Bay incidents alone. Most were unfamiliar with the conditions unique to the area. As one survivor described it, "We were fishing at the entrance to the bay. The water was calm. All of a sudden, a high wave came out of nowhere, crashed down on us, capsized our boat and threw us into the water."
Two-thirds of drowning victims are good swimmers. Why you should wear a lifejacket.
Sneaker wave at Redwood National Park: "rare Footage. This was filmed one morning when the National Weather Service had issued a sneaker wave warning for our coast. This sneaker wave was filmed on Freshwater beach in front of the Kuchel Visitor Center. The ranger was filming for 60-minutes prior to this wave. Ten minutes before this event occurred, the ranger filming had to warn visitors not to sit on the large log that was then filmed being hit by the wave. [The is no audio except the sound of surf and waves]"
https://www.nps.gov/media/video/view.htm?id=74841CD8-A84E-0ABA-8CBC3C6FCCD5502C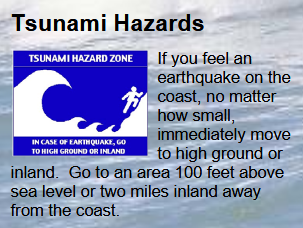 ______________________________________
National Park Service Daily Report
Tuesday, January 6, 2004
Redwood National and State Parks (CA)
Two Drown Off Freshwater Lagoon Spit
On Friday, January 2nd, state and national park rangers were dispatched to Freshwater Lagoon Spit in Redwood National Park to investigate a report of two people swept out into the Pacific Ocean. The Coast Guard, Humboldt County Sheriff's Office, California Highway Patrol, California Department of Forestry, and the Orick Volunteer Fire Department also responded. Nine members of a large, extended family had been playing at the water's edge when two large 'rogue' waves swept over eight of them. All were able to escape the surf and get back to the beach except for an eight-year-old boy. The boy's 38-year-old uncle entered the water in an attempt to rescue him, but was swept out to sea. Rescue personnel, who arrived on scene about 20 minutes later, obtained descriptions of the victims and began searching the shoreline northward from the point where they'd entered the cold ocean water. NPS ranger Paul Tibbetts entered the surf in a wetsuit with a rescue board, but was unable to locate either victim. Rangers and bystanders eventually found the boy's uncle washed up in the surf approximately 500 yards north of his entry point. He was pulled from the water unconscious and lacking vital signs. Rangers, assisted by other agency personnel, administered CPR until paramedics arrived and pronounced the victim dead. The interagency search for the eight-year-old, who is presumed dead, continued into the evening and resumed the next morning. The north coast of California continues to experience severe winter weather, causing rough seas. Rogue waves, which take lives almost every year, are common during the winter and can occur without warning, even on seemingly calm days. Rangers will continue to warn park visitors of these hazardous conditions. Warning signs are also permanently posted along this stretch of beach and were in place at the time of the accident.
[Submitted by Scott Wanek, Chief Ranger]
______________________________________
USLA rip current survival guide http://www.usla.org/?page=RIPCURRENTS
______________________________________
Staying safe in the surf
http://www.webmd.com/baby/features/staying-safe-in-surf
___________________________________

riding out rip currents
http://www.webmd.com/a-to-z-guides/riding-out-rip-currents
___________________________________

rip current No 1 beach danger
http://www.webmd.com/baby/features/rip-current-no-1-beach-danger
___________________________________

polluted waters closing more beaches
http://www.webmd.com/baby/news/20020726/polluted-waters-closing-more-beaches
Natural Resources Defense Council
Water Quality at U.S. Beaches
How to find out whether state and local authorities test for beach pollution, and what they do if they find it.
http://www.nrdc.org/water/oceans/gttw.asp
The U. S. Environmental Protection Agency has a beachgoer's guide at:
http://www.epa.gov/waterscience/beaches/beachlinks.html
___________________________________

A reader of this website sent me this note:

"This observation is based on my recent experience –

Sneaker Wave is a Mini Tsunami

For over 20 years we have enjoyed the Oregon coast. We have walked the beaches and scurried away from larger waves as they mysteriously climbed the beach. One of our favorite Oregon beach activities is to get out of the constant wind by sitting on the south side of the jetty at Winchester Bay. High up the beach with the warm sunshine beaming down and the lulling roar of the ocean makes it is easy to drift off into a wonderful, peaceful nap.

NOT a good choice.

Even though we were a good 20 yards or more from the ocean we were awakened to find ourselves engulfed in a sneaker wave. Sneaker wave …. well it would better to call it a mini tsunami. It is a small, surging wall of water that carries a huge concentration of sand. Your clothes are instantly saturated with water and sand that increases your weight exponentially – way beyond your level of strength. You are engulfed in a surge mixture of water and sand like liquid cement so that your attempts to free yourself are somewhat futile as it rushes back to the ocean.

What saved us? The fact that this sneaker wave or little tsunami was just one wave and small enough the we could stand up, grab the jetty rocks and stay on the beach. After researching the internet, I found that the sand saturated water in the wave is not reported. An illustration of the weight gain is that the extra large beach towels we were sitting on seemed to weigh about 30 to 40 pounds each after the wave hit. So that coat you wear to shield yourself from the wind can become a weighted anchor or your death shroud if you are engulfed in a sneaker wave.

Moral of the story: Better to nap in the car or have someone serve as a lookout….. and yes, like they say, never turn your back or close your eyes on the ocean.

Dr Tim Lowenstein

Drain, OR

_________________________________



from the San Francisco Chronicle, October 24, 2006:
http://www.sfgate.com/cgi-bin/article.cgi?f=/c/a/2006/10/24/BAG4VLURR41.DTL&hw=beach+where+died&sn=001&sc=1000
A stretch of Humboldt County beach that produced a sleeper wave that swept a 4-year-old girl to her death on Sunday and killed a woman who tried to save her has claimed the lives of three other children in recent years.
A similar incident occurred on Jan. 2, 2004, at Freshwater Lagoon Beach, the site of Sunday's deaths, when an unexpectedly large wave pulled an 8-year-old boy and a 13-year-old girl into the surf after their families had stopped for a picnic. The girl was saved; the boy drowned and his uncle died trying to save him.
And about two years ago, a powerful wave drowned yet another child 4 miles away at a beach near Stone Lagoon, north of Arcata, said Charlie Van Buskirk, a deputy coroner for Humboldt County.
"The ocean is unpredictable and unforgiving," he said Monday. "It's not something to have a cavalier attitude about. When I go out, I don't turn my back on the ocean."
Sleeper waves, which can unexpectedly break on shore or quickly inundate a dry beach with a foot or two of powerful current, are a dangerous staple of Northern California's rugged shoreline. The waves are blamed for the drowning deaths of a few people every year along the California coast from Big Sur to Oregon.
Freshwater Lagoon Beach is on a spit of land where Redwood Creek flows into the ocean near the town of Orick, about 30 miles north of Arcata. With its huge waves and riptides, the beach has such a reputation for treachery that even surfers tend to stay away.
Sunday's incident occurred at about 11:20 a.m., authorities said.
It was a warm, sunny day. Four-year-old Mikayla Tingey was on a camping trip with her 28-year-old mother, Brandy Tingey, and her mother's friend, 21-year-old Jeanne Wood, all of Elk Grove in Sacramento County.
The three had stopped to visit the Redwood Creek picnic area, a National Park Service day-use facility that has access to Freshwater Lagoon Beach. Nestled next to small sand dunes, the beach is about half a mile long.
Amy Caldwell, the acting superintendent of Redwood National and State Parks, said signs posted along the beach warn of dangerous waves, currents and undertow. There are no lifeguards. The water is very cold, and anyone entering it without a wetsuit is subject to hypothermia.
"It's not a safe area for swimming at all," Caldwell said. "There are heavy riptides there. There is an undercurrent. … As far as we know, the child wasn't even in the water. It was a sneaker wave that got her wet and carried her away. She was playing with her mother on dry sand."
Wood, a friend of the child's mother, jumped in and grabbed the girl, but the two were quickly dragged into the ocean, Van Buskirk said. Brandy Tingey made two attempts to rescue her daughter and Wood, and was also dragged into the surf. But she was able to pull herself out.
"The mother did go back on shore to remove her cargo pants and re-enter the water," Caldwell said. "I guess she realized she couldn't save the child."
A Coast Guard helicopter and rescue boats were dispatched, and Wood's body was recovered in about an hour. Mikayla Tingey's body was found two or three hours later, half a mile from shore.
Brandy Tingey spent Sunday evening holding the body of her deceased child in the hospital.
"She's stunned," said Van Buskirk, adding that the mother's relatives drove up to Humboldt County to comfort her. "I don't think they could have outrun the wave. The mother said at one point that she thought she was going to die in the surf because they were getting tumbled around in it. And when she dragged herself out of it, she knew that she would be the only one to survive."
The North Coast has produced a string of grisly incidents.
In November 2005, a sleeper wave swept four people — who had been walking along the shoreline in street clothes — into the ocean at Wright's Beach in Sonoma County. A 22-year-old Santa Rosa man and a 20-year-old San Martin woman drowned. A teenage boy was rescued by a lifeguard; a teenage girl made it to shore on her own.
"When it's a nice, calm day, people tend to underestimate the power of the ocean," Caldwell said. "The ocean is a treacherous place."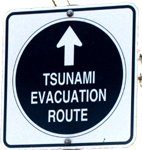 If you are at the beach and feel an earth quake big enough to make you have trouble standing up, or a strong quake that lasts 20 seconds or more, a tsunami with waves 10, 20 or even 100 feet high is coming within minutes and you must go to higher ground right away. You do not have time to pick up the picnic/towels/ swim gear or move your car. Grab friends/family and start running up hill, even to a street far above the beach. Be careful to avoid downed power lines and buildings that might be coming down in aftershocks. You might be able to go back for your car after a quake if a tsunami does not materialize, but you risk your life if you try to get your car moved right after the quake.
If a tsunami does happen where you are, once the water recedes, do not return to the coast. Tsunamis are a series of waves. More may be coming.