The De Anza Outdoor Club wants to continue to be allowed by Risk Management to do challenging events.
We try, through this website, to teach people the things they need to know to be comfortable
or just to survive on a winter camping / hiking trip.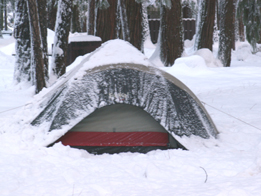 But we still have had people who didn't know what they were supposed to, especially about good clothes, food storage,

bears, raccoons, etc.
So we devised a test everyone must take (pass) before they go on our annual winter trip to Yosemite.
Showing us (and getting our approval of) your rain gear, describing your tent, sleeping bag, pad(s), and boots are also required to go on the trip. (Various stores rent tents, sleeping bags and even winter boots, ski pants/jackets).
Info about the trip starts at
Snow Camp
Signing up will go much faster (and you will be more likely to pass the pre-test), if you have read the trip agreement.
Sample questions from the test are here:
1) T /F In past years we have had sunny, early spring weather or it has snowed two feet in one night or rained/snowed all weekend. There can be snow at the Yosemite ski resort, but there might not be any (or it might be a couple of feet deep) in Yosemite Valley.
_________________________________________________________
2) People on this trip can (but won't have time for all of these) :
(choose any that apply)
A) go on a day-long hike to the base or the top of Yosemite Falls, or go on a hike to Vernal falls if the Yosemite falls trail is closed
B) go on sunrise hikes
C) ice skate on a rink with a view of Half Dome
D) ride the free ski bus from any of the hotels and near the campground to the ski resort and snowboard, downhill, cross-country ski or go on a Ranger-naturalist snowshoe walk
E) do homework
F) hear coyotes sing (especially very early in the morning)
G) go out to breakfast the last morning at the fancy Ahwahnee brunch (or in 2022, breakfast together elsewhere because the Grand brunch is not being offered)
– – – Yup, you guessed it, the answers are at: Snow Camp
_________________________________________________________
5) People on this trip will: (choose any that apply)
A) Get together at the pre-trip meeting to plan group meals
B) Get together on their own to plan group meals
C) Eat out at the restaurants
D) Make meals by themselves
E) Have impromptu pot-luck meals
F) All of the above
And see the dinner section of Snow or rain camp must-haves )
_________________________________________________________
8) The club requires that you (choose any that apply)
A) turn off car stereos when entering the campground or hotel areas and not play the car stereo or play a boombox in the campground or your hotel room or balcony / patio (bring headphone players)
B) not set your car alarm
C) disable the noise your vehicle makes when you push the keyless remote button to unlock it,
or put your remote away and only use the key to open the car
D) disable the noise your vehicle makes when you open the trunk, etc., or drop off gear at the campsite and park at day use
All of the above
If this was not easy to answer, you probably should read the trip agreement again.
________________________________________________________
_________________________________________________________
______________________________________
First-timer's instructions, Snow camp weather, hike safety and first aid considerations were written to make the trip easier for everyone, highlighting mistakes others have made on previous trips so you don't have to make them.
Most people will take four, 4 1/2 or maybe five hours to drive to Yosemite. If you don't want to set a new record for taking too much time to get to Yosemite (currently the winter trip record is 13 hours by a guy who didn't use our directions and drove around the mountains all night), then read
Snow camp carpools and driving directions.
You might also want to read How to not collide with a deer, Safe driving in rain and fog, Prepare for winter driving, wildlife jams, and/or Snow chain rentals.
For the answer to the question: How do I convince my parent(s)/guardian that I can go on this trip? or How do I convince them to pay for some gear for the trip? Go to: Snow camp FAQs