The De Anza Outdoor Club wants to continue to be allowed by Risk Management to do challenging events.
We try, through this website, to teach people the things they need to know to be comfortable or just to survive on a winter camping trip.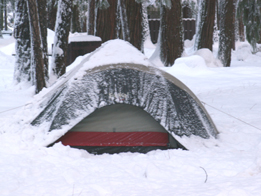 But we still have had people who didn't know what they were supposed to, especially about good clothes, food storage, bears, raccoons, etc. So we devised a test everyone must take (pass) before they go on our annual winter trip to Yosemite.
Showing us (and getting our approval of) your rain gear, describing your tent, sleeping bag, pad(s), and boots are also required to go on the trip. (Members can rent really good tents, insulating sleeping pads and much more from the club. Various stores rent all of those and even winter boots, ski pants/jackets).
Info about the trip starts at
Snow Camp
Sample questions for the test are here:
1) T /F in past years there has always been snow at the Yosemite ski resort, but there might not be any (or it might be a couple of feet deep) where we will be camping
_________________________________________________________
2) Headphone tape players or acoustic guitars are expected on this trip because:
A) Playing your car stereo with the doors open to hear it at the picnic table is too loud and
bothers other campers
B) Other people really do expect the worst about noise and breaking rules from a large
college-age group
C) A neighbor on a previous trip thought another campsite of not-really-that-noisy, beer drinking college guys were with us and he wrote complaints to the college president and our local Congressperson. The college president had to answer to the Congressperson's office.
D) All of the above
________________________________________________________
5) People on this trip will: (choose any that apply)
A) Get together at the pre-trip meeting to plan group meals
B) Get together on their own to plan group meals
C) Eat out at the restaurants
D) Make meals by themselves
E) Have impromptu pot-luck meals
F) All of the above
(The answer is in the dinner section of Snow or rain camp must-haves )
_________________________________________________________
11) Choose which things your payment to the club covers:
A) campsite
B) wood-floored, canvas walled/roofed tent cabin
C) a water purifying pump the faculty advisor will bring if she joins a hike, and more IF someone brings
them
D) a 10′ x 10′ dining canopy or two, if someone brings them
E) at least one club owned stove, lantern and propane tank for group use Saturday morning and Saturday evening
F) lots of firewood, for the Saturday evening campfire
(FIREWOOD: As long as Sudden Oak Death is still a problem, we must follow quarantines of host material, including local (Santa Clara County and other infected coastal counties) firewood. We can't even bring cut up scrap lumber or pallets. We need to buy it in the park, or bring Presto type "logs" or collect it in the park outside of Yosemite Valley.)
G) a first aid kit the faculty advisor will bring, and more of them if someone brings them
H) ski lift tickets
I) park entrance fee
J) one meal at a restaurant if the weather is bad or you burn your food when you try to cook it.
(The answer is in the snow camp section of Outdoor Club Coming Attractions)
_________________________________________________________
______________________________________
First-timer's instructions, Snow camp weather, hike safety and first aid considerations were written to make the trip easier for everyone, highlighting mistakes others have made on previous trips so you don't have to make them.
Did you read Using a campsite food storage locker ? Space in the food lockers must be shared by six people. If you bring too much stuff you will have to drive to a day use parking lot a few blocks from the campsite and leave stuff there or pay for an additional campsite.
Most people will take four, 4 1/2 or maybe five hours to drive to Yosemite. If you don't want to set a new record for taking too much time to get to Yosemite (currently the winter trip record is 13 hours by a guy who didn't use our directions and drove around the mountains all night), then read
Snow camp carpools and driving directions.
You might also want to read How to not collide with a deer, Safe driving in rain and fog, Prepare for winter driving, wildlife jams, and/or Snow chain rentals.
For the answer to the question: How do I convince my parent(s)/guardian that I can go on this trip? or How do I convince them to pay for some gear for the trip? Go to: Snow camp FAQs