The De Anza College Outdoor Club went on the 29th annual Yosemite winter trip, the first weekend in February, 2019.

We compared our paws to the tracks of a bear in the snow, in which we could clearly see claw tracks. (Black bears in Yosemite are not true hibernators. Some sleep on and off, some never go into hibernation.)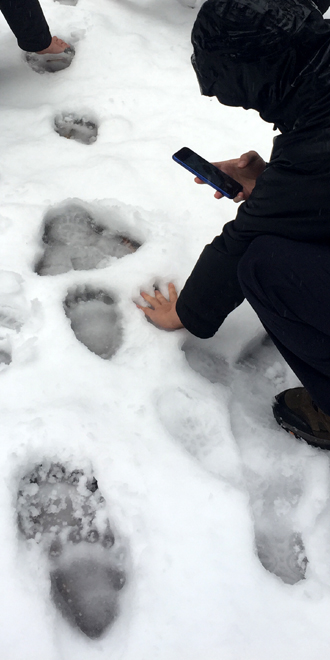 One couple camped in the campground, the rest of the students stayed at the Yosemite Lodge. If you are thinking about going on this annual trip, you can compare overnight possibilities.
Saturday morning people considered skiing or snowboarding, but after deliberation, one student headed out for a photo walk with a professional photographer from the Ansel Adams gallery, almost everyone else hiked to the top of (or near the top of) upper Yosemite fall.
Group photos before the hike: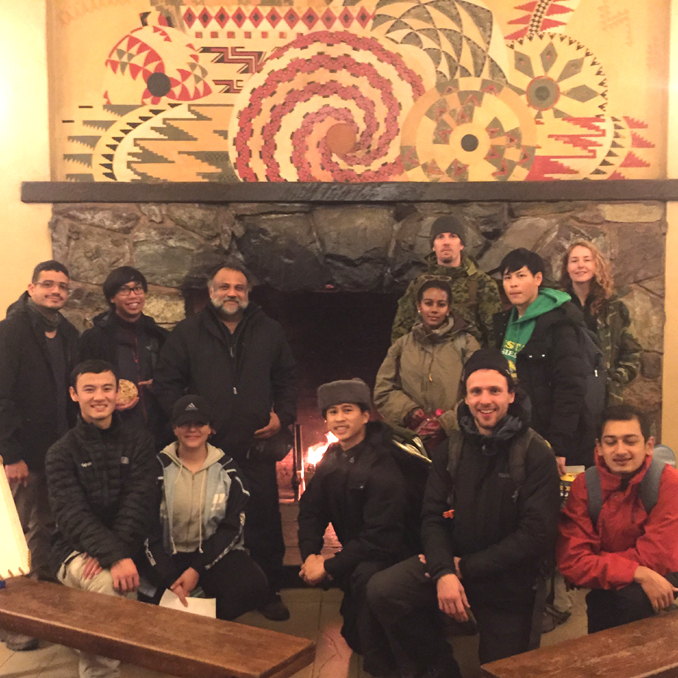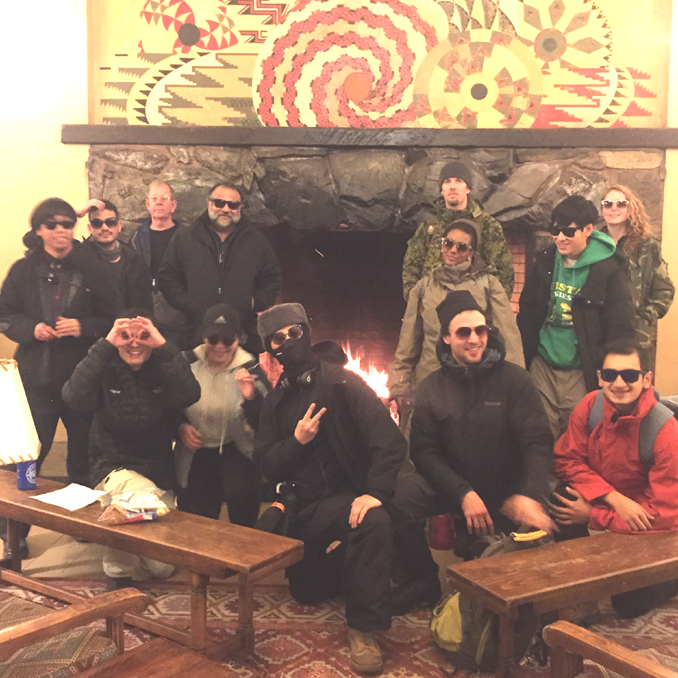 Everyone went to brunch at the Ahwahnee Hotel (temporarily named the Majestic Yosemite Hotel) on Sunday morning.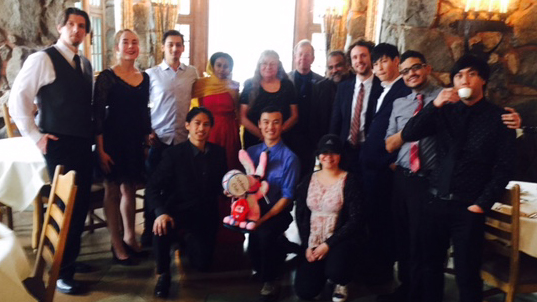 Think everyone dressed great in the photo above? Some people bought waterproof rain pants and hooded rain jackets at a local hardware supply store (just-in-case-it-really-did-rain) that turned out to be matching: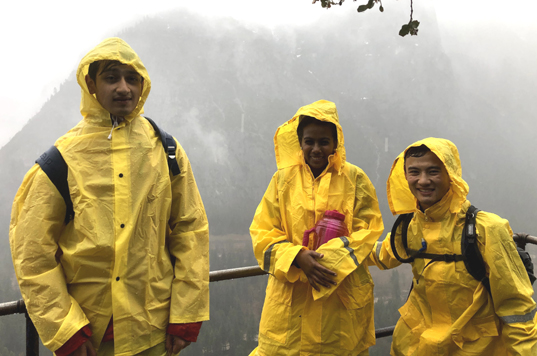 See the Yosemite winter trip must haves for advice on choosing the right gear to stay warm and as-dry-as-possible.
The club advisor stopped on a drive through the campground to convince other campers that the dining canopy they set up over their poorly designed tent was a mistake, as it would collapse with the weight of the expected overnight snow (their gear was already wet already due to not having a rain fly that goes all the way down the side of the tent):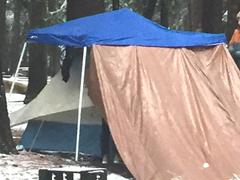 see: Don't buy a cheap tent.
One trip member wore shoes (with plastics bags in them because they were not quite waterproof) after brunch, because he was not expecting a walk out beyond the Ahwahnee Cottages in snow where the club advisor took the group to see the bear footprints (but he wore good footwear on on the hike):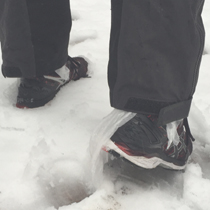 Here is a photo from Sean Pham of part of the group after brunch when we went to look at the paw prints, with cliffs behind cloaked in newly fallen snow, peeking out from behind clouds: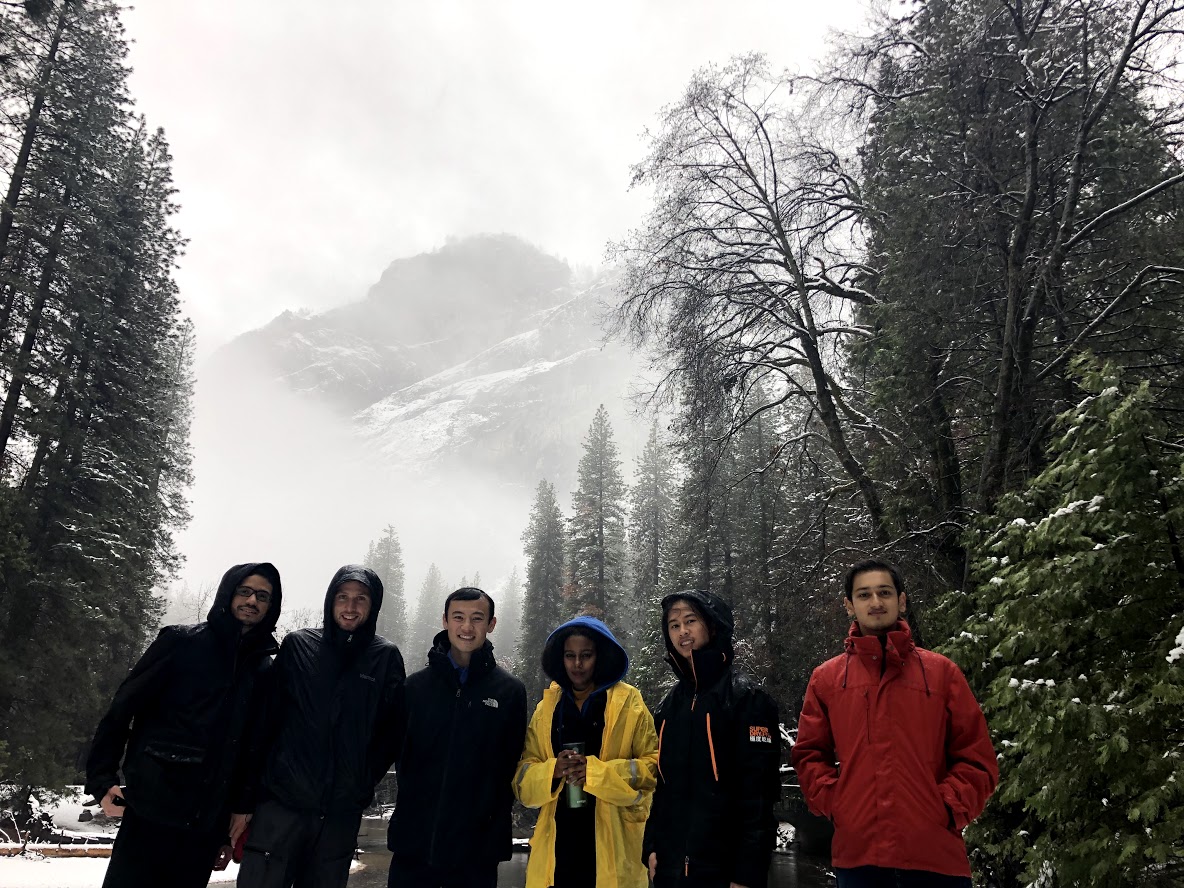 At the end of the trip it started snowing even more heavily. . . and for 2 1/2 days all roads out of Yosemite Valley were closed and all campgrounds were closed due to risk from falling trees.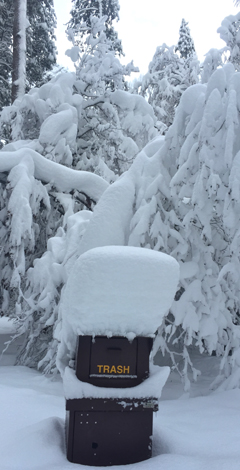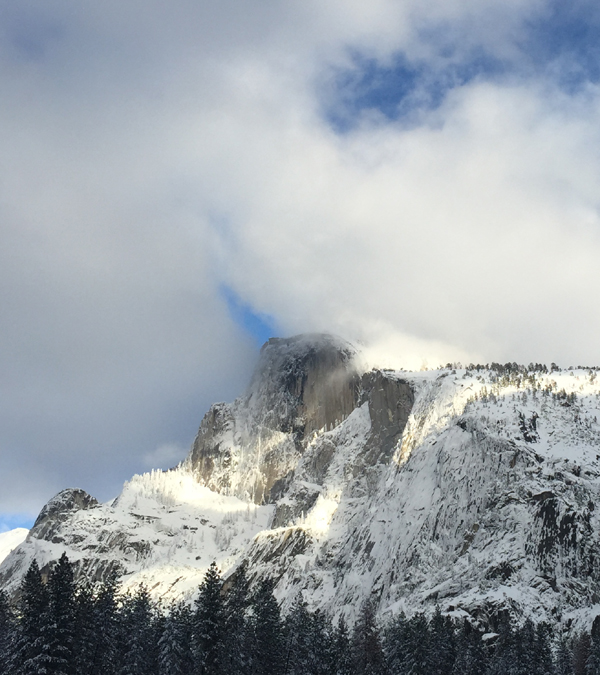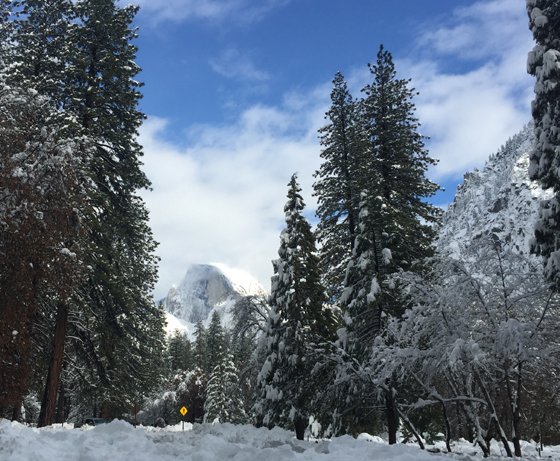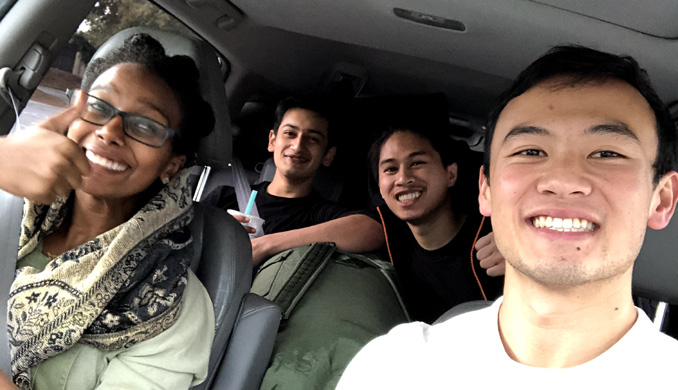 (The students all got out of the park the last day of the trip before the snow closed all the roads out of Yosemite valley.)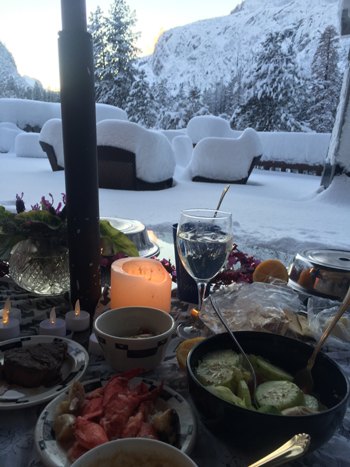 But the club advisor was snowed in for days.

Can you spot Upper Yosemite Falls just about in the center of this picture below after heavy snow fall covered the cliff face?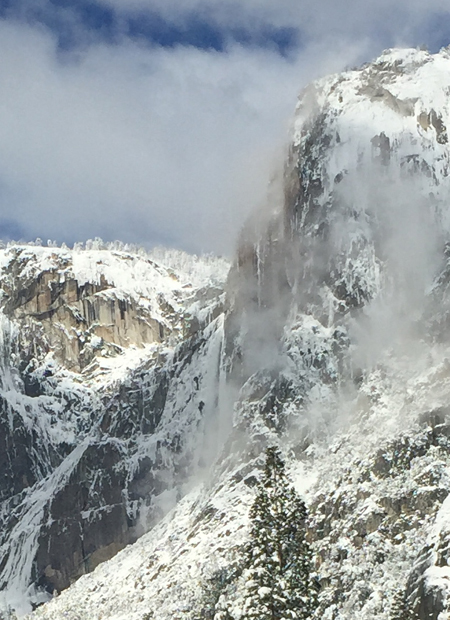 Jan. 31 to Feb. 2, 2020, will be the THIRTIETH ANNUAL
De Anza College Outdoor Club
Yosemite Valley winter trip.