Alan Ahlstrand, editorial director, powersports for Haynes Manuals, has always worked at a home office, back to when he wrote over 100 automobile and truck repair manuals just out of college or as a project editor for four Ortho home improvement books or coauthor/editor of six Harper Collins/Chek-Chart automotive series textbooks.
Below: his office right after the 1989 Loma Prieta quake and circa 1972 working on his 1959 Bugeye Sprite.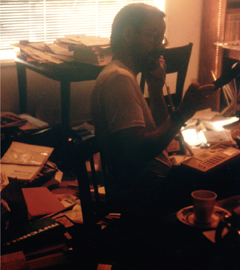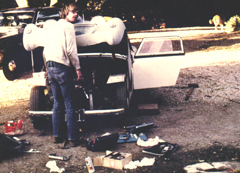 The fourth and fifth grade regional spelling bee winner (owner of nine spelling ribbons, yet his wife only has one blue ribbon from Girl Scouts in Morse Code and a ribbon from a Junior High science fair project) and magna cum laude graduate of De Anza College hard at work (really) at his 60's vintage Remington manual typewriter he bought used while at San Jose State University: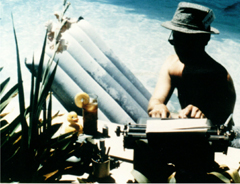 All Haynes books are based on a complete teardown and rebuild. In the picture below writers Alan Ahlstrand and Kal Lahue examine archeological engine oil from a Chevy truck.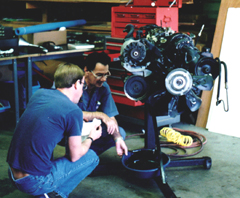 If you search at Amazon.com for Alan Ahlstrand as author you will usually find at least 100 current titles in print. At the Library of Congress you will find over 200.
The fame, the glory, the greasy, grimey gears of a Pinto countershaft: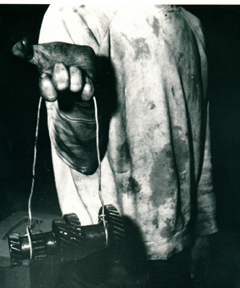 By 2005, (this photo is February 2006), he had moved up to using a lap top for some of his writing. There is a larger copy of the photo below at Alan Ahlstrand writing and researching simultaneously.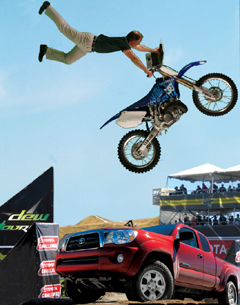 Alan is a Red Cross lifeguard and lifeguard instructor. He has been a lifeguard at 50 triathlons or open water swims and volunteer of record helping with De Anza College classes since 1988.
Below a photo from the San Jose Bud Light U.S. Triathlon Series at Calero reservoir, June 10, 1990.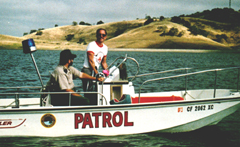 and Alan is in the back row, third from the left in this group photo of De Anza College lifeguard training graduates, other volunteers and a couple of De Anza people ready to swim at the 2005 Escape from Alcatraz Sharkfest swim race: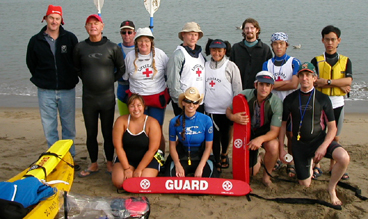 Alcatraz group photos has all the group pictures of De Anza College volunteers at this swim race.