During the coronavirus pandemic people in many areas have been ordered to "confine themselves to their homes — and to leave only to buy food, go to work, seek medical care or assist older people and others in need."
Dr. Anthony S. Fauci, the director of the National Institute of Allergy and Infectious Diseases, said that "Americans should be prepared that they are going to have to hunker down significantly more than we as a country are doing."
Here are some ideas for my students to pass the time hiding away more pleasantly and profitably.
There is something on this webpage of use to each of you.

1) People in Italy ordered to stay at home played music and sang from their balconies. "It's not like we're maestros," a woman in Rome said, but "it's a moment of joy in this moment of anxiety."
Odds are you already thought of this idea: you could sing and dance to whatever music you like, and in the process raise your spirits, get a little extra exercise and boost your immune system.
Get out that guitar, flute, (trumpet?? tuba!!? ) you haven't played in years and relearn it.


2) Get out three sets of rolled-up socks and learn to juggle.
(Yup, I can hear my students saying "What for, Mary ?!?!?")
There can be lots of benefits from learning to – or attempting to learn to – juggle,
increased hand-eye coordination,
a potential abdominal workout from the uncontrolled giggling if you try it with roommates or family,
and when you are successful, another way to do a treading water workout at the pool when swim classes start up again – and reeeeealy show off in the pool.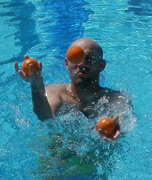 (For the photo above he was in 14 foot deep water. He had lots of experience treading water and juggling so this first try at doing both at once was relatively easy for him.) Swim teachers can use this to be role models for their students. If you can barely swim or can't swim, or have never been in a swimming pool, De Anza College has a class for you.
Hmmmmm, and learning to juggle can improve your brain
Tips for learning to juggle are at: https://www.wikihow.com/Juggle

3) When libraries are closed you can still get a FREE library card online without needing to go into the library (for the Santa Clara County, California library system go to: https://sccld.org/card/)
and get "instant, full, free access to the Library's Online Library services,
including eBooks, streaming movies, and more."
Take a look at the possibilities at
https://sccld.org/online-library/
For example, at https://sccld.org/learning-and-test-prep/
look for "Learn a New Language with Rosetta Stone. Bonjour! Hola! Nǐn hǎo! Say hello to Rosetta Stone, a way to improve your English or learn another language." (This program would usually would cost you up to $11.99 a month for three months but is FREE through the library.)
Languages offered include (ooops, no Vulcan, Klingon or Ferengi):
Arabic, Chinese (Mandarin), Dari, Dutch, English (American), English (British), Filipino (Tagalog), French, German, Greek, Hebrew, Hindi, Indonesian, Irish, Italian, Japanese, Korean, Latin, Pashto, Persian (Farsi), Polish, Portuguese (Brazil), Russian, Spanish (Latin America), Spanish (Spain), Swahili, Swedish, Turkish, Urdu and Vietnamese.
And for example: "graphic novels & comics, available 24/7 on web-connected devices. Includes fiction, nonfiction, indie, Sunday funnies, & manga!"
"eBooks, eCourses, and videos from certified industry experts on computer & information technology"
"get ready for graduate school entrance exams"
"Great Courses: 100s of academic videos on history, science, philosophy, mathematics, literature, economics, and more"
Lynda.com: "Learn software, creative, and business skills to achieve your personal and professional goals."
"Treehouse offers online video & lessons to teach coding and web development skills such as HTML, CSS, Design, JavaScript, Ruby, PHP, etc."
As a National Park Service volunteer, I got a news flash about Coursera popular free courses, including, from Yale The Science of Well Being.

4) Be someplace else for a while.
Try this, put up the webcam of Yosemite Falls in Yosemite National Park.
(You can sometimes load a streaming version of it.)
While on De Anza College Outdoor Club trips to Yosemite, I suggest to people walking the path to the base of lower Yosemite fall, from where you can see all three of the falls sections at once, getting fairly close up, (below and larger sizes at the end of this page, is the view as you walk along),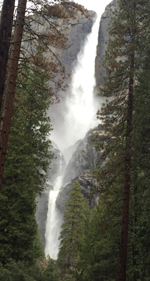 that they stop and look at the upper fall, imagine it with full flow in the winter and then imagine the wind catching and holding the flow. Naturalist John Muir wrote about a winter storm when this happened and he counted to 190 before the wind stopped holding the water.
While looking at the webcam, you could read out loud to roommates / family what John Muir wrote about the experience at:
Upper Yosemite Fall held stationary in mid-air.
(If the webcam is not functioning, see the photos at the end of this page. There are two sizes so one of them will fit on your screen.)

Hidden Worlds of National Parks free, immersive, guided tours through five national parks. "The series was released in 2016 in honor of the National Park System's (NPS) centennial celebration and focuses on lesser-known sites, including the Kenai Fjords in Alaska, Hawaii Volcanoes National Park, Carlsbad Caverns in New Mexico, Utah's Bryce Canyon, and Dry Tortugas in Florida.
Each tour features 360-degree photos of different spots in each park with short, one- to two-minute narrations from park rangers. Virtual travelers can spin around to view the area as the rangers relate facts about the flora and fauna and the park history, then they can click on an icon to hop to a different section of the park. Certain spots in each park also include extra 360-degree video experiences, such as a helicopter flyover at Hawaii Volcanoes, a horseback ride through Bryce Canyon's hoodoos, and snorkeling in the coral reefs of Dry Tortugas." (Description courtesy of AFAR.)
– – – – – – – – – – – – – – – – – – – – – – – – – – – – – – – – – – –

The U.C. Berkeley has a webcam of their https://calfalcons.berkeley.edu/webcams/ Peregrine Falcons that we watched occasionally during HLTH57A first aid class last spring when the chicks were hatching and becoming balls of white fluff. (First egg of 2020 — arrived March 10 at 11:21 p.m., the second on March 13 at 9:43 a.m., third on March 16.) In 2019 the first one to hatch did so on April 24. The 2020 hatch day was April 18, and the little fluff balls could sometimes be seen huddling together if a parent was not directly on top of them, or more usually you would see the sides of them just under a parent. Soon, they are too big to fit under a parent and just huddle in a pile next to a parent. Days later they are lifting their heads up while cuddling.
An Audubon field guide includes:
"Female stays with young at first, while male brings food for her and for young; later, female hunts also. Age of young at first flight 39-49 days," and a link to what they sound like.
Yosemite National park closes some climbing routes each year from March 1 through July 15 to protect peregrine falcons and occasionally for an active golden eagle nest.
– – – – – – – – – – – – – – – – – – – – – – – – – – – – – – – – – – –
Baby swan got separated from mom swan, and to get back to her, tried to go through a chain link fence. Baby swan (cygnet) got their head, neck, one leg through the small opening, but in the process got stuck in the fence. Of course you would try to get it out . . .
– – – – – – – – – – – – – – – – – – – – – – – – – – – – – – – – – – –
San Diego Museum of Art youtube channel: offers While We Are Closed mini-tours, lectures.

Take a look at a Yosemite Half Dome webcam
Nine Yellowstone National Park webcams. Includes Old Faithful with the time of the next predicted eruption.
Grand Teton National park webcams.
Ten or more Mount Rainier National Park webcams.
The Monterey Bay Aquarium has ten webcams, (usually 7 a.m. to 7 p.m. pacific time, some 24 hours) including cute otters (who are not always out where you can see them in the webcam).
https://www.montereybayaquarium.org/animals/live-cams
San Francisco https://www.earthcam.com/usa/california/sanfrancisco/?cam=rowingclub
Point Reyes National Seashore webcam
Yosemite Conservancy (guess who is a donor?) made a new webpage with at least a full evening worth of being someplace else.
https://yosemite.org/bringing-yosemite-to-you/

5) Take care of yourself
You have more "spare" time, so do a little more exercise, even if it is just going up and down front porch steps, or standing up from and sitting back down on your desk chair repeatedly. Some of the ideas at Sneaking exercise can be adapted for workouts without a gym.
TEN MINUTES of aerobic exercise is about all you need to produce enough endorphins to make you feel good!
Get outside – the rules of the a legal order directing California residents to shelter at home do not mean you must literally stay IN your home all the time. "You can still . . . engage in outdoor activity, so long as you avoid close contact."
Get some moves together to look good while dance walking (but for now, do keep that 6 foot plus, or even ten feet distance apart from each other). OR just put a smile on your face by watching this: https://www.youtube.com/watch?v=Ib3Duz_6a9M
Get in a new habit of taking the time to floss completely.

Search toe nail polish designs to find some that would normally take you more time than you think you have.
6) Check out the De Anza College Outdoor Club coming attractions that we will eventually be able to do again:
Monterey Bay kayak day trip. Twice a year – spring quarter, (usually May) and fall quarter (usually October)
No kayaking experience is needed for this event. The trip is designed for first timers, but people with experience kayaking also join us, especially if they want to introduce friends to kayaking. (Some students have done this trip many times!) There are ooooodles of pictures of the event, including cute otters, kayaks launching and smiling paddlers who had never been in a kayak before, at
Monterey ocean kayak day trip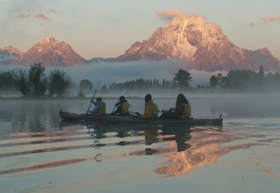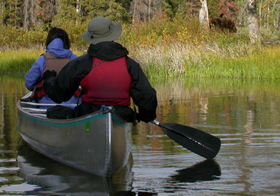 Between summer and fall quarter kayaking, hiking, star gazing (you can see the Milky Way on this trip away from city lights) trip to Grand Teton National Park in Wyoming. Camp or cabin or hotel room. Grand Teton trip is the main trip page with all the planned activities and links to other (not club sponsored) activities, such as climbing, galleries, white water rafting, trail rides, restaurants, rodeo, backpacking . . .

For a laugh, the De Anza College Outdoor Club collection of mistakes made on our adventures
– all of them true.

In anticipation of trips to National parks, you could spend some time learning to identify birds we can expect to see on our trips, or just enjoying the possibilities of seeing so many more birds than at home.
Audubon Society has pictures of birds in Grand Teton National Park and Yosemite National park.
Color drawings and descriptions of common Yosemite birds: http://www.nps.gov/yose/naturescience/birds-common.htm
Bird songs (and wildlife, thunderstorms) from Rocky Mountain, much the same as Grand Teton:
https://www.nps.gov/romo/learn/photosmultimedia/soundlibrary.htm#soundscapes
7) Concerned about storing enough drinking water (besides during the pandemic, if, for example, after the likely-in-your-lifetime major earthquake shuts off water supplies for a few days)?
You can use the (50 gallons of) water in your hot water heater if it was strapped to the wall and didn't fall and break during a quake!
According to FEMA, "to use the water in your hot water tank, be sure the electricity or gas is off, and open the drain at the bottom of the tank. Start the water flowing by turning off the water intake valve and turning on a hot water faucet. Do not turn on the gas or electricity when the tank is empty." There may be sediment in the bottom of the tank.
Los Angeles Fire put it this way:
"Use extreme caution. Let the water cool.
Turn off the cold water supply to the tank
Turn off the gas or electric heater for the tank
Open the drain valve at the bottom
REMEMBER: Some sediment at the bottom of the tank may at first make water flowing out look murky. Continue to drain water until it becomes clear."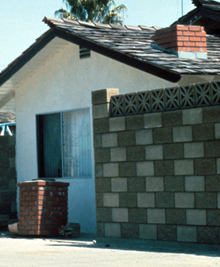 Wise people always have at least 1/4 tank of gas (or even a half tank) in case of winter storm or other power outages.

My students have told me they felt empowered when they did constructive things,
many of them free or low cost,
to be better prepared and safer.
Take a look at these pages for more earthquake preparation.
Family (and babysitters, caregivers, overnight guests) Earthquake Disaster Plan
As a part of preparing for the next earthquake, do a what if? survey of your home, crawl space, attic.
earthquake home hazards survey
The pages above are from HLTH57A, the college Red Cross first aid certification class. I would like to tempt you to take the class by having you take a look at First Aid Facts and Fallacies. My students have told me they (or a family member) really did think some of these myths-that-sound-so-plausible were true.

8) And . . . my swim students can continue working on stretching their tight ankles to make them faster swimmers and turn them into a virtual Michael Phelps as well as the drills we did in class to learn to tread water.

19) You should finally get that flu shot.

10) Make a list of things-you-have-been-putting-off-doing, and maybe start doing them, which could include
Detail clean the car
(When cleaning the garage we expect to find more of the likely-dozens-of-pairs-of-pliers-we-have-that-we-can-only-find-one-of-right-now. Okay, well maybe not dozens.)
Clean the oven / house windows / top of the refrigerator / bottom shelf of the under-the-sink cabinet.
How many dust-covered cords do you have coming from that one outlet in that back corner of the room? Are you sure it is not a fire hazard? (Yes, this photo was staged.)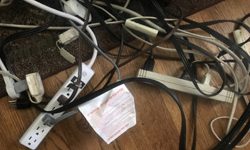 Week four of a stay-at-home order:
put all the canned food in alphabetical order
put all the canned food in alphabetical order according to the Greek alphabet
iron the sheets and make the beds even though no one will be coming over who could see them
Week five of a stay-at-home order
Some people started out working from home by actually getting dressed for work – in whatever professional wear they would usually have on at the campus, just to feel better about working.
Is anybody ready to get out a petition to the administration that once we are all back on campus, instead of 'Friday Casual' wear that some corporations have, how about a monthly wear the same jacket, vest, tie and pajama bottoms you wore to attend ZOOM meetings during the stay-at-home-order? Including the slippers with the bunny tail!


11) Register to vote
If there are a multitude of items on the ballot and you only vote on one of them, your vote will still be counted.
If you are homeless, including living out of your car, you can register to vote.
There is no literacy requirement.
If you are 16 or 17 years old, you can pre-register to vote and you will automatically be registered to vote on your 18th birthday.
The main deadline to register to vote for any election is 11:59:59 p.m. Pacific Time on the 15th calendar day before that election.
If you are registering or re-registering less than 15 days before an election you will need to complete the same-day voter registration process and request your ballot in person at your county elections office or polling location.
BUT you can register to vote on election day as well.
You can register to vote in California online, (using a computer, iPad, tablet or smartphone) at http://registertovote.ca.gov
There actually have been elections that ended in a tie, in part because many people did not vote.
From Rock The Vote: "Millennials have the potential to be the largest voting bloc in our country but are voting at a fraction of their size, with an estimated 30 million young people staying home in 2012."


Currently enrolled De Anza College students have free access to the New York Times.
Go to the college library database page: https://www.deanza.edu/library/articledata.html and click on The New York Times. At the next screen, log in with your Portal IDs. On the next screen, create an account.

De Anza College students can find all the college updates linked to at the college homepage.

The main Centers for Disease Control website, with the best answers to many, many questions you might have, is:

https://www.cdc.gov/coronavirus/2019-ncov/index.html
Take Care (and virtual hugs and/or fist bumps to all my students).