At the end of the quarter you will need to turn in a 250 word essay on your choice of either
cardiorespiratory endurance,
muscular strength,
muscular endurance,
flexibility,
OR
body composition.

The minimum 250 word length of this paper was decided by students.
Each student is responsible for being sure they write at least 250 words. There is no partial credit for fewer words. You should calculate the number of words from the essay itself, not including references titles and URLs that you list at the end of the essay. You do not need to put a title for your essay, or your name or the date you wrote it, as you enter it in that section at your Canvas pages and the "words" in these will also not count towards the minimum number of words in the essay.
The De Anza College curriculum requiring this essay was written by a previous dean. For aerobic, novice, intermediate and advanced swimming the curriculum says De Anza students will write an: "Essay on one of the five components of fitness based on the textbook "Fit and Well" by Fahey et al." For beginning swimming it says; "Essay on one of the five components of fitness based on the textbook "Fit and Well" by Fahey, et al evaluated on content and completeness."
Many other De Anza knesiology (P.E.) activity classes have the same requirement.
Please note that your essay should be on the subject matter, not about you. (It should not tell the reader about your personal health issues, diets, injuries, exercise strategies, etc.)
It should not be about your opinions of what people should do to stay fit.
It should be based on research / reading you did, but the essay must be in your own words, with quotes from whatever reading you choose in quotation marks, and telling the reader where you got the info from. You should not just copy a webpage from somewhere and turn it in.
If you did not choose to buy the current edition of the text, (or if you still have a copy from a previous De Anza class or bought a copy of the text that is a few years old, but still mostly the same and okay for this class) there is more than one copy of the current edition at the De Anza Learning Center.
The readings linked to below, some of which were assigned or suggested at the class webpage for reading besides for the essay, could also help you write your paper:
(Below also find the links to nutrition articles and swimming articles that were class reading.)
U.S. Masters Swimming has tips for stretching for swimmers.https://www.usms.org/fitness-and-training/articles-and-videos/articles/what-swimmers-should-know-to-develop-a-stretching-routine
Mayo Clinic advice on stretching
C.D.C. (Centers for Disease Control and Prevention) Health Benefits of Water-based Exercise
https://www.cdc.gov/healthywater/swimming/swimmers/health_benefits_water_exercise.html
Why swimming is so good for you https://time.com/4688623/swimming-pool-health-benefits/
Should you warm up and cool down?
https://www.heart.org/en/healthy-living/fitness/fitness-basics/warm-up-cool-down
How swimming can help you run faster
https://www.aquaticsintl.com/facilities/find-out-how-swimming-can-help-you-run-faster_c
Mayo Clinic on exercise and blood pressure:
https://www.mayoclinic.org/diseases-conditions/high-blood-pressure/in-depth/high-blood-pressure/art-20045206
Exercising with chronic conditions. "Almost anyone, at any age, can do some type of physical activity. You can still exercise even if you have a health condition like heart disease, arthritis, chronic pain, high blood pressure, or diabetes. In fact, physical activity may help … "
https://www.nia.nih.gov/health/exercising-chronic-conditions
Free exercise guides you can download
https://order.nia.nih.gov/publication/get-fit-for-life-exercise-physical-activity-for-healthy-aging
or read online:
https://www.nia.nih.gov/health/exercise-physical-activity
low-impact standing 7-minute workout
https://www.nytimes.com/video/well/100000007527127/standing-7-min-workout.html?
The Scientific 7-Minute Workout
https://well.blogs.nytimes.com/2013/05/09/the-scientific-7-minute-workout/
Mall walking from the Centers for Disease Control
https://www.cdc.gov/physicalactivity/downloads/mallwalking-guide.pdf
Exercise Away Your (lower) Back Pain https://www.iowaclinic.com/physical-therapy/stretch-and-strengthen-your-way-out-of-lower-back-pain/
U.C. Berkeley Wellness said: "Walking is also good for the back, as is swimming
(avoid the butterfly and breast stroke, which can put excessive strain on the lower back)."
Mayo Clinic Back Exercises:
https://www.mayoclinic.org/healthy-lifestyle/adult-health/multimedia/back-pain/sls-20076265
"Exercise and stress: Get moving to manage stress
Exercise in almost any form can act as a stress reliever. Being active can boost your feel-good endorphins and distract you from daily worries."
https://www.mayoclinic.org/healthy-lifestyle/stress-management/in-depth/exercise-and-stress/art-20044469
"Anything that gets your heart beating faster counts."
https://health.gov/sites/default/files/2019-09/Physical_Activity_Guidelines_2nd_edition.pdf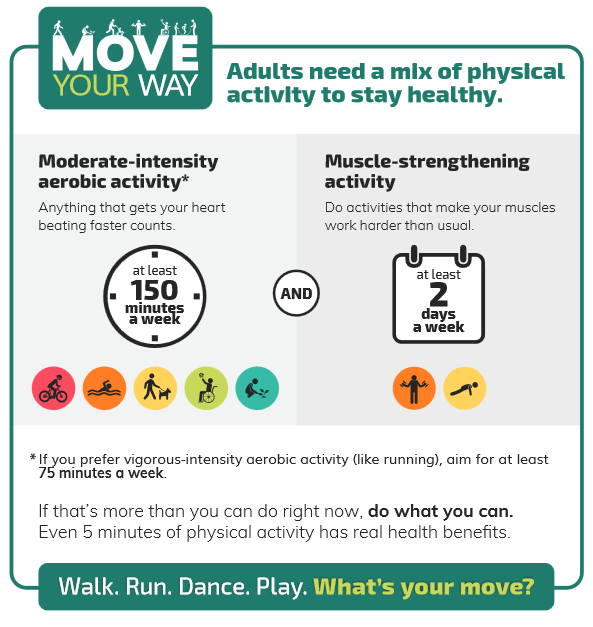 – – – – – – – – – – – – – – – – – – – – – – – – – – – – – – – – – – – – – – – – – – – – – – – – – – – – – – – – – –
and see SNEAKING EXERCISE for more ideas

and also from the swim class materials (not appropriate for this essay, but for your reference):
Reading on preventing swimmer's ear
http://www.cdc.gov/healthywater/swimming/rwi/illnesses/swimmers-ear-prevention-guidelines.html

STOP THAT CRAMP! 4 causes — and solutions — for muscle cramps during exercise
http://www.usms.org/articles/articledisplay.php?aid=1322
The American Cancer Society has skin cancer prevention info at:
http://www.cancer.org/acs/groups/cid/documents/webcontent/003184-pdf.pdf
You should remove your piercings when you swim . . . body piercings and lifeguards: http://www.aquaticsintl.com/lifeguards/saving-your-skin.aspx
Pool Safety ( and the Water Safety page at this website)
https://www.sccgov.org/sites/cpd/programs/RH/Documents/RH_Pool_Safety_Awareness_Handout.pdf
Answers to questions about sunglasses, hats, and sunscreen are at: https://www.cdc.gov/cancer/skin/basic_info/sun-safety.htm
USA diver has a bunch of great pages, including how the scoring system works.
http://usadiver.com/diving_about.htm
___________________________________
If you would like to do some reading about swimming strokes, or swimming in general,
try the American Red Cross Swimming and Water Safety Manual Its public libraries number is 797. This is the text for the Red Cross swimming teacher certification Water Safety Instructor.
It might be still downloadable for free. Go to
https://www.redcrosslearningcenter.org/s/candidate-water-safety
scroll down to Participant Materials and click on and open Swimming and Water Safety Manual.
The Cooper 12 minute swim test is on page 195, where it says "The 12-minute swimming test, devised by Kenneth Cooper, M.D., is an easy, inexpensive way for men and women of all ages to test their aerobic capacity (oxygen consumption) and to chart their fitness program."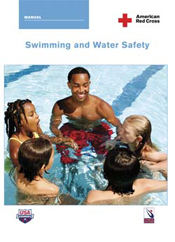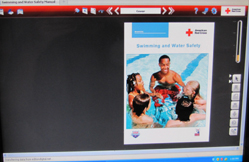 (The American Red Cross Swimming and Water Safety Manual had no index, so I wrote one: Swimming and Water Safety 2009 index).
_________________________________________________
_______________________________________________________________

To get a free download of the copyrighted 2016, released 2017 American Red Cross Lifeguarding Manual go to:
https://www.redcross.org/content/dam/redcross/training-services/no-index/LG_PM_digital.pdf
– – – – – – – – – – – – – – – – – – – – – – – – – – – – – – – – – – – – – – – – – – – – – – – – – – – – – – – – – –
To make it easier to find the skills sheets pages write in your Red Cross Lifeguarding Manual
The Red Cross prerequisite swim tests are described at: Lifeguard Training FAQS That page has lots of how to pass the tests advice, including some of the standards expected by the Red Cross and is worth reading thoroughly if you are tempted to try a lifeguard class.
__________________________________________________________
Get ready for lifeguard training.
____________________________
HLTH-057A, the De Anza class for certification in Red Cross first aid (or just to learn first aid), meets your choice of Fall, Winter or Spring quarter, for
ONLY FOUR Friday afternoons.
Various swim students have taken the class in anticipation of possibly becoming lifeguards. One swim student got the highest A+ in the HLTH57A class fall quarter 2018, another swim student got a perfect score on the final exam in spring 2019. There is a free download of the text available at the class webpage.
____________________________________

Click on this link for NUTRITION articles
(not appropriate for this essay, but mentioned at the class webpage and here in a list for your reference).
From USMS (United States Masters Swim)
Eight Nutrients to Support Your Immune System, three ways to fuel before your next workout and kick your performance to another level,
what swimmers need to know about sports drinks
Healthy eating on a budget
Mayo Clinic on what to eat before a workout
Eat Right When Money's Tight