The locker rooms and Wellness Center are in the left hand building in the aerial photo below: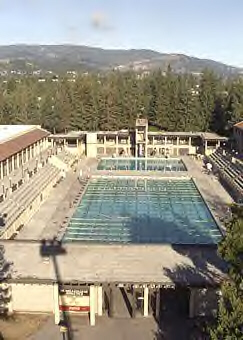 Look for the pools (blue square and rectangle) at this link to a campus map:
http://www.deanza.edu/maps-and-tours//
A more detailed map of the pool area is at:
https://marydonahue.org/map-of-de-anza-college-pools-pool-deck-level-classroom-and-p-e-673
____________________________________
Athletic team members should talk to their coach about getting a locker. For the rest of the students,
here is the division policy about lockers:
De Anza College Locker Room General Rules & Regulations
Lockers in both the men's and women's locker rooms are for the use of De Anza College students and staff, or visiting guests of the college here by invitation.
All lockers are assigned quarterly – do not use a locker that has not been assigned to you.
You provide your own lock. Locks placed on unassigned lockers will be CUT OFF. Items placed in unassigned lockers will be removed without warning. Unclaimed items will be disposed of after 15 days.
Lockers are only assigned to students currently enrolled in a Kinesiology (formerly known as Physical Education) class. Locker size is dependant on the number of classes a student has. We will give you the largest locker possible based on your enrollment.
Students must provide their own lock. Be sure your lock is securely fastened on your locker when you leave for an activity or class.
Food may not be stored in lockers. Glass containers, flammable, explosive and illegal articles are PROHIBITED in the facility.
Damp clothing or towels should not be stored in the lockers. If an odor becomes offensive, damp items will be removed from the locker and placed in claim for 15 days in the equipment room.
It is recommended that you do not leave valuables in your locker. De Anza College will not be held responsible for items lost or stolen from the locker room.
Anyone found defacing or damaging this facility is subject to disciplinary action and will be held financially responsible for damages.
Security and facility personnel reserve the right to open and inspect the contents of any lockers deemed necessary.
Please dry off before exiting the shower area. NO RUNNING in the locker room as the floors can get slippery when wet. No standing on the benches.
No loitering. Trespassers will be reported to the District Police immediately.
These rules apply for all day, evening and weekend hours that the locker rooms are open.
To get a locker:
Men should email the men's locker room attendant, Pete Rabbitt. rabbittpete@deanza.edu
Women should contact Precious Gerardo either in the locker room or at (408) 864-8792 or email gerardoprecious@fhda.edu
for a locker assignment before using any locker.
Email your contact information, name, student ID number, what class you are taking, and the day/time of your class(es).
Example: Susie Swimmer, (ID Number) swimming 10 a.m. Saturday
____________________________________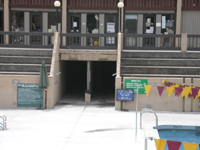 To get from the pool deck to the locker rooms, women enter the tunnel on the RIGHT from the pool deck and go directly up to their locker room. Men enter through the LEFT entrance and go down a hall to their locker room and a classroom.
Men should note that there is a storage room in the left tunnel that is accessed by both female and male personnel, and they should change clothes in the locker room, not the tunnel.
Warning: we have had problems with slipping in the locker room/restrooms. Swimmers: please towel dry completely after swimming before you go to the locker room or restroom and after taking a shower (while standing on the rubber mats at the shower entrance).
____________________________________
Enrollment and registration steps for De Anza College are at: http://www.deanza.fhda.edu/admissions/
__________________________________________________________
_________________________________________________
There is an Automated External Defibrillator (AED) in a white box on the wall at the south-east end of the swimming pool, the pool shallow end, where our novice swim classes meet.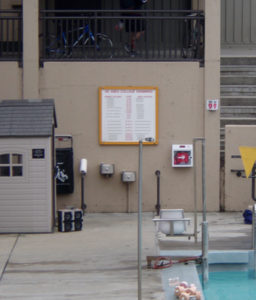 It could be used, by anyone trained in how to use it, to help someone who has a massive heart attack and their heart stops. Please note that when someone opens the door to the box on the wall a loud alarm goes off that does not stop when the door is shut. Photos of other locations around the campus are at AED locations at De Anza College
__________________________________________________________
_________________________________________________
_________________________________________________