Please talk to your instructor the first class session for the latest news on whether classes can use the locker rooms and showers.
(It could turn out to be wise for my swim students to wear their swimsuit to school. And in the process of putting your swimsuit on you will be more likely to remember to put on your sunscreen.)
The locker rooms and Wellness Center are in the left hand building in the aerial photo below: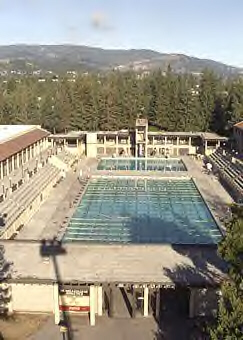 How to find the swimming pools at De Anza College includes directions to the campus and an aerial photo of the PE complex and the Stelling Parking Garage.
____________________________________
Athletic team members should talk to their coach about getting a locker. For the rest of the students,
here is the division policy about lockers:
Use of Locker Rooms
To help maintain a safe, clean and healthy environment for everyone, it is important to abide by the policies listed below:
For the privacy of everyone, the use of audio or visual recording devices, including a
cell phone camera, is PROHIBITED in changing areas, restrooms or locker rooms.
Gender Neutral/Family Restroom is available on the top Pool Deck (Northeast
Corner).
Public restrooms located throughout the facility are not to be used as changing
rooms. Changing must take place in the appropriate locker room area.
No glass of any kind is permitted in locker rooms.
Please do not leave food/drink in lockers overnight.
All personal items must be locked in a secure locker. De Anza College is not
responsible for lost or stolen items or items vacated due to unauthorized use.
Locker Usage Policy
Lockers are issued for students, faculty and staff free of charge, on a first come first
served basis. *Students in Adapted PE Classes are assigned labeled Lockers 96-
101 (Men) and 57-62 (Women).
Participants must bring personal locks to secure belongings.
All lockers MUST be cleaned out at the end of the academic quarter for regular
maintenance and cleaning. This date will be posted in advance.
Any locks remaining on daily lockers at the end of the academic quarter are subject
to being cut off at the owner's expense. Items in lockers will be tagged and held for
two weeks, however De Anza College will not be responsible for items retrieved from
lockers where locks have been removed.
De Anza College is not responsible for theft or damage to personal property left in
lockers.
To get a locker:
Please note this change as of Jan 7, 2020,
"We are going to continue with having the PE lockers on the men's and women's side be first come first serve. We will not be assigning and tracking who is using each locker.
Students will need to bring their own lock and can use the locker for the entire quarter. They must empty the locker by March 26, 2020. Once they return from break they can start using the lockers again."
____________________________________
Please note that many Saturdays you can find the locker rooms closed (being used by a visiting team, or . . .) My Saturday students usually just bring their gear back and forth to/from home.
____________________________________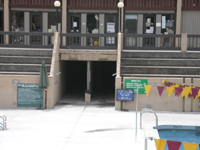 To get from the pool deck to the locker rooms, women enter the tunnel on the RIGHT from the pool deck and go directly up to their locker room. Men enter through the LEFT entrance and go down a hall to their locker room and a classroom.
Men should note that there is a storage room in the left tunnel that is accessed by both female and male personnel, and they should change clothes in the locker room, not the tunnel.
Warning: we have had problems with slipping in the locker room/restrooms. Swimmers: please towel dry completely after swimming before you go to the locker room or restroom and after taking a shower (while standing on the rubber mats at the shower entrance).
____________________________________
Enrollment and registration steps for De Anza College are at: http://www.deanza.fhda.edu/admissions/
__________________________________________________________
_________________________________________________
There is an Automated External Defibrillator (AED) in a white box on the wall at the south-east end of the swimming pool, the pool shallow end, where our novice swim classes meet.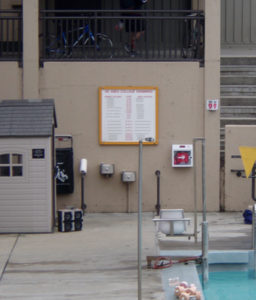 It could be used, by anyone trained in how to use it, to help someone who has a massive heart attack and their heart stops. Please note that when someone opens the door to the box on the wall a loud alarm goes off that does not stop when the door is shut. Photos of other locations around the campus are at AED locations at De Anza College
__________________________________________________________
_________________________________________________
_________________________________________________