De Anza College owns ten tandem (two -or one- person) non-ocean kayaks, paddles, lifejackets and a trailer.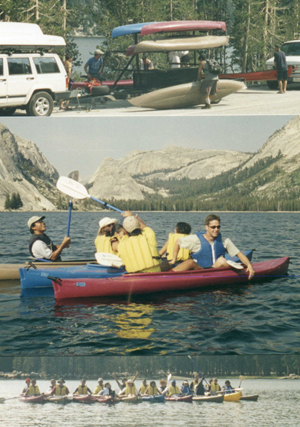 These are not the kind of kayaks that you need to know how to do an Eskimo roll if they tip over, but they are also not the sit-on-top kind okay for ocean use. They are like small canoes, for relatively flat water lake or reservoir use, not rivers or oceans. The seats can be adjusted forward and back to accommodate one or two people. The paddles, one shaft with blades at either end, can be adjusted for true kayak paddling with blades offset at right angles to each other, or on a parallel plane. There are small, medium and large lifejackets (and the Outdoor Club bought more large and extra large lifejackets since the original ones were sized a bit small). Risk Management requires the use of the lifejackets, even for strong swimmers.
The trailer has a built-in metal padlocked box big enough for the paddles and at least some of the lifejackets. The trailer is 22′ long (including the tongue) by 108 inches wide.

On some trips we bring canoes and other kinds of kayaks on the trailer if we can find space on tops of cars for the rest of the kayaks. The center rack spaces can fit two of the kayaks or one wider boat on each side. The top row will allow three kayaks and /or canoes.
This page is mostly notes for a De Anza Club that wants to use the kayaks/trailer. Your club will need to get a 'Student Field Trip/Excursion Request Form' signed by the faculty/staff member going on the trip and then signed by the appropriate Vice President or Dean and sent to Risk Management for approval.
The college owns the ten tandem kayaks. Clubs can reserve their use by setting up the date with Mary Donahue (this webpage).
Each adult (age 18 and over) trip participant will need to fill out a 'Voluntary Acceptance of Risk' form and each student under 18 will need to have their parent/guardian sign a 'Minor Voluntary Acceptance of Risk' form. These then need to be signed by the faculty/staff member going on the pre-approved trip.
Any driver, faculty, staff or (when it is allowed, student), who tows the kayak trailer, must have permission in advance from Risk Management. They will need to search your driving record, and it can take a month, so plan in advance.
Since the Outdoor Club faculty advisor and her husband are lifeguards, the Outdoor Club therefore always has at least two lifeguards on our kayaking trips. Other clubs can contact me well in advance to try to make arrangements for a lifeguard.
After the first Outdoor Club Tahoe trip only three of twenty plus participants showed to unload all the kayaks after the trip. As a result the Outdoor Club now charges ( and suggests the samefor other clubs) a kayak loading and unloading fee. Each trip participant pays $15 (local trip) or $25 (overnight trip) up front, and the money is divided (as a credit towards a future event within one year) among people who show up to help load/unload and when needed, clean each boat to prevent the spread of aquatic nuisance species. If you show up on time to help and stay around afterwards you get a credit towards a future trip. Late arrivals get less rebate. With the credit set up this way, if people are late and don't do much work or leave after the kayaking and don't help put the kayaks away, the people who do the work don't feel taken advantage of. (And sometimes they get a bigger credit than their original payment.)
It is crucial that three or four people are under each kayak as it is unloaded or loaded from/to the storage rack or the trailer. It is easy for a strong man to think he can do it by himself, but it's just not safe.
The kayak strapping needs to be double-checked after they are put on. If one were to come loose on the road it could do a great deal of damage to another vehicle or even cause an accident resulting in death.
The process of loading kayaks on the De Anza trailer will go much easier if everyone on the trip has read the page in advance.

Boats, and anything that comes in contact with the water (a boat trailer that you drive into the water to launch, waders, paddles, Tevas, nets, etc.) must be cleaned before use in any waterway (except the De Anza swimming pool). When we use them in Grand Teton park, they must be cleaned again before use in Yellowstone waters and again when we come back to the Tetons and again when we get home.
We now charge a cleaning fee, either trip members help with the scrubbing or they pay someone else to.
http://www.nps.gov/grte/planyourvisit/ans.htm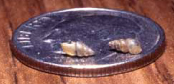 New Zealand mud snails, shown on a dime in this NPS photo, are only about a quarter of an inch long. They form dense colonies on rocks and aquatic vegetation and crowd out native aquatic insect communities, which are a primary food for fish, which are food for many animals. They also eat the majority of alqae growth in streams, which is a primary food for aquatic invertebrates.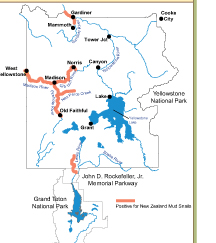 This map shows the first areas (in red) in the Yellowstone and Grand Teton area invaded by mud snails. We check at the start of each trip and be sure to stay away from any rivers or lakes affected.
BIG HINTS FOR KAYAK TRAILER TOW VEHICLES AND DRIVERS
You need a two-inch ball on your trailer hitch. If your tow vehicle is equipped with a flat 4-wire connector, you're ready to go. If your tow vehicle is equipped with a round 6-wire or 7-wire trailer connector, you will need a 4-wire adapter. These can be bought at auto parts stores.
Check your vehicle manual, it might say to not use cruise control while towing.
Plan extra money in your trip budget for bridge crossing fees, park entrance fees, etc. for the tow vehicle and the trailer. At County parks, like Stevens Creek reservoir, there is a charge per watercraft for launching and a parking lot fee.
The trailer is 22 feet long and can be awkward on turns. Some parks won't let you in with a trailer this long, or some roads in parks won't allow trailers. We were glad we had four wheel drive getting in and out of the group campsite on our August 2000 Tahoe trip when the road was being rebuilt.
If you are letting passengers take turns driving ( again, all drivers must be pre-approved by Risk Management) it would be prudent to have each of them drive the vehicle a little in an empty parking lot. When you are towing this becomes even more imperative, especially having them get up a little speed and try braking to see how long it takes to stop and how it handles when it stops.
Take a good look before you enter a gas station. Will you be able to get back out?
At one place we launched from on a Tahoe trip, we got there very early to be able to get parking, and parked the tow vehicle, with the trailer still hitched to it, in a double parking space row. But we noticed that the trailer is almost too wide for a standard parking space. People who would arrive and park next to us later might scratch their cars on the trailer or otherwise find reason to complain. So we had other cars from our group park on either side of the trailer and tow vehicle. Then when we were done with our kayaking, they moved their cars, and we had plenty of space to reload the kayaks without risking dropping one on someone's car.
If you run out of space in cars for gear, you can stuff some things into the kayaks. We've put tents, sleeping bags and the like into the sterns and bungee-corded the seat backs in place to hold gear in. On big trips all the needed paddles, lifejackets, and rescue tubes will not fit into the bin on the trailer so we have put, cabled and locked the lifejackets in the kayak sterns.
An article Working from Boats warns:
"When towing any trailer several things must be taken into consideration by the driver.
Always start in low gear and accelerate smoothly through the gears to the posted speed.
Observe speed limits. In some states speed limits for vehicles towing trailers are lower than for vehicles not towing.
Maintain a greater following distance. With a trailer in tow, stopping distance is greatly increased over that of the tow vehicle alone.
During cornering the trailer tracks through a smaller radius circle than the tow vehicle so turns must be wider.
At highway speeds, cross wind and turbulence from large passing vehicles may cause the trailer to fishtail out of track with the tow vehicle. Maintaining a firm grip on the wheel, the driver should relax and avoid over correction while easing off of the power slightly. Do not brake hard under these circumstances.
The driver should always think ahead to avoid getting boxed in when towing a trailer in a congested area. This will reduce the possibility of driving into trouble and can minimize the need to perform difficult backing maneuvers to get out of tight places.
If possible a spotter should always be used to help direct the driver during trailer maneuvering unless the area is open and clear of obstructions."
The index to this article is at:
http://safetynet.smis.doi.gov/WkBoats/work_from_boat_index.html
In the Jackson Hole Guide, columnist Paul Bruin gave this advice:
"During back up procedures a trailer goes in the opposite direction that the rear of the tow vehicle does. To compensate fro this reversal, place hands on the bottom rather than the top of the steering wheel…Be patient and attempt to get vehicle and trailer as straight as possible before beginning to backup. Don't let your pride cause expensive equipment repairs by being afraid to ask for an observer to help during the backup process."
If a tail light goes out "I've learned that most trailer lighting problems stem from poor grounding so check the white wire first."
There are pictures of an individual car with one kayak at: loading a kayak on a car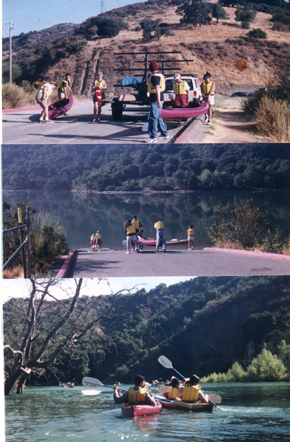 For info on our kayaking events this year go to:
Outdoor Club Coming Attractions
More info on how to put together an off-campus event can be found at Club Trip Leader Job Description
Safe driving in rain and fog has info on, you guessed it, safe driving in rain, fog (and snow).

Road trip advice and etiquette has practical advice from experienced and newbie carpoolers on cross country trips, including ways to keep from being so bored; planning before the trip; safety issues; drowsy driving; packing; roads trip games, storytelling, debates and discussions; links to gas price watch sites, and how to deal with windows that are fogging up faster than your navigator can wipe it off.
You might also want to read How to not collide with a deer, Prepare for winter driving, and/or Snow chain rentals.
Prepare for winter driving has a link to bad weather driving tips, tips for using tire chains, tricks for dealing with frozen car locks, how to prepare your vehicle for winter driving, a winter survival kit for your car and what to do if you get stranded.
see also: wildlife jams