De Anza College
Division of Physical Education and Athletics
INJURY/PRECAUTION IN EXERCISE ACTIVITIES
Most injuries related to exercise are minor in nature but frequently include injuries such as sprained ankles, shin splints, blisters and sore muscles. However, there are some very serious injuries and life threatening conditions that can result when individuals attempt to perform activities for which they are not physically prepared or do not apply proper precautionary guidelines.
In order to reduce the possibility of injury and maintain a safe environment it is highly recommended that participants:
1. Stretch thoroughly prior to and following participation in any activity.
2. Wear appropriate footwear and clothing with particular attention to climatic conditions.
3. Consult a physician about possible exercise limitations when there is a medical history involving circulatory disorders or the INDIVIDUAL HAS REACHED HIS/HER FORTIETH BIRTHDAY.
4. Reduce or eliminate all participation during periods of sickness, especially if the participant has a fever.
5. Cease all activity if pain, nausea, or light-headedness occurs.
6. Report any existing medical conditions and/or physical limitations to the instructor.
All swim class students agree that they will adhere to verbal and written instructions regarding skills, rules and safety guidelines, including all rules in this release, the course syllabus and the Swim Class Safety Rules webpage; pay attention to lectures on the subject and think before they act in a rowdy manner. https://marydonahue.org/swim-class-safety-rules
You will stay in the shallow end of the pool, except when the class tries work in deeper water. (Or you can be in deeper water when you pass a swim test. The deep water swim test is described at https://marydonahue.org/swim-test-for-people-who-want-to-swim-in-deep-water )
You will carefully swim in the designated direction / section of the pool assigned, doing only the activities assigned for that section of the pool.
You will not swim in a lane others are doing skills in, such as work on treading water.
You won't hyperventilate (multiple, rapid, deep breaths) before you swim.
Prolonged breath holding/underwater swimming (whether for distance or to depth) is not allowed without permission and an instructor or lifeguard watching you. You must limit yourself to one breath before any allowed prolonged breath holding. When attempting to swim to depth, you will pay careful attention to clearing your ears and come back immediately to the surface if you experience any pain/dizziness.
You will not risk a serious eye infection by wearing contact lenses in the pool. You have that risk even wearing tight goggles.
Your personal water bottle(s) will be unbreakable plastic or metal since people have bare feet and we would not be able to clean up all the bits of broken glass if a glass container breaks at the pool deck.
Failure to perform activities correctly can result in injury.
Report any injuries and equipment or facilities problems immediately to your instructor.
The class will follow all Centers for Disease Control rules about COVID 19, which may include the following. You agree to follow all of them that are in effect at the time the class meets, and any new ones announced in class:
The Centers for Disease Control (CDC) tells us that you should stay home if sick.
If you have tested positive for COVID-19, are sick or have symptoms of COVID-19, which include a fever, cough or shortness of breath, you will not come to class. If someone else you live with is sick, or you were exposed to someone with COVID-19 within the last 14 days you also will not come to class.
https://www.cdc.gov/coronavirus/2019-ncov/symptoms-testing/symptoms.html
You will stay 6 feet apart from everyone on campus at all times, except as allowed by the CDC in the pool. (There may be different rules in place as the quarter goes along, including for people who are fully vaccinated and have their booster.)
You will wear a face covering completely over your nose and mouth while in any building, classroom, restroom (except when you are in the pool).
You will not use the pool elevators or try to use the handicapped pool lift chair at the south-east (shallow) end of the pool.
The class will use the locker rooms (or change clothes/swimsuit at home) and will not use the restrooms to change, including before or after class.
There may be limits on the number of people at a time in the restrooms and you will adhere to these limits. If the door to a restroom is blocked open you will leave it blocked open.
You will not share food, googles, hand paddles, kickboard, pull buoys, towels, swim cap, water bottle, or any other gear with anyone you don't live with.
You will not touch any chairs, goggles, kickboards, pool noodles, rescue tubes you see at the pool deck except as assigned for use in class.
You will not use the water drinking fountains, even if they are operable.
De Anza College also advises that you continue washing hands frequently.
I acknowledge the content of the aforementioned statement (INJURY/PRECAUTION IN EXERCISE ACTIVITIES) and understand that there are risks of injury or sickness if I participate in this class.
By answering TRUE to the swim class release quiz question at the Canvas class webpage, you are stating you agree to this release.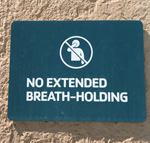 We are not likely to use the following protocols for stair use any more, but I am leaving them here in case we do:
Here are the photos and descriptions of stair use at the social distancing during swim class webpage.
The De Anza College pool has four staircases from the level around and above the pool down to the pool deck. There are two single staircases (one at the northeast end of the pool and one at the southwest end, marked with a line in the map below) and two divided "T" shaped staircases, one at the southeast end of the pool and one in the approximate center of the north side of the pool (circled in the map below).
The map above is oriented to north at the top and south at the bottom. The east, shallow end of the Olympic-sized pool is to the right, below the parking lot C, Stelling Parking Structure entrance to the pool complex.
(They are the light blue square and rectangle in about the center of this campus map):
The staircases are not wide enough for people trying to keep 6 feet apart to pass each other going to and from the pool deck. To make 6 foot apart distancing much easier, for my classes, we will use the staircases in one direction only. (And remember to stay 6 feet apart from each other in the process – even though I anticipate you will all be excited to be able to get back in the water!)
The single staircase on the southwest end of the pool will be "up" only and the single staircase on the northeast end of the pool "down."

The divided "T" shape staircases will be a one way loop, down on the right hand side from the upper level, up on the right hand side from the pool deck.)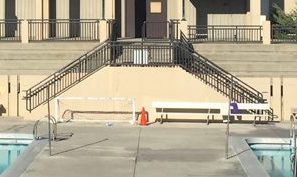 Here is a view from the upper level of the pool deck, down the T shaped staircase on the north side of the pool. You would start down on the far right edge of the right hand side, turn right and go down to the pool deck:

and here is a view from the pool deck; you would go up on the right hand side, turn right and go up the second section of stairs, preferably staying as far as possible to the right if anyone else is using the opposite side of the stairs to go down while you are going up: