Starting in Summer 2021, we again had swim classes on-campus in the De Anza College pool,
and students enjoyed being out of lock-down and being with others.
We have never had to wear Covid masks in the pool,

but did have some social distancing procedures that we did not need by mid-way through winter quarter.
I am leaving all the info here in case we need it again.
See swim classes info at:
and intermediate
and advanced
and aerobic
We will be in the pool the first class,
so bring your swimsuit, towel, sunscreen, (optional) swim cap.
If you hear about these classes too late to add or get on the waitlist, please at least be enrolled at De Anza before the first class so you can add if we find we have the space.
https://deanza.edu/apply-and-register/
– – – – – – – – – – – – – – – – – – – – – – – – – – – – – – – – – – –
Novice swimming has many different kinds of swim students.
Some are new to swimming, including some who have never been in a pool.
(Most colleges do not offer a true entry level swimming class;
you are expected to already have some swimming skill.
If you are afraid of the water, novice is the right class.)
Some students in a novice swim class will be over their fear and able to swim some. Others are self taught, or have not swum for quite awhile and want to relearn from scratch. Others know breaststroke, but not freestyle.
There will be no swim test at all for novice swim.
More info is at: novice swimming.

If needed, it will be easy for us to observe safe social distancing, staying 3 to 6 feet apart from each other, or doing whatever the Centers for Disease Control, the State of California, County of Santa Clara and the college have as current rules.
(The rules changed on and off summer, fall and winter quarters, and will likely also change as we go along during future quarters.)
Our Olympic-sized swimming pool, with 22 lanes, each 8 feet wide (and each 25-yards-long)
has more than adequate space for keeping swim students more than 3 or 6 feet apart if needed.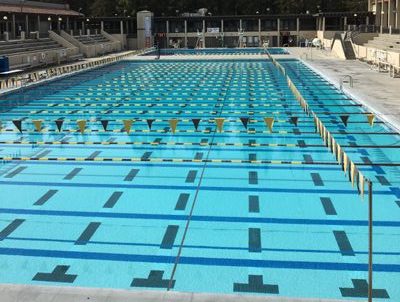 For a novice swim class we meet in the east end of the pool in shallow, standing-depth water.
For a beginning, intermediate, advanced or aerobic swim class we can have one swimmer per lane, swimming in the center of an 8 feet wide lane and keeping 6+ feet apart from others. Many city and private club pools were open all of 2021 for pay-for-lap-swim, also with one swimmer per lane, or in 2022, two per lane.
This photo is to show you the width of lanes, (but, if required, we will have only one swimmer per lane, not two swimmers per lane as shown in this photo of how the pool usage is usually set up ):

Is the swimming pool water safe from coronavirus?
Yes. The water quality of our pools is maintained by specially trained Certified Pool Operators.
The San Francisco Chronicle website SFGATE said:
"The CDC's official COVID-19 page states, 'There is no evidence that the virus that causes COVID-19 can be spread to people through the water in pools, hot tubs, spas, or water play areas. Proper operation and maintenance (including disinfection with chlorine and bromine) of these facilities should inactivate the virus in the water.' "
If required, you will need to wear a cloth face covering completely over your nose and mouth at all times when in a classroom, restroom or other building.
And the college advises that people remember to wash hands frequently.
When we go to a classroom, for example to watch Red Cross swim instruction videos, we might be wearing masks, including all of us who are fully vaccinated and have our booster shot.
The Chancellor said, in an email March 19, 2022
" . . . the district will continue to require the wearing of face masks indoors for classes and public-facing services through May 6. I will let you know by May 4 whether this will continue.. . "
Descriptions of masks that function properly, as well as (scroll down for) drawings of how to NOT wear a mask (on your forehead, on your chin, on your arm, dangling from one ear, only over your mouth)
and that face shields are not recommended,

are at:
https://www.cdc.gov/coronavirus/2019-ncov/prevent-getting-sick/about-face-coverings.html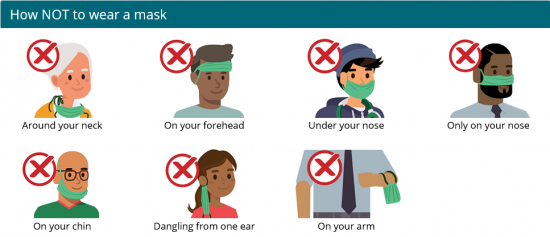 One De Anza webpage said weeks before classes started, (and as of the first day of classes fall quarter and winter quarter) "You must wear a face mask at all times indoors. Masks are also recommended for outdoor gatherings."
Current rules are at: https://deanza.edu/return-to-campus/students.html
Except you do not need to wear a mask when you are in our outdoor pool.
The CDC (Centers for Disease Control) says that pool facilities should "Advise those wearing face coverings to not wear them in the water. Cloth face coverings can be difficult to breathe through when they're wet." If masks are required when inside on campus, you can take off your face covering when you get into the water and leave it with your other swim gear in a bag by your swim lane, then put it back on again each time as you get out.

In the deep sections of the pool, (5 1/2 – 6 – 7 feet deep, the west end and center), students can, if needed, swim in the center of their lane, giving more than 6 feet distance between swimmers.
The prerequisite for beginning swim (KNES1B) is: "KNES 1A or pass swimming placement test which consists of swimming 25 yards in deep water." But since we have shallow, standing depth water there will be no required deep water swim test (except for people who want to swim in deep water- likely most intermediate, advanced and aerobic swimmers). Read the deep water swim test here.
In the shallow, standing depth, water at the east end of the pool, (4 feet deep at the east end pool wall edge, 4 foot 6 inches deep in the center of the space we will use) below see some lines drawn to show where we could put in lane lines to create ten lanes coming from the east end wall, and out towards the west, (instead of the north to south lanes in the rest of the pool) for people who are not capable and confident yet in deep water to do their swimming. (But summer quarter we did not need to do this.)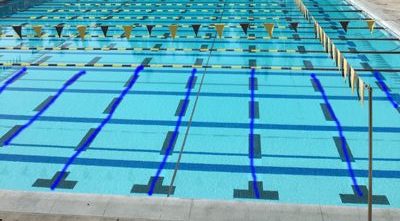 We also sometimes set up part of the pool for just treading water and can use the shallow end for initial steps of learning to tread water and surface diving.
We will not know for sure how we will set up the pool
until the first class session when we can do a simple swim test
and see the various skill levels of the class, needs for shallow or deep water.
There will not be any swim test for the novice swim class.
I'd prefer if all the students in a beginning swim class can swim across the pool showing a good freestyle stroke, with proper body position, arms out of the water on the recovery, and 25 yards on their back using either elementary backstroke or racing backstroke. (Breathing to the side on freestyle is not required or expected.) I will give a swim test (not timed) the first day to see if people wanting the class are at the same level of swimming. For the class as a whole to make good progress, we need to have people at a minimum skill level.
At the start of fall quarter we were told we would not use the locker-rooms and that policy could return. Previous quarters my Saturday swim students mostly did not use them, preferring instead to towel off and go home and use their own shower. And on some weekends there could be a 'home' athletic game and both locker-rooms would be fully occupied by the teams, so it could be wise to wear your swimsuit to the pool.
We will need to spend time the first day on class logistics, and paperwork, but for a beginning, intermediate, advanced or aerobic swim class will do at least do a short swim test of freestyle and backstroke to see if anyone would get more out of a novice swim class and another (optional) swim test in deep water to make sure people who want to swim in deep water are safe there. (There should probably also be time for a workout of your choice, maybe after class(es) during my "office hour" at the pool.)
How to find the pools.
The photo below is taken from the direction of the Stelling Parking Structure (parking garage) in Parking Lot C, towards the main entrance to the pool complex. If everyone in the class could get used to entering through the double gate / door on the right, and exiting through the double gate / door on the left (as seen from this direction), it would be easier to maintain social distancing.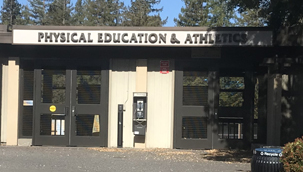 Electronic pool gates (doorways) surrounding the swimming pool area in the PE quad are programmed to automatically unlock and lock up, giving no access to the pool complex after hours, overnight.
When exiting the pool complex, if the doors are not open, you can use your hip to push on the push bar, if you don't want to touch it with your hands.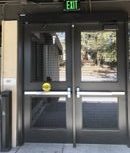 If the gates are often automatically locked after our swim classes, be sure you bring all your gear with you when you leave.
(You will always be able to exit the pool area using push bars on the inside of each door.)




Checking in for attendance
To take roll (a record of attendance) students will bring a paper in their swim bag with the section of class they are in (ADV = advanced in the example below) and their first and last name printed on it, and hold it where the teaching assistant or instructor taking roll can see it. People will likely line up for this (6 feet away from each other might be required or would be wise). To make the writing on the paper visible, if you do not have a marker pen, you can use a ball-point pen or pencil and write over the letters a few times to make them big enough. If people forget to bring this, we will have paper and pens, but if most everyone is prepared, checking in will go faster.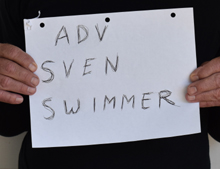 You likely already know that your personal water bottle must be plastic or metal (unbreakable) since people have bare feet and we would not be able to clean up all the bits of broken glass if a glass container breaks at the pool deck.
You can bring your own kickboard, hand paddles and/or fins if you have them, but we will not be loaning them out.
You will not share food, goggles, hand paddles, kickboard, pull buoys, towels, swim cap, water bottle, sunscreen or any other gear with anyone you don't live with. This means it would be wise to double check your bag before you leave for class and put the sunscreen on at home before you leave so you don't forget to use it, and bring extra to reapply as needed. (Read the instructions on the container, many sunscreens work best if applied 15 minutes before you swim, some can be applied and you can get in the water right away. If you put it on and don't wait long enough before you get in the pool the sunscreen will not work.)
Again, sometimes we will not be accessing the locker-rooms, so there will be no lockers to store gear in. You could leave extra towels in your car, so you can finish drying off there, or even have a dry towel to sit on for the drive home. Previous students have found it wise to keep a spare pair of goggles, spare swim cap, spare water bottle in their vehicle.
During COVID, many people leave an extra face covering in their car so they don't find themselves without one and unable to go into a store, etc.
You should not touch any chairs, goggles, kickboards, hand paddles, pool noodles, backboards or rescue tubes (red, 3-4 foot long, 6 inch diameter) you see at the pool deck.
People should not use the water drinking fountains, even if they are operable.

Getting in and out of the pool
Students can, if they want to, bring an extra towel that will get wet, to spread out at the pool edge to sit on and then slide into the pool. (Diving into the De Anza Olympic-sized pool is not allowed due to inadequate depth for safe diving.)
For people who can not climb out of the pool at the side (which often can be most students in any swim class I teach), if we need to, we will work out ways to stay 6 plus feet apart when someone needs to go across lanes to get to one of the ladders. (There are three ladders on each long side of the pool, one near each end and one in about the center.)
People who know how to climb out at the side can do so at their lane.
– – – There are many ways to climb out and we can teach you the easy ones.


Students who are not yet capable of climbing out at the side (again, which often can be most students in any swim class I teach) and want to be able to, can plan to spend some time each class session doing simple push-ups on the pool water level gutter to develop strength, then progressing to push-ups on the pool at deck level. (But this is not required.)
Students should remember as they try to do push-ups with their hands on the water level pool gutter that they need to be just enough away from the pool side on the way down from the push-up attempt, that they do not hit their chin on the pool wall / gutter / pool deck. We can demonstrate the proper way to do this before students try it.

Treading water for lengths of time is not required for any swim class I teach. If you are trying to get by with a flutter kick, or just don't tread water well yet, even before class you can start trying a drill we do to be able to learn to tread water by taking a look at treading water scissors kick at-home practice.
Getting ready for lifeguard training can be a goal for students.
Lifeguards are expected to be able to tread water using just the kick (leg movement) for two minutes, or even longer. A test says: "tread water for two minutes without support and without stopping, using only your legs. Your hands will be placed under your armpits. Your head must remain above the surface of the water."
Treading water
sometimes becomes a friendly competition in the class.
Some students try to see if they can tread without using their arms/hands,
then try the two minute lifeguard test.
Some students have done 15 or 20 minutes at a time, again, with just the kick.
People who are already good at treading without using their hands (kick only, no arm movement), or who get better as we go along, have previously tried treading while holding a five or ten pound weight with both hands at the surface of the water, another kind of lifeguard test. We will not be taking out weights for people to use for this during COVID. But students can bring one or two full small (unbreakable) drinking water bottles and try holding one with each hand while treading (one liter of water weighs about 2.2 pounds).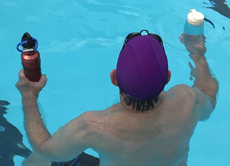 If you have one, you could use a clean gallon (previously filled with bleach, now filled with water) bottle. One gallon of water weighs about 8 1/3 pounds.
You can also try just holding an empty gallon bleach bottle overhead, adding water as you get stronger.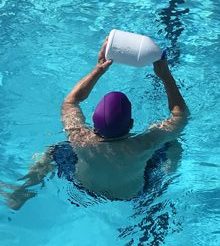 The current record for a student in one of my classes is one hour treading water just using the kick, holding a ten pound weight at the surface with both hands and no, he was not a waterpolo player.

This treading water workout can be extra for your abs . . . just because you could be laughing so much.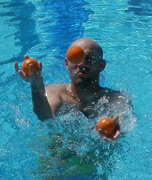 (For the photo above this swim student was in 14 foot deep water. He had lots of experience treading water and juggling so this first try at doing both at once was relatively easy for him.)
Hmmmmm, and learning to juggle can improve your brain
Tips for learning to juggle are at: https://www.wikihow.com/Juggle
You can try this at home with rolled-up pairs of socks.
____________________________
And students who regularly work at stretching their ankles have told me they made great progress over the quarter. Ankle stretching to become a faster swimmer.
____________________________
These are all examples of common mistakes with the freestyle stroke:
Many of my students have told me they could breathe to the side during their freestyle swimming,
but it never felt right.
I made a webpage with lots of photos that even students who know how to breathe to the side quite well have learned new things from, that can help them if they observe and give advice to a partner.
Freestyle swimming breathing to the side
No, it is not too cold to take a swim class in an outdoor pool.
The De Anza College pool is heated enough for seniors exercise programs.
A swim cap makes you warmer and faster.
You can also stay warmer (and have more modesty) with 'rash guard' type tight-fitting shirt, cyclists shorts, but many people just go ahead and swim. (I often wear one or two men's 'jammer' long-legged swimsuits over my regular suit when I swim at 6:30 a.m. in the winter.)
below, lifeguard Samir and swimmers model warm swimwear including various coverages of rash guards and jammers: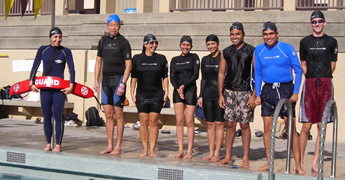 Many people wear a long sleeved rashguard top and jammers (men's longer legged swim suit)
for extra sun protection, modesty or warmth.
Ladies wear them for more coverage over their regular swim suit.
Some buy a spring (short sleeve, short leg) wetsuit for warmth, but most say these are too warm.
If you want full coverage of your body, including arms, legs, neck and head, I suggest searching for Muslim swimsuits or full body modesty or Islamic modesty swimsuit. You can find designs for triathletes that will not interfere with swimming movements. Unfortunately, some modest swim "costumes" do interfere. I suggest that you look for a training, competition or triathlon swim suit in one piece, without a skirt or loose top, loose legs, and without a hat brim at the top of the forehead on the head covering. The head covering / hood should not interfere with your vision to the side as you move. Some people wear a rash guard type athlete's suit with long legs, long arms and no hood, but wear a swim cap rather than a full hood. Some are made of materials that can provide sun protection.

Enrolling in a swim class
People reading this page who have not taken any De Anza College classes recently
might need to re-apply before they can add a class or get on the waitlist.
Enrollment and registration steps for De Anza College are at: http://www.deanza.edu/apply-and-register/
High School students can take classes at De Anza College, see: https://www.deanza.edu/admissions/dual/
Once you get your date to register, it is always advised to register right away that day.
If you hear about these classes too late to add or get on the waitlist, please at least be enrolled at De Anza
before the first class so you can add if we find we have the space. https://deanza.edu/apply-and-register/
To read more about swim classes, go to the class webpage
novice here
beginning here
intermediate and advanced here.
____________________________
The Centers for Disease Control (CDC) tells us that you should stay home if sick.
If you have tested positive for COVID-19, are sick or have symptoms of COVID-19, which include a fever, cough or shortness of breath, you will not come to class. If someone else you live with is sick, or you were exposed to someone with COVID-19 within the last 14 days you also will not come to class.
https://www.cdc.gov/coronavirus/2019-ncov/symptoms-testing/symptoms.html
____________________________
Info about parking permits, including electric vehicle charging stations, is at: http://www.deanza.fhda.edu/parking/
____________________________
The De Anza College Police webpage
tells us:
"The campus is patrolled 24 hours a day, seven days a week, including holidays, by officers from the FHDA District Police and Santa Clara County Sheriff's Department."
" IN CASE OF EMERGENCY
• From a campus phone: Dial 9-1-1
(You don't need to dial "9" before calling 9-1-1 from a campus phone.)"
There is a campus phone (red dot at the lower center of the photo below) on the wall at the west end of the pool, behind the diving boards.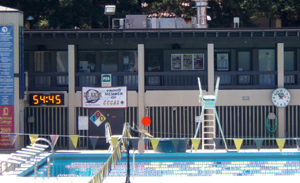 "• From a mobile phone: Call 408.924.8000
For nonemergencies: Call 650.949.7313 or dial extension 7-3-1-3 from campus phones
• to report non-violent crimes such as theft
• to report non-injury vehicle accidents
• to report minor disturbances such as loud music
• to request assistance with unlocking doors, jump-starting a car, or obtaining a nighttime police escort
• to inquire about parking issues, fingerprinting, lost and found items, and general district police information"
Cupertino City https://www.cupertino.org/home/showdocument?id=1673
tells us:
Landline telephone users dial 9-1-1 to report all emergencies.
Cellular phone users dial these seven digit numbers to report an emergency when in the following cities in Santa Clara County: Campbell 408 378-8161, Cupertino 408 299-3233, Gilroy 408 846-0350, Los Altos 650 947-2779, Los Altos Hills 408 299-3233, Los Gatos 408 354-8600, Milpitas 408 263-1212 Police 408 998-7212 Fire, Monte Sereno 408 354-8600, Morgan Hill 408 779-2101, Mt. View 650 968-1662, Palo Alto 650 470-1258, San Jose 408 277-8911, San Martin 408 299-3233, Santa Clara 408 296-2236 Police 408 296-1515 Fire, Saratoga 408 299-3233, Sunnyvale 408 736-6244, Unincorporated 408 299-3233
____________________________
There is an Automated External Defibrillator (AED) in a white box on the wall at the south-east end of the swimming pool, the pool shallow end, where our swim class meets.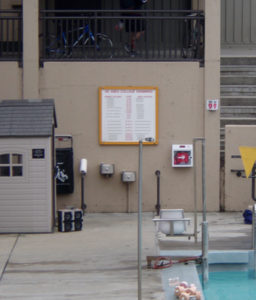 It could be used, by anyone trained in how to use it, to help someone who has a massive heart attack and their heart stops. Please note that when someone opens the door to the box on the wall a loud alarm goes off that does not stop when the door is shut.
For those of you already trained in how to use an AED, the model originally put at the pool deck is a little bit different than most. To turn it on you pull where it says "PULL" and when that lid lifts off you will find the pads already attached to the machine. (Many other models have you plug in the connector for the pads.)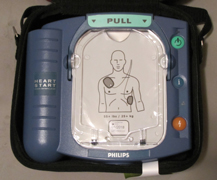 Photos of other locations around the campus are at AED locations at De Anza College
For an review of or introduction to CPR and the use of an AED, go to:
_________________________________________________
_________________________________________________
You do not need to buy a textbook for any class I teach. (The text costs $128.60 at the bookstore as of winter 2017.) There are some copies of the text for this class on reserve in the Learning Center / library. Students can share a book. If you have already purchased any version of the series, or choose to buy an older version, any version will work for this class. We will talk about this in detail the first day of class, so please put off buying the text until after the first class session.
_________________________________________________
_________________________________________________
We will hopefully not use these procedures any more,
but I am leaving the photos here in case I need to put them back:
We had the following in place for summer 2021 quarter, but did not need it future quarters. I am leaving it here in case that changes.
The De Anza College pool has four staircases from the level around and above the pool down to the pool deck. There are two single staircases (one at the northeast end of the pool and one at the southwest end, marked with a line in the map below) and two divided "T" shaped staircases, one at the southeast end of the pool and one in the approximate center of the north side of the pool (circled in the map below).
The map above is oriented to north at the top and south at the bottom. The east, shallow end of the Olympic-sized pool is to the right, below the parking lot C, Stelling Parking Structure entrance to the pool complex.
(They are the light blue square and rectangle in about the center of this campus map
https://www.deanza.edu/maps-and-tours/documents/DAC-campus-map-2022-1031.pdf
The staircases are not wide enough for people trying to keep 6 feet apart to pass each other going to and from the pool deck. To make 6 foot apart distancing much easier, for my classes, we will use the staircases in one direction only. (And remember to stay 6 feet apart from each other in the process – even though I anticipate you will all be excited to be able to get back in the water!)
The single staircase on the southwest end of the pool will be "up" only and the single staircase on the northeast end of the pool "down."

The divided "T" shape staircases will be a one way loop, down on the right hand side from the upper level, up on the right hand side from the pool deck.)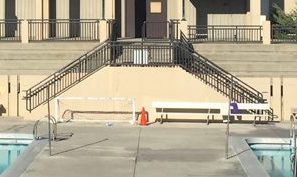 Here is a view from the upper level of the pool deck, down the T shaped staircase on the north side of the pool. You would start down on the far right edge of the right hand side, turn right and go down to the pool deck:

and here is a view from the pool deck; you would go up on the right hand side, turn right and go up the second section of stairs, preferably staying as far as possible to the right if anyone else is using the opposite side of the stairs to go down while you are going up: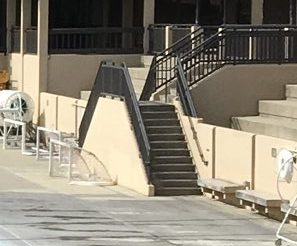 Optional: students who don't want to touch surfaces can bring a clean bandanna or maybe even a clean washcloth / dishtowel to 'wear' on their hand when they open the door to the pool complex and to hold onto the pool staircase handrails or the pool edge stepladder handrails (no one did this summer quarter, but I am leaving the info here for future quarters).

while getting in and out of the pool, instead of touching them with your bare hands.
OR (optional) students can bring gloves to wear while putting your hands on the various handrails. Non-latex first aid or food prep gloves, thin mittens, silk or polypropylene glove liners or Magic gloves you might wear for extra warmth in the winter or even dressy gloves (if you don't mind what the chlorine in the pool water might do to the fabric) can be appropriate. You could even wear the thin gloves while swimming.
Thicker gardening, construction, ski or motorcycle gloves would be unsafe to wear while swimming, but could be put on and off and left on the deck next to the lane you are swimming in. Likewise, swim gloves scuba divers use are discouraged (as an open water swim race warns "unless you have trained using them and are extremely comfortable swimming in them. They can sometimes fill with water and make it more difficult to swim.").

We can fit as many as 50 people in the pool-side bleachers for mini-lectures and brief start of class discussions. Please note that you will need to plan to sit in only alternating rows of bleacher seating, as shown in this photo (yellow dots showing proposed seating not quite to scale):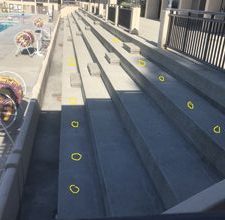 Instead of putting your gear on the benches along the pool deck wall,
and then needing to crowd in with people at the end of class,
it could be better for people using the deep sections of the pool to bring a large bag to put your personal gear, towel, unbreakable water bottle, etc. on the deck next to the lane you will be swimming in. A small duffle bag, suitcase the size for airplane carryon, or large pack could work for this, or just a very large sturdy plastic bag or two.

To make it easy to stay far apart while packing up at the end of class, we could decide that half of the students using the deep end put their gear along the deck edge at every other lane on the north side of the pool, and the other half put their gear in every other lane at the edge on the south side. Each could get in the pool at that end of their lane.