Each campsite in Yosemite, (as well as some trailheads, parking lots and some overnight accommodations, has a metal food storage locker (bear box).
Most measure 35 inches deep by 43 inches wide by 28 inches tall, but you might still find some 33″ deep x 45″ wide x 18″ tall. Curry Village tent cabins have different sizes depending on the size of the cabin.
They are only bear-PROOF or raccoon-PROOF if people remember to keep them shut except when actually taking things in or out. Some people make the mistake of hanging a trash bag from the door.
Using a campsite food storage locker gives you ideas on how to use one, how to fit more things in a campsite bearbox, including some logistics on sharing one in a large group.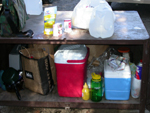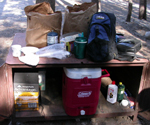 There have been many models of campsite / trailhead lockers, not all of which worked.
The original Yosemite bear boxes had two latches and people did not remember to latch / clip both, so animals more easily got into them. Some national parks still have these models. Please take the time to latch both latches: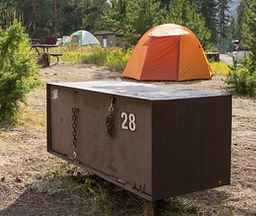 Next, most had a simple latch: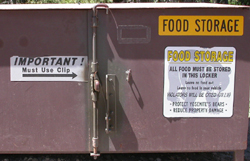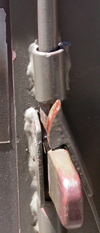 A newer model was slightly taller.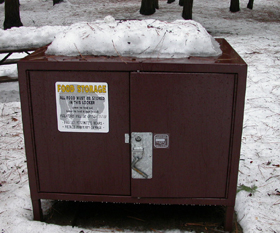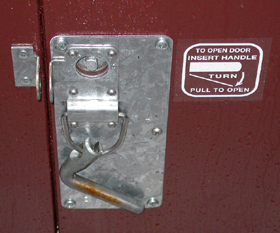 It had a handle you insert and turn.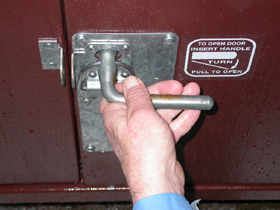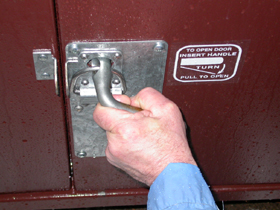 When you turn the handle a latch at the top of one door opens or shuts.

_______________________________________
A Yosemite Ranger (wildlife branch chief) told me about the history of the lockers:
"The locker with the hanging opener actually failed pretty quickly after it was installed. The bears learned to lift it with their mouths, insert it into the opening, and turn it. The retrofit was to have the opener hang on a chain so the bears couldn't just swing it into place. We now exclusively buy the ones that you stick your hand up into the sleeve. That one has been retrofitted many times as well, but at this point has worked for years."
That best model, also often seen in state parks, has you access the latch by putting your fingers into a metal slot on the outside of the door to the bearbox, and push upward. It will not work as well if you do not flatten your hand so your fingers can get fully in.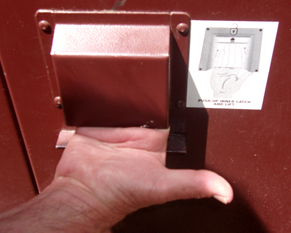 And again, a latch at the top of the door opens or shuts.

_______________________________________
ALL MODELS are metal and are noisy when opened or shut. Unless you are careful you can wake up your neighbors who want to sleep earlier or later than you.
_______________________________________
Bears can get into food storage boxes. Not just when people leave the doors open or partially closed for even a short amount of time, but also by trying to get closed doors to open:
"A large untagged/uncollared bear has been seen in Upper Pines and the Wilderness Lot, checking for improperly latched food storage lockers. Visitors have reported this bear going from site to site, banging on the locker latch. Unfortunately, the bear obtained food on at least three occasions from improperly latched lockers."
Black bears are strong enough to bend open an improperly latched bear box door, just as they bend open car doors: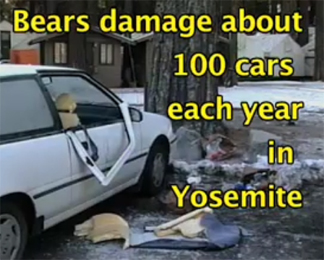 _______________________________________
Please use the clip on the trash bin to lock it. If a bear gets into a dumpster on a hot day it can be a death trap.
If you notice one is un-clipped, please clip it.
Immediately report it to a hotel front office, ranger or campground host if the clip is missing from the dumpster.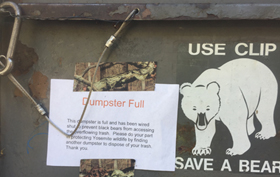 In the photo above, the note on it says:
"Dumpster Full
This dumpster is full and has been wired shut to prevent black bears from accessing the overflow trash. Please do your part in protecting Yosemite wildlife by finding another dumpster to dispose of your trash. Thank you."
PLEASE, when a dumpster is full don't just leave your trash sitting next to it, find another dumpster.

When a trash bin at a hotel outside dining area is full, find another trash bin rather than piling trash on top, and report it to the management: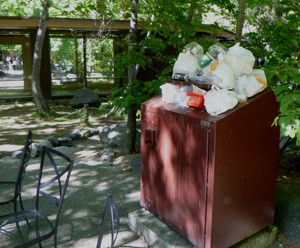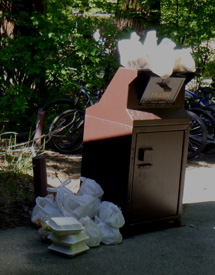 _______________________________________
Don't believe anyone who tells you that the bears in Yosemite really don't break into vehicles. For statistics go to:
Black Bear Management Trends
Park Service photos: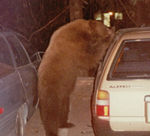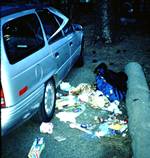 How bears break into cars, what to do if you see a bear, reasons to keep your food with arms reach and more is at: Bears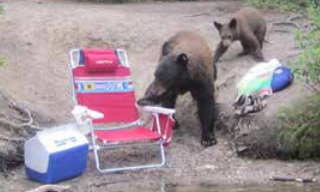 ______________________________________________
Some parks still have poles between two trees or between two other poles, in place in backcountry campsites for people to hang their food from: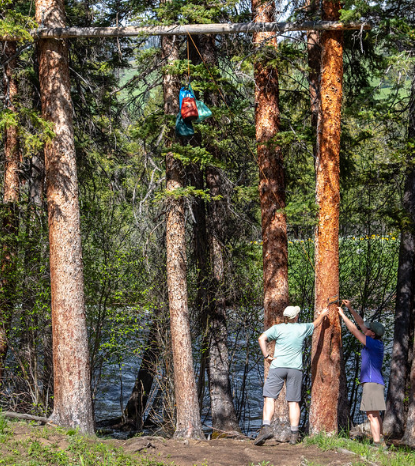 The problem is that mama bear can teach a cub to climb up the tree, climb out on the pole, then jump down, snagging your bags of food. Yosemite National park does not use this food protection system any more, and people traveling to / back packing in other parks wilderness areas would be wise to use bear-proof backpacker sized food containers.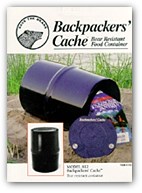 ______________________________________________

The Yosemite National Park rangers would like you to call them
if you see a bear in Yosemite,
no matter where it is or what it is doing.
Since 2003 there has been a note in the Yosemite Guide: "REPORT ALL BEAR SIGHTINGS! To report bear sightings, improper food storage, trash problems, and other bear-related problems, leave a message for the Bear Management team at: 1 (209) 372-0322. Your call can be made anonymously."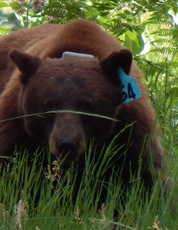 If you can, in all the excitement, try to notice if the bear has a tag (usually on the ear), the color of the tag and if possible, the number on it (the tag is large enough that with a telephoto lens you should be able to read the number).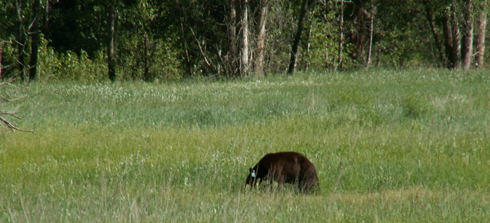 From the Yosemite Daily Report newspaper:
"It is extremely important to remember to yell at bears that are in and around development, even if they are foraging on natural food. Though it is very tempting to get close for a picture, or just to watch these incredible animals, it is important not to give into this urge. Yelling at them if they are in residential areas or near people is critical to keep bears natural fear of humans. Giving bears plenty of space. When bears become too comfortable around people, they will often start causing damage to structures and vehicles, or will even become too bold around people, creating safety concerns."
And the Yosemite Daily Report also said:
"Scare bears when you see them. . . in developed areas- Yell like you mean it!
Make as much noise as possible, try waving your arms, stomping your feet
or anything to make you look intimidating and to get the bear to run away.
We know it's fun to see bears and it can feel mean to scare them,
but this is a simple way to truly help save a bear's life."



______________________________________________