This info about enjoying a trip to Yosemite valley if you stay in a Curry Village
(briefly named Half Dome Village)
wood floored, canvas sided/roofed tent cabin is especially for first-time visitors,
but experienced people will probably pick up a few useful ideas.
A lot of this webpage refers to winter trips, but since the tent cabins only offer heat part of the year ("Heat is turned off the Friday before Memorial Day and turned on the Tuesday after Labor Day") and it can be cold, especially at night, most of the year, this advice truly applies to visitors year round.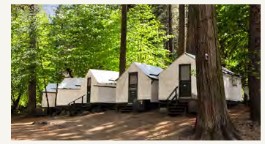 The wood floored, canvas sided and roofed tentcabins are available heated or unheated. Models with heaters are usually available the Tuesday after Labor day through to the Friday before Memorial Day, but many people choose to save money by renting a tent cabin without a heater even in the winter with snow on the ground.
Below (photo courtesy of the NPS) are some of the canvas tent cabins and a bear that broke into one people left food in. Always use the bearboxes provided at each tent cabin and campsite.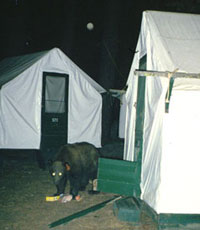 The outdoor food storage box ("bear box") might have a sign on the door: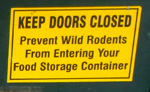 Curry Village had this warning:
"Guests who don't comply with our food storage policies may receive a fine up to $5,000.00 and be removed from the Park. Vehicles used for food storage may be impounded."
See the end of this webpage for food storage, cell phone service and parking advice.
And see Yosemite valley overnight accommodations for all the hotels, cabins and cottages in Yosemite Valley.
CHOOSING A CABIN
The tent cabins have various double bed and single bed combinations, electric lighting, restroom/showers nearby, lounge with free guest WiFi, but no phones/TV/fridge in the units.
Below are Curry Village canvas tent cabin interiors.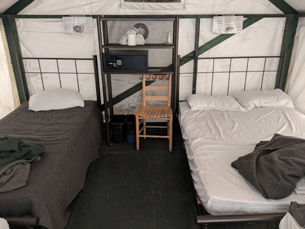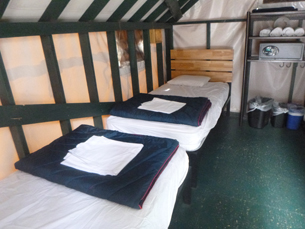 This photo shows the heater and on the shelves, a safe.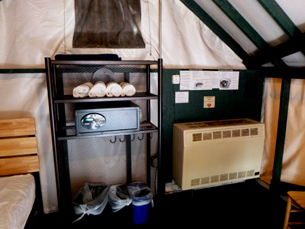 Google maps street view of a tent cabin interior.
Here is a link to a map at their website, of all the tent cabins / cabins without a bath (in white)
and wood walled cabins with a bath (in orange) /shower house/restrooms/pool/restaurants and more.
http://www.travelyosemite.com/media/524862/half-dome-village_property-map_web.jpg
The Yosemite Valley free shuttle bus has many stops at Curry Village, most of which can be found on the map linked to above.
When coming back from various other locations in the valley, Curry Village canvas tent cabins numbered in the 1100s, 700s and 600s are closer to stop 15 on the Happy Isles Loop Road outside the cabins area (stop 15 is just off to the right on the map) than to the Curry Village stops #14 and #20.
Curry Village canvas tent cabins numbered 1- 9 and all of the wood cabins (numbered with a letter after the number, such as 1D, 8A or 22B) are closer to stop 13 (13b) than to the Curry Village stops #14 and #20.
Notice which tent cabins are right next to restrooms for convenience in the weather but potential noise all night, or which are actually a longer walk to restrooms.
Notice that tent cabins 1-9 are nearest to the bus stop for the free bus to the ski resort and nearest to the guest lounge, and notice that they are quite close to each other and to restrooms:

(The restroom building on the left in the photo above has a individual restroom up the ramp for a wheelchair on the end of the building shown in the photo, and at the other end of the building, many more stalls / sinks.)
Tent cabin number 1 would look on the map to be more quiet because of space around it, but it is surrounded by walkways that can have foot traffic many hours of the day, and has a large restroom with lights on all night nearby behind it: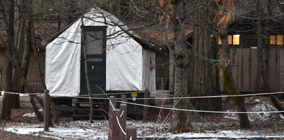 To the side of various cabins are (brown) bearboxes just for housekeeping to use, but don't worry, you can expect that they will not be banging them open and shut all night:

Try to choose a tent cabin to ask for that does not have a potentially-noisy-any-time-of-the-day-or-night metal trash bin next to it (reddish-brown, to the right of center in the photo below):

and note which tent cabins are very close to each other, (and bring good quality earplugs, not the simple foam ones, but the ones with a thicker wax-like quality, often made with silicon putty):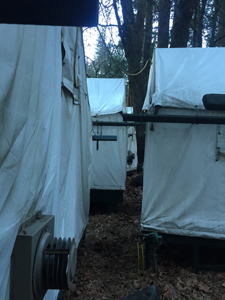 Google maps street view of Curry Village cabins in the vicinity of cabin 515 and 516
Google maps street view of Curry Village cabins in the vicinity of cabins 621, 655 and 656.
Some of the canvas tent cabins are heated and cost more. I was told that the unheated tents (with shared bathrooms/showers in the vicinity) are (on the map), 1-5, 466-482, 501-578, 601-691 & 701-752, and that the heated tents (with shared bathrooms/showers in the vicinity) are 6-9, 401-465, 214-299, 301-345.
Also note when you look at the map that a few Curry Village tent cabins are right on an access road and will have car / truck noise and headlights (especially #345, #344, #343).
Tent Cabin #223, and others in that vicinity, are right next to the main parking lot: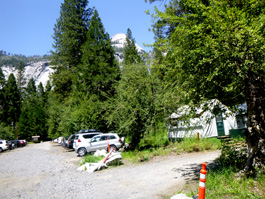 Some tent cabins have trees for some shade, some do not:


All the canvas tent cabins have bearboxes (food storage lockers).
The Curry Village website did not mention that the heated tent cabins have electric outlets. I was told that yes, they do, but you have to unplug the heater fan to use the electric plug to, for example, charge your cell phone.
Some of the tent cabins at the south side, slightly up the hill farthest away from the parking lot, are more secluded, with more space around them because of the huge rocks setting them apart from other tent cabins: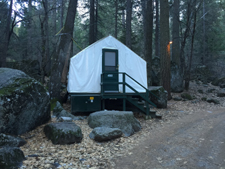 But those huge rocks are a part of the rockfall zone that runs all around Yosemite Valley. Not to mention you will have a longer walk with your luggage.
A multitude of photos from the October 2008 rockfalls above Happy Isles that eventually closed 233 Curry Village cabins, etc. and 43 staff housing units can be seen at:
https://www.nps.gov/yose/learn/nature/upload/Stock-et-al-2011-Geosphere.pdf
– – – – – – – – – – – – – – – – – – – – – – – – – – – – – – – – – – – – – – – – – – – – – – – – – – – – – – – – – –
Few Yosemite accommodations have TVs. All the Ahwahnee Hotel rooms have large screen televisions with an in-house TV channel that plays videos from the Yosemite Conservancy Nature Notes series.
You can "upgrade" your lower cost overnight accommodation by downloading the nature video series in advance of your trip and then watch them on your laptop in your tent cabin.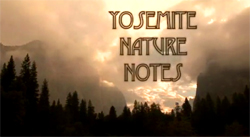 You can watch or download the videos at:
https://www.youtube.com/playlist?list=PL890957589F8403A4
– – – – – – – – – – – – – – – – – – – – – – – – – – – – – – – – – – – – – – – – – – – – – – – – – – – – – – – – – –

LOGISTICS:
Whenever you park in an area you are not familiar with, take a photo on your smart-enough phone, standing a bit away from where you parked, so you can find your vehicle.
You could bring pages from an old calendar with pictures you like to put up over the rules lists on the tent wall so you don't have to find yourself reading the rules again and again. Or maybe just hang a t-shirt with a logo you like over the you-should-not-remove-these rules mini-posters.
The cabins are not carpeted. An old towel or two to spread on the floor or a small rug could make putting your feet on the floor when you wake up more comfortable.
The cabins do not provide a lot of towels, or even washcloths. If you need a washcloth and/or a big, thick, fluffy towel or two or three, bring them.
Take the hair brush or comb and mirror out of the toiletries / shower kit and leave your shower kit in the bear box, not the tent or the car. The mint toothpaste and Caribbean sunscreen really smell like food to the animals.
There are no street lights and your cell phone will not function as a flashlight long enough or bright enough after dark, so you must have a flashlight (electric torch) and/or head lamp. See advice on choosing one.
If you decide to bring a lantern, your lantern mantle may have disintegrated during transport to the park. It's easier to put on a lantern mantle in the daylight. At least find your lantern and flashlight before it gets dark.
When you take off your gloves/mittens to do work, stuff them inside your jacket to stay warm instead of putting them down in the snow.
Wise winter travelers lift the wiper blades off their windshield as soon as they park, or at least before the snow starts, so the blades won't be frozen on the windshield in the morning: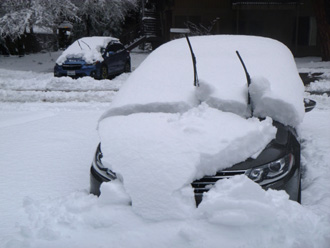 If it has been snowing you can tap your feet together or against a stair outside of the tent cabin to knock at least some the snow off your boots as you walk into the cabin. If your jacket is wet, wipe excess moisture off your jacket and put it in a plastic bag, folded so the wet places don't touch the dry surfaces. Loosen the laces on your boots and set the boots out of the way of being tripped on.
Some tent mates decide in advance that no one can walk inside the tent with boots on, to keep snow (and melted snow, dirt) from accumulating inside. You could bring an old towel to spread out at just inside the entrance to the tent for people to set their boots on as they walk in. In this case you might want extra pairs of thick socks, and (dry, clean, not worn outside) tennis shoes, booties or slippers for hanging out in the tent playing cards, or just for going to bed, etc. (This advice is from the You Will Wish You Had section of Snow or rain camp must-haves).
In the evening, plan ahead for the next morning. Pack your day pack the night before (or a large backpack that will fit everything you'll need to bring). (Except put the last of the food-scented trash you have collected, the lunch and trail snacks, sunscreen/chapstick, etc. in the bearbox overnight.) A list of what you might want to pack is at the For A Hike section of the summer Camping equipment checklist
Take out down-filled sleeping bags and fluff them up preferably at least a half hour before bedtime.
Be certain down-filled sleeping bags, vests, jackets, etc. never get wet –wet down is useless.
When you get there, or at least before you go to sleep, stand on the front porch of your cabin and figure out where the nearest restroom is. In the dark, even with a flashlight or headlamp, finding your way there could leave you lost or at least a bit frustrated.
The restroom is between which other tents / buildings?
Which end is the men's restroom and which end the women's?
Which part of the side / end is the entrance?
What route should you take to miss the large puddles that could need wading through if it rains much more?
(Trying to get into a linen storage building you mistake for a restroom in the middle of the night,
or heading for an actual restroom that is not open in the off-season is no fun.)
At bedtime double check your daypack and jacket/pants pockets and get the candybars and snacks into the bearbox: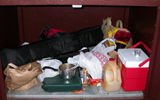 Do not leave any food-scented trash in your tent cabin. If the large trash receptacles here and there in the tent cabins area are full, you might find a dumpster in the parking lot.
________________________________________________________
Please use the clip on the trash bin to lock it. If a bear gets into a dumpster on a hot day it can be a death trap.
If you notice one is un-clipped, please clip it.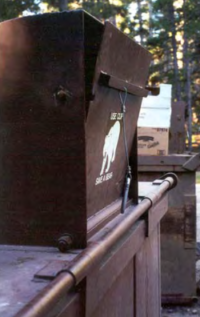 Immediately report it to a hotel front desk, ranger or campground host if the clip is missing from the dumpster.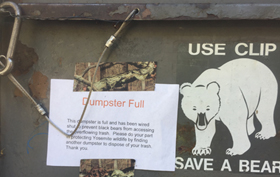 In the photo above, the note on it says:
"Dumpster Full
This dumpster is full and has been wired shut to prevent black bears from accessing the overflow trash. Please do your part in protecting Yosemite wildlife by finding another dumpster to dispose of your trash. Thank you."
PLEASE, when a dumpster is full don't just leave your trash sitting next to it, or try to stuff it in,
find another dumpster.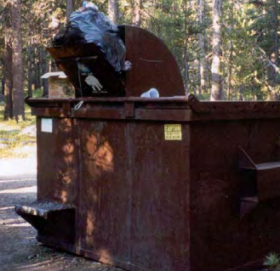 When a trash bin at an outside dining area is full, find another trash bin rather than piling trash on top,
and report it to the management: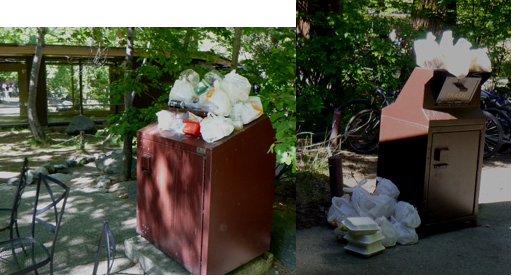 _____________________________________________________________________
Is your inner layer of clothes really sweaty? If so, put a dry set in your sleeping bag to change into, especially socks.
If it has been raining you will also want a cloth to wipe moisture off rain jackets, and maybe a brand new sponge with no scent to it or one of those small super-towels that soak up a lot of water to mop up water (rain… melted snow you tracked in on your boots) from the tent floor.
(Don't sit on your sleeping bag or even the edge of the bed with wet clothes on.)
If you have no heat and it could be freezing temps overnight, a plastic bag with your boots could go under the foot end of your sleeping bag or in the foot end if it fits and you are sure you can keep your sleeping bag dry, to keep your boots from freezing.
Any removable insoles/arches could go into the sleeping bag, maybe inside an extra pillowcase inside the sleeping bag.
At bedtime, if your jacket is dry, you can spread it out on top of your sleeping bag, with the inside of the jacket facing down towards the bag, to keep it from getting so cold, but don't spread wet things over your bag. Why would this work? The thing that makes a sleeping bag warm is you. Your body heat warms the clothes you are wearing, the sleeping bag liner or an inner blanket, the sleeping bag, and a little body heat might go out of the bag into a jacket on top of it. There are limits to how much dispersed warmth can do, though.
Wrap a knit scarf around your face to pre-warm air by breathing through it. Resist burying your face in your sleeping bag because your moist breath will soak that part of the bag. Leave your knit hat on to make a HUGE difference in how warm you stay. You might also want a bandanna on under the hat to be sure your ears stay warm.
If you're using a sleeping bag without a hood, and with a wide opening at the shoulders, bring an extra blanket to wrap around the opening, so the bag won't be drafty. Another blanket inside of a wide, non-mummy-shaped bag will also be warmer. Again, the tent cabins offer rentals of sleeping bags, but do not have enough for everyone, so you would reeeeealy want to bring your own.
Don't wear too many clothes to bed. You'll be warmer if you wear fewer, looser clothes. Tightness around your armpits or the tops of your legs can slow down blood flow. Plus, you'll sleep better if you can move easily in your sleeping bag. Wearing lots of layers and a jacket and stuffing yourself into your sleeping bag really won't work.
Store your flashlight and your contact lens kit (in screw top containers instead of pop-open-any-time containers) in the sleeping bag to stay warm. If you will need a mirror to put in the contacts store it in or near the sleeping bag so you don't have to go hunting for it in the morning.
If you have a thermos that has never had anything but hot water in it (and therefore didn't pick up any food odors) you could fill it with warm water for overnight drinking. If you don't have a thermos for your in-the-tent overnight water supply, wrap your water bottle (a water bottle that also never had anything but water in it!) in a sock for extra insulation, and set it on its side or upside down. If you leave it sitting right side up, the thin layer of ice that forms in it on top of the water will keep you from drinking, and/or the moisture around the threads will freeze and you won't be able to open it.
Before getting up in the morning or at night, do some isometric exercises (do crunches, wiggle around and stretch in your sleeping bag) to get blood moving and warm your muscles. If you decide on a tent cabin with no heater, you might also want to have a clean rag or dishtowel in the tent to wipe moisture off the inside of the tent walls.
This way, you won't get up and bump the tent and make it drip or 'rain' on you (or snow on you, depending on how cold it was). But also have a spare blanket over your bags for the possibility.
If you've been drinking enough water to stay healthy and be hydrated for the next day's activities, you will need to get up in the middle of the night.
If it isn't cloudy, take a minute to check out the stars.
One night of snowfall could look like this, and you will need to kick snow off the steps of your tent cabin and stomp out a path to your car or the restroom if you are up before the work crews can get to your cabin area: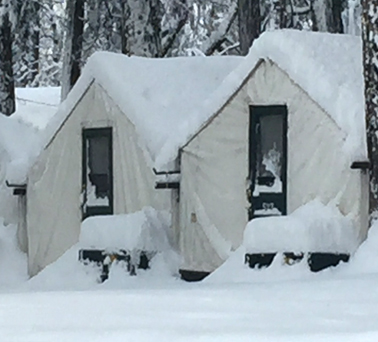 In the morning
It's going to be cold in the morning and hard to drag yourself out of that warm sleeping bag. But you'll probably want to get an early start. Did you remember to pack a battery operated alarm clock? The tent cabins do not come with a clock. You don't want to miss the free bus to Badger ski area (snowboarding, cross country and downhill lessons and/or equipment rentals, the ranger snowshoe walk). You'll want enough time to do a long hike before dark.
Hand or toe or foot warmers …small packets of chemicals, which when activated, will produce heat for hours, can be a worthy investment. If you figure out who in your tent will probably get up first in the morning, as soon as you wake up you can put a set of them in the toe end of their boots first to make them more comfortable, then move them to other people's boots. (Some kinds can be boiled to be reused. They are more expensive in the short run but can be reused for years and are much more earth-friendly.)
– – – Those for sale in the park have in recent years cost twice as much as those we bought at home.
When it's time to put in your contact lenses, do it while still in your sleeping bag. Sit up and lean over the top of the bag. Spread the bag material at your lap out smoothly with a depression in the middle. Then if you drop the lens it will fall on the surface of the bag and head towards the center where you will be much more able to find it than on the tent floor, the ground outside or the muddy bathroom floor. Same instructions for putting new batteries in hearing aids.
If your car lock is frozen in the morning, set your car key next to one of those chemical hand warmer packets in your jacket pocket to warm it up, then try it. Gently pushing down on the trunk lid or against a door a few times may break up ice crystals so it will open. Also try de-icer in the locks. Don't try breathing your hot breath into the lock, the moisture in your breath will just refreeze. Sometimes you just have to wait until it warms up a little, or have everyone climb in the one door that will open.
One morning we found footprints on a dirty window from a raccoon who inspected the car overnight: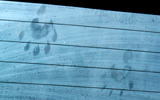 YOUR VEHICLE
If you didn't pack enough proper gear to stay warm overnight, and you decide to try sitting in the car to warm up, with the engine running in the middle of the night, not only will you risk waking up everyone in the nearby vicinity, you could make it difficult or nearly impossible to start the car later when you want to go home. Prepare for winter driving has the reason why, a link to bad weather driving tips, tips for using tire chains, tricks for dealing with frozen car locks, how to prepare your vehicle for winter driving, a winter survival kit for your car, what to do if you get stranded, how to keep windows from fogging up and tips for driving in snow and ice.
! ! ! ! Tent walls are thin. You can wake up everybody in the vicinity ! ! ! ! when you want to get into your car and you use the keyless (remote) door opener and the car makes the usual loud beep. People don't think to just use the key to open the door or don't know that if you look in the owner's manual you can find a way to disable the beep. On De Anza Outdoor Club trips you are required to either disable the beep or not use the remote (remove it from your key chain during the trip) or park at the very back of the parking lot.
Some vehicles have a beep activated whenever you open the trunk, that can't be easily disabled. Every time the trunk is opened it beeps and it will wake up people. If your vehicle has this function, either look in the owner's manual for info on how to disable the beep or take it to the dealer and get it done, or do not park it near tent cabins.
The last morning it could be wise to try to start your car before you even start packing up the tent cabin, and warm it up for at least 5 minutes. Then if it won't start you have more time to deal with it, instead of being all packed up and then finding out your car won't start.
Do you need a car with a better battery ? (In cold weather, batteries are 50 per cent less efficient) If the owner of the Buick below had cleaned the battery terminals before the trip the half hour spent trying to get his car to start on the 2016 trip could have been spent on something more fun. Read Prepare for winter driving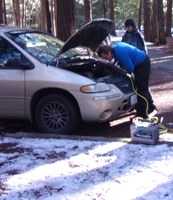 Invest in enough de-icer. The Centers for Disease Control website warns:
"Never pour water on your windshield to remove ice or snow; shattering may occur."
You will want deicer for your car windshield, windshield washer nozzles and door locks. A real windshield ice scraper works better than a fabricated one.
On a budget? The Yosemite Daily report said: "Top off your wiper fluid reservoir with freeze-proof fluid, a few tablespoons of rubbing alcohol added to standard fluid works as well."
Yup, below was one night of snowfall: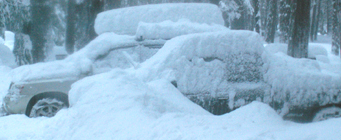 Clean the snow off the whole hood or it will slide and blow up on the windshield as soon as you drive off.
Clean any snow out of the windshield air intake on the hood.
Spray a little deicer on the windshield washer nozzles.
Snow left on the roof will slide down on to the rear window, blocking visibility and the use of any rear wiper, or slide on the windshield the first time you hit the brakes.
Clean any snow away from the exhaust pipe.
Clean off all the lights.
If you must bring some snow home for a snowball fight with your roommates, fill a now empty ice chest.
(This advice is from: Prepare for winter driving which even passengers should read in advance of the trip.)
_______________________
Curry Village general info
They recommend "ear plugs for additional sleeping support," – We recommend good quality earplugs, not the simple foam ones, but the ones with a thicker wax-like quality, often made with silicon putty. (That can apply to almost every overnight accommodation or campground you will ever stay in.)
and a padlock for your food locker. (And we recommend at least 2 keys for the padlock, in different persons pockets.)
Valuables should be stored in the mini-safe in the tent cabin, not in the food locker.
From their website with info about the food storage lockers: "Your cabin comes with one locker measuring:
35.5″W x 20.5″D x 23″ H (Small Tent Cabins)
47.5″W x 20.5″D x 23″ H (Large Tent Cabins)
Guests who don't comply with our food storage policies may receive a fine up to $5,000.00 and be removed from the Park. Vehicles used for food storage may be impounded."
On the map below note the office you will check in at, the pink almost-square labeled "Front Office", the registration parking, the free Yosemite Valley shuttle bus stops 13 (13b), 14 and 20.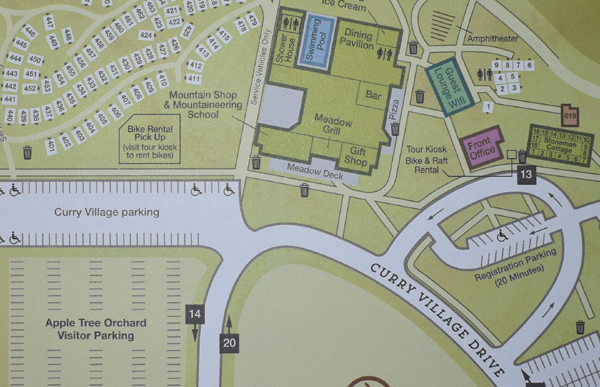 Stop 13 (13b) is also the usual bus stop for the free winter bus to Badger Pass Yosemite Ski resort, which runs sometimes weekends only and sometimes all week. Note that it a different bus, with a more rigid schedule, than the free Yosemite Valley shuttle bus.
and note this warning sign sometimes posted at shuttle bus stop 13 (13B):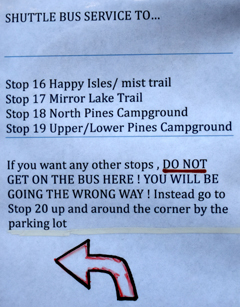 BUT you could get on the bus at that stop, get off at the next stop (14 ), walk across the street and get on at 20.
Below is a picture of free shuttle bus stop number 14 on the left and stop number 20 on the right.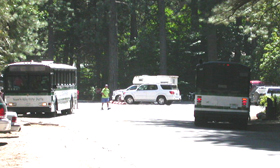 There are no TVs, phones or refrigerators at the Curry Village tent cabins, cabins with a bath or at Stoneman Cottage.
Free Wi-Fi for people staying at Curry Village is not in any individual overnight accommodation, only in the Guest Lounge which has lots of tables, chairs, desks and a fireplace in season (see the teal colored rectangle in the map above). Internet service is weak at best, better than in Sequoia National park, but not as good as in Grand Teton National Park. "WiFi bandwidth is limited in Yosemite National Park. The WiFi is only recommended for checking email or some (very) light web browsing. Don't expect to be able to stream movies or download/upload large files."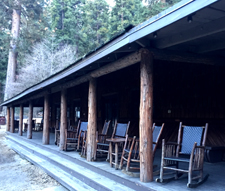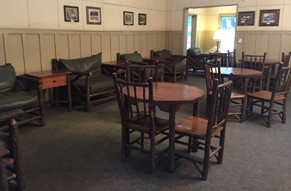 Guests at Curry Village and people who are not guests at Curry Village can book a tour, pay to rent a bike or a raft (in warm months), or pay for winter ice rink use/ skate rental at the little Tour Kiosk between the front office and Stoneman Cottage near shuttle bus stop 13 (13b).
If you want to rent a raft, rental reservations in advance are advised, up to 80% of rafts are reserved the day before. http://www.travelyosemite.com/things-to-do/rafting/
The warm months Bike Rental Pick Up area is to the west of the stores and food, north of the parking lot. This photo of bike rentals pick-up area is taken from the direction of the Curry Village guest parking lot.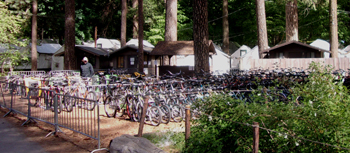 The permanent ice rink was removed winter 2016-2017 and replaced with a seasonally installed portable ice rink in the parking lot near stop 14, which promptly flooded in heavy rains and was closed, at first temporarily, then it did not reopen. It was moved back to its original location for winter 2017-2018. Sometimes when it first opens there are no lights for evening skating for awhile until they can be installed. Always subject to mechanical issues with the Zamboni. You buy tickets to ice skate, and if you need them, to rent skates (helmet is usually free), at the tour kiosk near the Curry Village room registration office (see map above).https://www.travelyosemite.com/winter/curry-village-ice-skating-rink/
A 365 day a year shower house and summer lifeguarded swimming pool are the right up the service vehicles only road from the parking lot. The map below shows bus stops 14 and 20, and the road to the shower house / pool (blue rectangle below):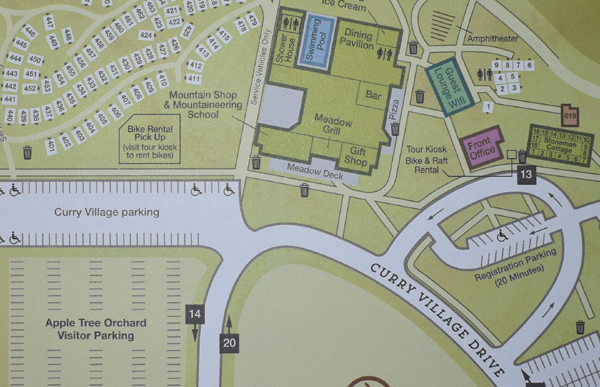 The main shower house has blow dryers mounted on the walls, but you might want your own hair dryer.
Bring a couple of big plastic bags to keep shower spray off your clothes and towels.
Some years the shower house has been closed for cleaning 10 – 11 a.m. and 10:30 p.m. to midnight.
The pool is open during warm months. Guests at Curry Village swim and use the main shower house for free and people who are not guests at Curry Village can swim in the pool and use the main shower house for a fee:
http://www.travelyosemite.com/things-to-do/swimming/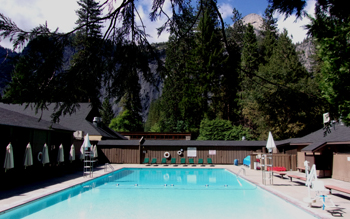 See also: Swimming in Yosemite National Park.
There is a small grocery store/gift shop.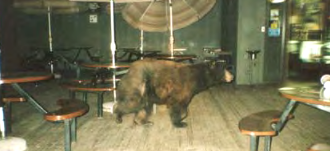 Basic descriptions of food services and photos, links to menus for the Curry Village Pizza Deck, Coffee Corner, Curry Village Dining Pavilion, Meadow Grill, and Curry Village Bar (not all of which are open all year, (and especially not open in the winter) opening and closing dates can vary depending, in part, on weather)
And for the Yosemite Lodge Mountain Room, Mountain Room Lounge, Starbucks (formerly the coffee corner) and Base Camp Eatery (formerly the Yosemite Lodge Food Court)
As well as other dining establishments in Yosemite valley
can be found at Yosemite valley restaurants, coffee bars, cafeterias, food service and groceries.
Offerings at the Yosemite Lodge dining establishments at free shuttle bus stop #7 have more variety than at Curry Village, especially in the winter.
The main grocery at free shuttle bus stop #2 has premade individual meal-type salads with dressing packets, and whole or half grilled chickens / other entrees, plus lots of sliced cheese/meats, crackers/breads, cookies to pack an impromptu dinner from. The Curry Village grocery has a smaller selection of basic items.
You can eat out at a cafeteria / restaurant, but some people try at least one dinner in a campsite someone in your group rents or at a picnic area. Snow or rain camp must-haves has menu ideas along with the details about gear and any boots/jacket/sleeping bag rentals we know of.
There are very few places at Curry Village where you can picnic with a picnic table, and no grills. But there are many places in Yosemite Valley with picnic areas, some with grills and even views.
See the full sized map at: https://www.nps.gov/yose/planyourvisit/picnic.htm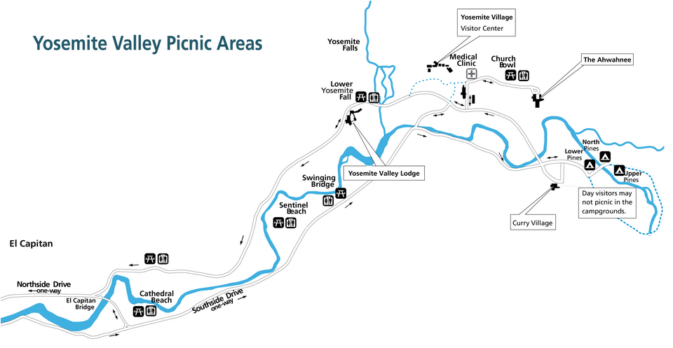 – – – – – – – – – – – – – – – – – – – – – – – – – – – – – – – – – – – – – – – – – –
The waterfall coming down the cliffs behind the cabins with a bath at Curry Village is Staircase Falls (when there is sufficient water to flow).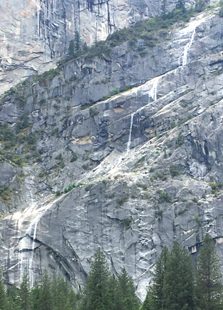 Places to take photos of Staircase Falls in Yosemite National Park

FOOD STORAGE
This sign is at the Curry Village parking lot: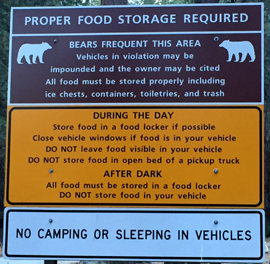 Some winters a few Yosemite valley bears never go into their winter dens, but stay active and looking for food all winter.
Bears in Yosemite break into vehicles and tents that have food or toiletries in them. Raccoons take advantage of people who leave doors and trunk lids open or leave gear unguarded in a truck bed while people unload their vehicles.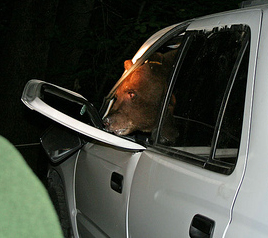 This photo is from a Yosemite visitor center video. It shows a man at Curry Village trying to fold his car door back into place after a bear pulled it open, climbed in and trashed everything in his car: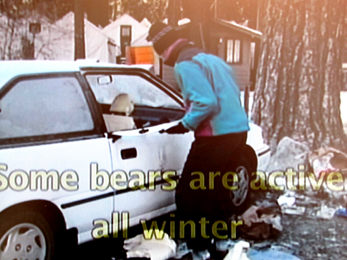 Notes on preventing bears from breaking into your vehicle are at bears.
From the Yosemite Daily Report newspaper:
"It is extremely important to remember to yell at bears that are in and around development, even if they are foraging on natural food. Though it is very tempting to get close for a picture, or just to watch these incredible animals, it is important not to give into this urge. Yelling at them if they are in residential areas or near people is critical to keep bears natural fear of humans. Giving bears plenty of space. When bears become too comfortable around people, they will often start causing damage to structures and vehicles, or will even become too bold around people, creating safety concerns."
__________________________________________
The Park service put bear-proof metal food storage lockers in all the campsites and at tent cabins.
(But they are bear-proof
only
if used properly.)
Dimensions of the food storage lockers at Curry Village are different than those at many campsites. "your cabin comes with one locker measuring:
35.5″W x 20.5″D x 23″ H (Small Tent Cabins)
47.5″W x 20.5″D x 23″ H (Large Tent Cabins)
Guests who don't comply with our food storage policies may receive a fine up to $5,000.00 and be removed from the Park. Vehicles used for food storage may be impounded."
__________________________________________
When camping or sharing tent cabins with a large group of people, some
complain there is not enough room
in their shared bear box for all their food.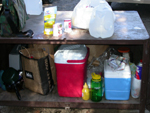 More things could fit in the bear-proof storage lockers if everyone brought smaller containers of food, etc.
NO!→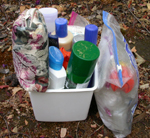 ← Yes!!
and if everyone brought their gear in small, deep plastic trash cans or other plastic boxes close to, but no more than, 17 inches tall. A typical bedroom waste receptacle could be 9″ by 12″ by 17″ deep and hold quite a few cans of food, cooking items and toiletry bags. If you've never shared bear boxes with a big group, read
Using a campsite food storage locker
has this advice and more: Bears break into vehicles (including car trunks), tent-trailers or tents to get at food or even containers shaped like food seen through the windows, so campers need to put all food, ice chests, toiletries, stoves with spilled food, water bottles that had are now empty but had lemonade mixed in them, trash that didn't quite get to the bear-proof dumpster, pans and dishes in the bear box.
__________________________________________
When packing for your Yosemite vacation,
You can't trust your own nose; look around the car, including under the seats, and in the glove compartment, thoroughly. Hey, no scented air fresheners hanging from the rear-view mirror!
Puuuuuulease get rid of the dashboard hula girl that emits the pina colada scent,
(only $2.99 at the Frys one day Flash Sale and you couldn't resist)
and everything else scented from your vehicle so the bears won't be tempted to break in.
Stop stuffing the ashtray with gum wrappers. Dig the old french fries out from under the seats.
No water bottle, bottle of brake fluid or spray can of deicer showing, the bears don't know it's not food and will break into your car because they see an item the shape of a food container.
A daypack / backpack is also a food container to a bear, so you should not leave even an empty pack visible in the car.
The best policy is to leave your car cleaned out of gear visible through the windows.
Air out your vehicle if you eat burgers/pizza on the way to the park.
Bears can get into locked rooftop car storage pods.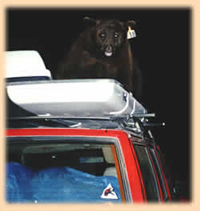 Setting your car alarm will not keep bears from getting into your car, but it can wake up everyone in the vicinity.
NO, you can't keep a bear out of your campsite or tent cabin area. No alarm will scare them off. Details are at BEARS
Yosemite all-year resident Ravens are bigger than a Crow you might see at home. Ravens are 24 inches long and have a wingspan of 53 inches, Crows are 17.5 inches long and have a wingspan of 39 inches).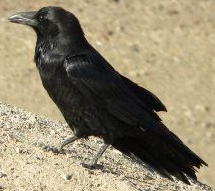 Caw vs. Croak: Inside the Calls of Crows and Ravens
Not just bears, but also Ravens want to get into your gear, and some have figured out how to get into day packs (they can unzip or unfasten many different kinds of buckles and latches) or . . . a bag tied onto a motorcycle: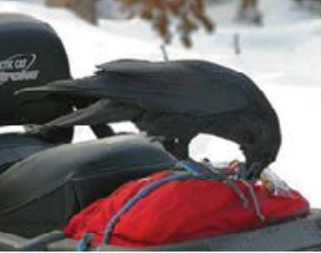 I suggest you stay with gear you tied on to your vehicle or in an open truck bed until it can get stored properly from animals / birds.
Ravens will take any food you leave unattended on a picnic table. Keeping food within arm's reach is a wise idea at each of the picnic areas, hotels and campgrounds. The park warns: "If your food is stored improperly, you will be cited for improper food storage (fine of up to $5,000)." See also an index to over a dozen park webpages with park laws, rules, regulations and policies.

– You can download an App with "information about park services and programs, as well as an interactive map designed to help visitors locate iconic features, scenic spots, trailheads and amenities. . ."
". . . Most app content can be downloaded before arriving in the park and used offline in areas of limited cell service"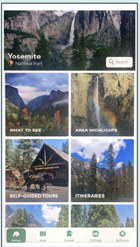 _______________________________________________
Cell phone service is NOT available in all parts of Yosemite.
It is usually okay in the vicinity of the main visitor center.
Many years (checking in 2017 to 2023) we got 4 bars for Verizon and 3 bars for AT&T near the main visitor center, versus 2 bars for each at the Ahwahnee and 2 bars Verizon, 1 bar AT&T in Upper Pines campground, at the Yosemite Valley Lodge, Curry Village and some other locations in East Yosemite Valley.
In Feb and May 2022, we got 2 bars for Verizon and 1 bar for AT&T at almost all east Yosemite Valley locations including Curry Village, in Upper Pines campground, Happy Isles, the Ahwahnee, at the Yosemite Valley Lodge, and at Yosemite Village locations such as the grocery and Visitor Center.
Outside of Yosemite valley, at the Tuolumne Grove, Olmstead Point and Badger Pass were 1 bar Verizon, zero bars AT&T. Glacier Point and the top of Half Dome often have 3 bars Verizon, 2 bars AT&T.)
The park service said: "Cell phone coverage in Yosemite is spotty . . . Cell service is often impacted during daily peak visitation by the large number of people trying to access limited service; if you have four bars of service, but you can't get a signal, this is why . . .
cell coverage depends on your phone, the cloud cover and other seemingly mysterious factors and is not always reliable. "
_______________________________________________
Parking:
Curry Village cabins with a private bath have some UN-assigned parking spaces near or next to most buildings, but the UN-assigned parking spaces might be occupied by someone else when you arrive and if you arrive late you might not find parking near your cabin.
A few of the Curry Village tent-cabins are very near potential parking spaces, but the UN-assigned parking spaces might be occupied by someone else when you arrive.
Here is a link to a map at their website, of all the tent cabins / cabins without a bath (in white) and wood walled cabins with a bath (in orange) /shower house/restrooms/pool/restaurants and more. Please note that the registration parking is very short term and they can tow you.
http://www.travelyosemite.com/media/524862/half-dome-village_property-map_web.jpg

The Yosemite National Park entrance fee, effective starting June 2018, is $35 per vehicle or $20 per motorcycle. An annual park pass costs $70.
OR
a (National Parks and Federal Recreation Lands) Interagency annual pass is $80, valid for 2,000 federal recreation sites / National parks: https://www.nps.gov/planyourvisit/passes.htm
OR
someone who is a U.S. military dependent and has their Dependent ID Card (form 1173) and can get a free national parks pass http://store.usgs.gov/pass/military.html
(The passes can't be transferred/shared, the pass holder needs to be in your vehicle and show a photo ID.)

RESERVATIONS TIPS
– – – COST and AVAILABILITY of all potential Curry Village overnight accommodations can be found at: https://www.travelyosemite.com/lodging/curry-village/
I suggest you book your tent cabin or other overnight accommodation directly through Travel Yosemite at the above link.
Some third party reservation agencies say they have rooms at hotels or cabins in the supposedly named "town" of "Yosemite Valley" that are actually miles away form the park.
Some third party booking agencies charge a fee on top of the room cost – and they can't get you a reservation that is not available at the official Curry Village reservation webpage.
When you book your room(s) through the Travel Yosemite website you can request (at the last section of the reservation form), a specific tent cabin, tent cabins next to each other (especially if you give them tent cabin numbers you want) which the hotel can try to get you (but can't guarantee they will). Some third party booking agencies will tell you that you have the specific room(s)/ tent cabin choices you want, but when you arrive at the hotel, they did not even pass on your request to the hotel.
All the overnight accommodations in Yosemite Valley are often solidly booked, especially in warm weather months, up to a year and a day in advance.
To get exactly the view you want at a Yosemite Valley hotel guaranteed, you can book a specific room that there is only one of. Examples include Curry Village Cabin 819, Ahwahnee hotel suites such as the second floor Presidential Suite, Third Floor Suite, Sunroom, Library Suite, or the Mary Curry Tressider bedroom. This also goes for places like Jenny Lake Lodge in Grand Teton National Park that has 37 historic cabins, but only one with a jacuzzi tub, that is rented out separately from all the others.
– – – – – – – – – – – – – – – – – – – – – – – – – – – – – – – – – – – – – – – – – –

People planning to go on the De Anza college winter trips this page was written for really need to read Snow camp weather, hike safety and first aid considerations
Safe driving in rain and fog includes info about driving in fog, on black ice, driving in rain, driving in floods (don't) and chain requirements, with lots of links to follow.
You might also want to read Snow chain rentals , wildlife jams or How to not collide with a deer
Road trip advice and etiquette has links to radio station guides and gasoline prices across the country.
Snow camp carpools and driving directions
Things to do during a Yosemite snow storm besides hiding in your tent
For the answer to the question:
How do I convince my parent(s)/guardian that I can go on this trip? or How do I convince them to pay for some gear for the trip?
Go to: Snow camp FAQs
How bears break into cars, what to do if you see a bear and more is at:
Bears
For a list of required equipment for De Anza college trips (and another list of the things you will really wish you had) as well as menu advice, and a discussion of what to look for in long-johns, fabrics and rain gear, go to:
Snow or rain camp must-haves We put info about lots of potential gear rentals and budget minded clothes ideas there.
Snow Camp is the main trip page.
_______________________
At different times of the day and night on The De Anza Outdoor Club winter Yosemite trip people have seen raccoons, coyotes, deer and ravens in the campsites and other areas in Yosemite valley. We also found tracks in the snow, below raven, raccoon and steel belted radials: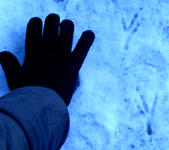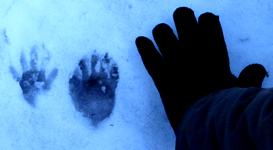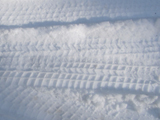 There are still birds in Yosemite in winter. Some of us refer to the Raven calls near sunrise as the Raven alarm clock.
Hear Yosemite bird songs at:
https://www.nps.gov/media/video/view.htm?id=C87D7447-1DD8-B71B-0B82603B8150C783

photos below by Quang-Tuan Luong/terragalleria.com, all rights reserved.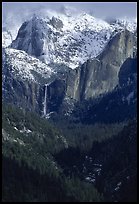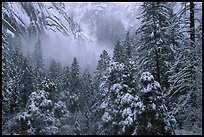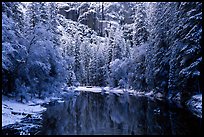 ______________________________________________
______________________________________________

The Yosemite National Park rangers would like you to call them
if you see a bear in Yosemite,
no matter where it is or what it is doing.
Since 2003 there has been a note in the Yosemite Guide: "REPORT ALL BEAR SIGHTINGS! To report bear sightings, improper food storage, trash problems, and other bear-related problems, leave a message for the Bear Management team at: 1 (209) 372-0322. Your call can be made anonymously."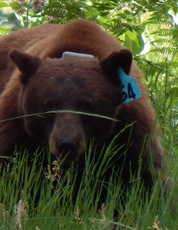 If you can, in all the excitement, try to notice if the bear has a tag (usually on the ear), the color of the tag and if possible, the number on it (the tag is large enough that with a telephoto lens you should be able to read the number).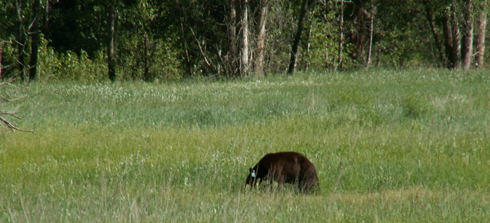 From the Yosemite Daily Report newspaper:
"It is extremely important to remember to yell at bears that are in and around development, even if they are foraging on natural food. Though it is very tempting to get close for a picture, or just to watch these incredible animals, it is important not to give into this urge. Yelling at them if they are in residential areas or near people is critical to keep bears natural fear of humans. Giving bears plenty of space. When bears become too comfortable around people, they will often start causing damage to structures and vehicles, or will even become too bold around people, creating safety concerns."
And the Yosemite Daily Report also said:
"Scare bears when you see them. . . in developed areas- Yell like you mean it!
Make as much noise as possible, try waving your arms, stomping your feet
or anything to make you look intimidating and to get the bear to run away.
We know it's fun to see bears and it can feel mean to scare them,
but this is a simple way to truly help save a bear's life."



______________________________________________


Where were they when they got that great picture in Yosemite?
Where can I get a photo that looks like the one on a Yosemite postcard I just bought?
Places to take photos of Half Dome, Bridalveil Fall, El Capitan, Yosemite Falls and Staircase Falls.
______________________________________________