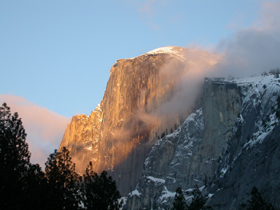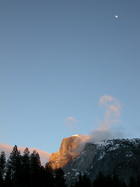 Group photo the last morning (four people still sound asleep or simply refusing to get out of their warm sleeping bags):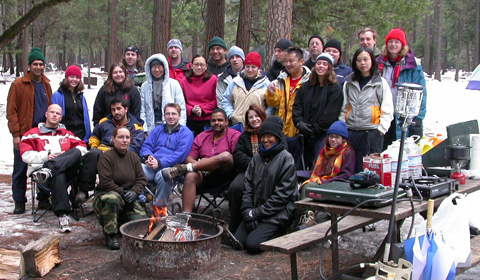 Our group included first time campers. We were 17, 17, 18, 18, 19, 19, 19, 19, 20, 20, 20, 21, 21, 21, 23, 23, 24, 24, 24, 25, 25, 26, 27, 29, 29, 29, 30, 31, 33, 33, 33, 53 and 55 years old.
Chores as we moved into the site on Friday included
walking back and forth to create paths through the snow from tents to campfire areas and restrooms, especially for easier walking after dark,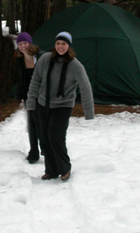 and clearing snow/ice from the top of picnic tables, sometimes needing a hatchet as well as a shovel.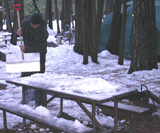 People helped each other pitch tents. When one carload arrived well after dark, the dining canopy used as a front porch below was moved to over where a two-person tent was being pitched to keep the light rain off the tent and its occupants while it was being pitched.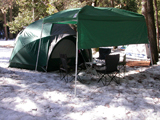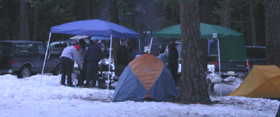 One guy didn't follow the advice at Snow or rain camp must-haves.
Before rain soaked through this tent we found room in a better tent for him.

for more camping mistakes go to:
Camping Blunders
Saturday had various groups doing hikes, seeing museums or skiing and snowboarding.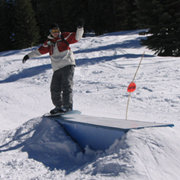 Snowboarding photo by Ernie Moreno. Fallen skier by Robert Campbell.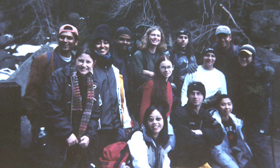 hikers photo from Wendy Sato, Vernal Fall photo by Sudharsan Sripadham
ice skaters photo below by who? (from Sud's photo page)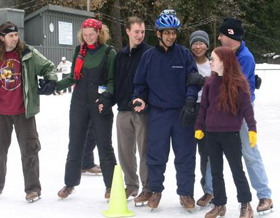 Saturday evening was spent having campfires, listening to guitar players, playing Charades and board games. After the campground quiet hour of 10 p.m. many people went on a night hike to Mirror meadow, linking arms in groups of four to six people to keep from slipping on the ice on the trail, a former road. Overnight the temperatures stayed in the low thirties, as opposed to previous trips when they were in the teens. Did one group actually stay up by their campfire until 3 a.m.?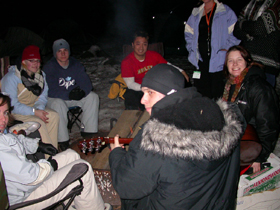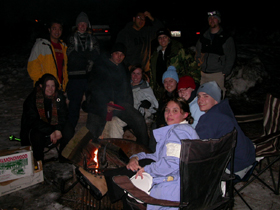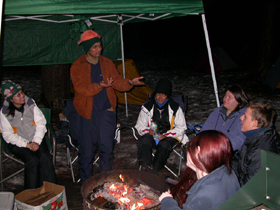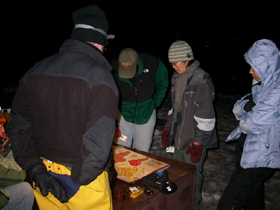 As expected, we had coyotes in the campsites.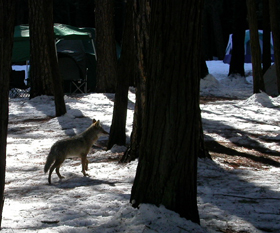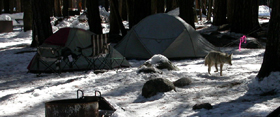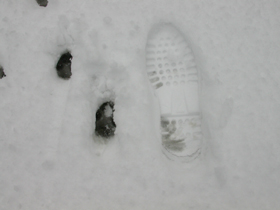 Sleeping accommodations were mostly individual one or two person tents and eight-person capacity tents the club owns. One group didn't use the advice at First-timer's instructions to leave some tent zippers open for ventilation and as a result their steamy breath overnight soaked the tent walls and dampened their sleeping bags.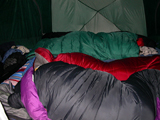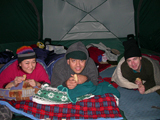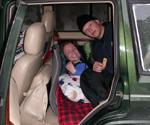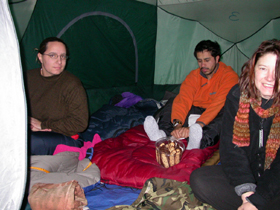 Last morning packing up included some fast tent cleaning.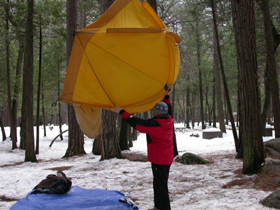 Below:
a snow crested antenna ball and one of the reasons the Crane Flat gas station is self-serve.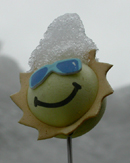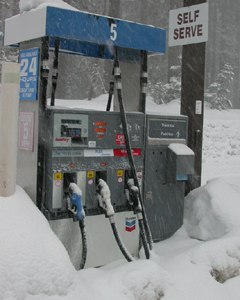 For details about club events and on how to find us to sign up for events go to:
Outdoor Club Coming Attractions
Carpools are arranged among the students going on the trips, not by the club or the college. For info on how to get/give a ride and links to advice on how to do basic maintenance to get your car ready for a club trip go to Carpool FAQs