When you sign up for a De Anza College Outdoor Club event you will sign and initial a trip agreement with the rules specific to that event.
Why are there so many rules?
Here are the main rules common to most events:
Only currently enrolled De Anza students, (part or full-time faculty, full time staff) can go on club events. Even though Foothill is in the same district, enrollment or employment at Foothill does not qualify anyone to go with us. People who want to go on an event between quarters (for example spring break or winter break) must have been enrolled the previous quarter, or already be enrolled in the following quarter. Faculty are subject to various rules depending on whether they are full time, ten month, part time, on sabbatical or Article 19 and should contact the club advisor well in advance of an event they want to participate in.
Your spouse or future spouse can sign up for a 1/2 unit De Anza P.E. (Kinesiology) class, for example, to fulfill this requirement.
Even though Foothill is in the same district, enrollment or employment at Foothill does not qualify anyone to go with us.
You don't have to be a club member to go on events, but reasons why you should become a member are at: Membership benefits
Each student must appear in person to sign up. Your friend or even your spouse can't sign the required trip agreement. If you are under 18 years of age, your parent/guardian must sign up for you in person,
You must sign up in advance for all trips.
_______________________________________________
For bicycling trips everyone, even people over 17, must wear a helmet.
For kayaking or any other boating everyone must wear a lifejacket and it must be securely zipped.
Many places we camp at do not allow people to collect firewood off the ground (and it's mostly green and smokes too much anyway).
All club campsites and meeting areas are non-smoking, as are many buildings where we go.
No alcohol is allowed during any college sponsored events. This is not just a rule listed to make the college happy, it is a trip rule.
The club can't make arrangements for people to get rides to events, but the people on a trip can make arrangements to carpool and or caravan among themselves. For info on how to get/give a ride go to Carpool FAQs
Many parks have rules about noise, such as "Radios and other sound emitting devices should not be operated at a volume that can be heard beyond the immediate campsite", and since noise is the first thing people complain to Rangers about (plus, out of consideration to trip members who would like to listen to Mom nature's sound), the club asks that you bring personal headset radios/tapes, and turn your car stereo off when approaching camp. (Acoustic guitars are encouraged.)
Interesting weather does not cancel club events
unless, for example, the park we are going to camp at is shut down by the Park Service.
There are no refunds for club events unless the club cancels an event.
We usually only have one official college advisor on each trip and that person can't be everywhere at once, so you are responsible for your own health and safety. Any potential swimming or hikes for example, not specifically led by faculty are not a club event. Even though they are not a club event, the club expects that people will do any hiking in groups of four (if someone is hurt, this leaves one person to stay with the injured person, and two to go for help).
All the safety rules for swimming can't be listed here, but the main ones are: Swimming should be done only at a park beach in daylight hours in groups of at least two people who truly know how to swim. Sometimes the weather/water is too cold and/or fast moving to safely swim. Diving headfirst into waters at State Parks is illegal, but jumping in is okay if there is sufficient (over ten feet) water depth, you don't land on anyone, you bend your knees and land flat-footed in case you misjudge the depth. Wade through the area before trying this to see that where you land will not be too slippery so you won't end up with your body (head!) on rocks. Sliding down rock slopes into water is always dangerous. Yipes, don't swim anywhere near the brink or landing of a waterfall.
When climbing and bike riding/rollerblading are not a part of our trip, the club still expects you to wear a helmet.
Risk Management does not allow certain activities during our trips. Once the trip is over and the campsites is vacated you are no longer a part of our event. At that point people, for example, on a Lake Tahoe trip, can go parasailing or to a casino. After a Tuolumne Meadows trip people can do high elevation scuba diving in Tenaya lake, or hang gliding in the valley or go rock climbing without the climbing school guides. During a club event none of these would be allowed.
Outfitters we use and places we travel to have their own rules which you are responsible for learning and following.
Rules about behavior around bears and proper food storage vary from location to location. Note the information in the trip agreement.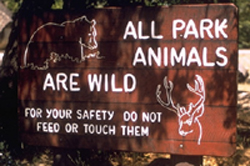 The Outdoor Club is a completely volunteer organization, neither the officers nor the advisor are paid. As a result you will not get the same 'service' from us as from a professional group. We can't always find a way to sign up people who can't make it to our regular meetings, to a class when we are there, or to a table we have on campus. If none of the times we have available for signups are convenient for you, we don't have enough people to be able to meet personally with you and sign you up.
People who wait until the last minute to sign up are sometimes left out.
For details about club events and on how to find us to pay for a membership, sign up for events or volunteer, and links to all Outdoor Club coming attractions go to:
Outdoor Club Coming Attractions
Road trip advice and etiquette