Some of the rules for Outdoor Club adventures are required by the college
for every college club off-campus event.
For example, there is a college release that needs to be completed for each person for every off-campus event. It covers what should be done in a medical emergency, Rules of Conduct, and an acknowledgement that the college is not providing transportation. You sign, for example, "it is my responsibility to arrange for transportation to and from the activity." It has to be signed by the student (or there is one signed by the parent/guardian of a student under 18 years old), then signed by the faculty or staff member officially leading the trip, then the faculty or staff member is responsible for getting it turned in to the administration before the trip.
You can take a look at a sample of the required-by-the-college release.
This is one of the reasons why the club has deadlines to sign up
and people can't just show up where we are having an off-campus event.
– – – – – – – – – – – – – – – – – – – – – – – – – – – – – – – – – – – – – – – – – –
And the college has things students are not allowed to do as a club, including bungee jumping, hang gliding and extreme whitewater rafting. (But students can get to know new people on trips and plan these things for their own time.)
And the college has a rule:
"Minor Students/Participants may not take part in overnight events without parental supervision."
– – – – – – – – – – – – – – – – – – – – – – – – – – – – – – – – – – – – – – – – – –
National Parks we visit also have rules and regulations. Some of them are for protection of visitors, some for the protection of resources, and many have fines associated with them if you break them.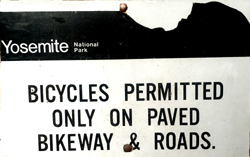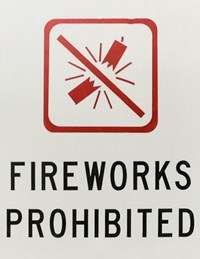 "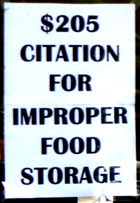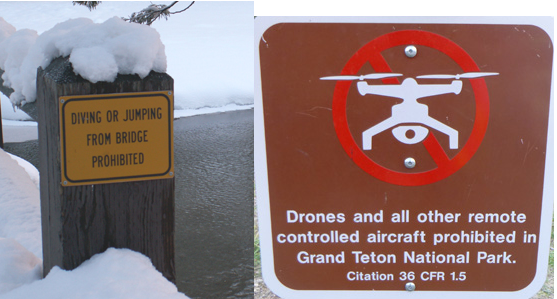 As you read through a trip agreement you will need to sign,
you might recognize that some of the things
you must agree to do or not do
are there because previous people have had troubles.
– – – – – – – – – – – – – – – – – – – – – – – – – – – – – – – – – – – – – – – – – –
And the club advisor got tired of dressing people in plastic garbage bags when they did not follow trip rules about being prepared with reeeeeally waterproof rain gear: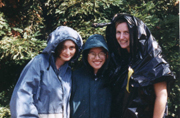 There are crucial things wrong with each of these tents that can cause a lot of misery.
Don't buy a cheap tent has reasons why and more examples of tents to NOT bring.
And for a laugh, (and so you won't need to be added to the lists) mistakes from years of Outdoor Club trips are at camping blunders.
But you are an adult,
why can't you choose which risks to take?
– Because you are participating in a college sponsored event,
not doing these activities on your own time.
At many National Park Service (NPS) webpages you will often see
"You are responsible for your own safety."
But to help you be safe, the NPS has rules and regulations, signage warning of dangers, handouts or newsletters given to you as you arrive at the park or check into a campground or hotel (and often available online before your trip). When you check in to a Yosemite lodge / hotel / tent cabin you might see a sign

and you might sign a paper including initialing a few sentences saying that you understand, for example: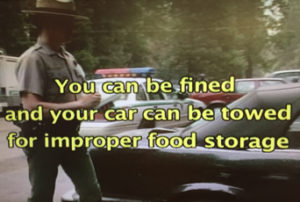 The Outdoor Club has detailed trip agreements.
see sample trip agreements for
the between summer-and-fall-quarter tip to Grand Teton National Park
the winter Yosemite National park trip
and (usually May and October) Bayland's kayak lesson and practice paddling sample trip agreement

Yosemite National Park regulations, policies and rules links
Drivers should note that there are sections of road in Yosemite Valley with two lanes (usually) in the same direction, with the right lane ONLY for the free shuttle buses, ambulances, ski bus, commercial vehicles with ten or more passengers. The NPS says: "The bus lane ensures emergency vehicles can respond to incidents when traffic is backed up and provides preference for mass transit."
Parking and traffic jams in Yosemite valley tips and tricks has the above advice, with maps of each of the three major day-use parking lots, with advice to help you NOT get a Yosemite National Park traffic or parking ticket, and not contribute to preventable traffic backups. And some details of where you can't park in Yosemite, or can't park without a permit.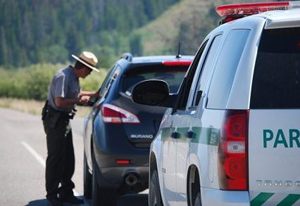 Top reasons not to speed in a National Park

If the owner of the Buick below had cleaned the battery terminals before the trip, the half hour spent trying to get his car to start the last morning of the 2016 winter Yosemite trip could have been spent on something more fun.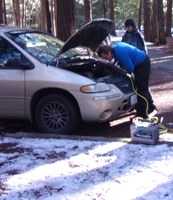 We advise people to check everything that powers, stops, cools, heats, ventilates and lights their vehicle before they leave on an adventure. Road trip vehicle prep and recommended service has checklists (including many things people can do without a mechanic).
The page also has the reason people could decide to wrap their car in a tarp: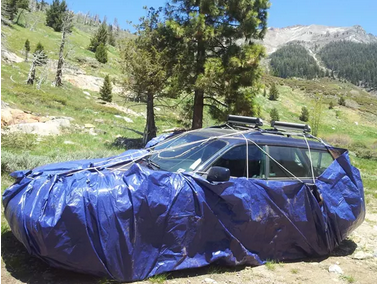 __________________________________________
______________________________
(Links to all Outdoor Club Coming Attractions are here.)
______________________________
__________________________________________