The Medical Clinic in Yosemite Valley does not sell over-the-counter medications, but the main store in Yosemite Valley has a wide selection and you might not need to go all the way to one of the small towns outside the park.
(As of May, 2018) at the main store at Yosemite Village there were
name brand and some generic, (adult and in some cases children's) pain relief (aspirin, ibuprofen, acetaminophen, Naproxen Sodium), cough syrups and lozenges.
Brand names of over-the-counter medications and toiletries included Afrin, Aleve, Alka Seltzer, Alka Seltzer Plus Cold and Flu/ Cold and Cough, Allergy Eye relief, Auro-Dry, Aveeno, Beano, Benadryl, Bengay, Breathe Right, caffeine tablets, Chloraseptic, Claritin, Compound W, Dayquil, Dramamine, Dry Eye Relief, ExLax, Fleet, Gas Ex, Imodium, KY Jelly, Lactaid, Listerine, Mentholatum, Meta Mucil, Midol, Mucinex, Mucinex DM, Murine Ear wax removal, Opti-Free Replenish, Nyquil, Pepto Bismol, Preparation H, Prilosec, Robitussin(s), Tagamet, Tums, Trojan, Tylenol Sinus Severe, Visine, Zantac, ZZZquil.
The main store also stocked grooming accessories, ear plugs, contact lens cases, thermometer, tissues, hand sanitizer, Ace Bandage, small first aid kits, various Band-aids, pads and roller gauze, Neosporin, Polysporin, hydrogen peroxide, isopropyl alcohol, heat wraps,
toothpastes, mouthwashes, Efferdent/Fixodent, sunscreens, Tampax, Playtex, Always, shampoos, deodorants/antiperspirants, lotions, insect repellents, calamine lotion, After Bite, Cortizone, aloe cream, Itch Eraser, Gold Bond Body Powder, petroleum jelly.
When you read this they might have decided to no longer stock a given item, or they might be out of stock, so you could use the list above to jog your memory of what to pack for your adventure, especially if something you can't do without is not on this likely incomplete list at this webpage.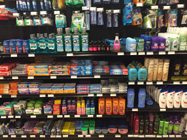 The park service gave this advice: "Recreating with medical conditions: Medical conditions should not prevent recreationists from enjoying Yosemite's vast wilderness; however, proper management of medical conditions is essential for a successful wilderness experience. Whether hiking in a party of two or ten, it is important for fellow hiking companions to be aware of medical conditions in the group and proper treatment and management of medical conditions. Recreationists who are prescribed medication should carry the medication (plus a few extra doses) in a personal pack so that they don't miss a dose if an outdoor outing goes awry or longer than anticipated."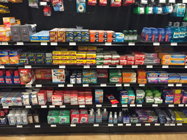 More about the Yosemite National Park largest store, the Medical Clinic (and the hospital in Mariposa, at least an hour drive from Yosemite valley), can be found at Yosemite Valley free shuttle bus stop number 2.
(The smaller stores at the hotels and some other overnight accommodations have a few items.)
Lists of other things you should pack for a possible-wet-weather trip are at snow or rain camp must haves. (All trips to Yosemite have the prospect of wet weather).
Hiking Advice has HIKING SECRETS and etiquette including hiking in the heat, preventing and/or dealing with blisters, logistics of hiking, a day hike gear list, Half Dome hiking advice, winter hiking and the answer to the question: When is the best time of day to cross a mountain stream?
Can a person who is prescribed an epi-pen risk going into the wilderness? see: anaphylaxis quick facts
Swimming in Yosemite includes info about swimming in the river, thunderstorms, bacteria in the water, safety issues, favorite beaches, swimming pools with lifeguards.
If you save money by bringing your own raft, take a look at Yosemite Valley Rafting Advice
Restaurants and links to menus are at the various bus stops at the Yosemite Valley free shuttle bus webpage.