You can find basic to extravagant, (a few with a dress code),
casual, fast (grab and go)
or with table-side service,
indoor and outdoor food service
at multiple locations in Yosemite Valley, as well as four grocery stores, all of which are served by the Yosemite valley free shuttle bus.
Most dining venues in Yosemite Park are first-come, first served. Some Yosemite valley dining establishments require or strongly recommend reservations. They warn: "A reservation at the hotel does not automatically include a dining reservation. It is highly encouraged to make dining reservations as soon as possible, before arriving in Yosemite."
At the hotel restaurants with sit-down dining with waiters, look for the fine print on the menu that "18% gratuity will be added to parties of seven or more" or "18% gratuity will be added to parties of six or more." And if you bring your own bottle of wine note the charge for "Wine corkage $19.50 per 750ml" or "Wine corkage $15.50 per 750ml."
Most have inside seating, some only outside seating. Most of the outside dining spaces and venues are not open in the colder months.
Pets are not allowed in Yosemite public buildings (which includes restaurants), on shuttle buses, in lodging areas or on trails.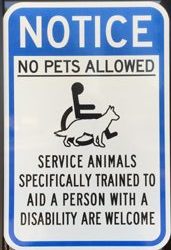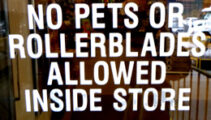 The park service has "healthy food standards," including that each "front country" restaurant includes lowfat and fat-free dairy, beverages with no added sugars, low sodium, whole grain, vegetarian food items. Seafood needs to be from "managed, sustainable, healthy" fisheries. Coffee should be Fair Trade.
15 Banquet rooms and one ballroom, as well as catering is available for events / weddings.
Smoking of "cigarettes, cigars, use of e-cigarettes and similar devices are prohibited:
•In all public buildings, including concession buildings
•Within 25 feet of any building . . ."
("Concession buildings" includes all hotel rooms, cabins, tent cabins, stores, restaurants, etc.)
Some dining venues, but not all of them, will have a sign: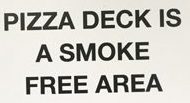 This is standard at all indoor dining restaurants, but not every one of them will have a sign: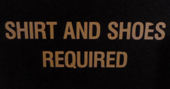 ##########################################################################
There are very few places at hotels and at Curry Village where you can picnic at a picnic table, and no grills. But there are many places in Yosemite Valley with picnic areas, some with grills and even views.
See the full sized map at: https://www.nps.gov/yose/planyourvisit/picnic.htm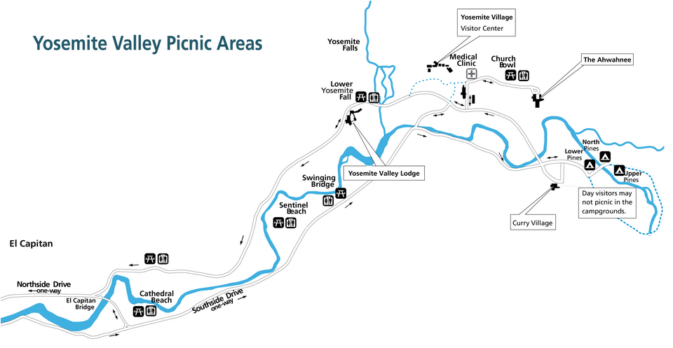 ##########################################################################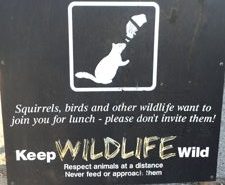 Remember the NPS warning when you dine outside or picnic, "While picnicking or on the trail, you must keep your food within arm's reach to prevent any animal from obtaining your food."
Yosemite all-year resident Ravens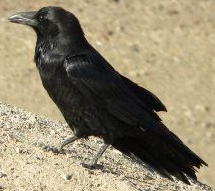 will take any food you leave unattended. Staying next to your food when you dine outside / picnic and keeping food within arm's reach is a wise idea at each of the outside dining venues, hotels, picnic areas, campgrounds and where you stop to eat on a trail. (Ravens are bigger than a Crow you might see at home. Ravens are 24 inches long and have a wingspan of 53 inches, Crows are 17.5 inches long and have a wingspan of 39 inches). Caw vs. Croak: Inside the Calls of Crows and Ravens
When a trash bin at an outside dining area is full, find another trash bin rather than piling trash on top,
and report it to the management: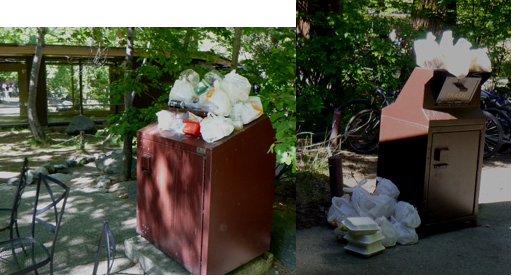 The park warns: "If your food is stored improperly, you will be cited for improper food storage (fine of up to $5,000)." See also an index to over a dozen park webpages with park laws, rules, regulations and policies.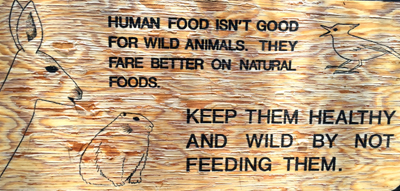 ##########################################################################
Hours of operation
Usually the earliest places open that serve food, sometimes as early as 6 or 6:30 a.m. are the various "coffee bars," (some months) a coffee bar at Curry Village and (all year) a breakfast bar at the Ahwahnee, a Starbucks at Yosemite Valley Lodge. See details about each of these below.
See the Yosemite Guide newspaper for current hours of operation and (usually) for reservations policies and phone numbers to get a reservation at the few places that take reservations. You will get a copy as you enter the park or can download it in advance of your trip.
The dining room is only half full,
why won't they seat us. . .
why do I have to wait a half hour to get a table?
Restaurant managers keep track of when people normally come to eat, and staff according to the expected needs at any given time of day, day of the week. If they let more people in than they have chefs, servers, kitchen staff available to serve diners in a reasonable amount of time, everyone will have to wait for their food.

Yosemite Valley Lodge
Map of Yosemite Lodge showing the Base Camp Eatery, Mountain Room Restaurant, Mountain Room Lounge, Cliff Room, small grocery with a few prepared food items ("gift shop" on the map):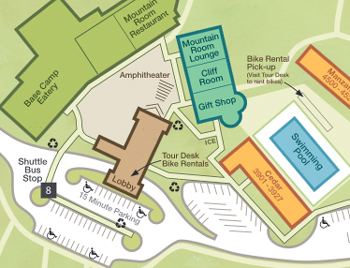 The Base Camp Eatery (formerly Food Court on many maps)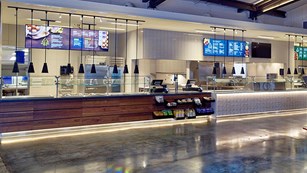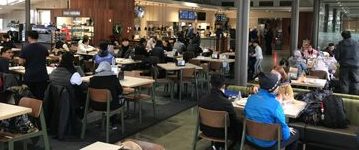 has pizza, pasta, salads, burgers, noodle dishes,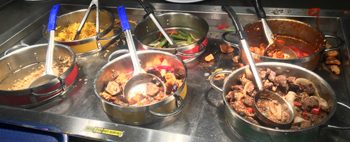 and you order some dishes from a touch screen:
Look for the Italian Menu, Classic American Menu and World Flavors Menu links at: https://www.travelyosemite.com/dining/yosemite-valley-lodge/
The Yosemite Lodge Coffee Corner is now a Starbucks. It is not listed on some maps, but you can find it next to the Base Camp Eatery.
It has the usual beverages / snacks: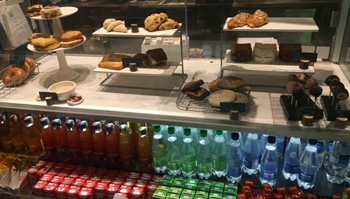 (Google street view (photo that you can rotate) of the Starbucks and looking in toward the Base Camp Eatery)
The Mountain Room Restaurant (evenings, waiters) – dinner with selections of starters, salads, entrees at tables looking out tall windows at the end of the room. Menus.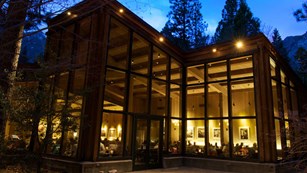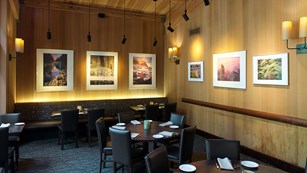 Unfortunately, tall trees block most of the view of Yosemite Fall.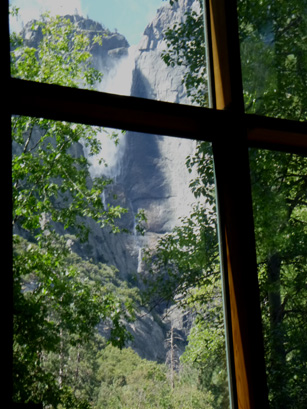 The Mountain Room Lounge, usually open earlier and later than the Mountain Room Restaurant, has inside and (good weather) outside seating: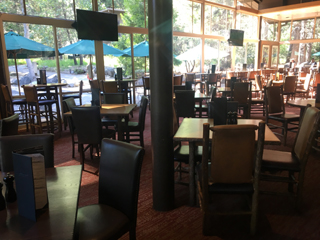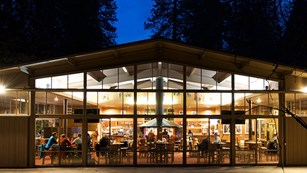 Come back late from a hike and you might not be eating there: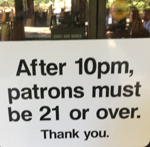 The "last call" for hot food may be 1/2 hour to an hour before they close.
Menu: https://www.travelyosemite.com/media/820151/lounge-menu-mountain-room-yosemite-valley-lodge.pdf
Cooking in/around Yosemite Lodge rooms is not allowed,
but there is a picnic area, with picnic tables, fire grates, a swimming beach a short walk from the hotel,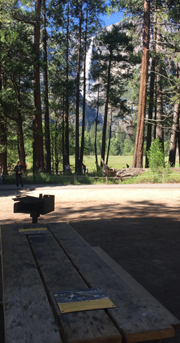 Head towards the river from the Lodge or free shuttle bus stop 7, along a parking lot road and down a path alongside Leidig meadow.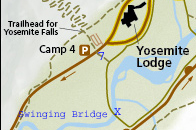 where you will find picnic tables and grills, vault toilets, but no running water, so bring enough or plan to pump it from the river.
and another nearby picnic area, with restrooms, water and picnic tables but without fire grates, across Northside Drive from the Lodge on the walk to lower Yosemite Fall, about equidistant between bus stops 8 and 6, usually shown on the Lodge map.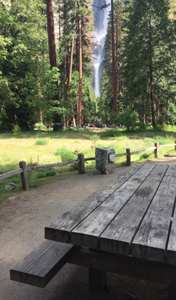 In Yosemite Village
map below courtesy of NPS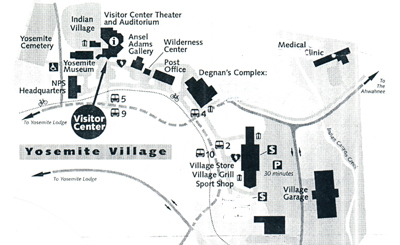 At free shuttle bus stop 2 ( mid-May to Mid-October) Or stops 2 and 10 (mid-October – mid-May), you will find the main grocery store and Village Grill.
Village Grill has only outside seating: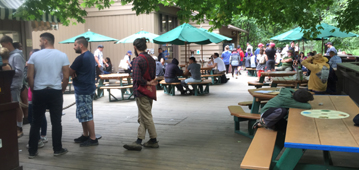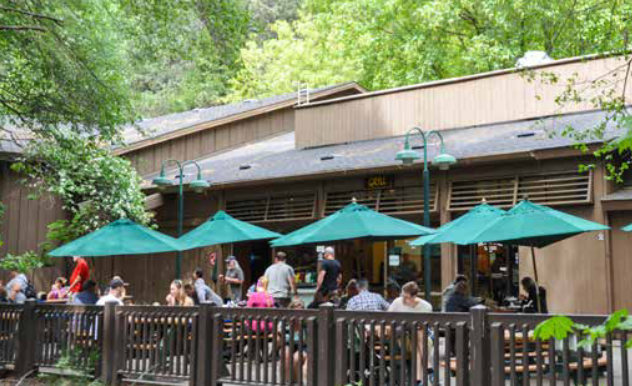 (Google street view (photo you can rotate) of the Village Grill deck – outside seating).
Yosemite Village menus.
The main Yosemite valley grocery store, (in the photo below, the main entrance as seen from across the street at free shuttle bus stop 10)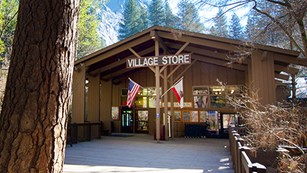 has the biggest selection of food and gifts, toys, Yosemite logo clothes. It has some of each type of food you might expect at a grocery at home including prepared main dishes (cooked chicken until it runs out), sandwiches, prepared salads with a dressing packet, snacks, deli items, diary, bakery items, frozen foods, cooking gear and much more. You can make your own charcuterie if you do not find what your want on a restaurant menu. (You will find a bigger selection of lower cost, sometimes fresher produce in larger grocery stores near home, so bring your own.)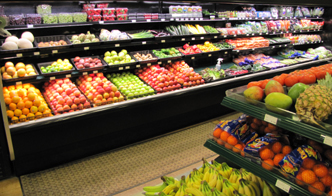 Besides groceries the Yosemite Village grocery has a fairly large selection of over-the-counter medications and toiletries.
There are also gift / grocery stores at Curry Village, Housekeeping and the Lodge but the main Yosemite Valley grocery store in Yosemite Village (shuttle bus stops 2 & 10) has a much larger selection.
And in Yosemite Village, at free shuttle bus stop 4, you will find (at the corner) Degnan's (Deli / Loft / Cafe / Kitchen) right across the street from the north end of the Village grocery store and Village Grill complex described above.
Degnan's Kitchen has outside and inside seating. In the photo below, on the right, there is a shuttle bus at stop 4: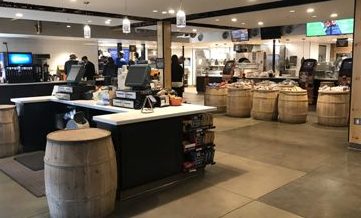 You can use a touch screen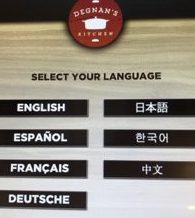 to make pizza or breakfast food choices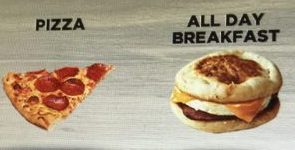 or to design your own custom sandwich,
with (subject to change)
bacon, salami, cheddar, pepperoni, pepper jack, and/or provolone,
Sauce: horseradish mayonnaise, lemon aioli, balsamic vinegar, spicy bbq aioli, mustard, cranberry mayonnaise,

Sandwich toppings: Sliced tomato, local mixed greens, shaved red onion, sliced black olives, pepperoncini, roasted marinated vegetables

The upstairs Loft http://www.travelyosemite.com/media/759094/yosemite_degnans-loft_menu.jpg
has a large fireplace in season: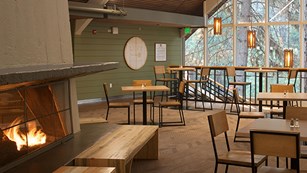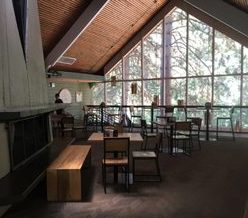 as does one of the downstairs dining sections: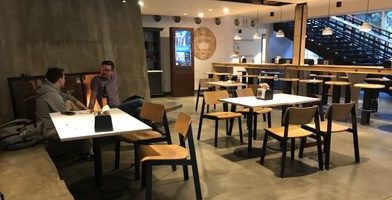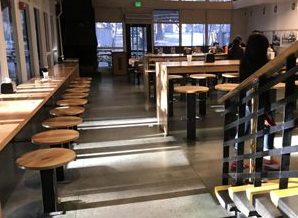 Menus and / or lists of items offered are at: http://www.travelyosemite.com/lodging/dining/yosemite-village/
Google maps 360 degree street view of stop 4 next to (and showing) the Degnans building.

Curry Village restaurants are not usually all open in the winter, opening and closing dates can vary depending, in part, on weather, check dates and times and menus.
They were the Pizza Patio / Pizza Deck, Coffee Corner,
Curry Village Dining Pavilion,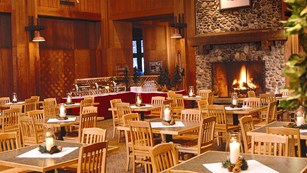 Meadow Grill (multiple kinds of burgers / sandwiches, multiple flavors of fries), and Curry Village Bar
The Curry Village main dining building (aka Half Dome Village Pavilion) was remodeled by
Rycon Construction. Photos of the "Seven Tents at the Pavilion" and the adjacent "Bar 1899".
Are at:
https://ryconinc.com/projects/yosemite-national-park-seven-tents-at-the-pavilion/
and
https://ryconinc.com/rycon-remodels-a-34900-sf-eatery-at-yosemite-national-park/
The Meadow grill is still outside.
The "gift shop" has basic groceries. The Mountain Shop has dehydrated / freeze-dried backpacking food and snacks.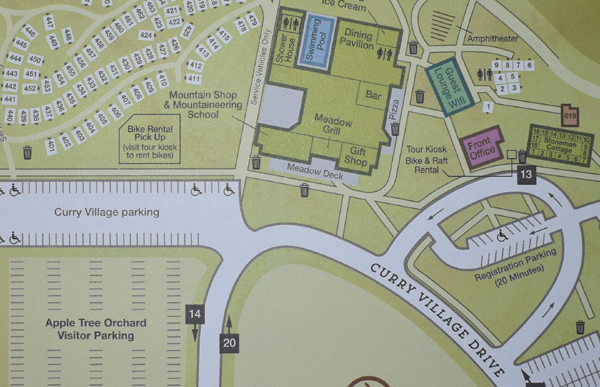 The outdoor pizza deck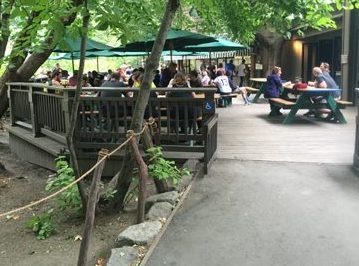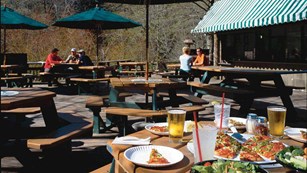 has had not only trash and recycling bins, but also one just for used pizza boxes: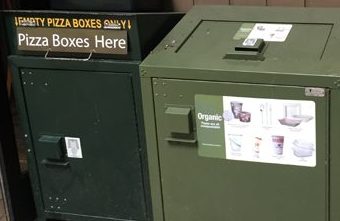 If you make it a habit to clean up your table after your meal, the ground squirrels and Ravens will have less trash to get into and everyone will be less harassed by them.

Ahwahnee hotel
Reservations for the dining room are often advised well in advance and there is a dress code for some dining room meals and events such as Vintners' Holidays, Bracebridge Dinner or Chefs' Holidays.
(If you scroll through the 3D tour of the dining room you can see the view of Yosemite Falls from the window at the far end of the dining room),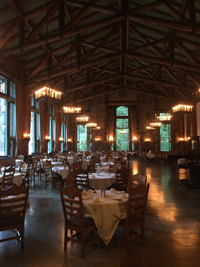 A menu said: "At 130 feet long and 51 feet wide, this is the largest room in the hotel. Its 34-foot-high vaulted ceiling is striped with peeled log trusses held aloft by massive stone and sugar pine columns alternating with eleven 24-foot-high plate glass windows."
The Ahwahnee bar (3D tour of the bar) has a limited menu, but without the dress code for dinner that the main dining room has and without advanced reservations.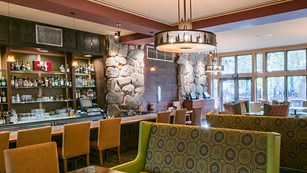 In warm weather months it has outside seating.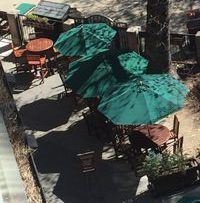 To get a seat/table inside or outside, talk to the person at the podium just outside the lobby door to the bar. In busy times of the day they will either seat you right away or will be taking names and sizes of groups. (During morning hours for the Coffee Bar you can usually just walk in.)
Menus for the Ahwahnee dining room (including the Sunday Brunch) and bar, as well as a link to making dining room reservations, are at: https://www.travelyosemite.com/dining/the-ahwahnee-dining-room/
The Ahwahnee is the only Yosemite hotel with room service. Most of what is on the menus is available for room service, including a candlelight room service dinner.
If you eat out on your hotel balcony or cottage patio, stay close by and keep your food within arm's reach, as many of the Ravens are not afraid of humans and will even knock the metal covers off of plates to get at food.
The Ahwahnee Sweet Shop(3D tour of the Sweet Shop shows the products usually for sale) has chocolate truffles as well as many other potential hiking snacks.

The Ahwahnee hotel website noted: a paid valet parking *Validation is given when there is a purchase of product and/or food and beverage from Sweet Shop, Ahwahnee Gift Shop, Bar or Dining Room."
Ahwahnee Hotel Valet Parking fees are listed at a sign at the hotel entrance under the porte-cochere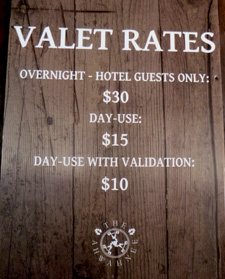 Rates: overnight – hotel guests only $30,
day-use $15,
day-use with validation $10
There is a larger version of the map below at map of the Ahwahnee hotel.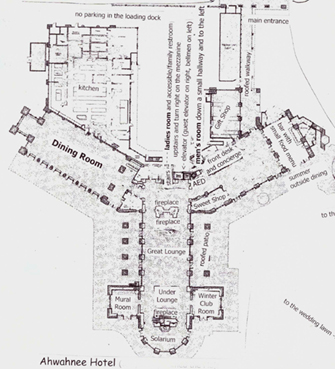 Directions to the hotel and the covered entrance.

Yosemite National Park
al fresco dining:

A suggested sandwich combo for gastro-nouveau dining:

With a wilderness permit
you can dine (and sleep) on a ledge on El Capitan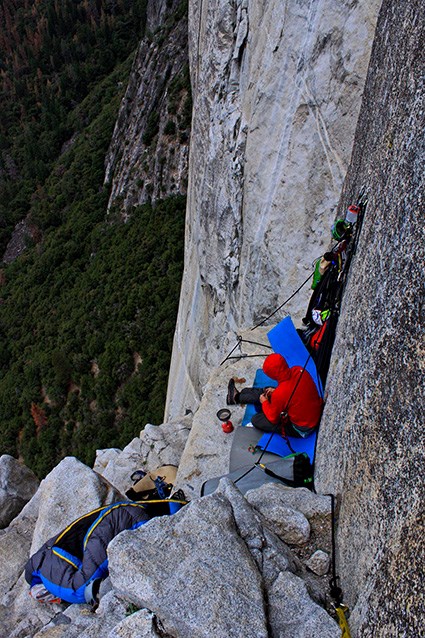 or on Dinner Ledge on Washington Column with perhaps the best dinner time view of Half Dome: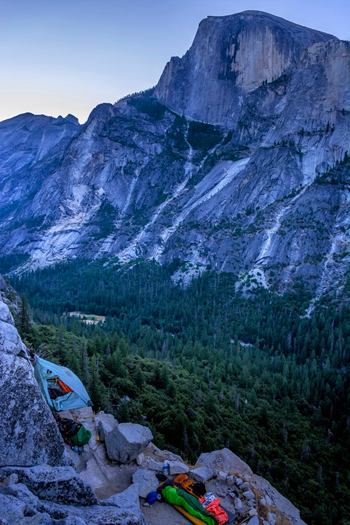 We suggest you pack your food in a backpackers size animal-proof container.
On May 11, 2021 Yosemite National park announced:
"Yosemite National Park To Implement Pilot Overnight Climbing Permit System Beginning Friday, May 21, 2021 – Yosemite News Release Release May 7, 2021
Yosemite National Park – All visitors planning to overnight on any rock climbing routes in Yosemite National Park will be required to obtain an overnight wilderness climbing permit beginning on May 21, 2021. This pilot program is being implemented to better understand how park visitors use Yosemite's big walls and to help improve climbing wilderness ethics and reduce negative human impacts associated with overnight big wall use.
Overnight climbing permits will be available beginning at 8 a.m. on May 14, 2021. For the duration of the pilot program, these permits will be free. Please visit https://yosemite.org/climbingpermits/ to learn more.
For more detailed information on climbing in Yosemite National Park, please visit: https://www.nps.gov/yose/planyourvisit/climbing.htm.
This program will be a 2-year pilot."

There was a time you could not find a coffee bar in Yosemite. From an NPS webpage: "1971 Plans for construction of a coffee house in the Curry Garage near the ice rink are blocked. Supt. felt the proposed facility would not be "in keeping with the atmosphere we would like to maintain and foster at Yosemite." He felt that a coffee house was "in the category of dance pavilions and evening movies. Also, the proximity of the facility to Stoneman meadow and the difficulties [with hippies] experienced in that locale cause us additional concern."
Also perhaps of interest:
overnight accommodations include campgrounds, canvas walled/ wood floored tent cabin, wood walled cabin (with private bathroom or with a shower house / restroom nearby), and luxury or generic hotel rooms/suites.
wood-walled cabin without a bath, canvas tent cabin, wood walled cabin with a bath
Hotel room with a bath
A map and floor plans for the Ahwahnee cottages are at:
Yosemite Ahwahnee Hotel cottages, (bungalows / cabins) floor plans and map

Drivers should note that there are sections of road in Yosemite Valley with two lanes (usually) in the same direction, with the right lane ONLY for the free shuttle buses, ambulances, ski bus, commercial vehicles with ten or more passengers. The NPS says: "The bus lane ensures emergency vehicles can respond to incidents when traffic is backed up and provides preference for mass transit."
Parking and traffic jams in Yosemite valley tips and tricks has the above advice, with maps of each of the three major day-use parking lots, with advice to help you NOT get a Yosemite National Park traffic or parking ticket, and not contribute to preventable traffic backups. And some details of where you can't park in Yosemite, or can't park without a permit.


swimming in Yosemite including thunderstorms, bacteria in the water, safety issues, favorite beaches, swimming pools with lifeguards, places you should not swim.


Where do you go to get that perfect photo in Yosemite?
Where can I take a photo that looks like the one on a Yosemite postcard I just bought?
Places to take photos of Half Dome, Bridalveil Fall, El Capitan, Yosemite Falls and Staircase Falls.


Hiking Advice has advice, hiking logistics and the answer to the question: When is the best time of day to cross a mountain stream?
Cell phones in the wilderness has advice on how/when to use a cell phone to contact 911 in the wilderness and a warning about interference between cell phones, iPods and avalanche beacons.
Selfies can be great, OR dangerous. The use of cell phones for photography (with or without a selfie stick) has made preventable injury or even death by selfie common. They were only taking a selfie
Cell phone service is NOT available in all parts of Yosemite.
It is usually okay in the vicinity of the main visitor center.
Many years (checking in 2017 to 2019) we got 4 bars for Verizon and 3 bars for AT&T near the main visitor center, versus 2 bars for each at the Ahwahnee and 2 bars Verizon, 1 bar AT&T in Upper Pines campground, at the Yosemite Valley Lodge, Curry Village and some other locations in East Yosemite Valley.
In Feb and May 2022, we got 2 bars for Verizon and 1 bar for AT&T at almost all east Yosemite Valley locations including the Ahwahnee, in Upper Pines campground, Happy Isles, at the Yosemite Valley Lodge, Curry Village and at Yosemite Village locations such as the grocery and Visitor Center.
The park service said: "Cell phone coverage in Yosemite is spotty . . . Cell service is often impacted during daily peak visitation by the large number of people trying to access limited service; if you have four bars of service, but you can't get a signal, this is why . . . cell coverage depends on your phone, the cloud cover and other seemingly mysterious factors and is not always reliable. "
Outside of Yosemite valley, at the Tuolumne Grove, Olmstead Point and Badger Pass were 1 bar Verizon, zero bars AT&T. Glacier Point and the top of Half Dome often have 3 bars Verizon, 2 bars AT&T.)
Using a drone is illegal in Yosemite National park, including for photography.
See an index to over a dozen park webpages with park laws, rules, regulations, policies and prohibitions about pets, bikes, permits, campground regulations, food storage, smoking, speed limits . . . and much more.
Yosemite trail conditions info is at: http://www.nps.gov/yose/planyourvisit/wildcond.htm
______________________________________________

The Yosemite National Park rangers would like you to call them
if you see a bear in Yosemite,
no matter where it is or what it is doing.
Since 2003 there has been a note in the Yosemite Guide: "REPORT ALL BEAR SIGHTINGS! To report bear sightings, improper food storage, trash problems, and other bear-related problems, leave a message for the Bear Management team at: 1 (209) 372-0322. Your call can be made anonymously."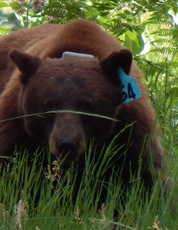 If you can, in all the excitement, try to notice if the bear has a tag (usually on the ear), the color of the tag and if possible, the number on it (the tag is large enough that with a telephoto lens you should be able to read the number).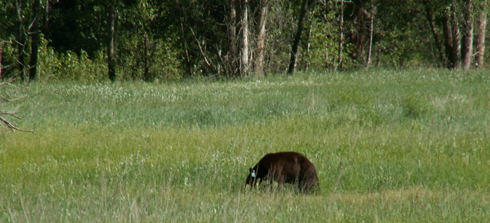 From the Yosemite Daily Report newspaper:
"It is extremely important to remember to yell at bears that are in and around development, even if they are foraging on natural food. Though it is very tempting to get close for a picture, or just to watch these incredible animals, it is important not to give into this urge. Yelling at them if they are in residential areas or near people is critical to keep bears natural fear of humans. Giving bears plenty of space. When bears become too comfortable around people, they will often start causing damage to structures and vehicles, or will even become too bold around people, creating safety concerns."
And the Yosemite Daily Report also said:
"Scare bears when you see them. . . in developed areas- Yell like you mean it!
Make as much noise as possible, try waving your arms, stomping your feet
or anything to make you look intimidating and to get the bear to run away.
We know it's fun to see bears and it can feel mean to scare them,
but this is a simple way to truly help save a bear's life."



______________________________________________