You can find basic to extravagant, (a few with a dress code),
casual, fast (grab and go)
or with table-side service,
indoor and outdoor food service
at multiple locations in Yosemite Valley, as well as four grocery stores, all of which are served by the Yosemite valley free shuttle bus.
Some Yosemite valley dining establishments require or strongly recommend reservations, some take reservations only for large (8, for example) groups, most are first-come, first served.
At the hotel restaurants with sit-down dining with waiters, look for the fine print on the menu that "18% gratuity will be added to parties of seven or more" or "18% gratuity will be added to parties of six or more." And if you bring your own bottle of wine, "Wine corkage $19.50 per 750ml" or "Wine corkage $15.50 per 750ml."
Most have inside seating, some only outside seating. Most of the outside dining spaces and venues are not open in the colder months.
Pets are not allowed in Yosemite public buildings (which includes restaurants), on shuttle buses, in lodging areas or on trails.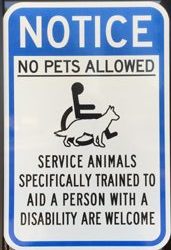 The park service has "healthy food standards," including that each "front country" restaurant includes lowfat and fat-free dairy, beverages with no added sugars, low sodium, whole grain, vegetarian food items. Seafood needs to be from "managed, sustainable, healthy" fisheries. Coffee should be Fair Trade.
15 Banquet rooms and one ballroom, as well as catering is available for events / weddings.
Smoking of "cigarettes, cigars, use of e-cigarettes and similar devices are prohibited:
•In all public buildings, including concession buildings
•Within 25 feet of any building . . ."
("Concession buildings" includes all hotel rooms, cabins, tent cabins, stores, restaurants, etc.)
Some dining venues will have a sign: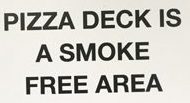 ##########################################################################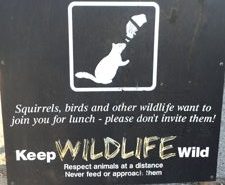 Remember the NPS warning when you dine outside or picnic, "While picnicking or on the trail, you must keep your food within arm's reach to prevent any animal from obtaining your food."
Yosemite all-year resident Ravens (bigger than a Crow you might see at home)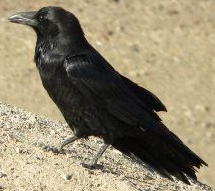 will take any food you leave unattended. Staying next to your food when you dine outside / picnic and keeping food within arm's reach is a wise idea at each of the outside dining venues, hotels, picnic areas, campgrounds and where you stop to eat on a trail.
The park warns: "If your food is stored improperly, you will be cited for improper food storage (fine of up to $5,000)." See also an index to over a dozen park webpages with park laws, rules, regulations and policies.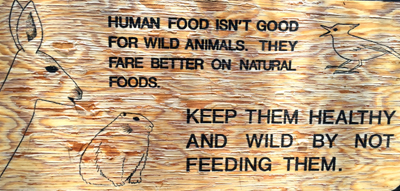 ##########################################################################
Hours of operation
Usually the earliest places open that serve food, sometimes as early as 6 or 6:30 a.m. are the various "coffee bars," (some months) a coffee bar at Curry Village and (all year) a breakfast bar at the Ahwahnee, a Starbucks at Yosemite Valley Lodge. See details about each of these below.
See the Yosemite Guide newspaper for current hours of operation and (usually) for reservations policies and phone numbers to get a reservation at the few places that take reservations. You will get a copy as you enter the park or can download it in advance of your trip.

Yosemite Valley Lodge
Map of Yosemite Lodge showing shuttle bus stop #8, Base Camp Eatery, Mountain Room Restaurant, Mountain Room Lounge, Cliff Room, small grocery with a few prepared food items ("gift shop" on the map):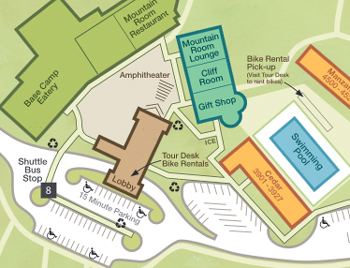 The Base Camp Eatery (formerly Food Court on many maps)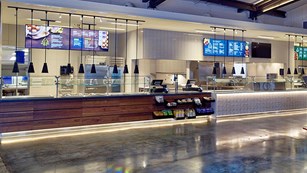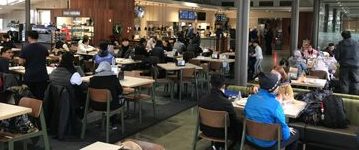 has pizza, pasta, salads, burgers, noodle dishes,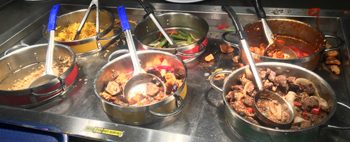 and you order some dishes from a touch screen: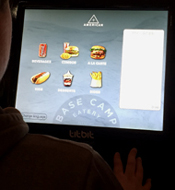 Look for the Italian Menu, Classic American Menu and World Flavors Menu links at: https://www.travelyosemite.com/dining/yosemite-valley-lodge/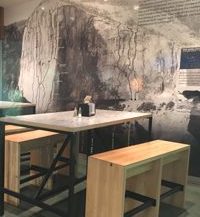 The Yosemite Lodge Coffee Corner is now a Starbucks. It is not listed on some maps, but you can find it next to the Base Camp Eatery.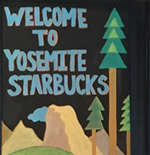 It has the usual beverages / snacks: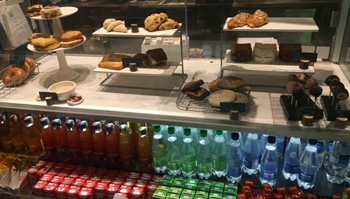 (Google street view (photo that you can rotate) of the Starbucks and looking in toward the Base Camp Eatery)
The Mountain Room Restaurant (evenings, waiters) – dinner with selections of starters, salads, entrees at tables with a view of Yosemite Falls through large windows at the end of the room. Menus.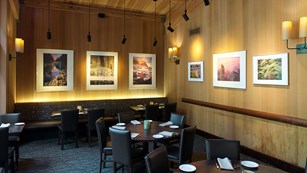 The Mountain Room Lounge, usually open earlier and later than the Mountain Room Restaurant, has inside and (good weather) outside seating: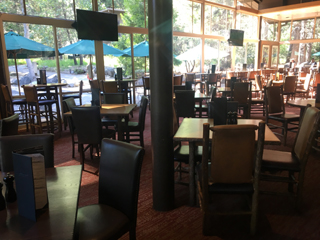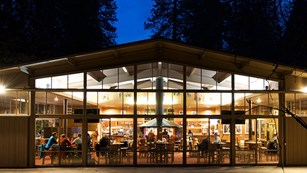 Come back late from a hike and you might not be eating there: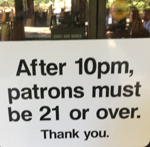 Menu: https://www.travelyosemite.com/media/820151/lounge-menu-mountain-room-yosemite-valley-lodge.pdf
Cooking in/around Yosemite Lodge rooms is not allowed,
but there is a picnic area, with picnic tables, fire grates, a swimming beach a short walk from the hotel,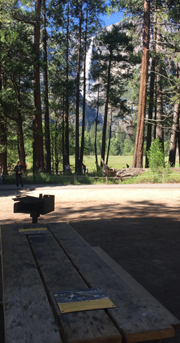 Head towards the river from the Lodge or free shuttle bus stop 7, along a parking lot road and down a path alongside Leidig meadow.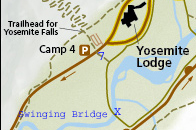 and another nearby picnic area, with restrooms and picnic tables but without fire grates, across Northside Drive from the Lodge on the walk to lower Yosemite Fall, about equidistant between bus stops 8 and 6, usually shown on the Lodge map.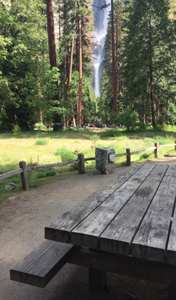 In Yosemite Village
map below courtesy of NPS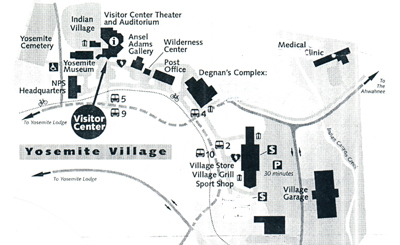 At free shuttle bus stops 2 and 10 , you will find the main grocery store and Village Grill.
Village Grill has only outside seating: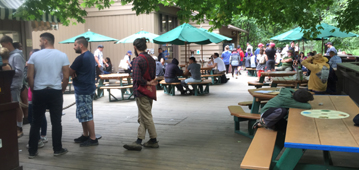 (Google street view (photo you can rotate) of the Village Grill deck – outside seating).
Yosemite Village menus.
The main Yosemite valley grocery store, (in the photo below, the main entrance as seen from across the street at free shuttle bus stop 10)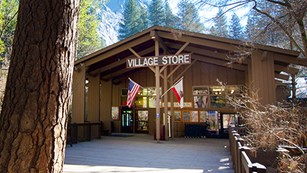 has the biggest selection of food and gifts, toys, Yosemite logo clothes. It has some of each type of food you might expect at a grocery at home including prepared main dishes, sandwiches, prepared salads with a dressing packet, snacks, deli items, diary, bakery items, frozen foods, cooking gear and much more. (You will find a bigger selection of lower cost, sometimes fresher produce in larger grocery stores near home, so bring your own.)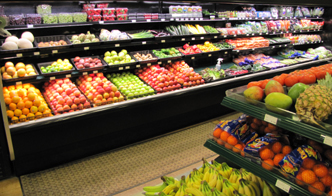 Besides groceries the Yosemite Village grocery has a fairly large selection of over-the-counter medications and toiletries.
There are also gift / grocery stores at Curry Village, Housekeeping and the Lodge but the main Yosemite Valley grocery store in Yosemite Village (shuttle bus stops 2 & 10) has a much larger selection.

And in Yosemite Village, at free shuttle bus stop 4, you will find (at the corner) Degnan's (Deli / Loft / Cafe / Kitchen) right across the street from the north end of the Village grocery store and Village Grill complex described above.
Degnan's Kitchen has outside and inside seating. In the photo below, on the right, there is a shuttle bus at stop 4: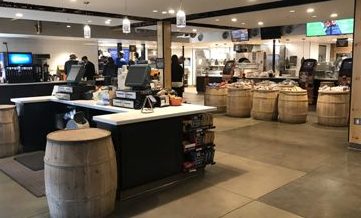 You can use a touch screen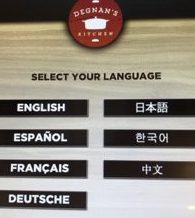 to make pizza or breakfast food choices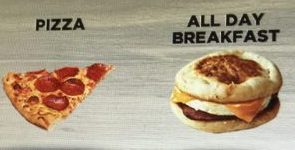 or to design your own custom sandwich,
with (subject to change)
bacon, salami, cheddar, pepperoni, pepper jack, and/or provolone,
Sauce: horseradish mayonnaise, lemon aioli, balsamic vinegar, spicy bbq aioli, mustard, cranberry mayonnaise,

Sandwich toppings: Sliced tomato, local mixed greens, shaved red onion, sliced black olives, pepperoncini, roasted marinated vegetables

The upstairs Loft http://www.travelyosemite.com/media/759094/yosemite_degnans-loft_menu.jpg
has a large fireplace in season: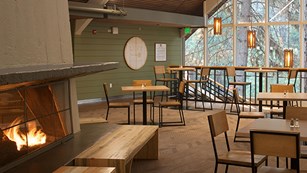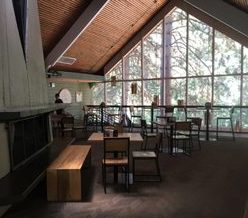 as does one of the downstairs dining sections: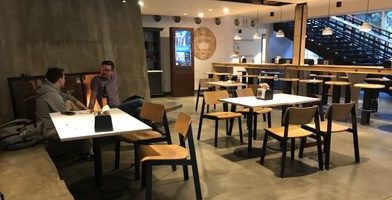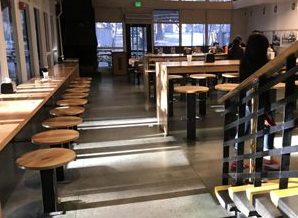 Menus and / or lists of items offered are at: http://www.travelyosemite.com/lodging/dining/yosemite-village/
Google maps 360 degree street view of stop 4 next to (and showing) the Degnans building.
Curry Village restaurants
Pizza Patio / Pizza Deck, Coffee Corner,
Curry Village Dining Pavilion,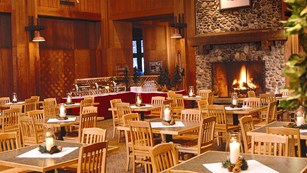 Meadow Grill (multiple kinds of burgers / sandwiches, multiple flavors of fries), and Curry Village Bar
are not usually all open in the winter, opening and closing dates can vary depending, in part, on weather, check dates and times and menus.
The "gift shop" has basic groceries. The Mountain Shop has dehydrated / freeze-dried backpacking food and snacks.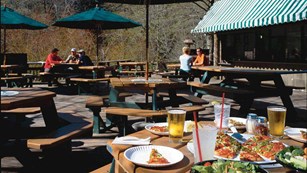 has had not only trash and recycling bins, but also one just for used pizza boxes: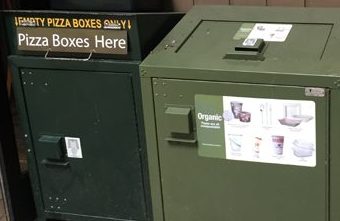 If you make it a habit to clean up your table after your meal, the ground squirrels and Ravens will have less trash to get into and everyone will be less harassed by them.
Ahwahnee hotel
Reservations for the dining room are often advised well in advance and there is a dress code for some dining room meals and events such as Vintners' Holidays, Bracebridge Dinner or Chefs' Holidays.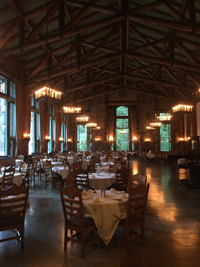 The Ahwahnee bar has a limited menu, but without the dress code for dinner that the main dining room has and without advanced reservations.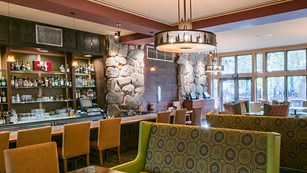 In warm weather months it has outside seating.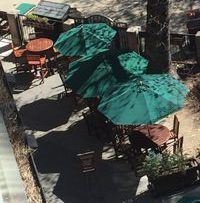 To get a seat/table inside or outside, talk to the person at the podium just outside the lobby door to the bar. In busy times of the day they will either seat you right away or will be taking names and sizes of groups. (During morning hours for the Coffee Bar you can usually just walk in.)
Menus for the Ahwahnee dining room (including the Sunday Brunch) and bar, as well as a link to making dining room reservations, are at: https://www.travelyosemite.com/dining/the-ahwahnee-dining-room/
The Ahwahnee is the only Yosemite hotel with room service. Most of what is on the menus is available for room service, including a candlelight room service dinner.
If you eat out on your hotel balcony or cottage patio, stay close by and keep your food within arm's reach, as many of the Ravens are not afraid of humans and will even knock the metal covers off of plates to get at food.
The Ahwahnee Sweet Shop has chocolate truffles as well as many other potential hiking snacks.

There is a larger version of the map below at map of the Ahwahnee hotel.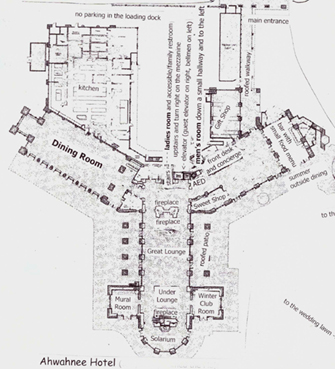 Directions to the hotel and the covered entrance.

With a wilderness permit https://www.nps.gov/yose/planyourvisit/climbing_regulations.htm
you can dine (and sleep) on a ledge on El Capitan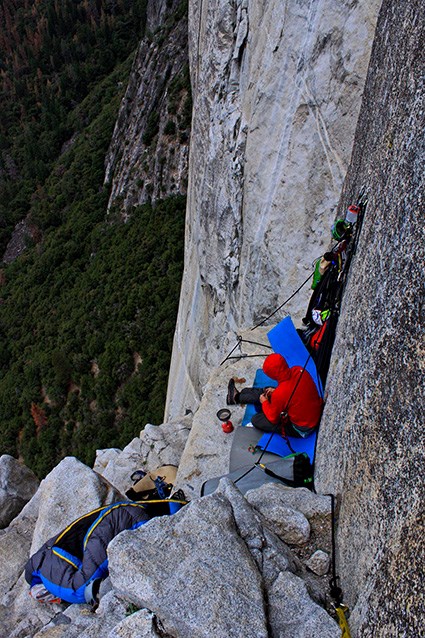 Also perhaps of interest:
overnight accommodations include campgrounds, canvas walled/ wood floored tent cabin, wood walled cabin (with private bathroom or with a shower house / restroom nearby), and various levels / locations of luxury or generic hotel rooms.
canvas tent cabin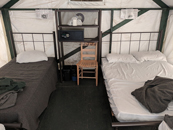 wood-walled cabin without a bath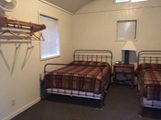 Cabin with a bath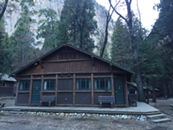 Hotel room with a bath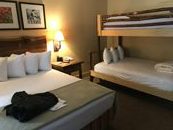 Parking and traffic jams in Yosemite valley tips and tricks

Where were they when they got that great picture? Places to take photos of Half Dome, Bridalveil Fall, El Capitan, Yosemite Falls and Staircase Falls.

Hiking Advice has advice, hiking logistics and the answer to the question: When is the best time of day to cross a mountain stream?
Cell phones in the wilderness has advice on how/when to use a cell phone to contact 911 in the wilderness and a warning about interference between cell phones, iPods and avalanche beacons.
Selfies can be great, OR dangerous. The use of cell phones for photography (with or without a selfie stick) has made preventable injury or even death by selfie common. They were only taking a selfie
Using a drone for your photography is illegal in Yosemite Nation park. See an index to over a dozen park webpages with park laws, rules, regulations, policies and prohibitions about pets, bikes, permits, campground regulations, food storage, smoking, speed limits . . . and much more.
Yosemite trail conditions info is at: http://www.nps.gov/yose/planyourvisit/wildcond.htm
The Yosemite rangers would like you to call them if you see a bear in Yosemite, no matter where it is or what it is doing, at (209) 372-0322.