The National Park Service warns:
"Each year, Yosemite National Park welcomes over four million visitors. If you are planning to visit Yosemite, plan ahead and arrive early. In summer, expect extended traffic delays and extremely limited parking. Expect delays of an hour or more at entrance stations and two to three hours in Yosemite Valley . . . If you are planning to visit Yosemite valley by car for the day, arrive before 9 am, after which parking is usually full.
Parking is available at Yosemite Village, Half Dome Village (formerly Curry Village), and near Yosemite Falls. If you find a parking space, plan to leave your car there; you will not be able to find another parking spot. Use the free shuttle to get around Yosemite Valley.
If you have lodging or campground reservations, park your car at your lodge or campground and use the shuttles to get around.
Once all parking in Yosemite Valley is full, you may be redirected to other areas (which will also have limited parking)."
__________________________________________
Below are tips to help you
NOT get a Yosemite National Park traffic or parking ticket,
not contribute to preventable traffic backups
and help make your visit more fun.

See also: services (minor emergency repairs, propane service, towing for some vehicles), at the Yosemite garage.

It is against the law to sleep overnight in your vehicle in a Yosemite parking lot, by the side of the road, etc.
__________________________________________
There are many more crosswalks, often not at intersections, than you might be used to at home.
We stood at the edge of this wide crosswalk, with the yellow sign pointing it out to drivers, while six vehicles drove through the crosswalk before one stopped to let us cross:

__________________________________________

Drivers should note that there are sections of road in Yosemite Valley with two lanes (usually) in the same direction, with the right lane ONLY for the free shuttle buses, ambulances, ski bus, commercial vehicles with ten or more passengers. "The bus lane ensures emergency vehicles can respond to incidents when traffic is backed up and provides preference for mass transit."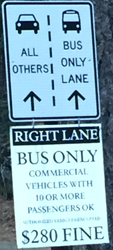 If you get tired of waiting for traffic to move, and think you don't see an officer, so you move into the bus only lane, you might find two law enforcement rangers on bikes stopping you and writing you up (in the process making the shuttle bus move over to the vehicles lane):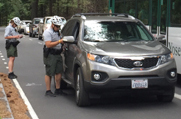 __________________________________________
Rarely, (most often in storms with heavy snow or rain) all the roads out of the park can be closed for part of a day or even for multiple days, so you should not have a tight schedule to get home. It would be wise to have a map of, and take a look in advance at, alternate routes that might be your new way home if only one of the roads out of the valley opens up.
__________________________________________
Sometimes one or more roads are closed suddenly due to a rock fall / mud slide that needs to be cleared. Roads that were two lanes in the same one-way direction can need to be be designated as two-way. Watch for signage.
WATCH OUT!!! and please be assured that some drivers will not notice the changes, even with multiple signs. (There was a large sign with flashing lights at the beginning of this section of road designating this change and then four of these yellow double arrow signs alongside the road on both sides. We watched multiple vehicles drive in the wrong lane for part or all of this section of road.)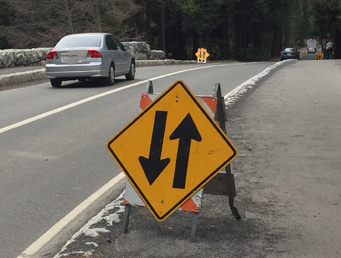 __________________________________________
Sometimes roads are blocked by people who ignore large signs warning them to not go any further with their not-so-small-vehicle, see the TURN AROUND NOW below in the RV section below.

If you are driving an RV (Recreation Vehicle) or towing a trailer and do not have a campsite to park it at, please note Yosemite Village Day Use parking (see descriptions of day use parking lots below) does not allow trailers or RVS,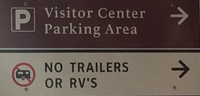 Rvs should head for the Yosemite Falls day-use lot or the small RV only parking area at Half Dome Village. RVs and trailers are not allowed to park at most of, sometimes all of, the main Village grocery parking lot.
OR, since parking (except at your assigned campsite) is severely limited for RVs, the park suggests that you consider parking outside the park and getting a bus ride in: https://www.nps.gov/yose/planyourvisit/upload/rideyarts.pdf This advice notes that this can be much easier and less time consuming than searching for parking or trying to maneuver in tight traffic.
Large RVs and trailers are not allowed on some roads in Yosemite:
The most current restrictions that affect some RVs and all trailers and tips for towing a trailer over Tioga Pass are at: https://www.nps.gov/yose/planyourvisit/restrictions.htm
Class A motorhomes are generally 37 to 40 feet long. The park notes that for camping "Maximum RV/trailer lengths: In Yosemite Valley, the maximum RV length is 40 feet and maximum trailer length is 35 feet, however, only a total of 12 sites of this size are available (six sites each in Lower Pines and North Pines, which are open spring through fall). Many more sites exist in Yosemite Valley and elsewhere in Yosemite that can take RVs up to 35 feet or trailers up to 24 feet." . . . "RV length and trailer length are not the same! Please note that many campsites have different maximum lengths for RVs and trailers. This is because many of the campsites are back-in sites with limited turning radius. We do not enforce the length limits as long as the RV or trailer can fit on the parking pad in the site. However, if you reserve a site for equipment other than what you bring, and the site can't accommodate your RV or trailer, we will not be able to find a different campsite for you."
Upper Pines, the winter Yosemite valley campground that has parking spaces at each campsite, has a 35 ft / 24 ft length limit.

In the map below of part of the east end of Yosemite Valley, at the center green square with a P in it at the top of the map (Yosemite Village day use parking), the tiny circle to the upper right of the Yosemite Village parking lot is the round-about: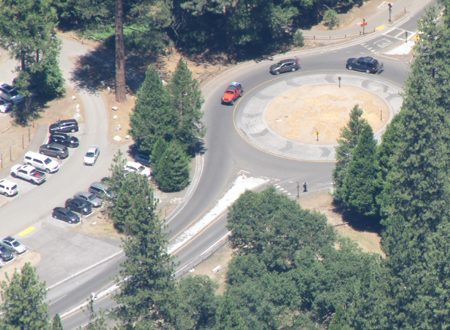 One of the biggest regrettably preventable causes of warm months and holiday weekends traffic in the afternoon is because many people do not consult maps before they go to the park. A significant number take the wrong route to their overnight accommodations, or when trying to find parking or trying to leave the park.
Most of the valley roads are one way (except perhaps after a road closure due to rock fall). All traffic coming from Half Dome (curry) Village and the Pines Campgrounds must exit through the one-way counterclockwise Round About at the intersections of three roads. A significant number of vehicles trying to find the Yosemite Lodge, lodge day-use parking, the entrance to the village day use parking, the Majestic (Ahwahnee hotel) head up the road around the Yosemite Village day use parking lot, turn around in the round about and go back the way they came. Since the round-about is only one lane, and again is the only route out of the park from Half Dome Village and the Pines Campgrounds, the roundabout becomes a major traffic gridlock / slowdown .
– – – – – There are YIELD signs at the round-about, but not all drivers yield.
If you have never been to Yosemite, I'd like to suggest taking a look at detailed driving directions from the Bay Area I created for college students on trips from the college I teach at.
If you are sure of how to get to where you want to go in Yosemite valley, but have not been to the valley recently, I would like to suggest that your drive could be less frustrating if you take a look at a map and descriptions of the roundabout.
__________________________________________
Your trip will be more pleasant if you do not need to go to Half Dome Village or the Pines campground in the more crowded months if you skip driving all the way up southside drive .
During high traffic times, especially on busy weekends in the summer, the main intersection at Half Dome Village is sometimes partially closed and people without reservations for lodging there or a pines campsite wait in a slow stop-and-go traffic backup only to be turned away.
The photo below shows some of the traffic at this intersection backed up for many car lengths. (Note the empty right lane for buses only.)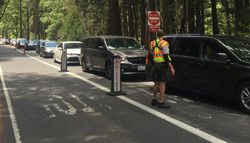 The road ahead to the Pines campgrounds might be blocked off and a ranger might be directing people who do not have reservations for Half Dome Village or a Pines campsite to turn left and not try to park in the full parking lots to the right.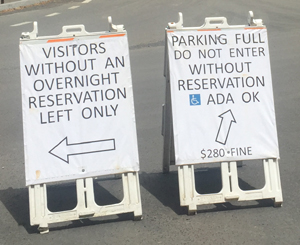 Or there might be different signage,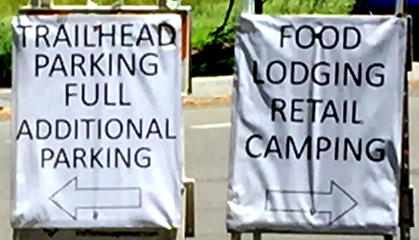 but the road ahead will still be blocked:

In the winter you can usually expect much less traffic: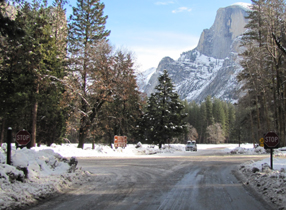 __________________________________________
During the February Horsetail Fall natural firefall, lanes of some roads are closed either to vehicles and/or pedestrians. Road-side parking (parts of both Northside and Southside Drives as well as El Cap crossover) and turnouts, many parking lots and picnic areas are closed to parking, and some years you need a permit to go to where you can see this natural light show.
Watch for signage. Wear warm clothes, waterproof boots, possibly waterproof outerwear and carry a flashlight or head lamp, since your cell phone will not function as a flashlight long enough or brightly enough.
Permit (or no permit, depending on the year) info for viewing Horsetail Fall, the February "natural firefall," at sunset is at: https://www.nps.gov/yose/planyourvisit/horsetailfall.htm
_________________________________________________________________
Parking at Yosemite valley campsites, lodges / hotels :
All campsites except in Camp Four and Backpackers walk-in have parking for two vehicles (and at some sites a long trailer / RV) at each campsite. The campsite reservations system lists the maximum length of vehicles for each campsite.
In the winter the Pines campgrounds are not snow-plowed as often as the main roads and even when the parking spaces are plowed, the snow is not always moved enough for two SUVs to park. Shoveling snow with a wide bladed snow shovel makes the job go faster:

See also winter camping advice.
Overnight parking for people not staying at a hotel/cabin area is not allowed at all the hotels:

At the Lodge and Half Dome Village cabins with a bath there are some UN-assigned parking spaces near or next to most buildings, and parking spaces might be occupied by someone else when you arrive.
A few of the Half Dome Village canvas tent-cabins and most of the cabins with a private bath are very near potential parking spaces, but again, parking spaces might be occupied by someone else when you arrive.
At the Ahwahnee hotel (temporarily named the Majestic Hotel) there are some UN-assigned parking spaces (again that might be occupied by someone else when you arrive) and the hotel has bellmen / valet parking at a drop off entrance (covered, out-of-the-weather) to the main building, but the cottages (AKA cabins, bungalows) are a short or long walk out in the weather.
The NPS has regulations about overnight parking, including
"There is no overnight parking allowed in the Village Store, General Office, Church Bowl or other parking lots as signed.
Visitors with overnight accommodation in lodges or campgrounds may leave their vehicles unattended for the period of their stay as long as permits are displayed."
__________________________________________
There are three large free day-use parking lots in Yosemite valley for people who are staying at hotels/campgrounds outside of Yosemite valley or just driving up for the day from across the state.
I suggest that in the summer (or even spring – fall, especially on weekends and holidays) you get to the valley early in the morning to hopefully find a parking space and also to miss out on waiting in the long lines at the entrance stations. Rarely you may be turned away from entering Yosemite Valley if all parking lots are full and you have no reservations. A Yosemite regulation says: "Visitors may enter Yosemite Valley until westbound traffic is backed up from Lower Yosemite Falls to Half Dome Village four way intersections or all day use parking spaces have been filled, and/or the 18,710 person capacity has been reached."
When you find parking, take a picture on your smart-enough phone of your parking space / vehicle from a few steps away, so you will be more likely to be able to find it. Note which bus stop you were closest to. People who are not careful about looking around when they park do occasionally "lose" their vehicles.
Here is a map of the three main day use parking lots (green squares with a P in the center):

– – – The Yosemite Village Day Use parking is a short walk to the main Visitor Center, biggest grocery, museum, Post Office, restaurants), no RV or trailer parking allowed.
If you know where the main entrance is (at the south end) you can save a lot of time by going directly to it. (If you have not been to the park before, or it has been a few years, please also take a look at the map of the Yosemite Village day use parking and round-about, so you can miss out on getting lost trying to find the lot and/or trying to use the second entrance that is sometimes coned off.)
This free day use parking lot is served by stop #1 on the free shuttle bus system.
Again, Yosemite Village Day Use parking does not allow trailers or RVS.
– – – Yosemite Falls day use parking lot is across the road from Camp Four and at the edge of Yosemite Valley Lodge.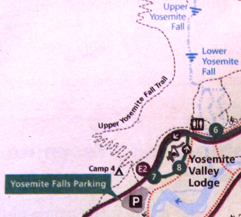 This free day use parking lot is served by stop #7 on the free shuttle bus system.
It has the same rules about not parking off the pavement:

You will find a few bear-proof food lockers and a warning about bear damage being common at the Yosemite Falls day use parking lot: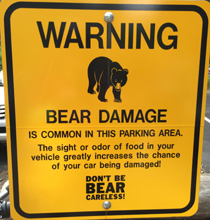 The very back of this parking lot next to Yosemite Lodge has a long, wide row, separate from the rest of the parking, for big tour buses only.
In 2017 the park started experimenting with reservable parking spaces at Yosemite Valley Lodge Day-Use parking. "Reservations must be made 1 Day(s) ahead of arrival and can be made up to 5 Month(s) in advance. New dates are released in blocks, 1 Month(s) at a time." Reservation fee was $1.50, "A $10.00 service fee will apply if you change or cancel your reservation. Late cancellations are subject to additional fees."
https://www.recreation.gov/camping/yosemite-falls-day-use-parking/r/campgroundDetails.do?contractCode=NRSO&parkId=144690
– – – a smaller day use parking lot at Half Dome (Curry) Village .

There is a larger copy of the above photo at the map. You can use that page to help identity the few spaces for RV only, and the spaces set aside for guests staying at Half Dome Village.
The Half Dome Village free day use parking lot is served by stop #14 on the free shuttle bus system.
You will find a few bear-proof food lockers and this sign at the Half Dome Village day-use parking lot: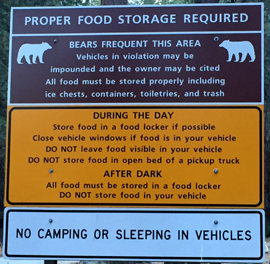 __________________________________________
_______________________________________________________
Besides bus-only sections of some lots,
there are some lots with NO DAY USE PARKING ALLOWED.
The officer will not accept many excuses you might make up for why you parked in handicapped only spaces, employee housing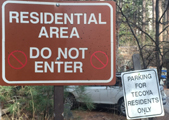 or government vehicles business-use-only lots, as they are signed and their use is often quite obvious.

Parking at the Medical Clinic is only for customers, no day use parking is allowed.
People parking at Camp Four campground across the road from the Lodge MUST have a Camp Four camp space permit, 24 hours a day.


The valet parking only spaces in the far end of the parking lot at the Majestic Yosemite hotel, and the valet parking only lot down a dirt road at the back of the hotel parking lot are, you guessed it, for valet parking only.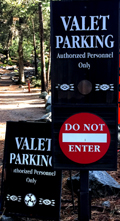 There are various roads among lodging that are really only for custodians, etc. and their trucks can be parked there, but you can't.
No RV or trailer parking allowed in the Village Day Use parking lot, the spaces are too small and the roadways too narrow.
Some roads have signs indicating they are for authorized vehicles only.
For example, some of the roadways the free shuttle buses use, especially in the Yosemite Village area, are only for the shuttle buses or occasional park service vehicles.

A road that leads uphill just past the main (village) grocery store has authorized only signage, as it does not lead to any public parking, but goes instead to employee housing, warehouses, maintenance / storage, barns, the jail, the courthouse, Search and Rescue, law enforcement offices, the fire station and the elementary school. None of these areas are intended as day-use or other public parking and people are towed.
_________________________________________________________________
The tiny parking lot for Half Dome (Curry) Village registration and the row of spaces just outside the lobby at the Yosemite Lodge for registration will have signs warning of time limits

The parking lot for the main store in Yosemite Village has signs warning of time limits on parking and size of vehicles: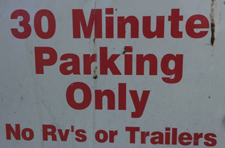 and a warning you could be towed: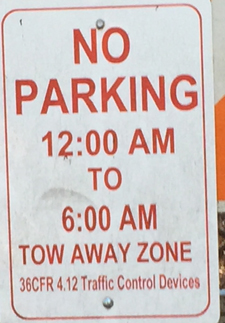 and please respect the other places that limit the time to park, giving others their time as well: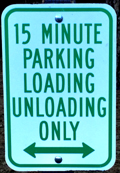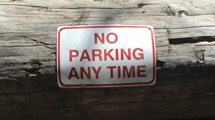 If you arrive too late to easily find parking, will you be thinking about
Inventing a parking space?

Almost all sides of all roads in Yosemite valley are closed to parking. There are a few turnouts and you can park along sections of some roads if you get there early enough, below a section of southside drive/ Happy Isles loop road just north of Half Dome village:

and here, a section of northside drive just south of a walkway to the base of lower Yosemite falls:

These two photos were taken in December, when there were plenty of parking spaces in all the free day use parking lots. There were quite a few adults in this SUV that parked at the end of the row of cars above, on the bike path, fully blocking the bike path:

Does this driver park on sidewalks at home? Did the many adult passengers really not notice the height of the curb, to be able to tell the driver that they were perhaps not parked where they should be?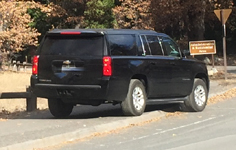 – – – – – – – – – – – – – – – – – – – – – – – – – – – – – – – – – – – – – – – – – – – – – – – – – – – – – – – – – –
When a helicopter needs to land in the Ahwahnee meadow across the road from Church Bowl, to pick up someone who needs to go to a bigger hospital, (or when a helicopter needs to land for Search and Rescue training) people are asked to stay on the restroom/picnic area side of the road, and traffic going through is briefly stopped.
Because you won't know a helicopter is coming and won't be able to move your vehicle fast enough, the entire meadow side of the road at Church Bowl is closed to any parking at all times, (even to get out and quickly take a picture or use the restroom).
In this photo you can see a few parking spaces in a row alongside the restroom/picnic area side of the road and the stripes for no parking with big letters on the pavement that say NO PARKING, on the other side of the road:

When the stripes did not function to keep people from parking there, the park started setting out a row of red pylons and tall no parking signs, which people still ignore, as in the car at the top of this photo that drove between the pylons to park: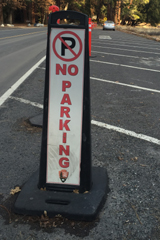 And on the far end of the Church Bowl restroom/picnic area side of the road, a car parked off the side of the road, not in a parking space, (off road behind a large rock meant to deter anyone from parking there) with a parking ticket with a minimum $130 fine (ticket under the windshield wiper) in this photo: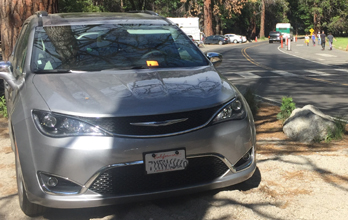 – – – – – – – – – – – – – – – – – – – – – – – – – – – – – – – – – – – – – – – – – – – – – – – – – – – – – – – – – –
Putting on your emergency flashers when you pull into a free shuttle bus stop driveway does not turn it into a parking space for you, and when the shuttle bus arrives you will be honked at to move, as the red car below was: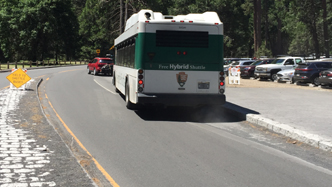 Did they not see the two signs at the side of the shuttle stop driveway/shuttle parking space?
– – – – – – – – – – – – – – – – – – – – – – – – – – – – – – – – – – – – – – – – – – – – – – – – – – – – – – – – – –
A red painted curb is a no parking zone anywhere in the U.S., (including Georgia, where this mini-van was from), and in national parks, in part because some red curbs mark the space an ambulance or fire truck would need to get by. Yes, no parking is allowed even if one family member stays in the vehicle while the other rushes in to shop: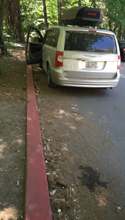 – – – – – – – – – – – – – – – – – – – – – – – – – – – – – – – – – – – – – – – – – – – – – – – – – – – – – – – – – –
Each space in a parking lot is usually paved, has painted stripes and has a concrete beam your tires would hit to keep you from going too far (see the car on the right). In this photo, the driver of the SUV on the left decided to move into the dirt/plants to the side of a parking space at the end of a row, with tires slightly into the legal space already occupied by someone else. Ooops, tires partially in that space does not make it legal.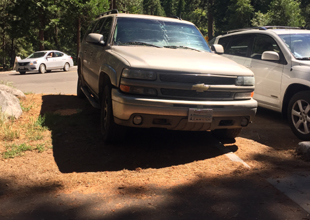 – – – – – – – – – – – – – – – – – – – – – – – – – – – – – – – – – – – – – – – – – – – – – – – – – – – – – – – – – –
Did this driver from Arizona move the no parking a-frame sign over, or was it already moved over and he choose to ignore the sign, red cone, "No Parking" in large letters on the pavement and two giant trash dumpsters?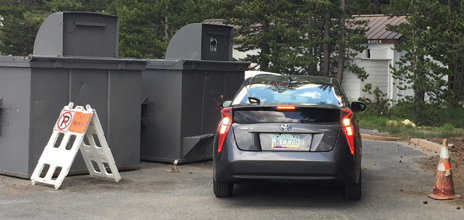 – – – – – – – – – – – – – – – – – – – – – – – – – – – – – – – – – – – – – – – – – – – – – – – – – – – – – – – – – –
And, yes the following signs are sometimes also ignored, "it's just for a minute so it's okay, right?"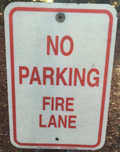 Some park visitors have found themselves
spending a lot of time tracking down where their vehicle was towed to,

or where their ice chest / cooler was taken
when a Ranger confiscated it from their open pickup truck bed.



There was a sign out front of the Yosemite Courthouse to tell people where their improperly parked, then towed, vehicle could be reclaimed, and someone made an addition to it: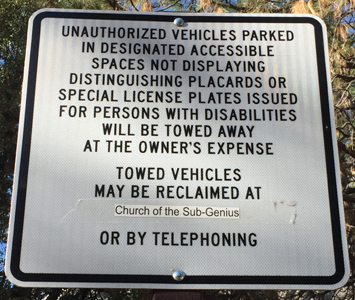 __________________________________________
__________________________________________
__________________________________________
See also an index to over a dozen park webpages with park laws, rules, regulations and policies.