At the main Yosemite Valley Visitor Center (at free shuttle bus stop #5, across the street from stop #9),
there are Park rangers on duty to answer questions, exhibits, park info presentations, and bookstore with maps, books, postcards, posters, calendars, clothes (with discounts for Yosemite Conservancy donors).

AND at the back of the Valley Day Use parking lot at shuttle bus stop #1 there have been more displays showing trails, see below.
Even when the visitor center is closed (early morning or overnight or during government shutdowns) you can find a lot of info about trails on the two displays outside the visitor center, to the right in the photo above. The giant color photos shown below include the Four Mile trail to Glacier Point / Union Point, Mirror Lake Trail, Vernal and Nevada Falls and Upper and Lower Yosemite Falls / Columbia Rock. You could take a photo of the color trail map on your smart-enough-phone to reference as you hike, or please do feel free to download these photos I took of the display(s) (and another from the NPS of a topographical map):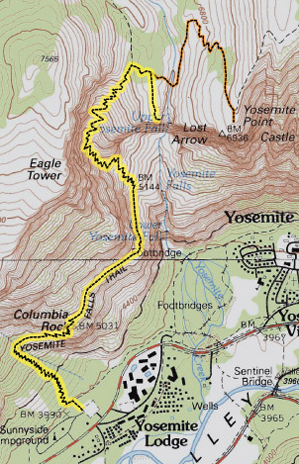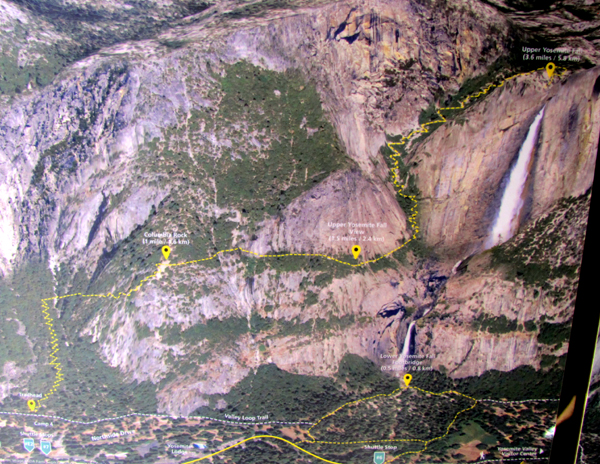 Vernal Fall Mist Trail and beyond to Nevada Falls
Four Mile trail from Yosemite Valley to Glacier Point: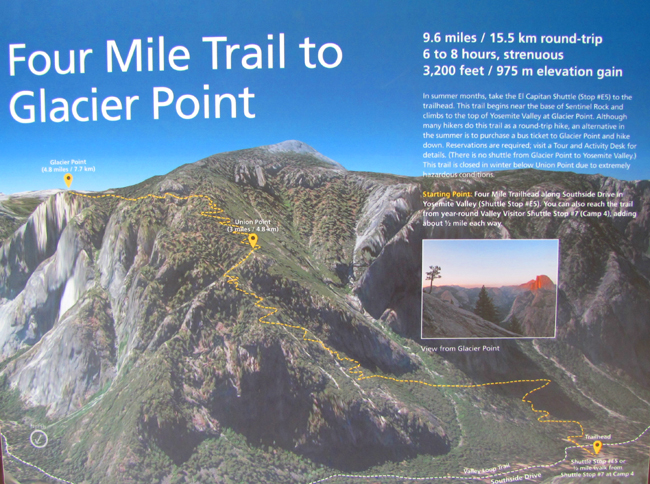 Mirror Lake trail: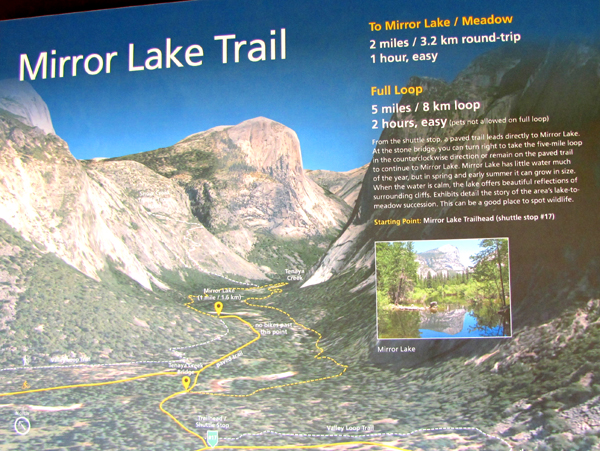 At the back of the parking lot at Yosemite shuttle bus stop #1, along a path to the Village store area, there have been displays of color photo trail maps
including this of the two ways to go to Vernal and/or Nevada Fall, (most people go up the Mist trail and down the John Muir trail and in winter only some parts of the trail may be open, see Mist Trail info.)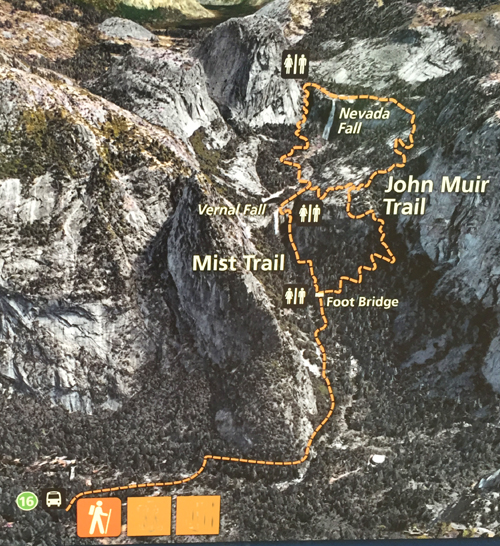 This shows the loop trail to Mirror Lake from shuttle stop #17 (but also see an alternative trail from the Ahwahnee (temporarily named the Magestic Yosemite Hotel) about half way down the webpage at this map.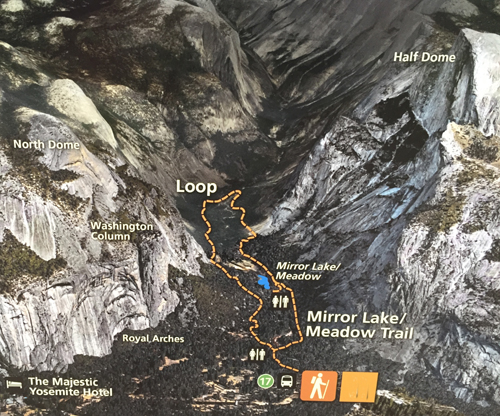 This shows the trails to lower Yosemite Falls from shuttle stop #6, the trail to Columbia Rock and on to the top of Upper Yosemite Fall, and the trail thru Cook's Meadow.
If you take the lower section of the figure-8-ish Cook's Meadow loop, you will cross a bridge with a display about the many times Yosemite Valley has flooded so badly it has become a lake.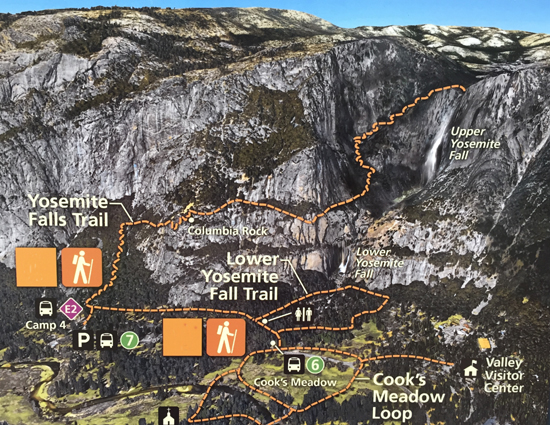 The Yosemite Guide newspaper, which you will be offered a copy of as you pay at an entrance station to enter the park, (or you can read, download or print in advance) has hours of operation for visitor centers, museums, tours, stores, food service, post office, laundromat, showers, auto service, gas stations, and a calendar of park activities including Ranger walks. It also includes the most current map of the free Yosemite valley shuttle bus route.
Search for topographical maps at the USGS website:
https://ngmdb.usgs.gov/topoview/viewer/#4/39.98/-100.06
And / or you can download an App with "information about park services and programs, as well as an interactive map designed to help visitors locate iconic features, scenic spots, trailheads and amenities."
– – – – – – – – – – – – – – – – – – – – – – – – – – – – – – – – – – – – – – – – – – – – – – – – – – – – – – – – – –
Cell phone service is not available all over Yosemite valley, but is usually okay in the vicinity of the main visitor center.
In June, 2017 and February / June, 2018, April 2019 we got 4 bars for Verizon and 3 bars for AT&T near the main visitor center, versus 2 bars for each at the Ahwahnee and 2 bars Verizon, 1 bar AT&T in Upper Pines campground, at the Yosemite Valley Lodge and Curry Village (briefly named Half Dome Village). The park service said: "Cell phone coverage in Yosemite is spotty . . . Cell service is often impacted during daily peak visitation by the large number of people trying to access limited service; if you have four bars of service, but you can't get a signal, this is why . . . cell coverage depends on your phone, the cloud cover and other seemingly mysterious factors and is not always reliable. "
Parking and traffic jams in Yosemite valley tips and tricks
Index to Yosemite National Park regulations, policies and rules links
Details about 24 hour towing within the park, propane service, emergency repairs, how to use your Auto Association card to get the help of the people at the small Yosemite Village garage, electric vehicle (EV) charging stations and more are at Yosemite garage, car repairs and towing.
Where did they get those pictures of Half Dome and Yosemite Falls?
The Glacier Point hiking map includes drawings of and descriptions of trails to / around (easy) Glacier Point, Mc Gurk Meadow, (moderate) Dewey Point, Taft Pint and the fissures, Sentinel Point, Taft Point / Sentinel Dome loop, (strenuous) Four Mile Trail, Panorama Trail, Mt Starr King View, Ostrander Lake and Pohono trails.
The Tuolumne Meadows hiking map has drawings and descriptions of trails to / around (easy, mostly flat) Soda Springs/Parsons Memorial Lodge, Lyell Canyon via the John Muir Trail, (moderately Strenuous, moderate elevation gain) Dog Lake or Lembert Dome, Elizabeth Lake, Cathedral Lakes, Glen Aulin, Mono Pass, Gaylor Lakes, and (strenuous, long with elevation gain) Vogelsang Area.