All along the Cascade Canyon trail in Grand Teton National Park you will find wildflowers. These first pictures were taken in late June.
Penstemon: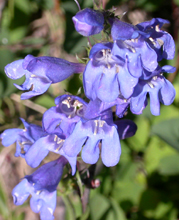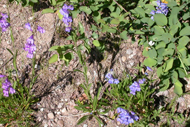 Silky Phacelia and Columbine: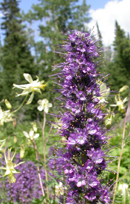 Western Serviceberry: (will have scarlet leaves on a fall hike)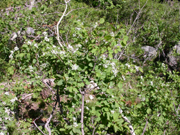 Cascade Mountain Ash: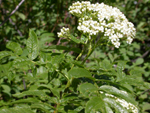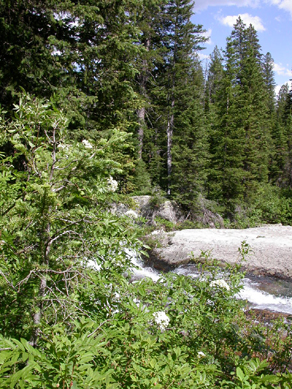 Fluttering through these flowers you will see various swallowtail (2 3/4″ black and yellow) butterflies and just over 1″ white butterflies with orange at the outside top edge of their wings…Sara Orangetip.
August wildflowers near campsite in upper Cascade Canyon from a webpage about backpacking in Grand Teton National Park (photo by Mollie Boun)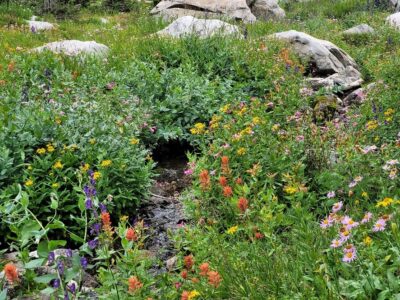 In Fall, the blue flowers of Asters jump out at you from among those with red and yellow leaves: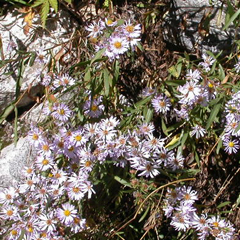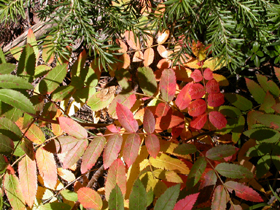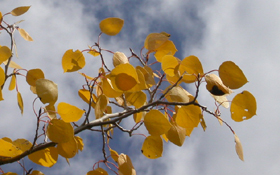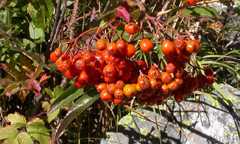 see also: Cascade Canyon, Grand Teton National Park
______________________________________
May we recommend..
Plants of Yellowstone and Grand Teton National Parks, by Richard J. Shaw has most of them. The photo of the Lady's Thumb Knotweed (an aquatic plant) we saw blooming on the edges of some lakes in September, giving the impression of a pink mist floating on the water, isn't half as pretty in the book as in real life.
Plants of the Rocky Mountains (Kershaw, MacKinnon, Pojar) has more pictures than most field guides, including spring/fall and or close ups and general pictures. The start of the wildfowers section has a collage, by color, of all the ones described with page numbers to find larger pictures and read details.
One favorite Rocky Mountains field guide to flowers, trees, fish, birds, mammals and more is The National Audubon Society Field Guide to the Rocky Mountain States.(Peter Alden) We also use Rocky Mountain Wildflowers (Mountaineers Books).
Grand Tetons recommended reading has links to on-line bird and mammal field guides, as well as books to buy or check out from the library before the trip
See also Grand Tetons sightseeing.
Grand Teton National Park birds includes Bald Eagle, Canada Goose, Golden Eagle, Great Blue Heron, Great Gray Owl, Harlequin Duck, Loon, Magpie, Northern Flicker (woodpecker), Osprey, Pelican, Ouzel, Peregrine Falcon, Raven, Sandhill Crane, Steller's Jay and Trumpeter Swan, with links to calls / songs from most of them to listen to.
For your safety hiking, the Rangers warn "… Always carry bear spray and know how to use it… solo hiking and off trail hiking is not recommended, a considerable number of rescues involve solo parties that were unable to self rescue and remained alone in the wilderness, sometimes with life-threatening injuries, until rescuers could locate them." Your safety in grizzly bear territory

Was that a black bear or a grizzly, a coyote or a wolf or a fox we just saw?

Rocky Mountain mammal size comparisons has photos and comparisons of beavers, squirrels, pika, marmot, elk, moose, bison, fox, coyote, wolf, golden-mantled ground squirrel, chipmunk, Red Squirrel (also known as) Chickaree, Unita Ground squirrels, bobcat, lynx, mountain lion (cougar), pine marten, mountain goats, bighorn sheep, pronghorn, grizzly and black bears, tundra swan, trumpeter swan, adult and juvenile Bald Eagles.
Afternoon thundershowers are common in the summer. At least one period of interesting weather with snowfall at the higher elevations occurs in late August every year. Grand Tetons Weather
___________________________________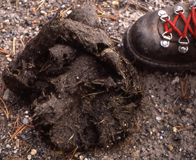 See also: animal sign comparisons
(how to use tracks and scat to distinguish species)
Please do not handle scat. Wolf scat, for example, can transmit tapeworm eggs to humans.
Watch a Grand Teton National park video identifying and comparing animal tracks
https://www.nps.gov/media/video/view.htm?id=2896C9FD-155D-451F-67912A1CB1362CCF
______________________________________
= = = = =